Before I get into any specifics, I just wanted to say that so far this year has probably been the most challenging year we've ever had with our online wedding linens business.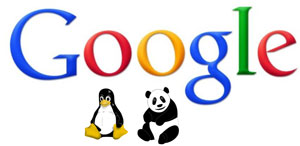 Like most ecommerce stores, we derive a decent chunk of our business from search and Google has been making so many changes lately that it has kind of thrown our search engine traffic into quite a loop.
In fact, I now officially dislike all black and white animals, especially pandas and penguins:) In general when the search algorithms change as much as they have, I tend to go into a holding pattern until things settle down so I don't make any snap judgements or rash decisions.
But just to give you an idea of the mass fluctuations with our rankings, I've seen some of our keywords go from the top 3 down to the top 40 and then back to the top 5 all within the span of 2 weeks.
It has been quite the roller coaster ride but thankfully, I've finally managed to get a good handle on what needs to be done.
How Search Has Evolved
Bottom line, Google has started favoring the big box stores in the search results. Whereas my competition used to be shops run by 50+ year old women, I now find myself going up against major department stores for some of my products.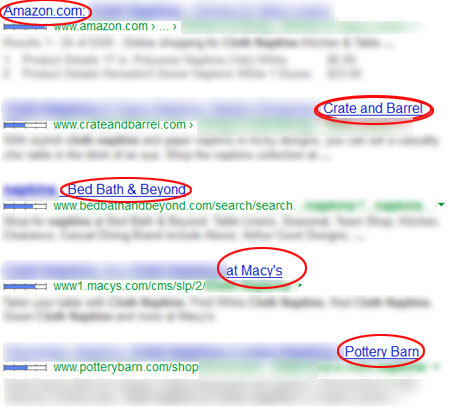 The good news is that I still offer a superior product selection over my competition and there really is no contest for our primary money earners. But it is quite annoying to find a weak page with practically no backlinks outrank us in search.
In fact, it really pisses me off and has made me extra determined this year to diversify our revenue sources!
Highlights During The First Half Of 2013
Anyways, let's start with the highlights.
Despite having an overall year over year DECREASE in traffic, we still managed to pull off a double digit increase in revenues. To date, that is now 5 straight years of double or triple digit growth!
Here are some of the numbers below.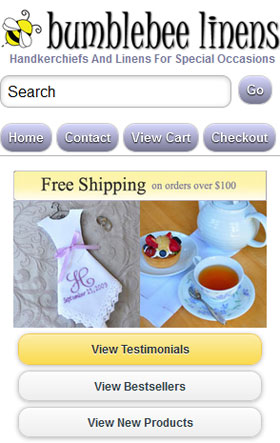 Year over year revenue grew 12%
Year over year profit grew 7%
SG&A went up as a percentage of revenue
Our average order size increased by $2 and the average number of
orders per day went up as well
Our overall conversion rate increased by 17%
Our average value per visitor increased by 25%
Our margins grew by 2% as we started shifting to higher margin goods
Our year over year revenue from mobile sales increased by 141% (These numbers are slightly skewed because our mobile site launched in early February of last year so there's one month less data)
Let's Talk About The Numbers
The first number that probably stands out above is that our profit increase was significantly lower than our revenue increase.
If you recall during my last income report, my wife and I have been making a conscious effort to outsource our entire business.
Late last year, we rented a larger office space in preparation for more employees. And this year, we brought in another full time employee to help pack and ship orders as well as handle customer support.
We've also invested in some new equipment for the office as well. While all of these costs come at the expense of lower profits, it frees up my wife's time tremendously to perform other tasks. In fact, she's already been talking about starting a new business:)
The other thing to note is that our conversion rates and our average value per visitor have increased dramatically. And I attribute this to the fact that we are now attracting more targeted leads through the shopping cart comparison engines and social media outlets like Pinterest.
Lowlights During The First Half Of 2013
Remember how I mentioned that traffic was down? While our search rankings have finally stabilized, our overall year over year traffic levels have actually decreased by about 6.8% primarily due to search.
We also experienced a really bad month of February due to inclement weather in some of our primary markets. For example, the storms in New York pretty much decimated all of our business there for a period of about 2 weeks.
It also didn't help that we took vacation during the month of February and had to shut the store down briefly. All in all, it's been a challenging half year but I'm quite happy with the results.
How To Grow Your Business With Less Traffic
The one great thing about losing 6.8% of my online store traffic is that it has lit a major fire under my butt. When I first started noticing the downward trend in late February, I immediately set forth a long term plan to boost our revenues and reduce our reliance on Google search for business.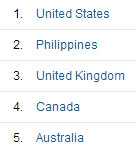 First things first, we decided to expand our customer base internationally. If you've ever shipped a package outside of your home country before, you probably already know that it can be a major pain in the butt. And it's quite expensive as well.
Looking at our analytics reports, we noticed that Canada, UK and Australia were the countries with the highest levels of referral traffic so we decided to initially launch in those countries.
And in just the last few months, international orders now make up over 2% of our revenues. 2% might not sound like a lot but it's 2% we wouldn't otherwise have had.
The great news about international orders is that they also tend to be 25-30% larger as international customers tend to buy more to offset the high cost of shipping. As soon as we get a good handle on our international fulfillment, we plan on expanding to other countries as well.

The other thing we did to boost sales was we put out an all out assault on the comparison shopping engines. As you may or may not be aware, there are a bunch of CSEs out there and each one of them has a different product feed format that your shopping cart needs to be compatible with.
I was too lazy to do the implementation before but desperate times call for desperate measures. So I decided to bite the bullet and coded up support for each and every one.
Needless to say, the comparison shopping engines have been very good for us and the conversion rates are fantastic. At some point, I'll write up my own review and experiences with each one as a follow up post.
Finally and most importantly, we've made drastic changes to improve our website. In fact, I have written a completely separate article that will discuss the exact changes we made to improve usability and conversion rates.
But just to give you a taste, we launched our redesign in June and the year over year revenues in June were about 30% higher than last year!
Conclusion
With so many changes to the search algorithms, I have been especially determined to diversify our traffic sources as much as possible.
The plan for the second half of the year is to put more emphasis on our social media presence and email marketing as well as make more conversion improvements to our website.
Just because Google traffic is down does not mean that our store revenues will decrease as well. Quite frankly I'm pissed off and as fired up as ever to keep this little store of ours growing in the double digits yet again!
Expect a stronger second half of the year!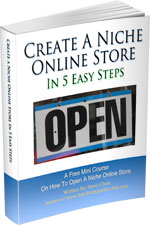 Ready To Get Serious About Starting An Online Business?
If you are really considering starting your own online business, then you have to check out my free mini course on How To Create A Niche Online Store In 5 Easy Steps.
In this 6 day mini course, I reveal the steps that my wife and I took to earn 100 thousand dollars in the span of just a year. Best of all, it's free and you'll receive weekly ecommerce tips and strategies!
Note: This post above may contain affiliate links, which means that I may receive a commission if you make a purchase when clicking a link. Please consult our privacy policy for more information.
Similar Posts
Have you read these?