In my last post I talked about building a business around an established audience, and more specifically, the concept of a Minimum Viable Product (MVP).
Here's a brief reminder of the process — you have an idea, validate that idea by consulting your audience, then build the most simple version of a product and build it incrementally based upon user feedback.
The MVP concept is beautiful in its simplicity and apparent value — at least in theory. In practice it can be difficult to release that first iteration and build upon it.
Can it be too simple — i.e. can you damage your reputation (or the reputation of the product) by releasing something that is simply not ready for use? How simple should the product be? And how on earth do you start?
Free Market Research
For the purposes of this post a product can be anything — a blog, an online store, an information product, or even a service (like social media consultancy). The MVP concept remains the same throughout — it makes sense to start with something simple and work your way up.
The ease with which you can build a MVP relies a great deal upon your own personality. If you are a perfectionist you may find it very difficult to release a product that doesn't fully represent your vision. If however you are a little more relaxed in your approach, you may have few qualms in releasing a basic iteration of a product.
So if you are a perfectionist, the first step you must take is to recognize that in producing a MVP, you will be fighting against your natural instinct. You can counter this conflict by viewing your first MVP iterations as free market research (rather than actual product development).
Related: Entrepreneurial Mistakes: Are You Procrastinating Under The Guise Of Doing Work?
For instance, the example I referred to in my last post — Buffer — didn't even technically have a MVP. A screen and a signup form doesn't really constitute a product as such, but it was enough to give the developer exactly what he needed to take the next step.
This approach applies almost universally — you should explore the concept of doing "free" market research before writing, coding or creating anything. If it's a blog you could ask people on social media what they would like to see from a new blog in their niche.
If it's an online store you could approach related forums. And if it's an app (like Buffer) you could direct people to a squeeze page and gauge popularity.
It all comes down to one simple question: Why wouldn't you equip yourself with the opinion of the masses so that your product creation efforts are efficiently directed?
How to Test a MVP Without Adverse Side Effects
When it comes to actually getting people to use a first iteration of your product, it is understandable that you might get paralyzed by fear of the potential repercussions.
Although there shouldn't be a real time issue — the whole point of a MVP is that you shouldn't have invested a great deal of time to get to the first stage — you might be concerned about how a poorly-received product might damage your reputation or the future chances of success of any further iterations.
The way to combat this is to offer only a limited release of your MVP. At this stage you would almost certainly not charge for the privilege. If you have an established audience then you can open up a limited number of spots to use or download your product as a means of free beta stage testing.
These first beta testers would be rewarded for their time and loyalty with free lifetime access to the product (or whatever kind of access would be most appropriate). In this way the exposure to a "poor" product is limited to just a few people. If the worst really were to happen you would only have a handful of unhappy customers, but in reality, a MVP should never be "bad" — just too simple.
My Idea for a Minimum Viable Product
Let's take a look at a practical example of a MVP and how it might evolve from one stage to the next.
I have an idea for a paid membership site that I would market to my blog's audience. The final iteration of the product is unknown, but the basic idea I have is for a Q&A website for freelance bloggers. Members could ask me an unlimited number of questions relating to freelance blogging that I would answer and publish on the site for others to see.
In time it would become a huge resource of frequently asked questions for freelance bloggers. With a low price point (say $5 – $10 per month), aspiring freelance bloggers could gain access to a huge number of popular questions and answers for a relatively small sum of money.
I am an established freelance blogger and have my own freelance blogging guide, so I feel that this site would be popular amongst my audience.
However, I don't know, so the key would be in releasing a MVP to a limited audience to gauge (a) the popularity of the idea and (b) the necessary time investment required in such a project.
My first step would be similar to that of Buffer's. I would publish a post on my blog describing the MVP and asking for feedback. More specifically I would ask people to join an email list if they were interested in the product.
If only 5 people signed up then I would be pretty confident that it's not a popular idea. On the other hand, if 50 people signed up via that first blog post then I would know that I have the potential for a successful product.
On the assumption that the idea was of interest I would move on to produce a barebones, no frills website. I would open the site up to a small number of members (free of charge) and test the product. People could ask questions and I would answer them, and I would poll them for feedback on their experience.
I could find out all sorts of useful information from them (would they prefer video or text answers, how much would they be willing to pay, would they want the option for their questions to be made private, etc).
Once I was comfortable with the way things were going I could go ahead with a formal launch. The feature set of the membership site would be based entirely upon user feedback and I would already have a good idea of the necessary time input required to run the site (and by logical extension, the return on my time investment).
But that wouldn't be the end. I would then have more members to poll on various improvements to the site. I could ask them for their opinions on additional features (such as a forum or live webinars) and add only those that proved to be popular.
In reality, the "build-measure-learn feedback loop" I described in my previous post never really ends.
Finding the Right Time to Launch Your Product
In this day and age all you need is an idea to get the necessary validation with which you can build a product with confidence. The key is to start simple, build incrementally, and only build a particular feature if it has first been "voted for" by your audience and/or user base.
With the above in mind, knowing when the time is right to launch your product is pretty simple — you launch the simplest iteration when you know that its features will be popular with its prospective user base.
On the assumption that you have access to a proportion of your target audience, there really is no excuse not to know this before you lift a finger in terms of product development.
This post was written by Tom Ewer, a regular contributor for MyWifeQuitHerJob.com!
Photo Credit Bethan Phillips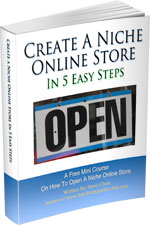 Ready To Get Serious About Starting An Online Business?
If you are really considering starting your own online business, then you have to check out my free mini course on How To Create A Niche Online Store In 5 Easy Steps.
In this 6 day mini course, I reveal the steps that my wife and I took to earn 100 thousand dollars in the span of just a year. Best of all, it's absolutely free!
Note: This post above may contain affiliate links, which means that I may receive a commission if you make a purchase when clicking a link. Please consult our privacy policy for more information.
Similar Posts
Have you read these?