A new year is now upon us and if you're anything like me you have big plans for your online business.
There's one major lesson I learned last year that I will be taking into the new year — success is dictated to a great extent by how well you apply yourself to your endeavors.

A great idea is nothing without great execution (tweet this).
As such, I wanted to take this opportunity to outline the three step process that I will be following this year to give my business the best chance of succeeding.
This is big-picture stuff — the strategy that can help to keep you focused on the most important aspects of your business throughout the year.
Step 1: Set Tangible Goals
I never cease to be amazed by how many online business owners are rather directionless. A relative level of success shouldn't preclude you from achieving even more, and as such, I believe conscious and deliberate goal-setting to be an absolute must.
My belief is backed up by a number of studies — for instance, the Academy of Management Perspectives argued for the motivational benefits of goal-setting back in 2004.
But before we get onto the practical aspects of goal-setting, let's dispel the idea that goal setting is in some way a bad thing. I have seen this idea promoted by some extremely influential people, such as Leo Babauta of Zen Habits in his post, The Best Goal is No Goal.
I have a great deal of respect for Leo and he always comes across as a great guy but I couldn't disagree with him more. In my own post, The Benefits of Goal Setting, I put forward my own argument for why I believe goal setting is invaluable.
Although the process of setting goals can seem rather intimidating, I actually consider it to be pretty straightforward. I recommend the following process:
Set goals for which the outcome is worth the necessary investment (time and/or monetary).
Break your goals down into small and separable tasks.
Review both your goals and your performance regularly.
So to put it simply, focus on goals that will take your business forward in a tangible manner (i.e. by boosting traffic/sales/profits), break each goal down into manageable chunks, and regularly check that you are still on course.
Editor's Note: I rarely set revenue goals and profit goals because what's the point? Ultimately, the goal is to make as much money as possible. Instead, I focus on completing tasks for the year that will improve the business.
Step 2: Hold Yourself Accountable
I cannot overstress how important accountability has been for me in both quitting my job in 2011 and establishing my business in 2012 and I know that it will continue to be vital as I build my business through 2013.
In the context of goal setting, accountability means holding yourself responsible to your goals. It means announcing your intentions (both publicly and privately) so that the idea of failure seems far more painful.
My blog has been hugely helpful to me as an accountability tool. With thousands of readers checking up on my progress and willing me on to succeed, quitting is not really an option. If you're not interested in setting up a personal accountability blog then I would strongly suggest that you start a journal.
You would be amazed at how reflecting upon your actions can bring your progress (or lack thereof) into perspective. Just try it for a few days — I've recently started using the Day One app and have found that it makes the process really enjoyable.
Finally, accountability in the form of personal partnerships can be hugely powerful. By this I mean sharing your goals with someone who is truly engaged with what you are trying to do — someone who will be only too happy to praise you for doing well and chastise you for not applying yourself fully.
This typically works best when there is reciprocation — this is why mastermind groups are often touted as being so helpful.
Step 3: Be Productive
Productivity can make a dramatic difference to the success of your business and is in fact one of the most valuable and important aspects of my business' success to date. Time is not an asset you can purchase and the more efficiently you can use your working hours, the greater chance you have of reaching your goals in double-quick time.
I have read countless articles on productivity and if I have learned one thing from doing so, it is that productivity is a very personal thing.
What works for me may not work for you. For instance, I find working in my local library with music blaring in my ears to be my ideal working environment — despite the multitude of distractions. Other people might much prefer to be locked away in a dark room, but that simply doesn't work for me.
With that in mind, I recommend that you read up on productivity as much as possible and experiment with different approaches. Here are some great posts on productivity:
I also love productivity "hacks" — little changes you can make to get things done more quickly. Here are a couple of great examples for you to build upon:
Improving your productivity is a perpetual and ongoing process — you should always keep your eyes open for something that will make you that little bit more efficient. In doing so you will give your business a far greater chance of success.
It's Time to Get Started
So there you have it — my three step process for succeeding in 2013. So what are you waiting for? There are goals to be set and achieved! If you have any questions or comments, please fire away in the comments section.
This post was written by Tom Ewer, a regular contributor for MyWifeQuitHerJob.com!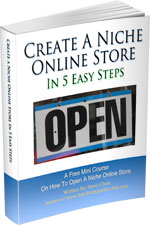 Ready To Get Serious About Starting An Online Business?
If you are really considering starting your own online business, then you have to check out my free mini course on How To Create A Niche Online Store In 5 Easy Steps.
In this 6 day mini course, I reveal the steps that my wife and I took to earn 100 thousand dollars in the span of just a year. Best of all, it's absolutely free!
Similar Posts
Have you read these?