My wife just closed the books on 2010 for our online store and I'm pleased to share some of the numbers with you. Looking back, I'm still amazed and proud that our little online store continues to grow at such a fast pace.
To think that our business all started when we found out that my wife was pregnant makes me almost want to have another kid (though I might have to run this one by my wife first…).
This year was especially hard on my wife and I (in terms of the business) because our second child was born in late 2009. During the same week my son was born, we also decided to move into a larger house.
So with a crying baby, we basically packed up our bags and moved all of our stuff including parts of our business while on zero sleep. That, and my daughter was undergoing a fit of newborn jealously which meant she needed more attention than usual.
In any case, here's a piece of advice. Don't move immediately after you have a child. It was one of the most tiresome and draining transitional periods of my life.
To make things even more hectic, my brother's wedding was during the same week as my son's birth so I needed to be there as well.
Thank goodness, we had lots of help during all of this to get us through. In fact, getting more help was the theme of this year for the business.
The numbers for 2010.

Year over year revenues grew 31%
Year over year profits grew 28%
Margins increased 2%
Average number of orders per day increased by 23%
Our traffic increased by 12%
Freeing Up Our Time For Other Things
One of the goals for this year was to get more help and free up more of our time for the kids. Having 2 young children requires exponentially more work and effort, not to mention that it can be extremely draining to play with both at the same time.
So, we got a few new helpers to handle most of the order fulfillment for us. We also setup some agreements with local contractors to outsource the personalization work during peak wedding season periods.
Getting more help has reduced our profitability but has greatly increased the amount of free time we have to hang out with the kids and get other projects done.
It's funny, even though the business never physically took much time to run, just removing some of the simple tasks has been a huge relief.
As a result, I've had more time to work on my new course on how to create a profitable online store. And, I will be releasing this course sometime in February, so stay turned.
What Else Changed?
Even though the first half of the year was stagnant in terms of improvements to the business, I did work on a few key website functions that increased sales during the latter half of the year.
If you recall, we ended the first half of the year on pace to make a 24% increase in revenue but ended the year at 31%.
I attribute this increase to some of the search engine changes that were made to the online store. Most people focus so much on Google that they forget about the other very important search engine…the one on their website!
My wife and I didn't really forget about this aspect of our store, but we never could find the time to improve it since we were so busy with the kids.
For the last few years, our onsite search has sucked. Basically a customer would type a product into our onsite search, but if they so much as misspelled a single letter of the word, the search would come up empty.
As a result, we lost a good portion of our customers because they
Couldn't spell
Used a synonym for one of our products that we didn't account for (ie. hankie instead of handkerchief
Typed in some variation of the product name with extra words (ie. wedding hankie for my mom and dad)
In any case, I started tracking every search and discovered that almost all of the customers who made an unsuccessful search immediately left our site. In fact our search results page was the top exit page on our entire store!
Once we made the necessary improvements, we started seeing more and more conversions.
Other Highlights
After not travelling at all for the past 3 years, my wife and I finally made it out to Guangzhou, China for the Import and Export Fair.
The trip was extremely expensive because we flew my aunt, my uncle and my mom out to California to take care of the kids so my wife and I could travel to Asia by ourselves.
It was a much needed trip because we wanted to find new vendors to expand our product lines as well as visit our existing vendors in person.
Prices are going up extremely quickly in China do to their rapid growth and there have been several subtle shifts in our industry that we could only have found out about by talking to our vendors directly.
Overall, it was a very productive trip. We found new suppliers and got some new ideas for products to sell.
So, don't be surprised if my wife and I launch another online store during the latter half of the year. If we do, I'll make it a case study on this blog.
In the meantime, I'm furiously ironing out the kinks with my online store course which I will presenting to you in about a month.
I'm really excited because the course is going to be the most comprehensive tutorial on how to create an online store period. Right now, it's weighing in at around 400+ pages.
And these aren't fluff pages that are triple spaced with large margins either. The course will come complete with the course materials, spreadsheets, worksheets and access to my webinars where you can personally ask me questions.
Take care, and stay tuned!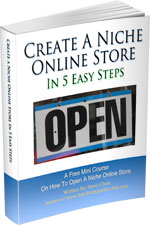 Ready To Get Serious About Starting An Online Business?
If you are really considering starting your own online business, then you have to check out my free mini course on How To Create A Niche Online Store In 5 Easy Steps.
In this 6 day mini course, I reveal the steps that my wife and I took to earn 100 thousand dollars in the span of just a year. Best of all, it's free and you'll receive weekly ecommerce tips and strategies!
Note: This post above may contain affiliate links, which means that I may receive a commission if you make a purchase when clicking a link. Please consult our privacy policy for more information.
Similar Posts
Have you read these?