Not everyone is cut out to be an entrepreneur. When I look back and analyze some of the startup companies that my friends tried to start and why they failed, I can immediately recognize certain character traits and decisions that doomed their companies from the start.
All of my friends possessed the drive and passion to succeed and they had great ideas to pursue as well. So what went wrong?
You can have all of the discipline and focus in the world, but there are just some character traits that are incompatible with entrepreneurship. If you can recognize these traits in time, they can be rectified, but otherwise you are doomed to fail in the long run.
Do you possess some of these character traits? Ask yourself these questions.
Are You A Perfectionist?
You might think that being a perfectionist would be a great character trait to have when starting a business. However, most perfectionists take too long to complete a task because well…everything needs to be perfect.
When you are trying to start a company, time is of the essence. If you spend too much time stressing out over details of little consequence, you will never get anything done.
I full on admit that I fell into this trap a few times when starting our online business. I spent way too much time fiddling with the look and feel of the website.
Was this shade of purple too deep? Was the font for the title too childish looking? Were the sizes of the photos too large? Were the product descriptions good enough?
While all of the above factors were important to a certain degree, the time I wasted precisely calibrating each item could have been better spent on other more important tasks. For example early on, I stressed myself out over the aesthetics of the website which in retrospect were already good enough.
I devoted many hours making painstaking little tweaks that likely had no effect on the customer experience at all. Meanwhile, I neglected working on other crucial features such as writing the code to process credit cards online.
When you are too focused on a certain task, it is very easy to get bogged down in little details and forget about the big picture. Therefore it's important to have someone on your team act as the task master and set you straight when you are trying to be too perfect.
In general, the last 5% of perfection takes 95% of your time. Its better off just getting to the point where things are good enough and move on.
Are You Indecisive?
Early on in the life of your company, you will be tempted to straddle the fence and wait to see how things play out. You'll have the tendency is to put off difficult decisions and work on all of the minor things at first. But if you put things off too long, you'll miss the boat altogether
When my wife and I were considering opening a franchise (See 5 business ideas that didn't pan out for us for the details), we spent way too much time debating whether to pull the trigger or not.
While we sat there twiddling our thumbs, someone else beat us to the idea and secured the franchise rights for our region. In retrospect, we already did all of the research and were ready to make the commitment. We were just afraid to make the big decision.
Back in 2002, after the dot com bust, my wife and I wanted to invest in some rental properties. Once again, we couldn't get ourselves to make the big decision. When housing had its historical boom for the next 4 years, we lost out on making a ton of money.
If you've done the research, go ahead and pull the trigger. Don't hesitate, otherwise you're opening the door for others to beat you.
Are You A Procrastinator?
We all have a tendency to procrastinate on large assignments. Especially when the assignment is unfamiliar or unknown, we are scared because we don't know where to begin. We mentally inflate the task in our minds instead of trying to break things down into manageable pieces.
The best entrepreneurs are able to slice up large tasks and take them on in tiny little digestible pieces. The next time you are faced with a monumental task, try and break things down and make a little bit of progress each day. You also need to be patient and realize that some things take a little time to sink in.
I remember how discouraged I felt when I was trying to learn the ins and outs of the shopping cart software used for our online store. I did not know PHP and SQL and yet I had to try and understand code written by a variety of different authors.
I attacked the problem by trying to digest the code one file at a time. I enlisted the help of others by taking advantage of forums and asking questions to friends I knew in the web development field.
Looking back, I remember being totally clueless for several weeks until one day, everything just sunk in and I suddenly understood the code. I can't really describe the feeling exactly, but something just clicked.
I'm 100% positive that my persistence in trying to understand the code a little bit each day contributed to this "Eureka" moment.
Are You A Theorist?
Some people are just more comfortable drawing out plans on paper rather than relying on actual implementation. Theorists tend to assume ideal conditions and almost always fall into the trap of underestimating the task at hand.
The theorist within me nearly doomed our online store during our first month of operation. Because our products are seasonal, we have to adjust our inventory depending on the occasion. Early on, I spent a lot of time drafting out sales projections based on data compiled from sources found on the web.
I had our purchasing plan meticulously planned out to a tee and all of my calculations made intuitive sense. However, in reality I vastly overestimated the demand for a particular product during the Christmas/New Year holiday period.
I ended up purchasing way too many items that didn't sell well which resulted in us not having enough money left over to purchase as many products required for the following season.
Furthermore, I vastly underestimated the shipping and transit time because I didn't account for the ridiculous amount of time that our goods would eventually spend in customs. What resulted was a disaster on both fronts.
We ordered too many items that arrived late and didn't sell and we didn't have enough of the products that were selling well in stock because we blew our cash on the wrong inventory. Looking back, I still can't believe that my calculations were so far off.
Are You Aware Of Yourself?
The next time you are working on your own business, take some time, step back and analyze yourself. Are you making good progress? Are your assumptions fundamentally sound? Are you putting too many eggs in one basket? Do you possess any of the character traits described above? If so, stop what you are doing and make the appropriate changes.
Do you have any entrepreneurial mistakes to share? I'd love to hear them.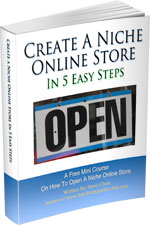 Ready To Get Serious About Starting An Online Business?
If you are really considering starting your own online business, then you have to check out my free mini course on How To Create A Niche Online Store In 5 Easy Steps.
In this 6 day mini course, I reveal the steps that my wife and I took to earn 100 thousand dollars in the span of just a year. Best of all, it's absolutely free!
Note: This post above may contain affiliate links, which means that I may receive a commission if you make a purchase when clicking a link. Please consult our privacy policy for more information.
Similar Posts
Have you read these?