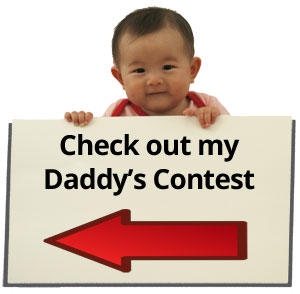 Every month or so, I give away a free 30 minute 1-on-1 consultation to one lucky winner.
Follow the directions below to enter.
Note: If you've already left a review in the past, you're already entered in the contest
Here's what previous winners have to say about their consult.
"I was so excited when I found out I had won the 30-minute one-on-one consult with Steve! While the class videos, materials and forums are all solid places for getting information about launching my store, nothing beats being able to bounce specific questions off an eCommerce veteran I truly trust. In one 30-minute conversation with Steve, I was able to ask specific questions about my niche, website/blog concerns I was having, in addition to some questions about product sourcing — all priceless advice. Now, I have no excuse but to really set the wheel in motion for launching my shop – onward!" -Heather Terveen
"In talking with Steve one-on-one I quickly learned that he is experienced and extremely knowledgable in starting online retail sites. Steve and I discussed a few different ideas. With his analytical approach and market place knowledge combined, it was much more clear which idea would be the most logical to pursue. I came to our consultation with a laundry list of questions and he was able to fire back responses. Steve is extremely experienced and strategic in what he does. Talking to him for just 30 minutes probably saved me weeks (maybe even months) of pursuing my online store from the incorrect angle." – Laura McClernon
All you have to do is signup once for the contest and you'll automatically be entered to win.
Follow These Exact Steps To Enter
Note: You must have iTunes installed on your machine in order to enter.
1) Click this link to go to my iTunes podcast page.
2) Click on the blue "View In iTunes" button as shown below.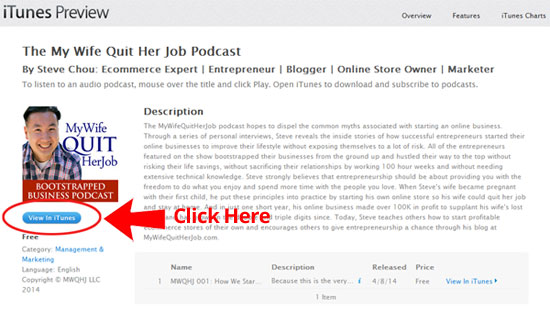 3) At this point, you may be prompted to launch iTunes on your computer. Click the button that will launch iTunes.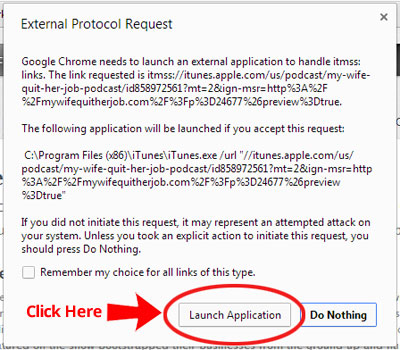 4) Click on the "Subscribe" button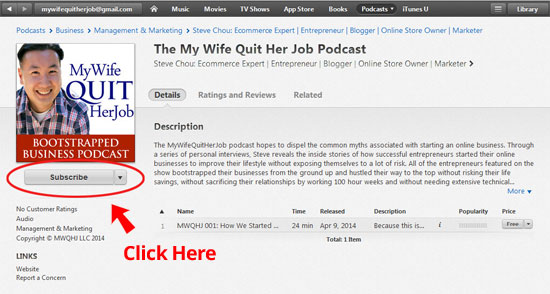 5) Click on "Ratings and Reviews" followed by clicking on "Write A Review"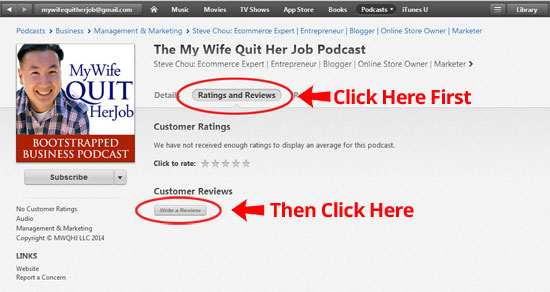 6) Write an honest review and click "Submit"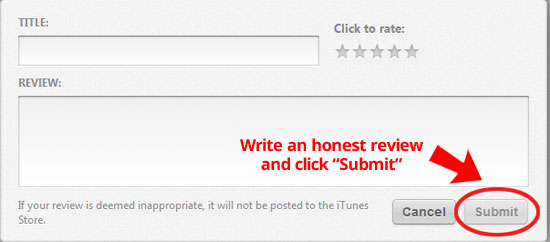 7) Finally, subscribe below and you will receive an email. You must reply to that email with the text "MWQHJ Contest" and "include the iTunes name" you used to write the review to enter the contest.