After publishing my article on How To Buy Wholesale Direct From Chinese Factories, a number of readers asked why my wife and I chose to pay all of this money to go to the Canton fair in China when we could have just used Alibaba.com for free to find our vendors.
Certainly, the trip was not cheap. Here's a breakdown of our expenses.
Multi Entry Visa Cost To China – $440 (We paid $160 extra for special service so we didn't have to drive all the way to the Embassy in San Francisco)
Airfare To Hong Kong – $1740
Bank Transaction fees – $45 (atm and credit card foreign transaction fee)
Train to/from Guangzhou – $120
HK Taxi/Metro – $140
Meals and Incidentals – $550
Hotel in Guangzhou – $260 (can be as high as $450/day) for a 5 star hotel
Hotels in Hong Kong (approx $300/day) for a 5 star hotel
Now you could easily find places to stay in Hong Kong and China for far less money but my wife and I like to treat ourselves when we travel.
For this particular trip, we did not have to pay for any hotel fees in Hong Kong because we crashed with a friend, but in general hotels are especially expensive during the trade show months.
For my wife and I, the trip was all about saving time and enjoying a tax deductible vacation in Asia. In general, you can always forgo trade shows altogether and contact potential vendors individually through services like Alibaba.com and GlobalSources.net but in most cases you can't see their entire portfolio online.
If you wish to obtain samples, often times there are long lead times (on the order of months) just to see an actual product. As you can imagine, this back and forth communication can be frustrating and take a good amount of time and effort.
The other thing that my wife and I have discovered is that Asian vendors are less likely to pull any shenanigans once you have met with them face to face and have developed a personal relationship.
What do I mean by shenanigans exactly? Let's just say that some vendors will test you to see what they can get away with. Since they are all the way across the world in Asia, there is very little that you can do if you get delivered junk from their factories.
Below are some bad experiences we had with our Asian vendors when we first started out. Since we primarily purchase linens, all of the stories below involve textile factories.
Irregularly Shaped Merchandise
I still remember the first shipment of handkerchiefs that my wife and I received from Asia. It was a very small order (on the order of 20 dozen or so hankies), and when we busted open the package, we were extremely happy with the quality of the product.
The handkerchiefs were carefully made, soft, and they pretty much arrived pressed and ready to sell out of the box.
We had read horror stories about importing goods from Asia, and felt extremely lucky to have found a quality vendor on our first try. Everything was fantastic until we placed our second order.
The second batch was a disaster. The quality and worksmanship of the first order was nowhere to be found. While the hankies were shipped to us in packs of a dozen, only the top 5 or 6 hankies of each dozen were pristine and the remaining product was crap.
While these handkerchiefs were supposed to be square, 6 out of every 12 hankies were either rectangular or some weird trapezoidal shape.
When we complained over email, the vendor told us that it was because we had not ironed the fabric completely flat and that fabric stretching could account for a slightly rectangular shape.
What complete and utter BS! The hankies we received weren't even close to being square. A hanky that was supposed to be 13 by 13 sometimes ended up being 15 by 11.
There's no way in hell that you could stretch a cotton piece of fabric 2-3 inches by ironing it improperly. What pissed us off even more was that it seemed as though these vendors tried to hide bad and irregular product by mixing it in with the good on purpose hoping that we wouldn't notice.
What's worse was that since the quality of our first order was so good, we didn't even bother going through the product before shipping it out to customers. As a result, we received a lot of angry customers and had to give out a bunch of refunds.
Stains In the Fabric
It was only after repeated complaints about the irregular shaped fabric did the quality slowly start improving.
While the workmanship was not as good as the first batch, we started ordering larger quantities and were told to expect some degree of irregularity since the hankies were all hand made. Fine! Despite the defects, we were still making a decent profit.
No sooner did we think that everything was all good again, we started noticing small stains in the fabric of select handkerchief styles.
Nothing large per se, but if you looked at some of the hankies very carefully, you would notice small dots and sometimes small lines in the fabric.
Naturally, these stains were unacceptable. Since we were selling to would be brides, all of our merchandise needed to be perfect or close to perfect.
When we pointed the imperfections out to our vendors over email, they mentioned that all of those dots could be easily washed away by laundering the hankies. The catch-22 here was that once the hankies were laundered, they could no longer be sold as new.
Just for the sake of argument, we threw some of the stained hankies into the wash, but none of the stains ever did come out. Thus, we were stuck with a batch of stained and unsellable goods.
Crispy Fabric
After being shipped crap a few more times, we ended up dropping that first vendor and found another one through a global sourcing website.
This time, we made sure to emphasize that we did not want any stains or irregularly shaped fabric. And the vendor reassured us that we would not have these problems with his factories.
He turned out to be correct. The hankies arrived perfectly square and stain free, but the fabric felt like crap. Instead of a soft and delicate handkerchief, the hankies were thin, crispy and had the consistency of paper. ARGH!!!
Even though the vendor told us that everything was 100% cotton, there's no way in hell that cotton could feel so coarse. I suspect that to save money, they used a mixture of polyester along with the cotton or something along those lines.
In short, the hankies we received were mostly unsellable and we had to scrap most of the batch.
The Resolution
After having a few bad experiences with our initial vendors, my wife and I ultimately decided to hop on a plane to visit and find new potential vendors in person in Hong Kong and in China. We even decided to visit our first vendor just to checkout his facilities.
After visiting our vendors in person, the quality of our goods drastically improved. In fact, after speaking with our first crappy vendor and showing him samples of the irregular hankies that he sent us, he promised to go through each shipment by hand before shipping it out to our office.
I can't really explain the result, but after physically meeting with our vendors, both the quality and speed of fulfillment of our orders drastically improved. After meeting face to face, our vendors also became more receptive to our complaints.
This is why I always emphasize in my articles the importance of personally meeting with the people you do business with, especially in Asia. It's all about the relationships.
So is it worth several thousand dollars to travel to China and meet with hundreds of vendors face to face all at once? Definitely. There is no doubt in my mind.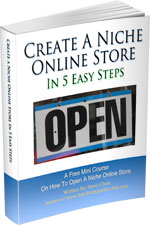 Ready To Get Serious About Starting An Online Business?
If you are really considering starting your own online business, then you have to check out my free mini course on How To Create A Niche Online Store In 5 Easy Steps.
In this 6 day mini course, I reveal the steps that my wife and I took to earn 100 thousand dollars in the span of just a year. Best of all, it's absolutely free!
Note: This post above may contain affiliate links, which means that I may receive a commission if you make a purchase when clicking a link. Please consult our privacy policy for more information.
Similar Posts
Have you read these?