This particular reader was feeling a bit discouraged about her situation so I thought that I would try to lend a few words of encouragement. A, Thank you for emailing me. This post is for you.
I have been following your blog for about 3 months now, I work retail so I absolutely love the customer stories(I can relate). I have been working on starting my own business (it is very hands on in that includes sewing and screen printng) both of which I love.
So much so that this has actually lead me back to school, and I know exactly what I wish to do. However I keep butting my head against the wall, now thanks to you I understand BHAG and have been working accordingly.
However I still get those nagging, you should be happy to have a job, you're a bit old to start(really I'm 35!), you don't have a college education, you should go back to school.
Now most of this comes from others, but some actually are my own thoughts. How do you work past all the negative back talk external and internal? The company I work for is not bad, it takes good care of us, but I am not fullfilled and if I wish to do anything creative I would have to move back east.
Do people really expect anyone that goes against the grain to actually fail?
Doubt Is Normal
I just want to start off by saying that everyone has negative thoughts. Everyone doubts themselves from time to time. Everyone has people and friends that doubt them.
Hell, I was a complete basket case when we first opened our online store. I would sit there and stalk our customers online and then throw a fit when they didn't buy anything.
When we went for months without a sale, I started wondering whether I had wasted all of that time and money on a stupid venture. I started doubting whether I was competent enough to pull off running a successful business.
I even had close friends tell me flat out that our online store was a dumb idea. What you are feeling is perfectly normal.
To put things in perspective, I'm 34 years old. We started our online store when I was 32 and in a little over a year was making over 100K in profits.
It's never too late to pursue your dreams. It sounds cliche but it's true. You just have to change your mindset to think longer term. I'll try to address some of the points of your email below.
Should I Go Back To School?
The answer to this question is really up to you, but I would say that going back to school is not in your best interests at the present time
if you want to start your own business. This statement is especially true if you're thinking about going to college just to get a degree.
Sure, a degree might help you get a higher paying job, but 90% of what you'll learn will not be applicable to what you eventually want to do with your life.
The only reason to go back to school is if you have a specific purpose or focus, know exactly what you want to study and you are positive that the education will directly benefit your future plans.
If this is the case, I would consider going back to take specific classes only. I believe this is what you are doing already with your graphic design curriculum.
How Do I Deal With External Doubt?
I know exactly how you feel when it comes to dealing with people who doubt your business ideas and future plans. It especially hurts when it's a close friend or family member.
Some of them may mean well, but you have to ask yourself whether they are the right people to be taking advice from.
Have any of the people who've doubted you ever gone out on their own? Have any of them ever taken any risks or tried to take control of their life?
Have any of them tried to start their own business or company? My guess is that the answer is 'no', otherwise they would be encouraging you instead of disparaging your efforts.
I've never met an entrepreneur who was not supportive of someone else taking the plunge. The people who doubt your capabilities are the ones who are afraid to start a business on their own. Deep down, they hope you'll fail just so they can validate their own fears and insecurities.
So what is the solution? Hang out with people who will give you positive vibes. Hang out with people who are encouraging and helpful. Stop asking for advice from people who aren't aligned with your end goals.
A good place to start is by getting involved in various entrepreneurship communities. Find like minded people who have started a business, are thinking about starting a business or already own a business.
I guarantee you that they will be far more encouraging than your friends and coworkers. They will help provide you with the motivation to succeed when those negative thoughts creep in. Feel free to contact me anytime when you need a pick me up.
How Do I Deal With Internal Doubts?
I have found that the best way to deal with internal doubt is by building confidence. And confidence can only be built up through experience and knowledge.
The good thing is that gathering knowledge is completely under your control.
When things with our online store were not going well, I had major doubts about the viability of our business model. What was I doing wrong?
Why was our site not showing up in the search engines? Why were people not buying anything?
I was completely clueless and that was the main source of my self doubt. To overcome these feelings, I spent all of my time doing research on the web and reading books on the various stages of business building.
I immersed myself in case studies and constantly asked my entrepreneurial friends questions about their businesses. Gradually, I gained enough knowledge to formulate a sound strategy. I developed the confidence that the path that I was taking was the correct one.
Overcoming doubt is a different process for everyone. But knowledge and experience trumps everything. Everything is under your control.
You can gather knowledge by reading and you can gather experience by trying. If you don't do either, then you're stuck. If you don't have confidence in yourself, then who else is going to believe in you?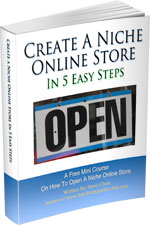 Ready To Get Serious About Starting An Online Business?
If you are really considering starting your own online business, then you have to check out my free mini course on How To Create A Niche Online Store In 5 Easy Steps.
In this 6 day mini course, I reveal the steps that my wife and I took to earn 100 thousand dollars in the span of just a year. Best of all, it's absolutely free!
Similar Posts
Have you read these?