This a guest post from Sunil. You can read more about him and his work on his blog.
As a CPA in one of my previous lives, in this article I want to discuss a few income tax specific matters as it may pertain to you and your business operation.
Whether you own an offline brick and mortar business, or run an online ecommerce store like Steve's wife, or are contemplating starting either, it is around this time of the year that you have to start compiling receipts from the previous year's activity to prepare your income tax returns.
First off, tax planning and effective compliance is a year long process. Many treat income taxes as a chore that must be done from the time tax related statements start hitting your mail (i.e. W2 forms) through the deadline.
This approach, while it works for many, particularly those with simple lives and just a W2 to report, is not necessarily the most effective or efficient for someone with a more complex tax situation.
Year Long Record Keeping Discipline
To ensure a smooth tax compliance process, clean record keeping is essential. So my first tip right off the bat is to get your business its own credit card.
You don't have to get a "business card" per se. A credit card can be in your name, but ensure you only use it for business. I understand not everyone can do this, but to the extent you can I strongly recommend you do (not to mention the credit card rewards).
This does a couple things. First, credit card providers have sophisticated websites that allow you to download your card usage activity and slice it and dice it any which way you want. In less than 3 minutes, you can download an entire year's activity and slice it into a pie showing how much you spent on what category. Pretty nifty stuff.
Second, you ensure close to 100% capture of business activity. Gone are the days when cash was needed in wallets. When was the last time you paid for something in cash that cost over $50? Even if you do, chances are there won't be many instances.
Even if you were to aggregate the instances, at whatever your tax rate is, you won't be missing out much in terms of deductions if you lost the receipts and weren't able to take the deduction. Remember, $100 in deductions doesn't mean $100 in saved taxes. Your savings depend on your tax rate. Bottom line – keep a credit card just for business usage.
Advantages of Business Formation / Incorporation
I can write a book on this sub section alone. But in the interest of quickly conveying my message, I want to keep things simple by focusing on a Limited Liability Company (LLC), which is the most preferred method of business incorporation by working individuals who own side businesses online.
Because most of Steve's readership fits this profile, discussing the advantages of an LLC would be most appropriate in my opinion. But that said, the underlying concepts work for other types of legal entities as well. The point is to take advantage of what you are allowed as a business to effective conduct tax planning throughout the year and save on taxes as much as possible come compliance time.
As LLC is mostly a pass through entity from a tax perspective, which means that profits and losses from your business (Schedule C) are to be netted with your wage income from employment. Now if you are conducting business, there are obviously going to be a certain number and type of expenses that come with the territory.
Fortunately, many of these expenses are expenses you would've incurred anyway if you didn't own a business. For example, chances are you always had a phone, a house, a car and internet.
There are many other expense types that one typically incurs anyway, but because of a business, one can deduct a certain portion of those expenses that previously were not deductible to them as just individuals filing a 1040 income tax return.
I am not saying these expenses are the main reason one should get into business. But given the fact that you are allowed deductions for many expenses that you used to, are and would incur anyway, why not?
When your business becomes your only source of income, you can start deducting 100% of these expenses (with the exception of housing and housing related as the IRS would argue your house is not a full time office).
An LLC is also a limited liability entity, which separates you legally as a business from you as an individual. In the unfortunate and unforeseen event that you are sued, authorities cannot comingle your assets so as you don't either.
You must be able to show separation, thus the initial tip about keeping business activities such as expenses completely separate. Whatever you do, do not ever conduct business as a sole proprietor. This leaves you exposed from every angle and you don't want that!
Editor's Note: If you want to learn more about how to decide on a corporate structure, please check out my small business startup guide.
Tax Planning is Your Right
Saving on taxes is your right. Don't believe me? Ask the IRS who states you should pay as little tax as you legally owe. Many business owners take this to hear and aggressively deduct anything they can so as long as they can reasonably justify it.
Personally, if I can legitimately justify the expense as business, I claim it. I understand that the IRS may challenge, and I / you may lose, but we can try. That said, don't go gangbusters and start deducting everything like your Colgate toothpaste either. Be reasonable, be prudent.
Editor's Note: If you want to learn more about what you can and can not deduct for your business, please visit my guide to the most common business tax deductions

Many don't understand what an effective tax rate is. Do you truly understand how much you are paying in taxes? You may think so, but do you realize what the overall rate is? Many don't.
Business tax deductions can significantly lower your effective tax rate and thus the overall gross dollars that you pay in tax to Sam.
There are some significant advantages of owning your own business. In my opinion, it is the single best tax planning tool and how you can truly get ahead financially relative to your peer group.
I have stuck to the same answer now for years, especially when friends and family ask me how they can save on their taxes at dinner conversations and casual gatherings.
Readers: Are you taking advantage of all the tax deductions you are allowed? If you don't have a side business yet, do I make a strong enough argument to contemplate starting one? Of course I recommend you do what you enjoy.
Note: If you are interested in creating your own corporation or LLC, head over to CorpNet.php and get a free consult. Use coupon code: MWQHJ for 10% off!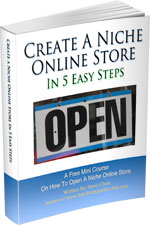 Ready To Get Serious About Starting An Online Business?
If you are really considering starting your own online business, then you have to check out my free mini course on How To Create A Niche Online Store In 5 Easy Steps.
In this 6 day mini course, I reveal the steps that my wife and I took to earn 100 thousand dollars in the span of just a year. Best of all, it's absolutely free!
Note: This post above may contain affiliate links, which means that I may receive a commission if you make a purchase when clicking a link. Please consult our privacy policy for more information.
Similar Posts
Have you read these?