This post was written by A-ron, a regular contributor for MyWifeQuitHerJob.com!
I was trying way too hard. It was the proverbial square peg in a round hole. And I was banging it pretty hard, to the point of exhausting me, mentally and physically, without even thinking about it. I thought it was what I was supposed to do, a flawed rationale if ever there is one.
You know you need to back off and relax when you start getting sick a lot.
Headaches, stomach aches, horrible diet choices, alcohol consumption, no energy or time for exercise, alienating friends and family, and all sorts of other symptoms are the world signaling you that maybe what you're doing isn't a good fit for you.
Related: How to Burn Yourself Out in 2 Weeks When Starting Your Online Business
Work As A Drug
There's a fine line between working hard and just working for work's sake. It almost becomes an addiction after a while. If you spend a day doing nothing, or blowing off what you wanted to get done in favor of something else, and you then feel like a failure for the day, that's a good clue you're addicted.
My boss at the day job is like this. A lot of people working the 9 to 5 grind are like this. You have 40 hours a week to fill, whether there's something important to do or not. Innovation, creativity, and a whole host of other fulfilling activities get crushed when all you're doing is spinning your wheels.
Related: Entrepreneurial Mistakes: Are You Procrastinating Under The Guise Of Doing Work?
Wanting It Bad Syndrome
I love watching American Idol, in the beginning of the season. I give up after all the golden tickets have been given out. The first rounds of rehearsals are what interest me the most. I knew a girl a few years ago who was going to an audition for the show.
I was asking her how she was going to handle Simon if he did what he does best, belittle people to make them feel inferior. She told me that she has to go through a preliminary audition before getting presented to the celebrity judges. She failed to make the cut.
So all those people you see on TV have already been filtered, and of course, all the ridiculous ones have been chosen for pure comedic/dramatic value. Train wrecks seem to be way more interesting to the TV viewing masses.
Anyway, I like the show because everyone who makes it to the celebrity auditions truly believe they have the talent to win the competition. We know all of them except 1 is delusional. They may have talent, but the odds are stacked heavily against them.
There's always a handful that plead their case when the judges reject them, and the only argument they have is "I really, really, really want this." I roll my eyes and yell at the TV, "of course you do, everyone who is waiting for hours on end with a bunch of other lunatics want it just as bad as you!" Then I angrily turn it off and do something that doesn't give me brain damage.
The thing is, we're all like this. We think we want something so bad that we try and force it. No one likes to go to a job. No one. I don't care if you claim to love your job, if you could make the same amount of money, guaranteed, without having to exchange your precious time for it, 99.99999% of you would.
That's why we're all here. We desperately want something, anything, that can replace the need to work a shitty job and put up with a shitty boss. We're no different than all the delusional American Idol wannabes.
Stop Digging
Now, I'm not saying that wanting to own a small online business of your own is delusional. Far from it. What I am saying, is that in our desperation to build a successful, profitable business, we lose focus on what's most important to us, and what value we're adding to the world.
It's happened to me more than once over the last few years, in my attempts to escape the grind, I've latched on to business ideas that didn't align well with me. I was forcing it. I was living in the delusion.
And it showed in my businesses. It showed up in my personal life. It showed in my writing. It showed up in my health. It showed up to everyone observing on the outside, and I was the lone idiot on the inside grinding away in the fog. This has happened more than once. To sum it up, I wasn't building a business that provides value to people.
I was building a business in an attempt to add value to MY life. In the real world, this just doesn't work for very long. Eventually, people will sniff you out as the phony you are. Or, you'll burn out completely trying to keep up the illusion.
Both of the outcomes are good things. It's like detecting cancer early, when it's still treatable. I'm thankful that I reached the burn out point, and now I have a chance to rebuild. I have a chance to apply the lessons learned, and finally I learned the most important lesson of all. It's not one thing, and it's different for everyone. Just remember this: there is no bottom. Don't let anyone fool you.
Related: What Does It Take To Get You Off Your Butt And Start Your Small Business?
The literal bottom is death, and none of us are there yet. But you can keep digging and digging and digging and no one will ever tell you to stop. They might, but you won't listen, unless you pay attention every single day. Ask yourself, "do I really want to do this today?" I think I stole that from Steve Jobs or some other billionaire smart person like him.
It's OK to say "no," no matter how entrenched you might feel. I gradually stopped playing guitar, after spending half of my life playing for hours almost every day. I liken it to the scene in Forest Gump, after he had been running for a really long time, one day he just stops in the middle of the road and decides he doesn't want to do it any more.
It doesn't mean you've failed. It only means it's time to recuperate, reload, and begin again.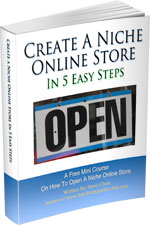 Ready To Get Serious About Starting An Online Business?
If you are really considering starting your own online business, then you have to check out my free mini course on How To Create A Niche Online Store In 5 Easy Steps.
In this 6 day mini course, I reveal the steps that my wife and I took to earn 100 thousand dollars in the span of just a year. Best of all, it's absolutely free!
Note: This post above may contain affiliate links, which means that I may receive a commission if you make a purchase when clicking a link. Please consult our privacy policy for more information.
Similar Posts
Have you read these?