Perhaps it's due to the bad economy, but many of my friends lately have become increasingly frustrated with their day jobs. Taking an informal poll, over 80% of them would much rather be working for themselves than for their current employers. Of these 80%, many of them are staying at their current positions because they are grateful just to have a job in this down economy.
As a result of their frustrations, more and more of my friends have been asking me about the details of our online business and how we found the courage and knowledge to begin. What did it feel like when you first opened up your store? How did you come up with the idea? What made you decide to act on it?
I've answered so many of these questions recently that I've decided to write this article with the best analogy I could come up with. Starting your own business is like asking out a girl for the first time.
How I Met My Wife
I distinctly remember the first time I saw my wife at the A+J restaurant in Cupertino village. My buddy Y and I stopped in to grab a bite to eat when we saw our mutual friend V dining with a group of her friends. I remember taking turns saying hi to everyone at the table when I became suddenly overwhelmed by the beauty of this one particular girl whom I'd never seen before.
Her cuteness struck me so hard that I was speechless and for some strange reason, I couldn't look her directly in the eye. In fact I was so out of it, that I forgot to introduce myself and didn't even get her name.
Later that evening, we all went out to a movie together as a group but I couldn't really speak to her all that much. I was struck by shyness and my tongue wouldn't work properly. Worse yet, the night ended and I didn't even get her number.
A Lost Opportunity Due To Fear
Looking back, not getting my wife's number that night was potentially one of the biggest mistakes of my life. I was too scared to act and I blew a huge opportunity. What if I never got to see her again? What if she wasn't single the next time I did get to see her?
This is the exact same way I felt when my wife and I first thought about starting our business. Basically, we hesitated. Deep in our hearts, we wanted to start something but we were scared because we knew nothing.
We knew nothing about creating websites. We knew nothing about all of the logistics and legal aspects of opening a store. We had no clue what we were doing and so we did nothing for a very long time.
Now that we run a successful business, we regret not having started earlier. We should have pursued our ideas long ago. When I first met my wife, I should have followed my gut and asked for her number without hesitation.
What If I Get Rejected?
Should've could've would've. Acting on your gut is easier said than done. Truth is, I didn't ask out my wife that night because I was afraid of getting shafted. I was afraid that if I got rejected, that my friends would gossip about me.
"Man, that Steve has no game. Did you hear he got dissed by Jen? Ouch!"
Where I live, my community and my circle of friends are extremely tight. Word travels fast. If I got rejected, all of my friends would've found out pretty quickly.
The same was true for our business. My wife and I weren't afraid of losing money per se because our business didn't cost that much to start. But we were afraid of losing our dignity and our confidence. What if we wasted months of our time on a business that never made any money? What if we discovered that we were incompetent? What would our friends think of us?
Another Botched Attempt
We all get scared of taking chances in the beginning. But once you get over your initial fears, you'll feel exhilarated. You'll feel alive. You'll get swept away and your heart will beat at a million beats per minute.
I got another chance to ask out my wife at an engagement party several months later. I remember seeing her at the party out of the corner of my eye and feeling absolutely euphoric. I felt quivers in my stomach and my palms were sweaty but dammit! I told myself that I wasn't leaving the party without making an attempt at getting her contact information.
Me: Hi there!
Jen: Hi. I'm sorry what as your name again?
Me: (Ouch! I guess I wasn't that memorable) I'm Steve. Remember we went to see Eyes Wide Shut a couple of months ago?
Jen: Oh yeah! How are you doing?
Me: Good. You know we work pretty close to each other. I was wondering if I could get your business card. Perhaps we can have lunch sometime.
Jen: Sorry I don't have any business cards on me. But…
Obnoxious Friend: (**Rudely Cuts Jen Off**) Don't mean to interrupt. Can I borrow Jen for a sec to help me with the dessert?
I was dumbfounded. What was Jen going to say after the BUT?!?!?! Was she going to give me her number? Why didn't she finish her sentence!?!?! Unfortunately, she was abruptly whisked away thus ending our conversation and my hopes of getting her number. I had failed to obtain the digits for the second straight time.
Persistence
I remember leaving that engagement party feeling extremely dejected. How did I screw it up again? How hard was it to get a frickin phone number? Perhaps it wasn't meant to be.
Dejected is something you will probably feel at some point with your business and you will need to dig deep to get out of your rut. After the engagement party, I felt sorry for myself for a few days and finally got fed up with myself.
Screw it! I'm just going to ask my friend for her info and I'm going to call her out of the blue. I don't care if everyone knows that I'm going to ask her out. I don't care about getting rejected! And so I found her number and I asked her out the very next night. The rest is history.
Why Not Take The Chance?
When it comes to starting your own business and initiating relationships, the rewards always outweigh the risks. If I never asked out my wife, I wouldn't have my family today. I wouldn't have a loving wife and a cute little daughter to play with.
If we didn't have our business, my wife wouldn't have the pleasure of quitting her job to raise our daughter. The truth is that our lives would not be the same had we not acted on our desires.
Do you want to live your life regretting what you could've done? There comes a time when you just have to stop caring what other people think and just act on it. Take a chance and you'll be pleasantly surprised.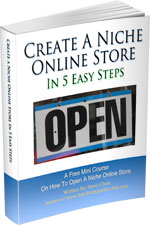 Ready To Get Serious About Starting An Online Business?
If you are really considering starting your own online business, then you have to check out my free mini course on How To Create A Niche Online Store In 5 Easy Steps.
In this 6 day mini course, I reveal the steps that my wife and I took to earn 100 thousand dollars in the span of just a year. Best of all, it's absolutely free!
Note: This post above may contain affiliate links, which means that I may receive a commission if you make a purchase when clicking a link. Please consult our privacy policy for more information.
Similar Posts
Have you read these?