This post was written by Cristin, a student in my Create A Profitable Online Store Course.
I'm particularly proud of Cristin because she did not give up even though she had to go back to the drawing board several times with her niche. In fact, she completely scrapped her first online store idea after spending a ton of time creating her website.
But she kept with it and became my very first student to start a successful subscription box service. Her online store is called Pampered Teacher and she sells gift boxes specifically targeted towards teachers.
If you know a teacher who could use a little TLC, then check it out!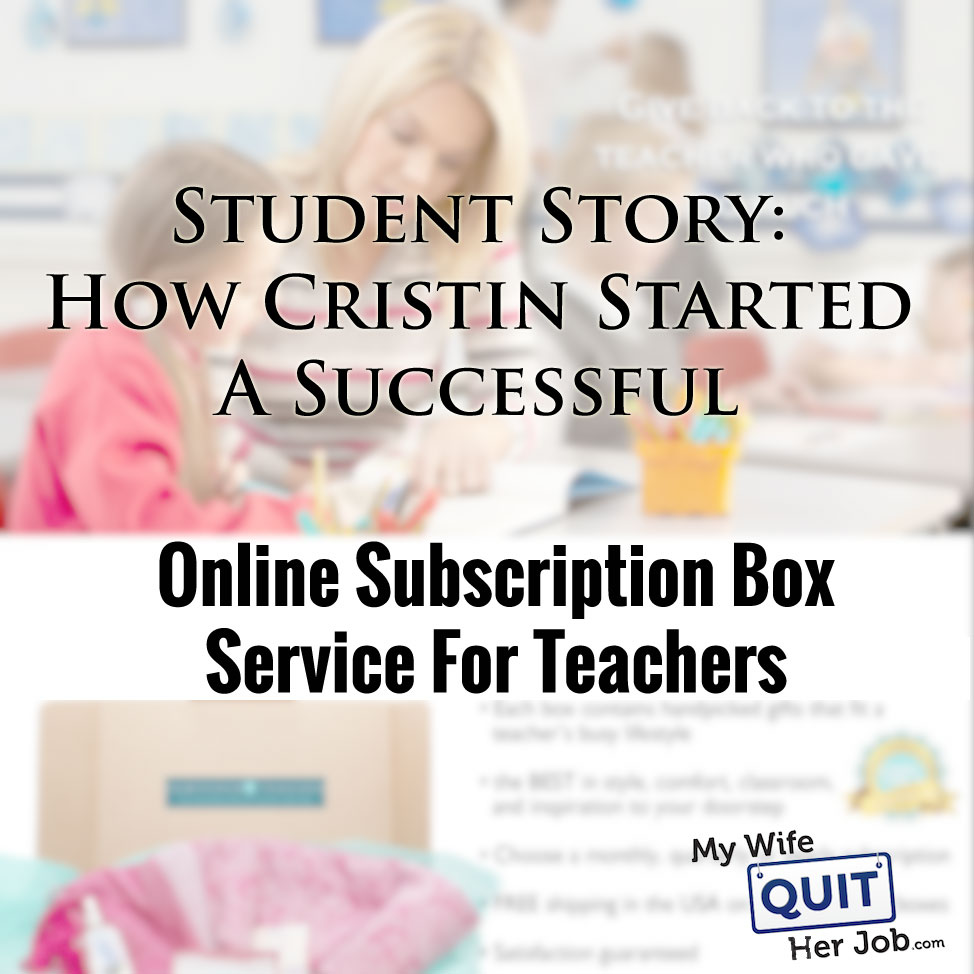 In the words of Zig Ziglar, "Plan, Prepare, Expect." You can't argue against that formula for success, but no matter what, there has to be room for adapting to the unexpected.
There was a six month lead time between signing up for Steve's class, to the day I launched my store Pampered Teacher, a subscription box for teacher gifts. This gave me the time needed to research my niche, research my competition and build my online storefront.
Next I bought inventory, shipping supplies and created promotional materials. Overall, the process was very similar to when I was pregnant. Everything was new, orderly and fantastically envisioned.
If you're a parent, you know how the inexperienced fairy tale of parenthood morphs into reality immediately upon the birth of your baby. Images of you rocking a cooing baby to sleep actually turn into you driving your mini van around your neighborhood for an hour in the middle of the night with blood-curdling screams coming from the back seat.
Your intentions and goals are still intact; your methods just get a bit tweaked.
Your Target Customer May Not Be Who You First Expect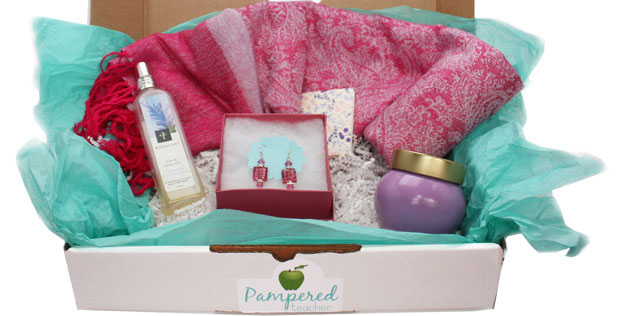 Launching my store went something like having my first child.
I had a business plan that outlined my mission, objectives, strategies, action plan and target audience. Yep, all my ducks in a row. I was solid on my target audience of parents of students, room moms and teachers who wanted to treat themselves.
My first customer was a man. The husband of a teacher.
And I didn't see that coming.
However, it made total sense. For men, subscription boxes are a no-brainer; it puts their awesome gift giving on autopilot. And men love to be the hero, right?
Anyway after getting more and more male customers, I decided to make my site look more unisex and sophisticated rather than cute and feminine. I also created a promotional video specifically for a male audience.
More recently I have also started using Promoted Pins on Pinterest where the male presence is ever increasing.
And now six months after launch, half of my sales come from men who are buying for their wife, girlfriend or daughter who is a teacher.
A Niche is Not a Stereotype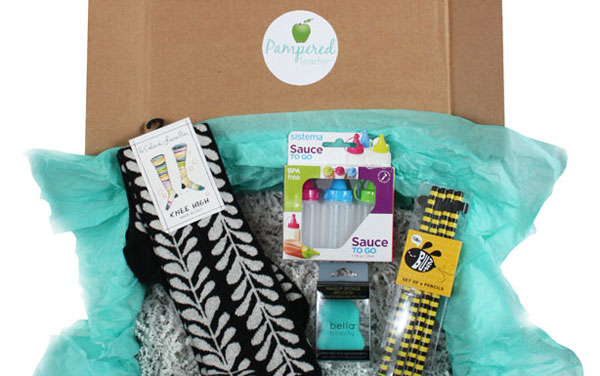 When I launched, the plan was to select 4-6 products for each month's box and make them seasonally appropriate.
But during month two I received an email from a man who wanted to get the box for both his wife and daughter. Aside from me thinking this was the sweetest thing ever – I was like, "this mom and daughter cannot get the exact same box!"
And it brought to light my anxiety about not knowing my customer's individual needs.
It went way beyond target market. And sure, all teachers can use dry erase markers and a lint roller, but how was I going to cater to each customer's individual preferences?
I ended up coming up with a simple solution to my problem. It took minutes to add helpful style preference questions to the checkout page on my site. And even though I'm allergic to coding, Shopify had very simple, pre-existing code templates that I dropped in and modified on my own.
Now on my checkout page there are questions, like "Are the recipients ears pierced?" Then a drop down of multiple choices that includes "I don't know" in the case of a gift. There are also questions asking about hair accessories and allergies.
What I thought would make us crazy – stocking a larger selection of products and hand selecting products for each box – turned out to make us more confident that we were giving our teachers something that would for sure brighten their day.
As a business owner I would rather take more time up front to accommodate my customer than spend time after the sale trying to right a wrong.
Give Before You Receive
Giving in order to receive is a very old concept. A concept that's open to many interpretations.
For an on-line store, it's not only offering great products and services, it's everything from giving free products for reviews, giving useful content to your audience and giving an experience to those who visit your store.
Lucky for me, as part of being a member of Steve's class I was able to get a personal site critique and a 1-on-1 consultation.
I was pretty darn excited to show my original site design to Steve. I had similar visions of grandeur as Ralphie on "A Christmas Story" when he imagined his teacher giving him an A+++++ on his Red Ryder BB Gun essay.
Little did I know, there was tons of room for improvement. Tons!
Steve's experienced perspective helped me to express my brand image, and intentions for the business.
I needed to tell my story. Not just in words, but in photos, icons and testimonials.
Looking back, my original website was a direct reflection of my personality. Being a straightforward, yet private person my store completely lacked emotion. My list of features was utterly pragmatic. I might as well have just said, "This is what you get. Want it or not?"
But the truth – behind the scenes – is that I'm totally giddy about sending out my boxes of teacher gifts. I love every part about picking out new products, creating gift themes and finding useful recipes and classroom projects for teachers.
Did I express that on my site? Um, no.
I consider myself a very visual person so why I was originally so stingy with my imagery is kind of a mystery to me. Regardless, I want to highlight some of the changes I made so you can better understand a formula for effectively using imagery to define your store's communication.
The Original Site Design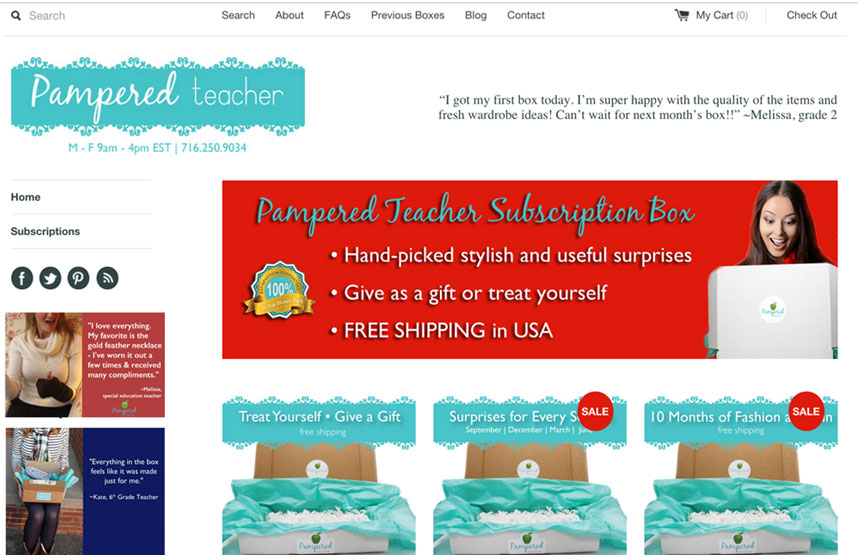 Here's my original homepage. I thought it was wonderful. What's more attractive than a woman with a huge smile, right?
Well this woman could be anyone. Nothing about this photo says teacher working her buns off. The generic red photo above gives no clue as to what you're getting. There could be a puppy in that box for all you know.
Connect With Your Audience Through Imagery
After discussing my site with Steve, and further input from the focus group I'm in with other class members, I reworked my site to achieve my goals of appealing to a male and female audience, showing longevity (more on that) and presenting the story of my brand through imagery.
No one wants to literally read a story, or even Cliff Notes; they want to see the story.
By showing a picture of a teacher working intently with a student I was able to appeal to my audience while creating thoughtfulness around gift giving.
Early on, I got a call from a woman who was considering the purchase of a school year subscription (up-front payment for 10 monthly boxes), but was concerned that I might not be in business the following year. She had a point. Many businesses fail within the first year.
To build trust in the longevity of my store, I created a page called "Box Examples." Not only does this feature hero shots of the boxes, it shows the history of our business and the brands we work with. We're not just some lone operation.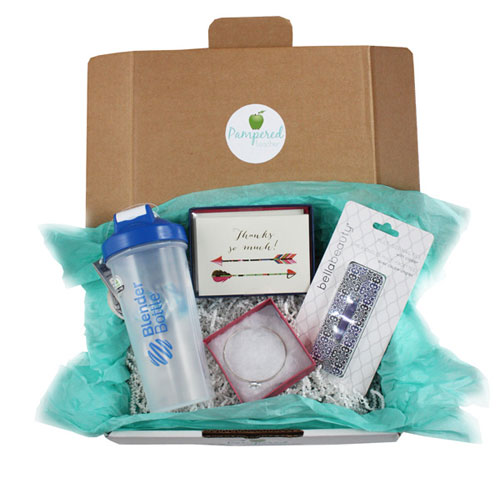 And to make messages much more engaging than just bullet points, I found that colorful icons paired with copy did the trick. Icons often make people curious because it isn't totally clear what that simple image is communicating. So people are naturally going to read the copy.
Updated Site Design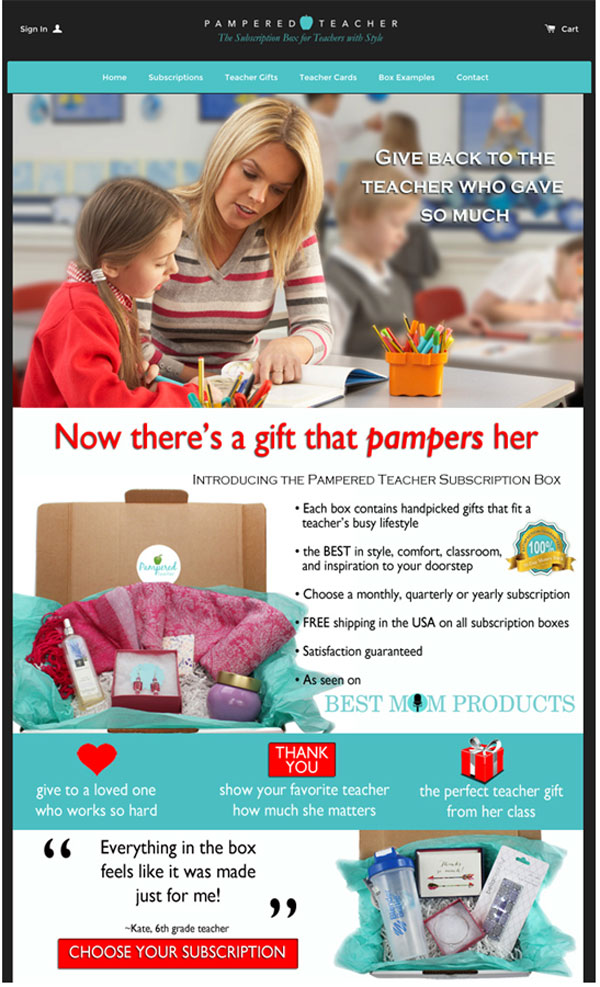 The redesign incorporated 3 gems that Steve shared with me during our 1 on 1 conversation:
Larger photo
Clear tagline
Benefits that are easy to understand
Not only have sales increased steadily since the redesign, I have used these three directives in my product listings and blog posts, some of which have been repinned organically on Pinterest over 100 times.
The "You" in Authenticity
Before opening an on-line store, I had been a blogger for several years. On my blog I showed my crafts, lifestyle tips and project tutorials, but rarely did I show my face.
My store blog is totally different. As much as it goes against my behind-the-scenes, private personality, most of my blog posts consist of me modeling and testing products that are featured in the Pampered Teacher boxes.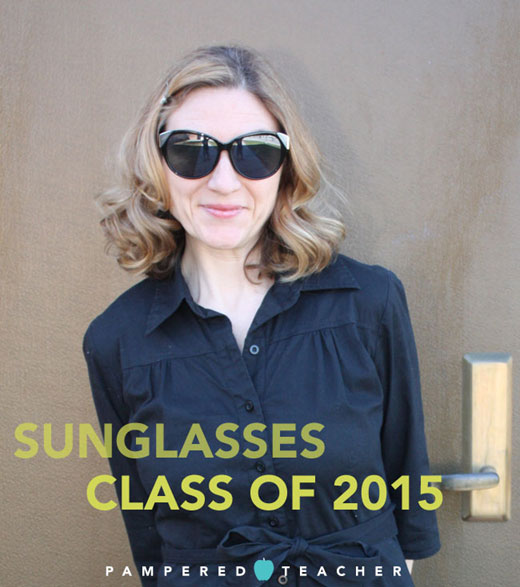 This was outer limits of my comfort zone at first. But then I received a reader comment saying how nice it was to "virtually" meet me.
It was awesome to feel I'd made that connection just being myself. Since then there have been so many positive comments, many coming from the Steve's class forum where classmates give much support and encouragement to each other. (For me the forum is the most valuable part of Steve's course!)
The positive feedback I've received through my blog and the Profitable Online Store forum has reassured my decision to literally put myself out there.
In Conclusion
No matter how much you plan, there will be an element of learning as you go. No need to freak out, often there are simple tweaks that solve the problem.
Stepping outside your comfort zone is a step towards growth and opportunity.
Self-examination and outside perspectives like a mentor or mastermind are essential to success.
You don't have to be Mr. or Ms. Popularity to be successful. Try honing your story-telling skills and strategic use of imagery to connect with consumers.
My online shop is by no means a benchmark for ecommerce websites. Like everything, it's a work in progress.
If you are interested in joining my Create A Profitable Online Store Course, then click here sign up now!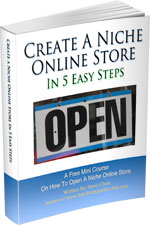 Ready To Get Serious About Starting An Online Business?
If you are really considering starting your own online business, then you have to check out my free mini course on How To Create A Niche Online Store In 5 Easy Steps.
In this 6 day mini course, I reveal the steps that my wife and I took to earn 100 thousand dollars in the span of just a year. Best of all, it's free and you'll receive weekly ecommerce tips and strategies!
Note: This post above may contain affiliate links, which means that I may receive a commission if you make a purchase when clicking a link. Please consult our privacy policy for more information.
Have you read these?