This is a post written by Sandy, a student in my Create A Profitable Online Store Course. Sandy signed up for my class without knowing anything about website design or how to run an online business.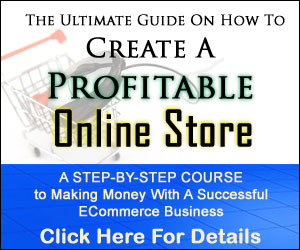 But despite her lack of experience, she managed to find her niche, source her products, create her website and launch www.GetUnrobed.com in a relatively short amount of time.
After getting to know Sandy this past year, she has become one of my favorite students. Why? It's because she has a great attitude and she's always willing to improve herself and try new things.
As I've mentioned in previous posts, an entrepreneur's attitude is the most important aspect of starting any business. So it's no wonder that her shop has been doing very well. In fact, she was nice enough to reveal some of her sales numbers at the end of her post.
GetUnrobed.com caters to the wedding industry and specializes in bridesmaid robes. Her site is hosted on Shopify, a fully hosted shopping cart platform that I highly recommend for those who don't want to deal with tech.
Anyways, without further ado, here's Sandy's post on how to increase your chances for business success.
How I Started GetUnrobed.com And My Advice To New Entrepreneurs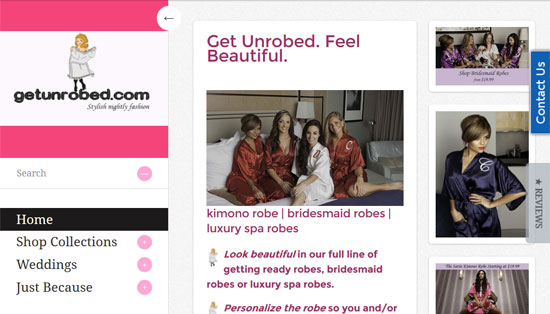 For the past five years, I've worked in academics as a communication instructor. I teach college students how to prepare and deliver a solid speech. This class terrifies most 18 year olds, and some fully grown adults as well.
What is amazing is that most of the class can go from pretty terrible to giving powerful speeches in just a few weeks, provided they show up to class, do the work I assign and actually get up in front of the class to deliver the speech, despite their fears.
In fact, there are only two reasons students fail my class, and neither has to do with initial speaking ability. Either, a student doesn't show up to class regularly, or they miss at least one speech.
Not because the weight of attendance or the weight of one speech alone devastates their grade, but because they just never seem to build the skills they should have at that point in the semester and it hurts them later on.
This formula for learning is pretty much the same throughout all of human history, in most any context. From the time we are born, we mimic our parents. We are essentially given personal mentors that we watch and copy.
The same happens in schools, sports, etc. Many corporations even have a mentor program set up to move junior executives through the ranks up to senior level. And it is always the same.
First you learn, then you do. And while you do, you get feedback, make adjustments and do again. The motto at the college I teach at is, "teach me, show me, let me try." We need to complete all of these steps before we can truly become an expert.
This is why, when I decided to open a store selling kimono robe style bridesmaid robes, I sought out a mentor who has helped me every step of the way.
Steve's class was a huge help, both through the content he provided and his personal interactions with students.
It was exactly what I needed to gain the knowledge and confidence it took to get my business off the ground.
This is why I suggest if you want to become an expert entrepreneur and get yourself a profitable online store; you need to start with two major tasks: get a mentor and take action.
Step 1: Get A Mentor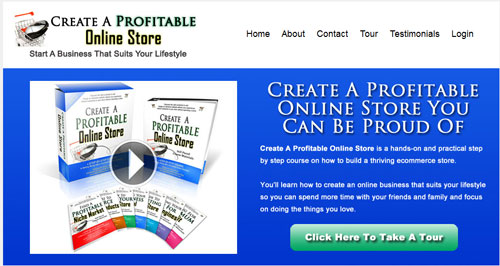 A common reason my students fail is because they simply do not show up. I'm not saying you can't learn things on your own. Of course, we all learn things on our own every day. It just takes longer. A lot longer.
Before I got serious about opening my store, I was throwing around a few other business ideas. I would Google what I thought were relevant topics, research and read as much as I could and try to implement the lessons.
It wasn't that I wasn't finding good information, but information on the internet is incredibly fragmented. Entire chapters in books are broken down into 500 word blog posts. It takes a long time to piece those articles together to make an entire book.
Ok, so why not just buy a really good book about starting a store? This is a much better solution, but still not ideal for a few reasons. First, the book is still fragmented, to some extent. Someone, an expert, has taken years of experience and crammed it into a few hundred pages.
Second, the text is static. What is there is there and there is no more. Third, once you are ready to take action, you'll miss out on valuable feedback that you can only get from a real live teacher.
That last reason is a big one.
Finding a mentor gets you to the source for interactions, stories and critiques that you can't find via text.
This is why our nation doesn't educate the young by sending them to the library.
Good Will Hunting style is only effective for a very small percentage of the population. Most of us need some guidance whether that be in what books to read, which examples to draw from, or simply getting feedback on our work.
There is something about asking for help that is intimidating for many of us. We have to admit that we don't know something, or are having difficulty doing it ourselves.
However, talk to anyone who has mastered a task and they will likely have someone, paid or not, that they consulted on their journey to the top. It is simply the most efficient way of learning and humans model if from the time we are born.
It is a shame that it takes a back seat for many as we reach adulthood. If you're not ready to hire a personal mentor, you can join a class.
If even that is too expensive for you, attend networking events or join an organization that focuses on your desired task and make friends with someone that can at least answer a few emails every now and then.
Step 2: Take Action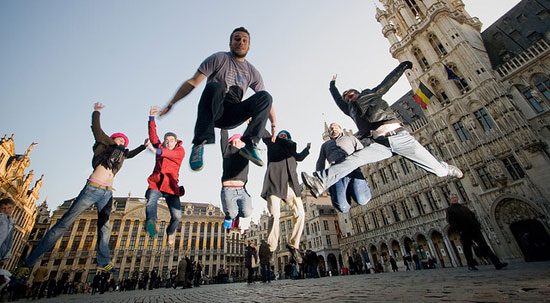 Now that you've "shown up for class," you need to put the lessons into practice. Not doing an assignment is the second reason my students just don't pass the class. The lesson there is the same for them as it is us: we need to take action to master a task.
Many of my students are terrified of getting in front of an audience and delivering a speech that they wrote themselves. There is something about the public critique that adds an extra layer of fear.
For some of them, this is enough to keep them from ever becoming decent speakers, let alone good speakers. Entrepreneurship is exactly the same. By starting a business, you open yourself up to public scrutiny. This is especially true for an online business.
Putting your work out in front of the entire internet is scary! Your friends and family are going to want to know if you're making sales, how often those sales are coming, how much you made per sale, etc. etc.
And, the sub text to all those questions is fairly simple: are you successful? And you'll be forced to answer that one simple question every day.
Not only to friends and family, but every time someone comes to your site, they'll be asking themselves that same question, judging, evaluating and critiquing.
You'll even be forced to face feedback every time you interact with a customer or see a review. However, just like my students, would be entrepreneurs can't improve on their skills if they don't practice.
At some point, we all need to put ourselves out there and make the mistakes on our own. We need to get that feedback so that we can correct course.
Although Steve has been an incredible teacher since the first day I signed up for class, I find myself making the exact mistakes that he warned me about.
Sometimes, I just can't keep up with everything I need to do and learn, so mistakes happen. Other times, I know I'm making a mistake but simply don't know how to correct it.
However, if you've taken the time to set yourself up with a mentor, you will have the benefit of having someone who gives positive feedback and can direct you to the areas that will make the most dramatic impact on your business and your bottom line.
Although mistakes will still happen, this will greatly reduce the cost of mistakes and increase the chances you will learn the right lessons, the first time around.
The Impact Of Having A Mentor And Taking Action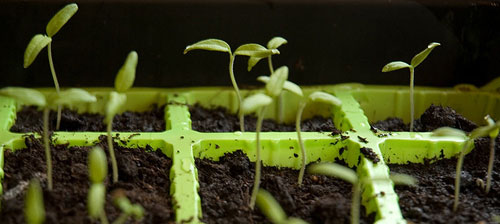 I've seen the impact of following Steve's advice and learning the right lesson the first time around, and it is clearly affecting my numbers. For example, the first month my site was live, I sold a measly $1000 in products.
I really wasn't sure which aspect of my store needed to change to see a significant improvement in sales. Without real live feedback, I would have had to resort to guesswork, trying to implement strategies without knowing where to start and what to work on first.
I didn't have the experience yet (and still don't) to see my mistakes clearly enough. Even if I did know something wasn't quite right, I would have had little direction by simply searching through endless reading material to find the solution.
A mentor cut that part out, quickly pointed to the glaringly obvious (to an experienced online shop owner) mistakes, and referred me to material to find the solutions.
Implementing changes allowed me to more than triple my monthly sales numbers in only my third month open.
Today, in my fourth month live, I've sold about 60% of those first month's sales in just one day. Do I still have a long way to go?
Yes, of course, but the method of learning is still in place and is working to greatly reduce my "study" time between mistake and action, allowing me to progress much faster than I otherwise would.
Update: Sandy's website is now on the front page of search and she's been doing 4 figures per month consistently.
If you are a regular reader of this blog, you want to move forward. You wouldn't follow it otherwise. Once you make that decision, follow the formula that humans have used to learn new skills and master tasks since the beginning of time.
Get a mentor, take action. It is scary, it is time consuming and it is work. But, like my students, the guaranteed way to fail is to not show up and not take action.
Sandy lives in Las Vegas, NV with her three year old son. She has a background in communication and has been a communication instructor for 5 years and was in a sales and marketing position before that. Sandy joined Steve's "How to Create a Profitable Online Store" course in September 2012 and launched her store, Get Unrobed, in June 2013. The store sells a variety of kimono robes for women, including bridesmaid robes, getting ready robes and luxury spa robes.

photo credit: Éole Lucy Crosbie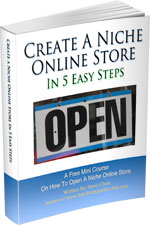 Ready To Get Serious About Starting An Online Business?
If you are really considering starting your own online business, then you have to check out my free mini course on How To Create A Niche Online Store In 5 Easy Steps.
In this 6 day mini course, I reveal the steps that my wife and I took to earn 100 thousand dollars in the span of just a year. Best of all, it's absolutely free!
Similar Posts
Have you read these?