I was helping my mom update the computers in her office the other day when I noticed how inefficiently she was storing and backing up her computer files.
On her shelf were a plethora of external USB hard drives all hooked up to a single computer. Whenever she created an important file that required a backup, she would manually copy the file across several of the hard drives so that she had multiple redundant copies.
Whenever she needed to use a different computer, she would manually unplug the desired external hard drive and hook it up to the new computer.
Finally once she was done, she would then return the drive back to her main computer where she would perform her manual backup procedures again.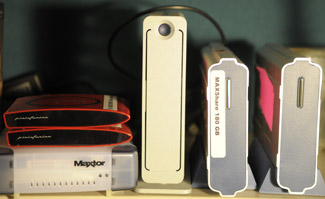 Does this sound tedious to you? This system of managing and backing up files is all fine and good as long as you remember to synchronize your important files across all of your backup drives whenever you make any changes.
But in reality, running your file system this way is a major pain in the ass. Not to mention the fact that it makes file sharing across multiple users and computers almost impossible because you need to keep track of which hard drive is hooked up to which computer.
Running a business this way is tantamount to file system suicide. Sooner or later, you're going to forget to back up your files, one of your hard drives will die and you'll lose all of your critical information.
How Do You Manage Your Small Business Files?
My mom can get away with running her home office this way because she's only dealing with her own personal data. Very few files are truly mission critical.
But if you are running a small business, you really need a more robust way of managing data especially if you have multiple employees that all need to access the same files at the same time.
With a business, it is unacceptable to lose any important files or customer backups ever. Clearly, the clunky way my mom manages her files is not the way to go.
Requirements For A Small Business
So what does a small business need for its file storage needs? At a bare minimum, I would say the following requirements are required.
All of your files should be backed up redundantly across one or more hard drives
All files should be easily accessible across all computers in your office with configurable access restrictions on a per user basis
Managing the backups and restoration of data should require little or no technical knowledge. Everything should just work right out of the box.
When a hard drive goes down, the administrator should be automatically notified immediately so the faulty drive can be immediately replaced.
There should be some provision for an offsite backup in case of fire.
How Can I Setup A Redundant Filesystem On The Cheap?
If you are thinking about starting a small business, chances are you won't have a large IT budget. If you are not technically inclined, you are probably afraid that you won't be able to effectively implement and manage a robust file management system.
These are both legitimate concerns.
Thankfully, there are now many out of the box systems that implement network attached storage facilities that are fully redundant and easy to administer.
Depending on your file storage needs, these filesystems in a box can range anywhere from a few hundred dollars to a few thousand.
Installing the network attached storage system is as easy as hooking up the box to your home network and running through an easy to follow web wizard.
Once everything is setup, you'll have a filesystem that can be accessed across any computer in your network and it will be fully backed up automatically.
What Do I Use?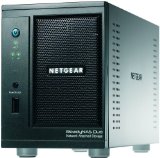 The wide array of network attached storage devices can be mind boggling, so I thought I'd let you know what I use for my home office.
After doing a bunch of research, I settled on the Netgear ReadyNAS Duo 2-Bay Desktop Network Storage RND2000.
This machine is literally the size of a tissue box, stores all of my data redundantly and sits nicely tucked up out of sight on my bookshelf.
So what features does this box offer?
Files Are Easily Sharable – Because the drives reside on the network, many different users on different computers can access multiple files at the same time
2 Mirrored Hard Drives – All data is stored redundantly across 2 hard drives. If one drive goes down, all of you have to do is replace the faulty drive with no interruption of data access. This can be done even while the unit is on.
Easy Administration – The box can be easily controlled via an intuitive web driven interface. You can set up different volumes with different access restrictions across multiple users on your network.
Hot Swappable – When a hard drive goes down, the ReadyNas box will email you to let you know immediately. Replacing the faulty hard drive is as easy as pulling out the bad drive and inserting a brand new one. The box will take care of resynchronizing your data again across both drives
Access Your Files Anywhere – The ReadyNas box can be setup such that you can access your files from anywhere on the internet.
Offsite Backup Option – The ReadyNas Duo has software installed that provides you with the option of automatically backing your files up offsite for even greater peace of mind.
The best part is that this box costs only about $250 in a diskless configuration. All you have to do is add the hard drives of your choice and you are ready to go.
If you find that you are running out of space or need to expand, the ReadyNas also comes in a 6 hard drive configuration as well.
The Only Way To Manage Your Files
Keeping multiple USB hard drives lying around and manually copying data around is not the way to go. Why maintain your files manually when you can pay $250 for a box that does it all? It's really a no brainer, especially if you are technically challenged.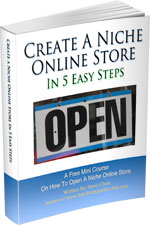 Ready To Get Serious About Starting An Online Business?
If you are really considering starting your own online business, then you have to check out my free mini course on How To Create A Niche Online Store In 5 Easy Steps.
In this 6 day mini course, I reveal the steps that my wife and I took to earn 100 thousand dollars in the span of just a year. Best of all, it's free and you'll receive weekly ecommerce tips and strategies!
Note: This post above may contain affiliate links, which means that I may receive a commission if you make a purchase when clicking a link. Please consult our privacy policy for more information.
Similar Posts
Have you read these?