My wife just closed the books on our mid year numbers(January – June) for 2011 and profits are up in the double digits again. I say this every year but my wife and I are constantly amazed by how our little business continues to grow and expand.
Seriously folks, there's nothing particularly exciting about our online store on the surface. We sell hankies and table linens primarily to the wedding and event planning industry.
Nothing big! Our niche is very small but it happens to be a part of a very large and lucrative market that is insensitive to price.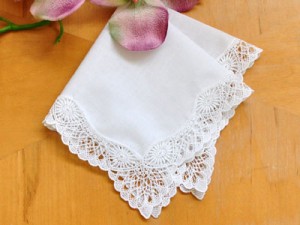 Part of the reason why my wife and I are always surprised with our numbers is because these yearly increases are compounded annually.
If we have a great year like last year where we grew 44%, then it's that much harder the following year to show similar growth.
At the end of every year, I always say to my wife, "Hope you enjoyed the ride because I think we're probably going to plateau next year", but it never happens. In any case, here are some numbers to highlight the year.
The Numbers
Year over year revenue grew 32%
Year over year profit grew 37%
Similar to last year, we had 4 consecutive months with higher revenues than last year's highest month.
Our margins grew 2%
Website traffic increased by about 15%
Our overall conversion rate went up by 24.6%
The Challenges We've Been Facing This Year
Last year, my wife and I didn't get a chance to improve our business that much because our son was just born and we had to adjust to taking care of 2 young kids along with the business.
This year, our little one is much older and much easier to take care of so we've been able to focus more time on increasing revenue. I'll talk about some of the strategies we employed in just a minute.
But I just wanted to take a moment to say that inflation is on its way big time to the United States. Now you might be thinking…Duh!
Inflation is already here but I don't think it's completely hit us on the head just yet. All of our vendors in China have been raising prices like crazy. In addition, shipping has gotten more expensive as well.
Given that many products in the US are manufactured in China and other parts of Asia, I wouldn't be surprised if prices increase significantly on most products next year.
My wife and I have been debating whether to increase prices on both our products and shipping but have decided to hold things relatively flat for now which has caused a slight hit to our bottom line.
So in order to maintain the growth of our business, we've employed a few strategies this year which I'll describe below.
We Boosted Our SEO
This year was the first year that I've been determined to drastically improve our organic search rankings and the results speak for themselves.
We are now the #1 search result for 6 of our main keyword terms. We are in the top 3 for at least 7 other keyword phrases and we have 5 others in the top 5.
While none of these keyword terms yield a particularly large amount of search traffic on their own, they are extremely targeted keywords and our conversion rates are ridiculous for these terms.
For example, the conversion rate for a few of these keywords is upwards of 15-18% which is unheard of. This just goes to demonstrate the power of small niche markets.
You can still make a decent amount of money if you can dominate a relatively small niche even if the traffic numbers aren't that high.
The increase in targeted search traffic helped us offset the rising product costs and labor costs in our industry. In addition, some of the keywords that we ranked for led to increased conversions for our highest margin products.
We Became The Dominant Player In Our Niche
The other goal that my wife and I wanted to attain this year was to completely dominate our niche. Today, we are the largest supplier of wedding handkerchiefs on the Internet.
As far as I know, no one carries the same variety that we do. This past year, we increased the number of products that we offered by over 30%.
Since we carry everything in stock and do our own embroidery in house, we can offer extremely fast turnaround times on everything we sell.
Fast turnaround times are very attractive to our customers because most brides wait until the last minute to buy their wedding favors.
We can offer very predictable shipping and order fulfillment times and guarantee delivery in many cases. Therefore, it's worth it to a customer to buy from us because they know they will get their goods on time.
I strongly believe that our conversion rates have improved because of this fact.
We Sold More Of Our Higher Margin Goods
Besides focusing our SEO efforts on more profitable items, we also started framing the prices of our bestselling products to push our higher margin goods.
Framing is when you sandwich the main product you want to sell between two other products that are both priced above and below this item.
The tendency of most shoppers is to buy a product that is priced somewhere in the middle. For example, they won't buy the cheapest item because they don't want to be considered cheap. And they won't buy the most expensive item because it costs too much.
So by sandwiching your bestselling and highest margin items between two other products that are priced above and below, you can raise prices and not have a negative effect on sales.
For example if I offer one hankie at 5 dollars and another similar one at 7 dollars, the customer will most likely buy the cheaper one. But if I sell a hankie at 5 dollars, another at 10 dollars and another at 20 dollars, the 10 dollar hankie instantly becomes more attractive.
Believe me, these psychological mind games actually work. Our overall margins increased the first half of the year despite increased product costs because we were able to sell more of our higher margin goods without overtly raising prices across the board.
Other Highlights
The other good thing that happened to us the first part of the year was that we were featured in Martha Stewart Weddings magazine!
Not only that, but being featured in the magazine directly led to our hankies being used in a very high profile celebrity wedding. I don't have permission yet to disclose who just yet but I'll let you know when I do.
In any case, if you still have any doubts about the money making potential of niche markets, our store is the perfect example of how you can sell a very narrow range of products and still be successful. Here's to another great year!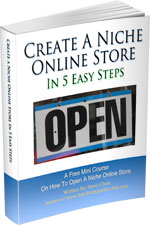 Ready To Get Serious About Starting An Online Business?
If you are really considering starting your own online business, then you have to check out my free mini course on How To Create A Niche Online Store In 5 Easy Steps.
In this 6 day mini course, I reveal the steps that my wife and I took to earn 100 thousand dollars in the span of just a year. Best of all, it's free and you'll receive weekly ecommerce tips and strategies!
Note: This post above may contain affiliate links, which means that I may receive a commission if you make a purchase when clicking a link. Please consult our privacy policy for more information.
Similar Posts
Have you read these?