Most people start their own business hoping to find the answers to a few key questions. How can I be my own boss and make money doing things that I enjoy? How can I be in control of my own destiny? How can I become wealthy and rich?
Don't get me wrong, these are all very important criteria when deciding to start any business. But with these goals in mind, many first time entrepreneurs don't fully appreciate the hidden benefits of starting their own venture. The emphasis is often placed on the results and not on the journey.
After all, what could possibly be more important than making money and being your own boss? The hidden benefits that I'm talking about are not related to the outcome per se, but the experiences and valuable skills that are developed in the process of running any business venture. What are some of these hidden benefits?
You Will Gain People Skills
I can't think of any successful business that does not require you to deal with people. If you have poor people skills, then your business will force you to develop some.
If you are shy, your business will force you to break out of your shell. One of the beauties of taking full responsibility and accountability of your business is that it forces you do whatever it takes to be successful, even if it extends beyond your comfort zone.
I thought that I had decent people skills until I started dealing with customers. After getting yelled at a few times, I quickly realized that customer service requires a completely different skill set in itself.
Interacting with customers successfully involves carefully extracting needs vs wants and establishing business boundaries without insulting anyone in the process. It involves building trust and getting along with different personalities and tendencies.
The same skills apply when establishing partnerships with other businesses as well. Knowing how to act and what questions to ask are crucial components in defining mutual goals for you and your partner companies.
Many would be entrepreneurs fear the people aspects of business because they just don't want to deal with the drama of conflicting personalities. But interacting with people is a fact of life. You will gain people skills whether you fail or succeed, skills that are a huge asset that will apply to practically everything you will ever do.
You Will Meet New People
One of my favorite benefits of going into business is the relationships and friendships that you will develop. Sure, you will meet your fair share of unscrupulous and dishonest people, but you'll find that most people are worth getting to know.
My blog is the perfect example. In the short time that I've written this blog, I've already met a wide variety of friends and acquaintances that I will definitely try to keep in touch with. These people are all over the map. Some of them live in the far reaches of the world. Some of them are television stars and some of them can even perform Akashic readings.
Meeting and interacting with new people is especially satisfying because it forces you to keep an open mind. In the course of running our linens business, several of our customers have enlightened us to new ways of using our products, some of which are now proudly displayed in the art and crafts portion of our online store.
Several customers have also suggested new products for us to carry that have provided large boosts to our overall sales.
Fellow blogger friends of mine have taught me innovative methods of building an audience and new ways to structure and code different parts of my website. Others have provided me with mental support and motivation to continue on with my writing. It's literally impossible to list all of the benefits that I've gained from meeting new people "on the job".
The main thing I've learned is to never underestimate the value of a strong network of friends. Especially in the unlikeliest of situations, you'd be surprised at how often a seemingly random friend can be of assistance.
Here's a good example. My wife and I have been searching for new linen vendors for quite sometime now without much success. Just the other day, I was chatting with one of my friends who I just met online.
In the course of our conversation, I discovered that she had a good friend who used to run a linens business! She hooked us up and all of a sudden we found a new resource with a rolodex of vendors that we could contact. I love it when random circumstances turn up like this!
You Will Travel To New Places
Part of running our business requires us to travel to various places to visit our vendors. Some of our vendors are in different parts of the United States and some are in different parts of Asia. Once a year, we get to travel to these places tax free.
Last year, we visited Japan and Hong Kong and made a vacation out of it. In these harsh economic times, it might be hard to justify an overseas vacation, but our business provided us with the perfect excuse.
Saving 30% on travel and accommodations and 15% on food costs made everything more manageable from a financial standpoint and we knew that these meetings would eventually benefit our top line.
You Will Develop Your Public Speaking Skills
Who hasn't been afraid of public speaking at some point in their life? Owning your own business is the perfect way to overcome your fear of addressing crowds. Whether you are pitching your idea to someone or selling a product or idea, you will be required to address groups of people whether you feel comfortable or not.
You might suck at it at first, but over time you will gain the confidence to speak with ease in front of total strangers. I can't stress how valuable a skill this is. Running a business is all of about selling yourself and extending confidence to your customers. Powerful speaking skills can provide you with an enormous advantage when making a first impression.
I used to hate speaking to groups of people, but I actually really enjoy it now. I love the feeling of adrenaline coursing through my veins when all eyes are on me. I love the fact that I have a captive audience that is paying attention to whatever I have to say.
It's Not All About The Money
If you are a hesitant entrepreneur thinking about starting your own business, you need to take more than just the numbers into account. Once you factor in the intangibles, you'll soon realize that the personal development aspects of entrepreneurship are priceless. Really, it's a no brainer. But in order to believe it, you have to take the plunge yourself.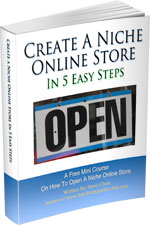 Ready To Get Serious About Starting An Online Business?
If you are really considering starting your own online business, then you have to check out my free mini course on How To Create A Niche Online Store In 5 Easy Steps.
In this 6 day mini course, I reveal the steps that my wife and I took to earn 100 thousand dollars in the span of just a year. Best of all, it's absolutely free!
Note: This post above may contain affiliate links, which means that I may receive a commission if you make a purchase when clicking a link. Please consult our privacy policy for more information.
Similar Posts
Have you read these?