Embrace disaster. When things go wrong and your customer is angry, take advantage of the situation and make things right. Don't make excuses and take responsibility!
After all, the reputation of your online business is defined by how you deal with adversity and unfortunate circumstances rather than how you handle day to day operations.
Take our online store as an example. 90% of our customers complete their purchase from our online wedding linens store without ever contacting us.
And whenever this happens, it's difficult to make a strong impression. We have not personally interacted with the customer in any way and the point of sale is just another sale.
Sure, the customer might like our products and they might mention our business to a few of their friends. But most likely, their purchasing experience just blends in like any other.
The best way to spread positive word of mouth about your online business is by having an interaction with your customer. And the best way to shine with your customers is by dealing with negative situations with a positive attitude.
Go out of your way to fix bad situations even if it isn't directly your fault. I'm not saying that you should sabotage your business to get customer calls but when disaster strikes, think of it as an opportunity and not a calamity.
The Delivery Screwup
Recently, we had a customer place an order with us about 10 days before her wedding. Because she was having a destination wedding, she needed her order at least 5 days prior in order to catch her flight.
To make matters more complicated, her order consisted of a variety of personalized handkerchiefs that required custom embroidery.
Under normal circumstances, we usually ask the customer to allow at least 5 days for any custom items to be created prior to shipment. This made the timeline relatively tight using standard shipping methods.
But the customer absolutely did not want to pay extra money for rush delivery(we charge $30). Under the circumstances however, we felt very confident that her order would reach her on time because she lived in the same state and only 60 minutes away.
In any case, we bumped up the priority of her order and managed to ship out her order the following day. Just as a precaution, I personally followed up on the status of her order to make sure that she received it on time.
Sure enough, the tracking on her order indicated that it was delivered the following day and well within her deadline.
3 days passed and I thought things were all good until I received a call from this customer. In fact, when I first picked up the phone, I was expecting her to thank me profusely for delivering her order in such a prompt fashion. Instead, I got this…
Customer: You told me that I would receive my order on time but I still haven't gotten it and now I have a plane to catch! Where is my order?!?!
Me: That's strange. I tracked the status of your order personally and you should have received it well over 3 days ago.
Customer: Well I haven't received anything! I need my order by tomorrow morning by 8am!
Me: I apologize. Let me see what happened. Oh man! The tracking on your order says that your package was delivered to the wrong address and was being resent! I swear that just the other day, the tracking page indicated that your order was delivered properly.
Customer: Well clearly, it wasn't! You do realize that I have a plane to catch right? Can you send me another set ASAP?
Me: I'm sorry ma'am. Even if we had another set of hankies custom embroidered, we would be unable to have them shipped out today. It's already too late in the day (It was already 6pm).
Decision Time
At this point, I had two options. I could make an excuse and state very clearly that we are not responsible for our delivery carrier's actions.
After all, if this customer wanted to guarantee a specific delivery date, she could have selected "Express Delivery" which we absolutely guarantee.
The other option was to take a loss and go out of our way to rectify the situation. The choice was tough because there was a fair amount of money at stake and I had to make this choice in a little under ten seconds.
After all, I couldn't really handle this situation half ass. I either had to wholeheartedly try and help or turn her away. For me at least, I personally hate it when companies try and weasel their way out of paying only to give in to your demands after you have yelled and fussed.
Ultimately, I choose to help her out. We had her order custom embroidered that night and we shipped out her order directly to her wedding venue via express mail first thing the following morning. And let me tell you, rush shipping is not cheap by any means!
The Aftermath
Ultimately, the customer received her order on time. 2 weeks later, I received the following message.
Steve,

I just wanted to sincerely thank you for your assistance in this matter. You were prompt, helpful and sympathetic while solving the problem immediately.

It is so rare to receive such proactive and efficient customer service. Thank you treating me like a person instead of a number. I will recommend you to everyone I know.
Was It Worth It?
We lost money on this transaction but did it matter? I'm sure that this customer probably told all of her friends or at least her bridal party about her experience with our online business.
And I'm 100% positive that whenever any of her friends or acquaintances require wedding linens, she will point them our way.
While it's difficult to quantify the effect of a good customer service deed, I have to believe that eventually all of the good karma will catch up to us someday.
If anything, it sure felt damn good to receive that email from the customer. In fact, I would argue that her testimonial itself was worth every penny.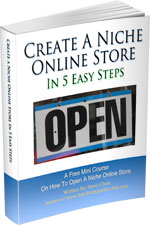 Ready To Get Serious About Starting An Online Business?
If you are really considering starting your own online business, then you have to check out my free mini course on How To Create A Niche Online Store In 5 Easy Steps.
In this 6 day mini course, I reveal the steps that my wife and I took to earn 100 thousand dollars in the span of just a year. Best of all, it's absolutely free!
Note: This post above may contain affiliate links, which means that I may receive a commission if you make a purchase when clicking a link. Please consult our privacy policy for more information.
Similar Posts
Have you read these?