This is a guest post by Michael Martine. Michael helps business owners increase sales through blog marketing. He also offers blog consulting and coaching.
You've no doubt heard the hype that a blog is the way to for marketing (along with its good friend social media). And it's true that blogs are excellent marketing channels for many online businesses. But is that true for online stores? Are blogs worth it? Can they boost sales?
They can indeed. Here are five ways a blog can boost sales for your ecommerce store.
1. Search engine optimization to get found
Shopping carts have become much more savvy about SEO in recent years, but blog SEO is outstanding. If you're using WordPress for your blog with a couple choice plugins and the right theme framework, your blog's SEO will be killer.
In a product page, you can't have a headline that's the exact wording of a question your customer might have. But you easily can in a blog post headline.
Exact match keywords get searches all the time, and one of the best ways to snag that traffic is with a blog post where the question is the headline (and of course the post body contains the answer)
Link liberally to product pages from your blog posts in order to send traffic to your shopping cart and get sales.
2. Lifestyle content that hooks readers
Products are not sold in a vacuum, they're part of what consumers think of as their lifestyle. If you sell ecologically safe products, for example, your customers live an ecologically conscious lifestyle.
Your blog can provide tips and highlights for the lifestyle, which of course would feature your own products. This is a perfectly natural fit and doesn't come across as being too pushy or "sales-y."
There are many lifestyle blogs that make a lot of money including affiliate links in their posts. What you can do is flip this around: be a store with a lifestyle blog.
3. Education to get the sale
An educated customer is the best customer, right? You don't have the room to educate customers in a product description, but you do have the room in a blog post! Tips, tricks, hacks, new ways to use a product… these are all viable blog post ideas.
The best part is you can do this for so many of your products that you'll never run out of posts to create. People lament all the time about how they can't think of anything to blog about.
When you're running an online store, you always have product to blog about! Show customers how to use products and the best way to use them. Demonstrate them with video (host the videos on YouTube, keep it simple).
4. Humanizing the company for stronger relationships
One cool thing about blogs is that they're not stuffy corporate sales brochures: they're conversational. Blogs humanize the company. Microsoft learned this big time when Robert Scoble was working for them: he humanized Microsoft to a lot of people.
Since then, Microsoft as a company has embraced blogging in a big way, and it's paid off well for them. On a slightly smaller scale, your blog does the same thing for you: it shows real people are behind the store, people customers could get to know and like.
People love to do business with those they know, like and trust. Blogs help build that trust, and get more sales.
5. Get valuable feedback for better sales
Because blogs are social, two-way streets, we get an invaluable window into our customers' minds. Based what posts they visit, comment on, ignore and share, we start to build up a good idea of what they like and don't like. More importantly, we understand more about what they buy and don't buy.
And of course, the comments they leave can be pure gold. Many store operators are afraid of blog comments. Don't be. You're worried about someone being upset or angry, but it just doesn't happen that often.
And when it does, it's the perfect opportunity to show how you handle things which will impress and win over others. These situations are definitely blessings in disguise.
Over to you
So there you have it: five ways a blog can improve ecommerce sales. Are there other ways that have worked for you? Share your stories in the comments!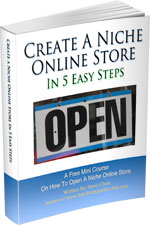 Ready To Get Serious About Starting An Online Business?
If you are really considering starting your own online business, then you have to check out my free mini course on How To Create A Niche Online Store In 5 Easy Steps.
In this 6 day mini course, I reveal the steps that my wife and I took to earn 100 thousand dollars in the span of just a year. Best of all, it's absolutely free!
Similar Posts
Have you read these?