With the economy in such bad shape, more and more establishments are resorting to underhanded tactics to extract additional money from your wallet. In just this past month alone, I've been deceived several times into paying a little extra for something that I didn't even intend to purchase.
Sometimes these little extra charges go unnoticed, but now that I've fallen prey to these tactics more than a couple of times, I'm now more careful about scrutinizing my receipts and recognizing these methods. Have any of these things ever happened to you?
Getting Charged For Something You Didn't Really Order
The other day my wife and I decided to dine at a semi-fancy restaurant that was highly recommended for its food and ambiance. It wasn't a special occasion per se, but we wanted to treat ourselves for getting past a busy week.
While we were perusing the menu, our waiter came by to ask us what we wanted to drink.
Waiter: Would you like me to bring you some fresh water?
Me: Of course. Could we get 2 waters for my wife and I?
Waiter: Right away sir.
The water was delivered in a fancy tall glass but I didn't think anything of it because it tasted like normal water. The food at this particular restaurant was on the spicier end of the scale so my wife and I drank many cups of water that night. Each time our glass was empty, the waiter promptly brought both us new glasses filled to the rim.
"Wow, the service here is impeccable", I thought since the waiter was literally the fastest water filler in the west. Little did I know that he was fast for a reason.
By the time my wife and I finished our meal, we felt like beached whales since we both ate so much food. The bill was quite large too since we ordered appetizers, entrees, and dessert. I wouldn't have even noticed the extra charges but something didn't add up quite right in my head.
"Hey Honey? The bill is off by like 8 dollars. What did we order that was around 8 bucks? I can't think of anything."
Turns out that we got charged for some "european" imported water that was ridiculously expensive. The waiter didn't even tell us we had ordered special water. This whole time we thought we were drinking tap. Even though it was only 8 dollars, I was annoyed at the deception. Apparently "fresh" means "imported".
Super Size Me
My wife and I love ice cream. We especially like Cold Stone Creamery because they hand mix toppings of your choice directly into a delicious soft serve ice cream. The only problem we have with the place is that their serving size is too large. My wife and I can never finish an entire order and end up throwing the excess away in the trash. What a waste!
The other day though, I finally realized that I was being deceived into ordering more ice cream than I wanted to order. Their tactics are really quite tricky and I've fallen for it countless times in the past.
Me: Yes, I would like to order a coffee ice cream with Oreos mixed in please.
Clerk: Sure thing. Would you like a regular or a large?
Me: I'll take a regular please.
Little did I realize that the "regular" is actually a medium. If you want a small serving, you have to explicitly ask for a "small". Notice that that option was mysteriously missing from the clerk's question. All this time, I felt bad for wasting all of this ice cream when I could have paid less for a portion that I could actually finish eating. Is that wrong or what?
Is This Service Really Free?
I usually hate shopping but during the holidays I brave going to the mall because I have to. The one advantage of physically going to a store versus ordering stuff online is that you can touch and feel the product before you buy. Not only that, many places offer "free" gift wrapping for those who are too lazy to wrap their own gifts.
I certainly fall into that category. I hate wrapping gifts and would gladly have someone else wrap it for me. In some cases, I specifically look for stores that offer this service.
So I walked into a bookstore the other day intending to buy one of my friends a book. I saw the sign for "free gift wrapping" so I was ecstatic!
Clerk: Would you like me to wrap your book for you?
Me: Yes, definitely.
Clerk: Which paper would you like?
Me: That one. (I pointed to the nicest wrapping paper on the wall)
Clerk: How about a ribbon and a bow?
Me: That would look nice. Thanks.
Clerk: No problem. Please take this receipt with you to the next counter.
Me: I'm sorry? I thought gift wrapping was free.
Clerk: The base gift wrapping is free. You have chosen premium wrapping paper. The ribbon and bow are extra as well.
What could I do? The book was already being wrapped so I paid the money. The cost of the ribbon and bow wasn't that much and I gladly would have paid for it if I had known that I was going to be charged.
Does It Really Matter?
In the grand scheme of things, are these underhanded tactics going to stop me from going back to these places again? Probably not.
My wife and I really enjoyed the food at the restaurant despite paying an extra 8 dollars. We are addicted to Cold Stone and the bookstore I went to happens to have the largest most comprehensive book selection in town.
They didn't alienate me as a customer so does that justify their underhanded tactics? If you can get away with it, should you use these tactics with your own business?
I say no. A customer shouldn't have to tricked into paying extra money for something they did not intend to buy. These places have my business now only because they have something unique to offer. If I ever find a new ice cream shop, restaurant or bookstore, I probably won't be going back.
Deception is definitely not the way to establish loyalty with your client base even if you can get away with it. What do you think?
Further Reading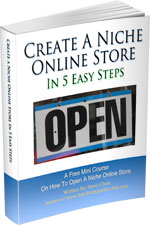 Ready To Get Serious About Starting An Online Business?
If you are really considering starting your own online business, then you have to check out my free mini course on How To Create A Niche Online Store In 5 Easy Steps.
In this 6 day mini course, I reveal the steps that my wife and I took to earn 100 thousand dollars in the span of just a year. Best of all, it's absolutely free!
Similar Posts
Have you read these?