I must admit that customer service does not come naturally to me. When it comes to dealing with customers, I always feel like I have to become someone that I'm not, someone who is infinitely patient, helpful and cheerful all at the same time.
For me, the hardest part of customer service is remaining polite and keeping my big mouth shut even though the customer might be a complete jerk.
The good news is that I think I've gotten much better over time. Since I've been answering phone calls for our online store for quite a while now, I think I've finally gotten the hang of it.
I've learned what to say and what not to say when dealing with certain customers. I've learned to control my emotions in the presence of irate customers. I've learned how to avoid getting myself into sticky situations.

But this hasn't always been the case. In the beginning, I was a walking customer service disaster. Here are some of the mistakes I made in which I had to learn things the hard way. As you read about what NOT to do below, please note that the following things might be obvious to a seasoned customer service rep but they certainly weren't to me at the time.
Get The Order Down Correctly No Matter What
I'm usually pretty anal when it comes to taking orders over the phone and I try to be as careful as possible to make sure that there are no errors when I write a customers' information down.
But customers with accents are usually my downfall. I remember there was this one Indian lady that called who had an extremely strong accent. She was a nice lady but she spoke at 100 miles an hour and had this tendency to slur all of her words together. What made things worse was that she needed to order a bunch of personalized handkerchiefs from our store.
During the course of our conversation, I asked her to repeat herself multiple times, sometimes as often as 5 or 6 times for every sentence.
Customer: Couldihavemyhankieembroideredwiththelettera?
Me: Excuse me?
Customer: Iwouldlikemyhandkerchiefstitchedwiththelettera
Me: Huh?
In the course of our conversation, I could sense that she was getting extremely frustrated so I tried my best to stop asking questions in order to be polite. By the end, she was flustered, I was thoroughly confused, and I took several items of her order down incorrectly.
Even when she called to complain, I still couldn't understand her so finally, I called it a day and gave her a full refund.
What's the moral of the story? Don't feel like you are imposing. Ask your customer to email you if you have to but make absolute sure you are getting all of the information down correctly.
Don't Provide Your Opinion Unless Asked
In the beginning, I tried to be overly helpful with customers. I'd offer information and other useful tidbits that I thought the customer would find useful even though much of it was probably superfluous. Sometimes I'd also give my opinion and advice on certain things to help steer a customer in what I believed was the right direction.
In retrospect, I was probably pretty annoying on the phone, but I didn't realize it until I accidentally insulted one of my customers while providing my "expert" opinion.
This customer wanted to order a personalized hanky from us to be embroidered using orange and black thread. Orange and black? These were extremely unusual colors. Was this going to be a Halloween themed wedding? Was Garfield going to be the guest of honor?
I don't remember exactly what I said, but it was probably along the lines of "Orange and black? Are these colors appropriate for a wedding?".
Turns out that these colors had sentimental value to the bride and she was so insulted and infuriated by my simple question that she hung up on me. I should have kept my big ole mouth shut. Never question a customer's taste and don't provide your opinion unless asked.
Don't Get A Customers Hopes Up Unless You Can Deliver
Some of our more popular items sell out extremely quickly. As a result, we usually have reoccurring shipments of these items on a regular basis.
This one customer needed a large quantity of one of our popular items but we were currently sold out. A shipment was on the way but the problem was that the customer had an extremely tight deadline. She needed these table linens by a certain date which almost exactly coincided with our next shipment date.
When she asked whether we would be receiving the linens in time, I told her that there was a "good chance" that she would "probably" receive her linens on schedule. The time line was tight but I genuinely thought that it could be met. What ended up happening was that she relied on us to deliver her linens but our shipment arrived a few days late.
It was a disaster. When she called to complain, she told me that she interpreted the term "good chance" to mean that we would deliver the order on time. In retrospect, I should have made it clear that there was a risk in meeting her schedule.
But at the time, I was conflicted between being able to deliver the product versus losing out on a large sale. The worst thing you can do is to get a customer's hopes up and then not meet expectations.
Don't Be Sarcastic
This one sounds like a no brainer right? Well it should have been when I had to deal with this one bride who was so bitchy and demanding that I nearly lost my cool.
Let me tell you, this bride was something else. She made me jump through hoops trying to throw together different product combinations for her. She kept going off on tangents and demanding discounts on the stuff that she wanted. Then, she would change her mind and we'd have to start all over again.
Things would have been okay, if she was pleasant. But she was extremely abrasive, bossy and demanding, treating me as if I was her personal slave. I really felt bad for her fiance who had to put up with her for the rest of his life.
Anyways, I became more and more frustrated as the conversion went on and finally slipped up. I don't remember the exact transcript of the conversation but it went something like this.
Customer: Look…what was your name again? Oh yes. Steve. Look Steve, I'm losing patience with you. Why can't you help me here? If I don't have everything perfect for my wedding, then I may as well not have it.
Me: If only your fiance could be so lucky.
As soon as I said it, I knew that I went too far. In reality, I didn't even intend to say anything. I was thinking it in my mind and all of a sudden the words came out of my mouth. Needless to say, the woman got pissed off and hung up.
Customer Service Isn't Always Easy
Being a good customer service rep involves patience and a knack for reading into what a customer wants and needs. It also involves setting the proper expectations for your products. If you can do all of these things properly, then dealing with customers should be a breeze.
I had to learn things the hard way. The good news is that these skills can be picked up through experience. Hope you enjoyed reading about my slip ups.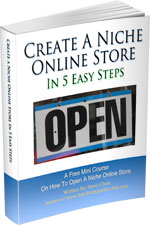 Ready To Get Serious About Starting An Online Business?
If you are really considering starting your own online business, then you have to check out my free mini course on How To Create A Niche Online Store In 5 Easy Steps.
In this 6 day mini course, I reveal the steps that my wife and I took to earn 100 thousand dollars in the span of just a year. Best of all, it's absolutely free!
Note: This post above may contain affiliate links, which means that I may receive a commission if you make a purchase when clicking a link. Please consult our privacy policy for more information.
Similar Posts
Have you read these?