Over the past several years, our online wedding linens store website has undergone 3 major revisions. In the beginning, I was lazy, didn't know what I was doing, and launched the store with more or less the stock OSCommerce shopping cart layout.
After several months of very few sales, I decided to redesign the entire site to make it more aesthetically pleasing. Finally during the 3rd revision, I redesigned the site based on customer behavior to maximize conversions and sales. Here are a few things I learned from all of these changes.
Don't Use The Stock Template
I repeat, do not use the stock, out of the box template for any shopping cart or website package that you choose to use, because it will suck.
You might think that the engineers designing the software did so with an optimal layout in mind. But remember, they are engineers and not marketers!
In the beginning, I was so eager to launch our online store and start earning money that I didn't want to spend time designing and optimizing my website. Big mistake!
The truth is that there's no such thing as an optimal out of the box layout. Your website is unique and you will need to make tweaks according to your customer base and traffic patterns.
Everywhere I look, I still see many online stores using out of the box templates and they all blend in. If you take the time to differentiate your store, you will sell more product. Don't be lazy.
Make The Testimonials Stand Out
Especially when you are just starting out as a no name store, every customer is going to be wary of purchasing from you. Are you a real store? Are you reliable? Do you have happy customers?
You need to make new customers feel comfortable enough to purchase from you and that means more than just displaying a few security badges around your site.
When I redesigned the site, I added testimonials to our banner header right smack on the top of every single page of the online store. In addition, I created a big box to emphasize our customer service in the middle of the front page.
By displaying our testimonials more prominently, our shopping cart abandonment rate dropped dramatically. At first I didn't think that people cared, but even today our testimonials link is among the highest clicked link on the front page of our online store.
Make An Appealing Checkout Page
Once a upon a time, we were losing 30% of our customers at the first step of the checkout process. When I say first step, I'm not even talking about the page where you enter in your address and payment information.
I'm referring to the page in which customers choose whether to check out without an account, create a new account or login to an existing account.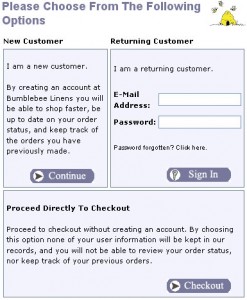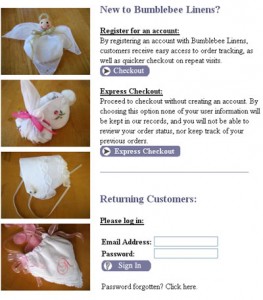 Once I changed the layout from the upper left format to that of the upper right above, the exit rate from this page decreased by about 25%.
Create A Bestsellers Page
I used to be under the impression that most customers find the products they want to buy by using our in store search or by browsing our product categories.
But much to my surprise, customers are much more likely to find the product they want to buy from our bestsellers page. In fact, the bestsellers link on our front page is by far the most clicked product link on the site.
The only thing I can conclude from this is that customers don't always know what they want to buy. As a shop owner, you have to steer customers towards products you want to move and provide them with social proof that these products are popular.
For our store, customers who add items to their shopping cart from the bestsellers page are much more likely to complete their purchase.
As part of my 3rd redesign, I moved the bestsellers link all the way to the top of the products category and made a special button for it so it wouldn't be missed.
Flaunt Your Press Page
If you are getting media love for your online store or business, make sure you let everyone know about it. At first, when we were mentioned in Brides and Real Simple magazine, I only had a single text link on the front page of our online store.
Probably no one saw it because it blended in with the rest of the text.
When I did the 3rd redesign, I made sure to put a picture of the cover of the magazine on the left hand sidebar so it would be displayed on every single page of the entire site.
When customers see the "As Seen on Brides Magazine" along with the cover, they know that we're a legit business and are more inclined to buy from us. The other thing that I did was to create a special press page to display all of the publications that our store has been featured in.
People Rarely Click On Stuff On The Right Sidebar
For the first few iterations of the store, we ran a website with a standard 3 column layout. I wanted to be able to display product and navigation links on the left and show sale items and bestsellers on the right.
But after looking at the site overlays using Analytics, I discovered that hardly anyone ever clicked on the links on the right sidebar.
As it turns out, our customers gravitate towards the left when navigating through the store. So during one of the redesigns, I removed the 3rd column altogether and added buttons to specific products pages that I wanted customers to focus on.
In the end, customers were much more likely to click on these buttons rather than the links on the right sidebar.
The best way to get the customers attention for any product you want to move is to show a big picture right smack in the center of the page. We now have 2 fairly large product photos on the frontpage that we change from time to time depending on what we want to sell.
Summing It Up
These are just some of the major things I learned while redesigning our store. There are so many more tweaks that I've done these past years that I've either forgotten about or are too small to mention.
In any case, the key to making any website optimization is to try new things and take down accurate data. Nothing is permanent so I'm positive that there will be another redesign at some point in the future for both this blog and our online store.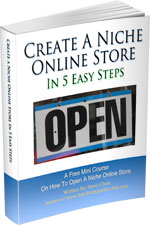 Ready To Get Serious About Starting An Online Business?
If you are really considering starting your own online business, then you have to check out my free mini course on How To Create A Niche Online Store In 5 Easy Steps.
In this 6 day mini course, I reveal the steps that my wife and I took to earn 100 thousand dollars in the span of just a year. Best of all, it's absolutely free!
Similar Posts
Have you read these?