I watched a very interesting video on Tech Crunch TV the other day where venture capitalists David Lee and Ron Conway discuss some of the key attributes of their most successful portfolio company investments.
The video is definitely worth a watch if you have a spare 15 minutes or so. You can find the video here as well as my own take below.
While the businesses that I encourage readers to start on MyWifeQuitHerJob.com are not crazy startups where you're working 16 hour days, trying to hit a home run and earn millions and billions of dollars, there are many parallels between a lifestyle business and a venture backed startup.
In other words, many of the same traits that make a venture backed startup more likely to succeed apply to small businesses as well. Here's my take on David and Ron's findings.
Get A Partner
According to Ron and David, startups with multiple cofounders are far more likely to succeed than companies with just a single founder. This is a no brainer in my book.
When my wife and I first started our online store, we took turns encouraging each other to push forward with the business when sales were slow or nonexistent. Running a small business is a tremendous mental and physical burden to take on by yourself.
Without my wife, I probably wouldn't have been able to stick it out long enough to experience success.
Whenever I was down about the business, my wife was upbeat, patient and encouraging. Likewise, whenever she was feeling negative, I was there to cheer her up.
What's funny is that we both got depressed about different aspects of the business. In general, I was discouraged whenever we had a bad day of sales.
On the other hand, my wife became discouraged whenever we received a product return or a customer complaint. But overall, we kept each other going during the early stages of our business.
What also made us a great team was our complementary skill sets. My wife has a finance and operations background whereas I have a technical background. As a result, the lines of responsibility are drawn very clearly for the business.
Whenever there's an issue with the website or something computer related, that's my domain. Anything related to finance or product is my wife's area of expertise.
And while we both share the marketing responsibilities for the business, we're pretty good about not stepping on each others toes.
The other reason why things work with my wife as my partner is that we can be blunt if we need to. If I have an idea that makes absolutely no sense whatsoever, my wife will let me know.
Likewise, I don't have any problems voicing my opinion when my wife is off base.
Of course, expressing my opinion sometimes results in me sleeping on the couch for a night but in general it's all good:) Overall, I strongly believe that finding a good, reliable partner is the way to go and will greatly increase your chances for success.
Find someone who you get along with and complements your skill set
Get Some Experience Under Your Belt
There other statistic that David and Ron disclosed was that repeat entrepreneurs are far more likely to succeed than new entrepreneurs. Once again, this is a no brainer.
These days, I have the utmost confidence that if my wife and I wanted to start another online store, we would definitely be successful. We learned so much from the early mistakes of our first venture that we now know what it takes to run a profitable business.
So if you want to increase your chances of success, you need to start a business now and kick start the learning curve. Just because it's your first business doesn't mean you are going to fail.
But even if you don't initially make as much money as you would like, you'll learn a ton of things which will add to your foundation of knowledge.
While making mistakes is a part of entrepreneurship, I personally hate it when I feel like I've wasted a ton of time learning something the hard way when an expert could've pointed me in the right direction from the start.
My time is precious which is why I'm a strong proponent of paying money for training courses and other learning materials which expedite the learning process.
In fact, I spend thousands of dollars every year on books, courses and other training materials which make me a better entrepreneur, web developer and small business owner.
Whether you choose to fumble around and learn things on your own or take a training course, you should know that every minute you spend learning something new will increase your chances of business success.
It Only Gets Tougher The Longer You Wait
The last interesting tidbit from the video was that David and Ron found that younger entrepreneurs were more likely to succeed than their older counterparts.
In fact, they found that 25 is the optimal age to start a successful business. While I can see why this could be true for a full blown startup company, with lifestyle businesses I strongly believe that you can start at any age and still be successful. However the longer you wait, the harder it will get.
For example if you have kids and a family, it will be more difficult to find the time to commit to your business. But in reality, it doesn't take a large block of time to start a small ecommerce store on the side, especially if you go the dropshipping route.
Consistency is the key. If you can devote just 4-5 hours per week on a regular basis, you have the necessary time to give your business a fighting chance.
So is age 25 the optimal age? Perhaps…but part of being an entrepreneur is defying the statistics. The key thing to realize is that you don't have to swing for the fences.
Unlike a venture backed startup company, you can start your business and go at your own pace and the sooner you start, the better off you'll be.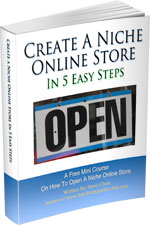 Ready To Get Serious About Starting An Online Business?
If you are really considering starting your own online business, then you have to check out my free mini course on How To Create A Niche Online Store In 5 Easy Steps.
In this 6 day mini course, I reveal the steps that my wife and I took to earn 100 thousand dollars in the span of just a year. Best of all, it's absolutely free!
Note: This post above may contain affiliate links, which means that I may receive a commission if you make a purchase when clicking a link. Please consult our privacy policy for more information.
Similar Posts
Have you read these?