My wife and I run an online wedding linens store and I absolutely love the products that we have to offer. I love weddings and the clientele I interact with on a day to day basis. I love helping customers make their weddings special.
But I'll be honest with you. While I love our products, deep down in my gut the items that we sell don't excite me. As far as our core offerings are concerned, wedding linens definitely aren't my passion.
What!?! No passion??? Isn't the number one rule of entrepreneurship that you have to be passionate about your products and your market segment?
Do You Need Passion?
It depends on what your definition of passion is. I'm passionate about providing people with priceless keepsakes of their wedding day, but our products in and of itself do not excite me.
I don't live and breath linens. I don't wake up in the morning thinking about linens. I don't browse the linen forums(is there such thing?) and I don't read about linens endlessly like I do with some of my other hobbies.
So what keeps me going? It used to be solely for the money but my motivations have evolved over time. After thinking about it for quite a while, I came to the conclusion that the fun of running the business in itself has motivated me to keep going. Hell, I could sell manure and still probably be happy about it. The following is what I love about running a business.
I Love Learning New Things Everyday
Prior to starting the business, I was very closed minded and never had the motivation to pick up subjects outside of my core competency. For example, you would never have seen me pick up a book about marketing prior to opening our store. I wouldn't have been caught dead reading a boring book about pricing had I not needed to price our products.
Our business has forced me to learn new things that used to be completely foreign to me. And you know what? There's some pretty interesting stuff out there that I never ever gave a chance. To think that if I lived everyday just working my day job as an electrical engineer, I would never have been exposed to the business side of running a company.
I never would've been exposed to the world of sales and marketing, both of which are crucial aspects of any successful business.
The best part of it all is that I get to instantly apply everything that I read about directly to our business. I've always been a good student in school, but I used to always forget everything I learned as soon as exams were over.
This no longer happens anymore because I actually get to use what I learn. Imagine that! It's safe to say that I have a much more open mind towards learning now. I no longer gravitate towards technical knowledge as I did before and I believe that this has made me a more well rounded person overall.
I Love The Competition
The wedding industry is a fiercely competitive market and I love it. My wife and I have to constantly keep tabs on our competitors otherwise we'll fall behind. Why do I enjoy competition? Because it keeps me on my toes.
I know a lot of businesses that stagnate once they start making a profit. They become satisfied with what they are making and stick to it. As a result, they go through the same routine day in and day out and soon, things get boring.
Does this per chance sound like your day job? Do you have a routine at work that you go through day in and day out just to collect a paycheck? I love my day job, but sometimes I can't help but feel this way as well. Thank goodness, I have our business to keep me excited.
Because we are in a competitive industry, my wife and I never feel as though we can really slack off too much and that keeps things interesting. I really hate losing and the fact that the competitive landscape is constantly changing motivates me to keep up with our business.
I Like How Our Business Makes Me Feel
Our little online wedding linens business is not large or prestigious by any means, but I do take tremendous pride in what we've accomplished already. Every time I pull up our store website, it gives me a great deal of satisfaction knowing that my wife and I created a small business together.
It's also fun that we constantly have new things to talk about with our friends. In the course of running our business, we always have funny stories to tell and it's great to kick back and share war stories with others.
Our business constantly introduces new experiences in our life to keep things interesting and as you know, sharing our experiences is one of the key motivations behind this blog.
I Love Making Money
I saved the topic of money for last because strangely enough, money is no longer the most important motivator anymore. It started out that way, but now that we've been in business for 2 years, money is no longer the primary reason we maintain our business.
Don't get me wrong. Money is important but it doesn't drive our decision making process. For example today, we probably wouldn't cater to a pain in the ass customer just for a big payout whereas we might have in the past.
Think about it this way. Would you take a high paying job even if you hated what you had to do? If you are unsatisfied at work, would a pay raise truly make you happier in the long run?
The same questions apply to our business. If our business was making money but it was no longer fun or challenging to run, we would definitely shut it down. The truth is that running our business is a pain in the ass, but it's a good sort of pain that makes you stronger.
Money is important but it no longer outranks the other motivations mentioned in this article. I may not have a passion for wedding linens, but I do have a passion for learning and our business provides plenty of opportunities.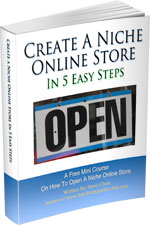 Ready To Get Serious About Starting An Online Business?
If you are really considering starting your own online business, then you have to check out my free mini course on How To Create A Niche Online Store In 5 Easy Steps.
In this 6 day mini course, I reveal the steps that my wife and I took to earn 100 thousand dollars in the span of just a year. Best of all, it's absolutely free!
Similar Posts
Have you read these?