As many of you know, my wife and I recently gave birth to our second child Kyle. It's only been about a month but we've already discovered that taking care of Kyle has been drastically different from taking care of our first child.
For one thing, we are much more confident this time around. We know what we are doing. We aren't afraid of minor issues and we can usually recognize when something is truly wrong versus just a normal phase of childhood.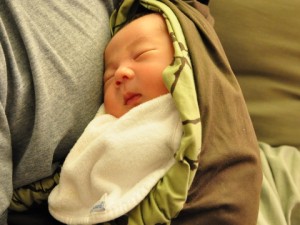 We are also much more proficient at reading our baby's signals and figuring out what needs to be done. Because we have our own "baby care system" in place so to speak, it's especially interesting because we are now more keenly aware of how hospitals, books and friends influence us into thinking that certain methods are the right and only way of doing things.
A good example of this is how hospitals these days heavily push you towards breast feeding versus bottle feeding or using formula. Now my wife and I strongly believe in giving breast milk to our child but it seems that hospitals just want to shove breast feeding down your throat.
With our first child, my wife and I tried breast feeding and it didn't work out for us. Our daughter was drastically losing weight and we weren't sure how much milk she was truly drinking if she was getting any at all.
Our daughter's early weight loss was a great source of stress for us so ultimately we decided to bottle my wife's milk and feed it to my daughter directly. That way, we could monitor exactly how much food she was getting and not have to worry about it.
Since this system worked for us, we decided to use it again with Kyle. The problem though was that the hospital nurses repeatedly pressured my wife into trying to breast feed over and over again to the point where I was getting a bit annoyed.
The breaking point was when we asked for a bottle of formula to supplement our feeds early on so we could make sure Kyle was getting enough food.
Me: Could we get a bottle of formula to supplement our feed?
Nurse: Are you sure you want to use formula?
Me: Yes we are.
Nurse: Are you sure you don't want to give breast feeding another shot?
Me: We are breast feeding. Our baby is getting breast milk. We just want to supplement with formula
Nurse: Would you like me to get you a hospital grade breast pump?
Me: I just want a bottle of formula ok? Could I get a new pacifier as well?
Nurse: Of course. However, if I may make a comment… Continuing to use a pacifier may cause nipple confusion which could be why breast feeding isn't working out for you.
Me: Look. We are not breast feeding directly. We are bottling the milk so it shouldn't be a problem.
Nurse: I'll send the lactation consultant by as soon as possible.

Sheesh! My wife and I had a working system in place so why were these nurses so adamant about making my wife breast feed? In any case, you get the picture.
I don't want to bore you anymore with mundane details about our hospital experiences. But what the heck does this all have to do with running a business? Through raising my daughter, my son and running our online wedding linens business, I've come to realize the following similarities.
Reading Books And Studying Can Only Get You So Far
When my daughter was first born, I read my fair share of infant care books. In addition, when my wife and I started our online wedding linens business, I read my fair share of business books as well. And in retrospect, many of these books caused us more harm than good.
The problem was that based on what we read, we kept trying to pidgeon-hole our child and our business to fit within the frameworks of what we read in the books.
For example, based on one of our infant care books, I read that a child should be eating 2-2.5 oz of milk per pound of body weight. But our first child was not drinking anywhere close to this amount which completely stressed us out.
The book says that she should be drinking X oz of milk so why isn't she? Is she ill? Does she have some congenital disorder that prevents her from wanting to eat?
No book can tell you how your child is going to behave because every child is different and it's perfectly normal. Likewise, there is no set methodology on how to start your own business.
Just because a book tells you that you should proceed a certain way does not necessarily mean you need to do things the same way. Just because someone else's business does something a certain way doesn't mean that it's going to work for you.
Throw away those books, stop taking other people's advice as the gospel and start paving your own path!
Do What Works For You
Our first child had major problems eating so we consulted many doctors, friends and books about our problem to no avail. It took us a very long time but we discovered that she would eat better if we bounced her and fed her from the bottle at the same time.
We coined our new way of feeding the "bouncy bouncy feed method". The problem was that it completely went against all of the books. From the book: "A child should be fed upright and still so as not to upset their stomachs". But it worked so we kept on doing it.
Similarly with our business, we were advised by many of our friends to not stock our own inventory at all costs because it would be too much of a pain.
But you know what? Stocking our own inventory has allowed us to control our shipping times and provide our customers with a much more positive shopping experience.
Moral of the story. Forget what you've read or what other people are saying. When the "right" way isn't working, go against the grain. There is no right or wrong if it works for you.
Don't Feel Guilty About Your Decisions
Once you've established your own methods and they work, don't let other people tell you otherwise. While you should keep an open mind, don't fix things if they aren't broken just because it's not what other people are doing.
A perfect example of this is with our television watching policy for the kids. Even though the books recommend that no child should watch television under the age of 2 and very few of our friends let their kids watch television, we allow our daughter to watch Baby Einstein up to an hour a day.
What can I say? She loves it and it gives my wife a much needed break during the day. It works and my daughter is learning so why should I feel guilty about it?
I also used to feel stupid whenever I told my friends about our online wedding linens business. Selling linens online isn't exactly the most glamorous thing I could be doing. Compared to some of my other friends who are starting or running multi milllion dollar companies, our little online store pales in comparison.
But you know what? It makes decent money and it lets my wife stay at home with the kids. So why should I feel guilty or ashamed of it?

Raising a child and running a business are more similar than you think. Either way, you have to pave your own way. Book learning and expert advice will only get you so far. Ultimately, you have to rely on your own brain to succeed.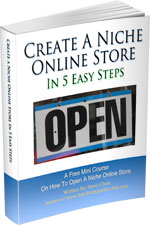 Ready To Get Serious About Starting An Online Business?
If you are really considering starting your own online business, then you have to check out my free mini course on How To Create A Niche Online Store In 5 Easy Steps.
In this 6 day mini course, I reveal the steps that my wife and I took to earn 100 thousand dollars in the span of just a year. Best of all, it's absolutely free!
Note: This post above may contain affiliate links, which means that I may receive a commission if you make a purchase when clicking a link. Please consult our privacy policy for more information.
Similar Posts
Have you read these?