Every 2 or 3 months, I set aside a couple of hours to analyze the competitive landscape for our online wedding linens store and to see what our competitors are up to. And in most cases, it's business as usual.
Sometimes a new competitor pops up and a new one goes under. Sometimes I find some new products that I feel that our store should carry. But for the most part, things are pretty calm.
This past week however, I noticed that one of our old competitors completely revamped their website and started slashing prices on similar products. When I told my wife about this, she seemed very concerned.
After all, how could our little online store possibly compete against a store with such low prices? Unless they were purchasing their products at a much lower cost (unlikely), how could they possibly be making a decent profit?
Should we lower our prices as well? Should we try and undercut them right back? Should we up our advertising campaigns? What is the right course of action to take when you find that your competition is undercutting you in price?
While I can't answer this question for all businesses, I can tell you what my wife and I plan to do.
We Are Holding Firm On Price
First off, we are holding firm on price. Unless, we see a drastic downturn in sales for those competing products, we plan on keeping things the same. Why? There are three reasons.
For one thing, there is a wide variation in the quality of linens from one store to the next. Perhaps, our competition is charging less because they are selling lower quality product. If anything, lower prices may actually be perceived as low quality to the end customer.
Because we are in the special event and wedding industry, people are willing to pay for the best quality that they can find. Therefore ironically, slashing prices could be the absolute wrong thing to do.
In any case, we are going to go ahead and purchase some of our competitors products so we can see what we are up against.
Second of all, I think that our website and breadth of products are far superior to this particular competitor. Why should we slash prices when we have a better store?
I believe that our customers will know that we offer a better shopping experience and have more confidence in purchasing from us.
Finally, slashing prices can only do more harm than good. If we keep cutting prices to match our competition, prices will continue to drop which will erode margins for our entire niche.
In addition, the wedding industry tends to be more price insensitive so it doesn't really make sense to compete on price alone.
We Are Filling In Some Gaps In Our Product Line
To this competitor's credit, they have really done a good job of revamping their website and offering several products that we don't currently offer.
So my wife is currently in the process of filling the gaps in our product line and selecting new items that we can sell in our store as well.
Because things have been a bit hectic with our new child, we've become a bit lax in improving our product line for the past several months. But now that things have settled down, it's time to resume kicking butt!
When we first started out, my wife and I used to feel guilty about emulating our competitors. But you know what? Analyzing the competition is one of the most effective ways to improve your business and it also lights a fire underneath your butt.

Why not select the best aspects of your competitors and try to do better? The more we can differentiate ourselves from other businesses and offer a more complete selection of product, the higher prices that we can command.
We Are Going To Focus More On Unique Designs
If this competitor has taught us anything, it's that we need to focus more on products that no one else carries. We need to concentrate more of our energies on products that we personally design.
This will ensure that very few of our competitors can simply copy us and compete purely on price. The main disadvantage is that it takes much longer to custom make our own linen products (sometimes this takes up to 4-5 months) but in the long run, it's always worth it.
We Will Continue To Expand Our Free Content
Deciding where to shop often goes way beyond just price alone. Our online store offers valuable tutorials and craft ideas using our products completely free of charge.
And I strongly believe that psychologically, customers are so impressed with our tutorials that they feel more inclined to buy from us even if we are slightly more expensive.

As a result, my wife and I will redouble our efforts to expand the tutorials section of our store. In addition, more quality content will lead to more backlinks which will lead to higher search engine rankings as well.
Price Isn't Everything
While price is the most important criteria for some people, sometimes you have to ask yourself whether these are the customers you want to target.
In my experience, our cheapest customers have been the most demanding, so we'd rather focus our efforts on those seeking quality and a better shopping experience.
Of course, it all starts with differentiation and selecting the right niche. If you are selling the exact same products that everyone else carries, it will be hard to avoid a price war.
But if you sell items that carry an ambiguous price tag, it's much easier to hold firm on price.
In terms of our situation, we'll just have to see how it plays out. But I'm confident that we will continue to sell product even if our prices are higher in some cases. Instead of slashing prices, we're going to focus on making our store a better place to shop.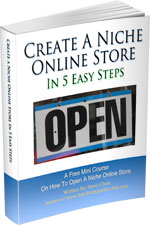 Ready To Get Serious About Starting An Online Business?
If you are really considering starting your own online business, then you have to check out my free mini course on How To Create A Niche Online Store In 5 Easy Steps.
In this 6 day mini course, I reveal the steps that my wife and I took to earn 100 thousand dollars in the span of just a year. Best of all, it's absolutely free!
Note: This post above may contain affiliate links, which means that I may receive a commission if you make a purchase when clicking a link. Please consult our privacy policy for more information.
Similar Posts
Have you read these?