The other day, I came across a heated forum discussion that went back and forth debating over the definition of a "true" entrepreneur versus just a regular small business owner.
The thread was over 5 pages long and participating in this discussion were a wide variety of different business owners. Some of them ran brick and mortar retail stores.
Some of them ran small-medium sized internet consulting or software companies. And some of them were freelancers looking to eventually start their own firms.
The main crux of the debate was whether a person opening a brick and mortar business like an ice cream store or a freelancer with no employees could be considered a true entrepreneur. Where do you draw the line between true entrepreneurship and just running a small business?
As the two sides argued back and forth, I couldn't help but think…who the heck cares? Why are you guys wasting your time on such a stupid topic and who are you to define what a "true" entrepreneur is?
As the discussion progressed, the small brick and mortar business owners as well as the freelancers were clearly getting miffed because they were being excluded from the entrepreneurship category. Since when did entrepreneurship become a club?
My Definition Of An Entrepreneur
As far as I'm concerned, everyone who participated in that forum discussion is an entrepreneur. To me, an entrepreneur is anyone willing to take a risk to be their own boss.
Someone who is willing to take control of their lives, call the shots and dictate the outcome whether it's good or bad.
It doesn't matter whether you open an ice cream shop, an online wedding linens store, a software company or a hardware company.
As long as you are adding value to this world doing whatever you are doing, you're an entrepreneur plain and simple. Don't let any stuck up, pompous business owner tell you otherwise.
So what if your business will never make a billion dollars. Entrepreneurship doesn't have to be about the next big thing
Choosing The Right Lifestyle
Part of becoming an entrepreneur is understanding what you want to get out of it. If you want to go for the home run and someday create a billion dollar company, then that's your prerogative.
But just keep in mind that working on such an ambitious business venture will likely consume all of your time and sacrifice your social life as well. Not to mention that your chances of success will be very slim.
As with anything, there are many different flavors of entrepreneurship. On one end of the spectrum are the people who want to create something that will completely change the world.
They are willing to sacrifice all of their time because their business is their top priority. They push the envelope and want to develop the next big thing and are willing to play the odds.
On the other end of the spectrum are people I call "lifestyle entrepreneurs". The lifestyle entrepreneur category is certainly the category that I fall into.
I don't want to devote my entire life to my business. I don't want to sacrifice my family, my friends or my social life. I want a business that complements my life.
What Is A Lifestyle Entrepreneur?
Simply put, a lifestyle entrepreneur is an entrepreneur that creates a business to enhance their lifestyle. Instead of working 8 hours a day at a job or spending 20 hours a day trying to grow a business into a billion dollar company, the lifestyle entrepreneur finds creative ways to free up their time to do what they truly want to do.
The lifestyle entrepreneur actually seeks to work less and finds ways to automate the non-critical aspects of their lives.
In my case, my wife and I set out with a goal to spend more time with the kids and be there at every stage of their lives. It didn't really matter what business we created.
We just wanted something that would allow my wife to avoid having to work a day job without sacrificing our lifestyle. For us, this meant earning at least 100K but this number could be different depending on the person or the situation.
An Entrepreneur Is An Entrepreneur
Because our business has well exceeded our goals, my wife and I have a much greater freedom to do whatever we want. I don't have to worry about losing my job because our business can cover all of our expenses.
My wife can spend all of her time during the day playing with the kids while only devoting a small portion of her time at night managing the business. Meanwhile, money flows into our bank accounts while we sleep.
That is why I chuckle every time someone looks down upon certain categories of small business owners. Most people are obsessed with creating a sexy business or making lots of money.
Don't get me wrong, I greatly admire those entrepreneurs who put in the killer hours to truly push the envelope with their businesses but it's not for me.
At the end of the day, we all have to decide what our priorities are. Is your main goal in life to run a company? Or is your main goal in life to enjoy it? If these two things happen to coincide, then power to you.
But you need to decide up front what you want to get out of becoming an entrepreneur. Don't let anyone classify what you are or what you want to be. Ultimately, you need to create your own definition of entrepreneurship and do what is best for you. Skip the silly debates!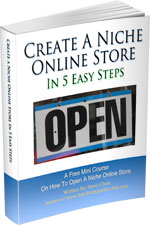 Ready To Get Serious About Starting An Online Business?
If you are really considering starting your own online business, then you have to check out my free mini course on How To Create A Niche Online Store In 5 Easy Steps.
In this 6 day mini course, I reveal the steps that my wife and I took to earn 100 thousand dollars in the span of just a year. Best of all, it's absolutely free!
Similar Posts
Have you read these?