Many brand new shop owners launch their online stores with the hope that Google, Facebook and social media will magically send them customers right away. But here's the thing. Generating traffic from these platforms takes time.
For example, it often takes at least 6 months to a year to receive any meaningful organic traffic from Google. And building up your social media accounts to the point where you can attract a significant amount of sales takes a while as well.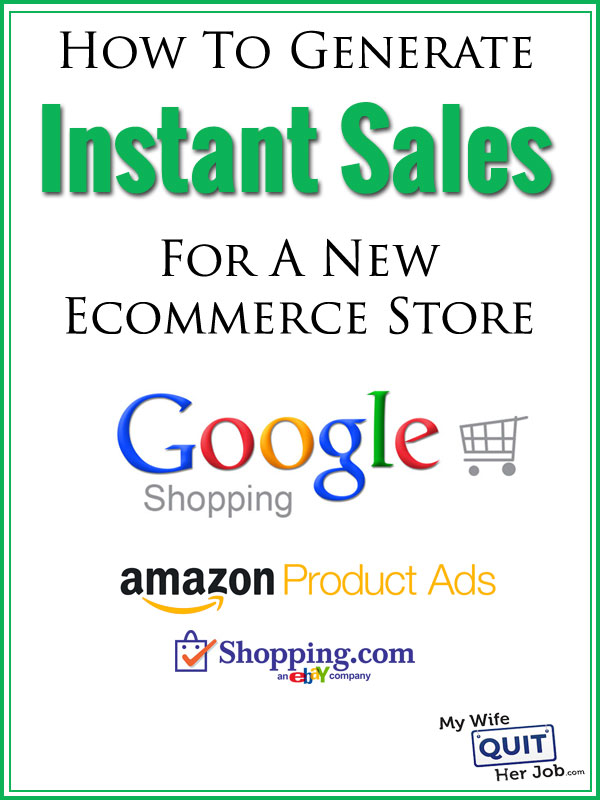 In fact, a common pattern I see with new entrepreneurs is that they launch their online stores, write content expecting to rank in search, and then just sit there idly waiting for sales that never materialize.
Weeks pass by with very little traffic and then the entrepreneur gets discouraged. Months and months pass by and then they give up.
Are you facing a similar situation? If so, the worst thing that you can do is sit there and wait.
How To Generate Early Sales

The first thing that you need to realize when you first launch your store is that no one is going to be able to find it. So you have to do what any other business has to do in this situation.
You have to advertise.
But this often leads to another common problem. Most people who start their online stores with a very low budget don't want to spend their money on ads without knowing that their ads are going to be profitable.
So they get a free $100 coupon for Google Adwords, blow through that free money in a few days and then write off online advertising altogether.
Today I want to address the common fears with online advertising, how to spend your first marketing dollars and how to get the most bang for your buck even if you have no idea what you are doing.
In other words, I'm going to tell you what I would personally do if I launched a brand new online store on a very limited advertising budget.
Google Shopping
The very first thing that I would do is sign up for Google Shopping ads. For those of you who are unfamiliar with Google shopping, this is what a Google Shopping ad looks like.
Here's how it works.
When a search is performed, Google sifts through a database of your products and displays images that are relevant to the query along with pricing information for your goods. If a customer is interested in your item, they click on the ad and land directly on your site where they can then make a purchase.
For me, I almost always start with Google Shopping with any new online store because the conversion rate is incredibly high. When a customer sees a product ad, they immediately see a picture of your product and the price.
As a result if they click on the ad, there's a very high likelihood that they will make a purchase.
In fact, I've seen conversion rates in the double digits and I've documented my results with Google Shopping in the following post. Click here to check it out.
The beauty of it all is that you only have to pay when someone actually clicks on your ad.
How to set up Google Shopping ads
First off, you have to generate a text or XML feed of all of the products in your online store. A feed is a file that contains information about every product in your shop including, the URL, the product description, the image location etc…
All of the shopping carts I mention in my free 6 day mini course have plugins built in to create a product feed automatically.
For example, Shopify has a plugin that handles this with a few clicks of the mouse. So does Big Commerce
The next step is to create a Google Merchant Account and upload your product feed to Google.

Finally, you have to sign up for an Adwords account and start placing bids on your products.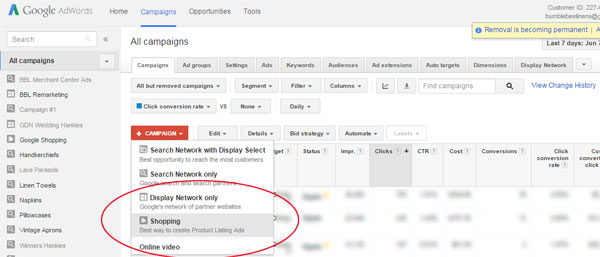 Amazon Product Ads
The next thing that I would spend money on is Amazon Product Ads. Similar to Google Shopping, Amazon will display your products alongside other Amazon listings and you pay by the click for traffic.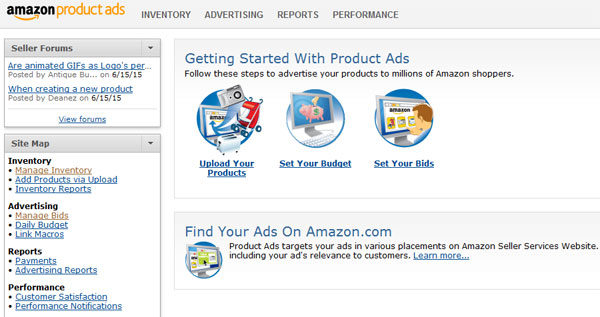 Note: Amazon Product Ads have been discontinued by Amazon
Here's an example…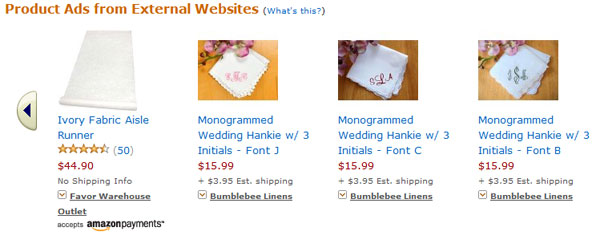 Right now, Amazon is the leading ecommerce platform in the US. And the reason Amazon product ads convert really well is because anyone who goes on Amazon is looking to shop.
As a result, if they see your product and click on the ad, they are very likely to buy. In fact, Amazon Product Ads perform better for me than any other type of ad that I run.
And overall, the results I get with Amazon Product Ads trumps that of Google Shopping because of the high commercial value of Amazon traffic.
To get started with Amazon Product Ads, sign up for an account here and get $75 worth of ad credit free.
After signing up, you need to send a product feed file to Amazon which looks very similar to the one you used for Google Shopping.
In fact, you can get away with using the exact same feed.
However, it's in your best interests to generate a separate feed file for Amazon and take advantage of Amazon's extra product parameters for greater ad visibility.
Once again, I've documented my results with Amazon Product Ads in a previous post. Click here to check it out..
Shopping.com
Finally, I would give Shopping.com ads a try as well. Shopping.com is a company owned by Ebay and they help consumers find products to buy in a similar manner to Google Shopping and Amazon Product Ads.
If you've ever used Ebay, you might have noticed picture ads alongside and below Ebay product listings.
Here's an example of what a Shopping.com ad looks like.

Once again, customers that are either on EBay or using the Shopping.com shopping site have a strong intent to buy which is why these types of ads convert very well.
You probably know the drill by now, but in order to run ads on Shopping.com, you also have to send them a product feed.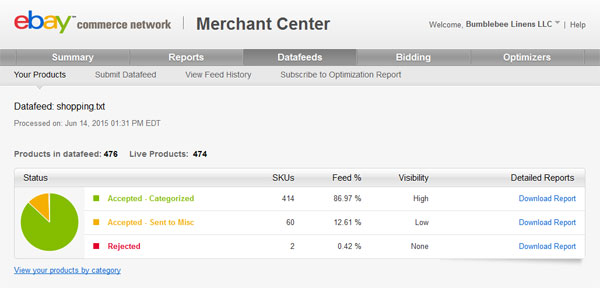 And once you do, Shopping.com will display your products alongside relevant search results to give you the highest chance of generating a sale.
To see some of the results I've had with Shopping.com, check out this post
Next Steps
Even though Google Shopping, Amazon Product Ads and Shopping.com convert very well, the major weakness of these ad services is that they won't generate you much traffic.
For example, I only get a handful of sales each day from these ad platforms but they are extremely profitable. In fact, I don't believe that I have ever lost money by buying these ads.
But who cares about the traffic volume? When you first launch your online store and you are skittish about spending money on ads, start with ad platforms that will give you the highest chance of converting a sale.
Once you have a few sales under your belt, here's what'll happen.
You'll see sales come in on a regular basis which will give you confidence.
Once you have confidence, you'll be willing to risk more money to make more money.
You'll have the courage to explore other ad platforms like Google Adwords, Facebook and Bing
Conclusion
Whatever you do, do not simply launch your online store and sit there and wait for traffic to come to you. You have to actively go out and get it. Generating content for SEO and building up your social media presence is a long term play.
But in the short term, you also need to be doing whatever you can to make some early sales.
Confidence is the key!
Once you realize that your store can actually attract sales, it will give you the courage to pour more money into your online venture.
Good luck and if you enjoyed reading this post, then check out my full blown class on ecommerce!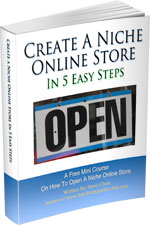 Ready To Get Serious About Starting An Online Business?
If you are really considering starting your own online business, then you have to check out my free mini course on How To Create A Niche Online Store In 5 Easy Steps.
In this 6 day mini course, I reveal the steps that my wife and I took to earn 100 thousand dollars in the span of just a year. Best of all, it's absolutely free!
Similar Posts
Have you read these?