In order to build wealth effectively, we all have to be frugal to a certain extent. We have to watch our spending. We have to analyze our expenditures and cut back on the fat. We have to make sacrifices to make sure that we can save enough money for college and retirement.
Fortunately, my wife and I both share the same principles when it comes to spending money (ie. we don't spend frivolously). Otherwise, we would be seriously screwed.
But after analyzing last year's expenses using Quicken, I feel all frugalled out. We have pretty much cut back as much as we possibly can without drastically affecting our lifestyle.
If we look closely at last years expenses, we cut spending by another 4% over the year before. We are going out to eat less thanks to my wife's desire to cook and we don't really spend that much on entertainment anymore because the kids have to be in bed early.
We haven't bought a new car in ages and I can't remember the last gadget that I've purchased. All of this for a measly 4% savings. While one could argue that 4% is a lot of money overall, I wouldn't have minded cutting loose a little bit more.
On the other hand, if you look at our business, our profits grew 41% last year.
And this profit increase should have been around 75% had my wife and I not shut down the store to take care of a family emergency. We had a 41% increase and it didn't really require that much more incremental work to earn a much larger payout.
The numbers don't lie. Why should we bust our butts to pinch every penny when we could just transfer that energy into additional income with our business?
Being Frugal Can Only Take You So Far
I love being frugal, I really do. And I love following all of the frugal blogs out there. In fact, one can really learn a lot about saving money by just taking a few extra measures.
But after a while, there's nothing left. You are just tapped out. Unless you started out spending money egregiously, there is a fundamental number that you simply can't go below without greatly sacrificing your lifestyle.
For example, I love eating out. Sure, we could cut going out to eat entirely out of our budget but where would that get us? While I truly love my wife's cooking (hope she sees this), I don't think I could eat at home every night. I wouldn't be happy and I'd probably get cranky as a result.
Maybe I could cut out an additional few tenths of a percent by driving less and carpooling or riding my bike, but that would be a major pain as well. And quite frankly, I love buying new gadgets. Why shouldn't I cut loose a little bit and get that Android phone I've been eying for several months now?
How To Have An Unlimited Upside
The problem with using frugality to increase your bank account is that there are diminishing returns. Sure, being frugal is easy to do and that's why most people try to build their bank accounts by cutting spending first.
But will being frugal lead you down the path to riches and a better lifestyle sooner rather than later? Is it worth the sacrifice? One might argue that frugality coupled with a sound investment strategy is the way to go, but for me it's a no brainer.
The best way to accumulate wealth is to simply make more money.
Instead of focusing all of your energies on clipping coupons or searching for the absolute best deal, why not channel that energy into starting a business or freelancing on the side? Why not spend time on something that has limitless earning potential?
Even though my wife and I run a successful online business, I still fall into this trap all of the time. Hell just the other day, I spent 2.5 hours looking for the best deal on a new crib for my son.
Sure, I ultimately saved about 50 bucks but with that 2.5 hours I could have been working on my brand new course on how to create an online store (my current project). I could have been writing new blog entries. I could have been optimizing our online wedding linens store.
All three of these activities would have easily made me much more than the 50 dollars I saved.
Food For Thought
The truth is that many of us waste time on projects that return very little and we need to step back and to focus our energies on what will give us the most gain.
By sticking with what is "easy", we are limiting our potential. So the next time you are driving around town looking for the best deal or looking for ways to eek out another few extra bucks in savings, think about better ways you could be spending your time.
Don't get me wrong, frugality is not a bad thing but you can always make more by expanding your top line rather than focusing on your bottom line.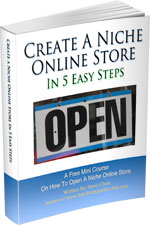 Ready To Get Serious About Starting An Online Business?
If you are really considering starting your own online business, then you have to check out my free mini course on How To Create A Niche Online Store In 5 Easy Steps.
In this 6 day mini course, I reveal the steps that my wife and I took to earn 100 thousand dollars in the span of just a year. Best of all, it's absolutely free!
Note: This post above may contain affiliate links, which means that I may receive a commission if you make a purchase when clicking a link. Please consult our privacy policy for more information.
Similar Posts
Have you read these?