When I was in college, I used to think that everything could be learned by simply reading a book. After all, throughout high school and college at Stanford, I was able to do well in most of my classes without having to attend or pay attention to lecture.
In fact, one of my friends in college always used to make fun of me because I would bring a kneepad as a pillow and my walkman (yes, a walkman cassette player) to every class and doze off.
Things were much easier back then and the formula was simple.
Before every big exam, I would cram and read the professor's textbook cover to cover, review and do all of the problem sets in one sitting and voila!
The tests would be more or less a regurgitation or a slightly modified application of what was covered in the book.
I did well because I always knew what was going to be on the test. The material was self-contained and there were never any real surprises. I knew that there was no chance that I would be quizzed on anything outside of the curriculum.
Real Life Is Not A Class
And so I went through the first phase of my life thinking that everything was going to be a cake walk. If I ever got stuck, I would simply find a relevant book, read it cover to cover and it would teach me how to solve my problems. Boy was I wrong.
My first job out of college was as a board designer for a digital printing company. And there, I had my first shocking revelation. The real world was anything but cookie cutter.
I still remember my first work project very clearly. I was assigned to create a specialized circuit board for a digital color copier which I thought was going to be an easy project.
"I'm going to design this baby by the book. Should be a cake walk"
And so I produced my first circuit board based on the theoretical principles of hardware design that I learned in school expecting everything to work on the first try. And of course it didn't. Even though my calculations were fundamentally sound, the damn thing didn't work and I couldn't explain why.
Finally, I got frustrated enough to ask another engineer for help and he laughed at me.
"Silly newbie, electricity doesn't behave by the book in real life"
As I quickly discovered, there's a lot of "black magic" involved when designing computer hardware. There are random elements of noise and environmental factors that cause electricity to behave in strange ways that are often times unpredictable.
And it's up to the designer to account for these anomalies in creating a circuit board that is robust under all conditions. They didn't teach this stuff in school!!!
There Is An Art To Everything In Life
Turns out that my real world education had just begun. Here's another dumb example of how naive I was coming out of school. When I graduated from college, I really wanted to own a stick shift car.
So naturally, I downloaded a manual transmission guide off of the Internet and learned the basic principles of how to drive stick (I had driven stick a long time ago but completely forgot how).
Seemed easy enough and I understood the theory of how everything worked. Just one more pedal shouldn't be that difficult to master right?
So I basically went and bought a brand new stick shift car without really having mastered driving one (I test drove the automatic version of the same car before deciding to purchase it). Needless to say, I almost wrecked my brand new car coming out of the parking lot.
Looking back, I've studied many things without being able to master what I've learned. For example, I have a lot of theoretical book knowledge about photography but I still suck at composing a good picture. I can follow a cook book just fine, but my dishes never ever come out quite right…
So what's my point and how does this relate to business?
Running A Business Is An Art
Learning how to run a successful business follows the exact same analogy. Do you really think that you can possibly learn everything there is to know about starting an online business by reading a book?
How about 10 books? How about watching a bunch of videos? How about reading case studies or watching interviews?
Have you ever wondered why you can not reproduce the exact same results as someone else that you read about online even though you are following their "exact" same strategies?
The answer is because starting and running a profitable business is a work of art and not a series of canned steps that you follow in order to be successful.
Every single business is going to be completely different and needs to be treated accordingly on a case by case basis.
This is why I can wholeheartedly say that most ebooks and courses you find online will probably not take you to the promised land….unless there is a human component involved.
Yes…that's right. A human. First off, it's impossible for anyone to document and write down every single step it takes to start a successful business. Second of all, it's even more impossible to account for all of the intricacies involved for a specific business.
Because every one will have different strengths, weaknesses and inclinations, it's important to have a mentor who will provide you with specialized advice based on your exact situation.
Nothing Is Cookie Cutter
Even with my Create A Profitable Online Store Course, the pre-recorded material and 400 page pdf will only take you so far which is why I also provide live weekly office hours and specialized feedback on a per store basis.
The personality of the small business owner also plays a role in the teaching process as well. Based on an individual's skill set and interests, one student may need to follow a completely different set of recommendations as another student in the exact same situation.
As I have learned in the many years since I've left college, there is nothing cookie cutter in life. And this is exactly why most canned courses and ebooks will never teach you what you need to know to be successful in business. Every business is different and the material needs to adjust accordingly.
Here's a student who recently signed up for my course and only lasted a week before asking for a refund.
Hi Steve: your course is very informative and comprehensive but the details of every thing discouraged me…I wanted somebody to tell me every thing in one page without giving me so many options to choose every step.
What this student was basically asking me to do was to provide her with a cookie cutter template on how to start a successful business and fit it on a single page! That's not how it works!
Be prepared to work hard if you plan on starting any business. Following templates or canned tutorials isn't going to cut it!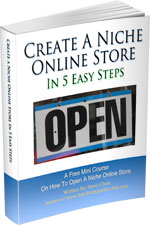 Ready To Get Serious About Starting An Online Business?
If you are really considering starting your own online business, then you have to check out my free mini course on How To Create A Niche Online Store In 5 Easy Steps.
In this 6 day mini course, I reveal the steps that my wife and I took to earn 100 thousand dollars in the span of just a year. Best of all, it's absolutely free!
Note: This post above may contain affiliate links, which means that I may receive a commission if you make a purchase when clicking a link. Please consult our privacy policy for more information.
Similar Posts
Have you read these?