Whenever I think of duct tape, I think of my favorite television superhero MacGyver. What?!? There's a ticking time bomb set to explode in 10 seconds?
Take that stick of chewing gum, some duct tape and disarm that bad boy. It wasn't always pretty, but MacGyver always got the job done no matter what the situation. He was never concerned with how elegant the solution was, he just did what was necessary to help his client.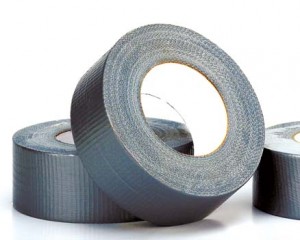 If Macgyver was a real person, who wouldn't want him on your team? The truth is that every small business needs a duct tape guy. Because the duct tape guy is the guy who will make sure you launch your business on time. He's the one thinking about and developing concrete ways to market your business.
He's the one getting things done while others are endlessly debating over minor details that don't really matter in the grand scheme of things.
My Anti-Duct Tape Story
When my wife and I first started out with our business, I used to spend an endless amount of time tweaking the look of the website. I would resize a few photos here and there.
I would change up the fonts. I'd tweak the column sizes. Before I knew it, a few hours would go by and I'd have very little work done to show for it.
Then there were the coding aspects of our shopping cart. Often times, I wanted new features that the out of the box software didn't provide so I decided to implement them myself. And this opened up a whole new can of worms.
Should I use javascript or PHP? Man my code is ugly. Shouldn't I clean this up a bit first before I move on? Ooooh!! If I'm clever, I can write this code in 2 lines and make it super elegant.
Yes. Early on, I was the antithesis of a duct tape entrepreneur. In fact, my wife had to remind me that we were launching an online store, not trying to win some website design contest.
Fortunately, her words snapped me back to reality and I was finally able to make progress. Remember, we online entrepreneurs are not here to tweak websites or write elegant code. We're here to launch and ship product.
Amdahl's Law
Since I'm a microprocessor designer by day, one of the core principles of designing fast CPUs is defined by Amdahl's law. For all of you who are not familiar with Amdahl's law, it basically states that the performance improvement to be gained from using some faster mode of execution is limited by the fraction of the time the faster mode can be used.
Of course this law was made for CPUs but it also applies to starting a business. In a nutshell, it means that you should be spending your time on things that will yield the most benefit.
But, you should only spend just enough time on fixing a problem until other more important issues become prominent and require your attention.
Here's an example of this law in action with our online store. Back when I first started, the design of our website was one of the most important tasks at hand.
But once I got the basic website up and running, all of my additional time spent tweaking the aesthetics had diminishing returns.
At this point, working on the look of the website became less important because the site was "good enough" for our initial launch.
Looking back, I should have stopped working on the website much sooner and focused more on other pressing issues that required my attention. Recognizing that something is "good enough" is one of the hardest parts about becoming an entrepreneur.
More Duct Tape Please
Duct tape entrepreneurs also excel at recognizing that a partial solution is sometimes better than no solution at all. When we launch a business or feature, it doesn't have to be absolutely perfect.
It doesn't have to implement 100% of the feature set. If something that we ship only benefits 50% of the people 50% of the time, it might still be worthwhile to just get it out there and refine it later.
A good example of this with our business was with the personalized section of our online store. When we first launched, we didn't allow our customers that much freedom to customize or personalize our products at all.
We basically just wanted to get the product category out there to see if there was demand.
Once we determined that the demand was high, we gradually added more and more functionality to our personalized product line to the point now where it's one of our biggest money makers.
The key point is to not get bogged down with the details. Get the thing out there, experiment and refine.
Complicated=Bad!
The final thing that duct entrepreneurs excel at is squashing everything that is remotely complicated. The truth is that the ideas that are the most effective happen to also be the simplest as well.
Complicated ideas are confusing and prone to error so they should be avoided at all costs.
I see this everyday with user interface design. Don't make a customer jump through hoops or waste their time looking at a splash page or flash animation just because it is cool.
Make the customer experience as plain and simple as possible and you will sell more product.
Conclusion
If you don't have a duct tape guy on your team or if you are a one man show, it means that you have to become the duct tape guy.
Sometimes it requires a 180 degree shift in mentality or with the way you normally do things but it's the most effective way to get things done.
Whenever you get bogged down with a problem or issue, ask yourself whether what you are doing is core to the business. I guarantee you that 9 times out of 10, it's not as big of a deal as you think it is.
If your product is in a good enough state, get out your duct tape, put the whole thing together and launch! You can always refine it later.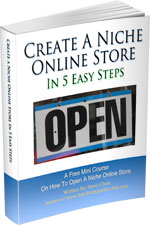 Ready To Get Serious About Starting An Online Business?
If you are really considering starting your own online business, then you have to check out my free mini course on How To Create A Niche Online Store In 5 Easy Steps.
In this 6 day mini course, I reveal the steps that my wife and I took to earn 100 thousand dollars in the span of just a year. Best of all, it's absolutely free!
Note: This post above may contain affiliate links, which means that I may receive a commission if you make a purchase when clicking a link. Please consult our privacy policy for more information.
Similar Posts
Have you read these?