Starting and running a successful small business does not require intellect so much as it requires common sense and perseverance. Don't get me wrong, starting a business is hard but the reason most people fail is not because they aren't smart enough but because they don't follow through or they get distracted and give up when they don't see immediate results.
We live in a world of instant gratification but starting a business online is almost never instantly gratifying from a monetary perspective.
The truth is that the mentality of starting and running an online business is a lot like going on a diet. It's tempting to go after the latest fad with the promise of quick results with very little effort.
If you stop and think about it, there's always some new fangled weight loss scheme floating around.
"Don't eat carbs!"
"Drink 6 liters of cold water everyday and the weight will come off"
"This weight loss pill will curb your appetite!"
Similarly when it comes to starting a business, we see get rich quick schemes everywhere and the media bombards us with success stories about people making millions in a short period of time.
"Buy my latest ebook and you'll learn how to make 5000 a month!"
"Make thousands a month while working from home!"
"This guy makes $4000 a day blogging and so can you!"
The reality is that people love to take shortcuts and like dieting, most people get caught up in some scheme or business idea expecting quick results and then give up after a few months of not seeing any.
I see it everyday when it comes to blogging. I see it everyday when it comes to running an online store.
Running A Business Requires Willpower
If you are going to start a business, you can't be half hearted about it. You have to commit for the long term. Going back to my dieting analogy, let's take a closer look at the similarities.
It can take a long time to see results. Even if you eat less and exercise like a madman for a week, you still aren't going to lose that much weight. Even if you work 24 hours a day on your business, your business may not grow any faster. You can't just cram your way to the top.
Both are hard to start especially if your spouse or friends aren't being supportive or going through the same thing. Having been on diets before, there's nothing harder than eating your tasteless salad while your buddies are chomping down on pizza right next to you. When my wife and I first started our business, it was hard staying at home to work on the business while our friends were out having fun and going out. Therefore, it helps to hang out with other entrepreneurs and small business owners in order to keep yourself motivated.
You have to continue on even if you are not seeing immediate results. Losing weight and gaining traction with your business takes time. Our online wedding linens business was extremely slow for the first several months and it wasn't until the 6 month mark when we started getting large orders that really propelled our business forward.
There's usually more talking rather than doing going on. Ideas and endless debates are worthless. Getting your butt off the couch is the key to success.
Until you diet, you don't realize how much you are eating. Until you start a business, you don't realize how much time you are wasting in a typical day.
Starting A Successful Business. Yes, It Can Be Done!
Get rich quick schemes aside, starting a business is hard because…
The media has convinced you that its hard
There are so many things to learn, where do you start?
You're afraid to lose money
You're afraid your business is going to fail
You don't have enough money to start
You're not technical enough
The odds may seem stacked against you but guess what? Do you need to be Sergey Brin or Larry Page to sell shoes like Tony Hsieh?
Is there a lot to learn? Yes. But trust me. You don't have to risk a lot of money and you don't really have to worry too much about failure as long as you set the proper expectations.
No More Excuses Please
The key is to get over the excuses and do something about it.
Everyday, I hear people whine about their jobs and make themselves out to be the victim. What these people don't realize is that they have more control over their lives than they think. The first step is to stop shifting the blame somewhere else.
After all if you are overweight, is it really McDonalds' fault? If funds are tight and business is slow, is it really the economy's fault?
It's up to you to make the change. It's up to you to make sure your business doesn't stagnate. It's up to you take charge of your finances.
Most businesses fail because their owners give up and lose patience. Most businesses fail because their owners expect quick results without doing the work.
As long as you pick something you like, stick with it and constantly try to improve, you will eventually make it over the hump. But you can't succeed unless you start.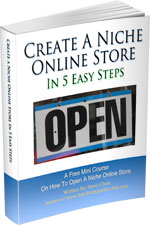 Ready To Get Serious About Starting An Online Business?
If you are really considering starting your own online business, then you have to check out my free mini course on How To Create A Niche Online Store In 5 Easy Steps.
In this 6 day mini course, I reveal the steps that my wife and I took to earn 100 thousand dollars in the span of just a year. Best of all, it's absolutely free!
Note: This post above may contain affiliate links, which means that I may receive a commission if you make a purchase when clicking a link. Please consult our privacy policy for more information.
Similar Posts
Have you read these?