Last Friday, an engineer in the office complex where I work brutally gunned down the CEO, VP of Operations, and the Head of Human Resources of his company before fleeing the premises. This engineer, named Jing Wu, had recently gotten laid off from his job and decided to take revenge on the executives who were responsible.
Because this tragic triple homicide literally happened within 50 feet of my office, I've been thinking a lot these past few days about all of the things that I've been taking for granted. I've also been trying to place myself in the same situation as Jing Wu to figure out his frame of mind.
What possessed him to follow through with such a heinous act? What caused him to become so desperate to think that losing his job meant the end of his life?
While I'll never know the entire story behind his actions, I strongly believe his salary and his day job caused him to take many things for granted and he basically snapped when those things were taken away from him.
How Can A Salary Possibly Cause You To Take Things For Granted?
Anytime you receive something on a regular basis, you will take that something for granted over time. I remember my first job out of college when I truly felt elated each and every time I received a paycheck.
In fact, I used to save all of my paystubs and I remember proudly displaying my first paycheck on my desk at home. I also remember that it didn't take very long for these feelings to fade. Only after about 2 months into my first job, I stopped thinking about getting paid altogether and just expected money to show up in my bank account every two weeks.
Taking Money For Granted
Getting paid on a regular basis changed my mindset. Let's see, I'm guaranteed to receive money every two weeks, so that means I can spend this much every month. If I overspend a little bit, it doesn't matter because I'll just catch up the following month.
I can afford this $50,000 car because I can easily handle the $500 monthly payment even though I have no money saved.
With my day job, I also realized over time that it didn't really matter how hard I worked as long as I got my stuff done on schedule. The paychecks would show up in my bank account as long as I still had a job.
There was very little upside to busting my butt and very little downside to relaxing a little bit as well. Over time, all of these realizations took me down the path of monetary complacency.
Taking Health Care For Granted
Did you know that your employer spends hundreds of dollars every month to provide you with health insurance? If you don't actually sit down and think about it, you'll never realize how crucial this benefit is to both you and your family.
For me, I didn't start appreciating my health benefits until several months ago when I had to call an ambulance to rescue myself from severe dehydration caused by a stomach illness.
The ambulance trip alone cost $1500 dollars for just a 5 mile trek and the hospital bill was several thousand dollars as well. Luckily, I only had to pay 100 dollars out of pocket because of the health insurance provided by my employer.
When you get a salaried job, all of these health benefits are magically granted to you on your very first day. Until you need to use them and they are abruptly taken away, it's extremely easy to discount its value. I never thought that I would need to get rushed to the hospital ever, but it happened.
Taking Things For Granted Leads To Desperation
Jing Wu became complacent with his job and his lifestyle. After doing some research, I found out that he lived in a fairly expensive part of town. His house was probably worth over 1.2 million dollars and he without a doubt carried a very high mortgage.
I'm not positive, but I believe that he was the sole bread earner for his family as well.
Because he took his steady paychecks for granted, he completely lost it when all of it was suddenly taken away. How was he going to cover the expenses and the mortgage? How was he going to provide for his family?
In this troubled economy, do you really want to be dependent on a single income in which you have no control over? Are you spending in anticipation of your next paycheck?
Appreciating Money
It wasn't until my wife and I started our own business did we begin to appreciate money again. With a business, there is absolutely no guarantee that you will make any money at all in any given month.
While this sounds scary, it will naturally condition you to spend less and be more careful when you actually do spend money.
Imagine if you weren't sure whether you were going to make any money at all the following month. Would you still buy that car or make that frivolous purchase? If anything, you would probably make sure that you had the money already in your bank account before making any purchases at all.
The temptation to overextend yourself financially would be substantially reduced.
Appreciating Your Health
If you and your family are all healthy, there's already much to be thankful for. But even if things are all good at the moment, you can never be sure when you'll need medical care. That is why it is crucial to have an emergency fund or alternative forms of income in case you lose your job or your health benefits.
Health care costs in the US are ridiculously high and you can easily go bankrupt with a single hospital visit if you are caught off guard..
Appreciating Your Family
At some point, we all take our loved ones for granted so every now and then it's important to take a step back and reflect on what is most valuable in your life. After marriage and the birth of my daughter, I've come to realize that my family is the single most important aspect of my life.
My family is the main reason why I'm working so hard to generate multiple income streams and to ensure that we don't fall into the same trap as Jing Wu.
Starting our online business was only the beginning. I hope to find many more ways to generate wealth and I encourage everyone else to do the same.
Further Reading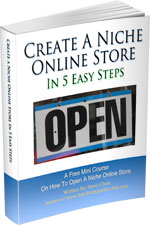 Ready To Get Serious About Starting An Online Business?
If you are really considering starting your own online business, then you have to check out my free mini course on How To Create A Niche Online Store In 5 Easy Steps.
In this 6 day mini course, I reveal the steps that my wife and I took to earn 100 thousand dollars in the span of just a year. Best of all, it's free and you'll receive weekly ecommerce tips and strategies!
Note: This post above may contain affiliate links, which means that I may receive a commission if you make a purchase when clicking a link. Please consult our privacy policy for more information.
Similar Posts
Have you read these?