Normally, I don't post year end reviews for my blog but MyWifeQuitHerJob.com hit several milestones this year that I'd like to share with you.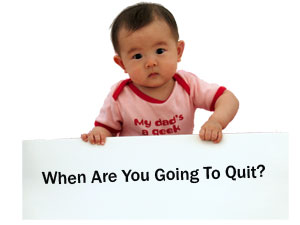 When I first started this blog, I did not have the intention of making a significant amount of money off of it.
Instead, I wanted to use MyWifeQuitHerJob.com as a personal diary to document my experiences with starting our little handkerchief shop.
Don't get me wrong, I always planned on monetizing this blog from the get go but I only expected to make a small bit of spending cash here and there. In the beginning, I would have been happy if the blog could generate a thousand bucks a month at its peak.
The other reason I decided to start MyWifeQuitHerJob.com was because I wanted a more hands off business. Because running an ecommerce store is a fairly active business model especially when you carry inventory, I wanted my second business to generate income passively no matter how slow the ramp up.
After all, our online store was already making a decent sum of cash so I didn't have any pressure or need to make money quickly. The most important thing in my mind was to start another revenue stream no matter how small as long as the income was infinitely scalable.
So in late 2008, I started MyWifeQuitHerJob.com with absolutely zero readership!
What's The Readership Like Now?
While the blog has come a long way since 2008/2009, I still remember how lonely it was in the beginning. If you look back at some of my earlier articles, I'm embarrassed to say that there was very little engagement and very few comments.
In fact, I cringe at some of my beginning posts because my writing style was pretty bad. My sentence structure and grammar was poor. I lumped huge mounds of text in a single paragraph that made it unreadable. The list goes on…
What's ironic about all of this is that I didn't like writing at all. During the first year, I had to painfully force myself to write a little bit each day in order to pump out content at a consistent rate. Even today, I still don't particularly enjoy writing but I'm much more efficient about the process.
Anyways, I'm happy to announce now that MyWifeQuitHerJob.com gets traffic on the order of 90K per month 200K per month. In addition, I also have an email list that is over 15K people 55K people strong and increasing very quickly. What's nice about having a decent sized email list is that it makes my blog less susceptible to Google.
Even if the search engines were to all of a sudden cut off all of my search traffic, I would still have a way to get readers in the door through my email newsletter. That is why email marketing is such a crucial part of any online property. The ability to sustain a certain level of traffic regardless of external factors is priceless.
In case you are curious, I use Aweber to handle all of my email newsletters and autoresponders. I've written extensively about email marketing software in the past and Aweber is one of the best!
What About The Money?
My journey with blog monetization has been a long, drawn out path which I why I continue to say that blogging is a horrible way to make money, especially if you need the money quickly.
In an earlier post entitled Income Report: How Much Money Do I Make Blogging And Is It Worth My Time?, I outlined exactly how painful it was to get my blog to the point where its at today.
Also in that article (which was written back in July of last year), I revealed that MyWifeQuitHerJob.com was on track to make six figures for the year. It was a bold prediction on my part since it was only 6 months into the year and anything could have happened during the latter part of the year.
But low and behold, the year is now over and I'm happy to say that the blog easily made 6 figures in income. In fact, by the time September/October rolled around, I had already crossed the $100K line.
And the best part is that most of the income was passive in nature. A good portion of the blog's income is from ads and affiliate revenue which requires no effort at all. The other big chunk of revenue is from my online store course which carries a very scalable business model.
Because the content in my course is mostly prerecorded video, I can teach many students simultaneously while offering personalized instruction through office hours every week. Today, I have over 300 students signed up in the course and it's been an extremely rewarding experience for me!
Here's a recent post on the course forums from Catherine that made me grin from ear to ear. (It's long, but worth the read if you are remotely interested in the course and what it's about)
When we decided to sign up for the course, we really hesitated. Because it's not a $39.95 purchase—it's a bit of an investment. Of course, we realized that it was still a bargain compared to other sources of education (our local University offers a 15 week class on starting a business that costs $2,000 and really just focuses on stuff like SBA loans, finding retail space, etc. Not what we needed and way more money). But we had to make sure we were serious before we spent the money.

When we got the stuff, we quickly realized how comprehensive the course is and were thrilled (and terrified that there was so much to learn!) We felt like just the videos and the 400 page book were worth every penny of what we paid.

And though some of Steve's info IS available out there online, it's his perspective and experience that makes the difference. Google AdWords is one example. Google has a thorough explanation of how to set up an account, how to find keywords, etc…just like Steve.

But it's easy to let Google take charge of your campaigns, which can be really costly. We narrowly avoided that mistake thanks to Steve. And BensonBowties—thanks for being willing to share your story with the class.

And that's where even more value comes in. This forum, and the many students who are willing to share their stories (both successes and tribulations) has been invaluable. We've learned, by watching students post and other students (and Steve) respond, how to avoid pitfalls that others have had to suffer.

And we've also learned from your successes by trying to figure out how to replicate what you've done to fit our stuff. When we were customizing our site, we poured over all the student sites and found so many wonderful things you've all done; then tweaked things to fit our niche and store. We also got encouragement and support when things were starting to look bleak.

The community that Steve has built here (and with the weekly phone calls, which our schedule doesn't allow us to participate in, so we watch the videos later) is invaluable. The access to Steve's experience and perspective and his willingness to be so transparent with everything from his goofs to his sales numbers is amazing. And the students!

The mentoring we've received here (both direct and indirect) has been such a boon to us as newbies.

As we gain experience, we'll pay it forward and try to participate more in this forum in order to give our advice to the newbies.

So, thanks Steve. Thanks for creating such a thorough, comprehensive course. Thanks for offering one-on-one support and continuing to add valuable content weekly. And thanks for building a community where we can help each other, and learn from each other.

I don't know how you decided on the price of the course, but I'm glad you set it where you did because we could never in a million years be able to afford what it's actually worth 🙂
What About The Content?
Ultimately, the strength of readership for any blog depends on the content. This past year, I published over 100 quality posts and I couldn't have done it without the help of my 2 staff writers Tom and Aron. Finding good writers is extremely difficult so I feel very blessed to have these two talented writers on my team.
In addition to text based content, I also dabbled with video as well. While I only have about 15 or so YouTube videos published online, they do in fact generate a decent amount of traffic for the blog. In addition, several of these videos are responsible for the many affiliate sales that I make every month.
In addition to the YouTube videos, I also have well over 100 exclusive videos for my online store course which makes up over 40 hours of recorded video. I'm really proud of this number and it's taken over 2 years of consistent production to get to this point.
Overall, it's amazing how much you can accomplish if you set yourself on a routine and produce content on a set schedule. If all goes well, I should have over 150 videos for my course by the end of 2013. For my online store course, I always try to over deliver. And when you sign up, you get lifetime access to all current and future content!
It's Been A Great Year!
Everything aside, it's been an amazing year for MyWifeQuitHerJob.com and the growth has been exponential. So I just wanted to take a moment to thank all of you for supporting me this entire time. It's pretty much taken 4 years to get to this point and it's been quite a journey but I feel as though I've finally crossed the chasm. Here's to more exponential growth in 2013!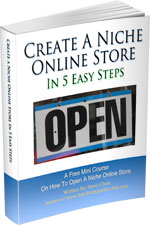 Ready To Get Serious About Starting An Online Business?
If you are really considering starting your own online business, then you have to check out my free mini course on How To Create A Niche Online Store In 5 Easy Steps.
In this 6 day mini course, I reveal the steps that my wife and I took to earn 100 thousand dollars in the span of just a year. Best of all, it's free and you'll receive weekly ecommerce tips and strategies!
Note: This post above may contain affiliate links, which means that I may receive a commission if you make a purchase when clicking a link. Please consult our privacy policy for more information.
Similar Posts
Have you read these?