This article is step 1 of a 5 part series on how to create a profitable online store. I wanted to start this section off by addressing a few philosophical issues.
One question I get asked all the time is, why should I host my own website and shopping cart when there are so many services available that will allow me to use their own proprietary shopping system for free?
Why wouldn't I just want to open an Ebay or Yahoo store? Why not just have an Amazon store?
I always answer this question with another question, would you ever place your future and destiny in the hands of someone else who doesn't share your same interests?
Not only do services like Ebay charge an arm and a leg to sell items (you forfeit up to 15% of your profits with Ebay), but they can screw you over whenever they feel like it.
In fact, Ebay has raised their fees without warning on a number of occasions which has driven smaller stores out of business. Don't fall for the allure of using someone else's setup.
You want to own your store. You never want to be tied down or forced to use a specific service provider. With this concept in mind, let's move on to the guts of this article.
Register Your Domain
One of the most important aspects of your online store is your domain name. Make sure you choose a domain name that is short, catchy and memorable with no dashes in the name.
I use NameCheap.com to register all of my domains. Especially if you plan on having multiple sites like I do, it's far easier to manage all of your domains in one place. Plus NameCheap's prices are dirt cheap.
While you are there, you should also pick up an SSL certificate which is required to encrypt and secure transactions over the internet. NameCheap.com offers SSL certs for a very low price. For more information on SSL and how to install the certificate please refer to my video tutorial on How To Accept Credit Cards And Secure Your Online Store With SSL Without Any Technical Experience
Choosing A Webhost
When you first launch your online store, you aren't really going to need a powerful webhost. Initially, you aren't going to be attracting enough customers to bring a shared hosting account down.
(Although there is an exception to this rule depending on the shopping cart software you choose. More on this in a future article). As a result when you are first starting out, your main focus should be on reliability, support and saving some cash.
For example, when I first started out, I looked for the following attributes in my potential webhost providers
Are they cheap?
Are they reliable? Do they have a decent uptime?
Do they have good technical support?
Do they load one machine down with too many users?
Do they offer the features that I need to run my online store.
My Recommendations
I probably researched over 20 different shared webhost providers and narrowed the field down to 2, Hostgator and Bluehost.
I ran my online store on Bluehost for 2 straight years paying only $6.95 a month until I outgrew my shared hosting account this past year. Currently, I run this blog on StormOnDemand.com which is a virtual private server.
If you are trying to choose between the two, Bluehost offers a very cheap plan for $3.95 a month that pretty much covers anything you'll ever need in a shared host.
There is only one type of plan and you can host as many domains as you would like with unlimited SQL databases and bandwidth.
Hostgator offers you several different plans depending on your needs. If you are on a budget, you can sign up for the baby plan which only costs $4.95 a month, but you can only host a single domain. In my experience, both webhosts are fantastic. You can't go wrong with either.
Dedicated Hosting
It might seem like a long ways off, but eventually you will want to transition your store to dedicated hosting. For dedicated hosting, I highly recommend Storm On Demand which is what my wife and I currently use for our online store and blog.
The other reason I'm bringing up dedicated hosting early on is because certain shopping carts require more horsepower to run. For example, the Magento shopping cart (I'll be covering shopping carts in a future article) pretty much requires dedicated hosting right from the start in order to run a usable storefront.
In any case, selecting a domain and webhost provider isn't a big deal. You can sign up for very little money and start your store for practically nothing.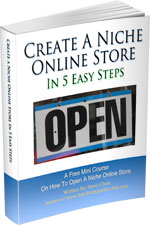 Ready To Get Serious About Starting An Online Business?
If you are really considering starting your own online business, then you have to check out my free mini course on How To Create A Niche Online Store In 5 Easy Steps.
In this 6 day mini course, I reveal the steps that my wife and I took to earn 100 thousand dollars in the span of just a year. Best of all, it's free and you'll receive weekly ecommerce tips and strategies!
Note: This post above may contain affiliate links, which means that I may receive a commission if you make a purchase when clicking a link. Please consult our privacy policy for more information.
Similar Posts
Have you read these?