Several weeks just before Thanksgiving is when the linen napkin side of our business picks up dramatically. Since wedding season starts to taper off towards the beginning of November, my wife and I depend on napkin sales to pick up the slack for declining wedding related sales during the winter time.
Because our linens business is very cyclical, we usually stock up on napkin products well in advance prior to the holiday season.
So like every year, my wife and I were ready for sales to spike as usual when the unthinkable happened. The server at my webhost crashed and all of my main money making websites became unavailable for an extended period.
Poor Customer Service
When my sites first went down, I immediately contacted my host and they reassured me that this was something very minor.
They told me that a hard drive had gone bad in their RAID setup and that the techs were working on it right away.
Since I'm a geek, something about their explanation didn't really make sense to me. Hard drives in a RAID array are supposed to be redundant which means if a single drive goes down, nothing bad should happen.
Even still, the techs told me that the down time would only be on the order of 15 minutes so I was cool with that. After all, there was nothing I could do at the time anyways. I was stuck in a meeting at my company and 15 minutes didn't seem too bad.
But 15 minutes turned into an hour which then ballooned into 3 hours. I was frantically trying to get a hold of someone who knew what was going on but I couldn't get any information from anyone. Meanwhile, since all of my money sites were down simultaneously I was losing more and more money as time went by.
It was only after 8 hours had gone that my webhost finally told me that the entire server was faulty and that they were migrating my account to a different machine. 8 fricken hours just to find out what was going on!
So I waited and waited…. And my websites finally came back up over 2 hours later!!! But after surfing around for a little bit, I discovered that they were dog slow. In fact, they were so slow that no one in hell would be able to checkout of our online store. No one would be able read my blog either or purchase my online store course. This was unacceptable!!!
Long story short, I lost over a day of server time which cost me thousands of dollars!
The Real Reason I Lost So Much Money
What's ironic about all of this is that I had just had a conversation with David Ning from www.moneyning.com about server uptime and diversification.
David: Dude if I were you, I would overspend on hosting.
Me: Huh? What do you mean? My hosting has been ok for a few years now.
David: Just saying that if I were you, I would host each of your money making websites on separate webhosts for redundancy. Because even a single day of downtime could cost you a lot of money.
Me: Yeah…But that would be really expensive. Everything has been fine so far. It's all good.
There's something to be said about David's philosophy. If you have a lot of sites that make money, you should place them on different servers in different geographical locations if possible to minimize the chances of everything going down at once.
Of course doing things this way costs more money which goes against my Asian tendencies(incidentally, David is Asian too so this is not an excuse). Essentially, you have to pay for separate hosting accounts for each of your money making sites which can get rather expensive, but this is exactly what David does with all of his web properties.
The problem is that I'm a pretty cheap guy. And to be honest, the existing server that I was using to host my websites was a little underpowered and I'd been meaning to switch webhosts for quite a while now.
But you know what was stopping me? I had prepaid for an entire year of hosting at my current host and I still had 300 bucks left in my account.
Since I didn't want to lose that money, I decided to stick with them for another 3 months even though my sites got really slow from time to time.
Remember Star Wars when Han Solo kept telling the Millennium Falcon to "Hold together baby"? That's kind of how I felt with my current server but kept telling myself that I only had to endure this for another 3 months.
Big time mistake! The amount of money that I lost probably cost me multiple years worth of hosting because all of my money making sites went down at once!
The Resolution
During the downtime, I got completely fed up with my current host and signed up for Storm On Demand. For all of you who aren't familiar with Storm, it is actually a very unique hosting service where you pay for everything based on your usage.
And the best part is that you can easily scale your server at the click of a button and migrate your sites to faster hosting or a completely different server extremely quickly (on the order of an hour or so depending on your site).
In fact, you can create a brand new server in a just a few minutes, cancel your account a few hours later and only have to pay for those 2 hours. This feature can come in extremely handy if you just want to setup a temporary staging site for your shop or if you want to test some upgrades without going live.
In any case, right now I have my online store running on my old host and my blog running over at Storm On Demand. While I'm currently paying double the hosting charges for redundancy during the holiday season, I plan on migrating the rest of my websites over to Storm in the next month or so once things settle down.
The Eventual Plan
But wait…won't I still have the same redundancy problem by moving all of my sites over to Storm? The answer is no and here's why…
Storm allows you to create a server at one of 3 different geographical locations. Having 2 or 3 virtual servers set up will only cost me marginally more money
Because you can migrate an existing server setup to a completely different server at the push of a button, in theory there's never a case where you should be down for more than a few hours even in the event of catastrophic hardware failure. Unlike other webhosts where you are at the mercy of the techs to do everything, Storm allows you to restore server images yourself from a convenient backup.
The other advantage of Storm over most VPS solutions out there is that they guarantee you a certain amount of CPUs. Unlike my last VPS host who couldn't give me a straight answer, I've found the Storm servers to be quite zippy in comparison with less likelihood of someone else on your same box slowing down your site.
Conclusion
So what do you think? Am I being too paranoid by hosting my money making sites on separate machines? When you take into account the fact that each site is capable of generating 4 figures a day, you really have to factor in the cost of downtime.
To have all of my sites go down at the same time for an entire day was extremely painful. So painful, that I hope to never have that happen again.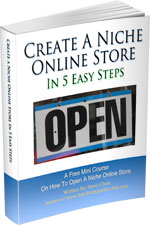 Ready To Get Serious About Starting An Online Business?
If you are really considering starting your own online business, then you have to check out my free mini course on How To Create A Niche Online Store In 5 Easy Steps.
In this 6 day mini course, I reveal the steps that my wife and I took to earn 100 thousand dollars in the span of just a year. Best of all, it's absolutely free!
Note: This post above may contain affiliate links, which means that I may receive a commission if you make a purchase when clicking a link. Please consult our privacy policy for more information.
Similar Posts
Have you read these?