Real Landed Cost Of Goods Import Calculator – How Much Are You Really Paying For Your Goods?
A common mistake that I see people make when importing products from overseas is that they grossly misjudge the cost of shipping and transportation.
For example most import beginners will go on Alibaba, get a quote of X dollars to buy a product and use this number when calculating their potential profit WITHOUT factoring in a bunch of other fees for their true cost of goods.
In reality, getting your goods to your warehouse from China or any other country can cost a lot of money and if you are not careful, you could import a container load of goods that will not yield a profit. To prevent this from happening, I created a quick and dirty calculator to help you determine your true landed costs of goods!
Please like, share, tweet and pin if you find this calculator useful!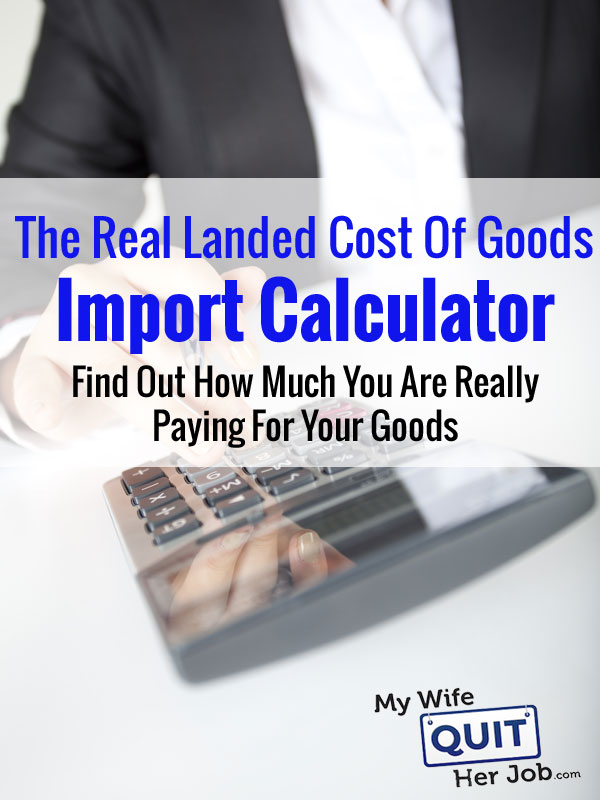 How To Use The Real Landed Cost Of Goods Calculator
To make sure that you properly estimate the "true" cost of goods of your shipment, I've put together the following import calculator that will approximate the fees and make a proper shipping recommendation for you.
Directions How To Use The Calculator Below
Enter in your quoted FOB per unit costs from your vendor - If you are unfamiliar with the term FOB, it means that the vendor will cover the costs of getting the goods to their local port but it's your responsibility to transport your goods from there to your warehouse.
Enter in the number of units - In general, your product costs will go down as your volume goes up with a large reduction in price once you ship by sea.
Enter in the per unit weight of your product (lbs) - Find out from your vendor how much your product weighs INCLUDING any special packaging.
Enter in the duty rate(%) for your goods - This is one of the most important steps. Go to Freightos Duty Calculator and find out the duties for your products.
Hit submit
After you hit submit, you will receive a recommendation of whether to ship by air or sea as well as an estimate of your true landed cost of goods.
Note: These results are only an approximation. Your actual costs can vary greatly depending on your geography. Good luck!
Your "Real" Landed Product Costs
After you hit the "Submit" button above, your results will be posted here
Don't Forget The Duty Fees
Probably one of the most neglected costs to consider are the duties associated with importing your goods into your home country. One time, I had a student import half a container load of goods only to discover that the associated tariffs were 40%.
In most cases, the duties for a product are in the single digits but there are certain products that can be taxed up to 100%! As a result, you MUST check the duties of your goods BEFORE you make a purchase.
Go to Freightos HS Lookup and find out exactly what the import taxes are associated with the products you want to sell.
Should I Ship By Air Or Sea?
When you are first starting out, it's much easier to have everything shipped by air. After all, you don't need a customs agent. Your goods often arrive within 3-5 business days and you don't really have to deal with any logistics regarding your shipment.
However once your shipment exceeds a certain threshold, it's much more economical to get your goods sent over by sea which involves a bit more work.
To give you some perspective, when you ship something by air, your costs of shipping increase proportionally with the weight and size of your shipment.
However when you ship something by sea, you pay by the container load. In other words, you are charged a lump sum for a fixed sized space on a boat and you can stuff your container full of as much stuff as you want for a flat fee.
The downside of course is that it takes much much longer to have something shipped over by boat. In addition, you will probably need to hire a customs agent and pay a bunch of additional fees to get your goods to your warehouse as your sea shipment will only go as far as the nearest port.
To give you an idea, shipping a container from China to Northern Europe can take as long as 35 days. Shipping a container from China to the western US takes 16 days.
As a result, you have to plan much farther ahead when shipping by sea so that you get your goods on time. In fact, we often plan 4 months ahead when buying our inventory.
Conclusion
More than half the battle making money in ecommerce lies in your ability to source product at low prices. If you can purchase your goods at a significant profit, everything with your business gets drastically easier.
For one thing, you can afford to spend more on advertising to increase the reach of your shop. And two, it's much easier to run customer support for your store because you can afford to absorb more losses when a customer complains.
When it comes to sourcing your goods from another country, get all of the facts and figures straight before you buy and make sure you run the numbers to make sure you can make a profit.
Please like, share, tweet and pin if you find this calculator useful!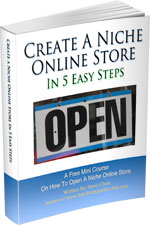 Ready To Get Serious About Starting An Online Business?
If you are really considering starting your own online business, then you have to check out my free mini course on How To Create A Niche Online Store In 5 Easy Steps.
In this 6 day mini course, I reveal the steps that my wife and I took to earn 100 thousand dollars in the span of just a year. Best of all, it's absolutely free!