This is a post by A-ron, who recently signed on to become a regular contributor for MyWifeQuitHerJob.com. Please give him a warm welcome with his first post!

I have a tendency to leap before I look. The cliche "ready, fire, aim" in my world is "fire, ready, aim." It gets me in trouble, and thus, I end up making lots of mistakes, backtracking a lot, and in some cases learning the hard way that what I thought was a great idea turns out to be not so great.


I don't mind it though, not any more at least, because when I'm stumbling around making mistakes, it means I'm on the right track.

Mistakes are simply nature's signal that you're doing something, learning, and getting better.

The other end of the extreme is where I spent most of my life: sitting on my hands and doing absolutely nothing, just going with the flow and taking whatever came my way.

I was irritable all the time, angry because the world wasn't giving me what I wanted, jealous because I saw others succeeding and I wanted my part.

It wasn't until I worked up the courage to quit my job without a safety net that I started realizing that everything I'm afraid of just isn't real. I still have a shit load of fears, mind you, ones that I find difficult to challenge, but I confront the ones I can now and leave the rest for a later day.

The goal isn't to become a fearless, perfect person, but to stretch your comfort zone as far as possible, and continue doing so every single day.

We're taught from birth that mistakes and failure are bad, because that leads to bad grades, your parents and teachers getting upset with you, ridicule, embarrassment, punishment, and a whole host of other bad consequences.

Related: Stop Thinking You Are Going To Fail Just Because Someone Says You Should

None of them are real. They're all illusions that manifest as uncomfortable emotions. That's it. It's the system's greatest weapon, one meant to keep you in your place as a docile, obedient worker drone that does the bidding of whoever hands out the pellets (money).

It's time to step out, just a little bit, from that control mechanism and lean into your fear.

If you're anything like me, your fear will manifest itself as procrastination, perfectionism, and shying away from difficulties or challenges (i.e. when the going gets tough, you quit). You'll come up with endless excuses that really, when you take a close look at them, don't make much sense.

Excuses such as
"I don't have a good idea"
"I'm too old/young/ugly/skinny/fat/short/tall/dumb/smart/etc"
"I could never do that"
"I'm not allowed"
"What would people think of me?"
"Nobody would be interested in helping me"
The list is endless. You'll wait around for the "perfect" time, when the universe aligns itself specifically for you. That time will never come, there will always be bills to pay, mouths to feed, errands to run, and things to deal with.

Related: Entrepreneurial Mistakes: Are You Procrastinating Under The Guise Of Doing Work?

You'll diddle around with worthless tasks that make you feel a sense of accomplishment. Things like setting up a Twitter account or Facebook page, getting business cards made, reading blog after blog and book after book trying to discover that one nugget of information that'll put you over the top, and distracting yourself with TV or video games or mindlessly surfing the web. Mind you, none of these things are bad, they are simply symptoms of your fear.

Here's a secret, there's absolutely zero truth to any excuse you can come up with. Even though the system tries to control you with artificial rules, you don't have to follow them. They are simply filters, or obstacles if you prefer, that veil the real truth: "there is no spoon" (if you don't get it, go watch the movie The Matrix).

Let's mix a little concrete, some things you can do to counteract your nonsensical fears to see them for what they really are.
Ditch The To-Do List
Or rather, narrow it down, hone in on just a single thing you can do each day, that you can actually accomplish, that moves you a little closer to where you want to be. When my to-do list grows out of control, I tend to do nothing. Overwhelm is a powerful de-motivator.

If you can just accomplish one single thing a day, whether it be coming up with a single idea for a business, or emailing/calling a potential supplier, or asking a friend or expert for advice, you can start to build momentum and before you know it, you'll be rolling. This technique works, especially during times when you're feeling stuck or uninspired.
Play The "What If" Game
What are you really afraid of? "I fear failing" is too vague. What does it mean to you to fail? What consequences are you imagining? What's your worst case scenario?

A lot of times we trick ourselves into thinking the consequences of facing our fears will be more horrible than they actually turn out to be. Rarely (extremely rare) are our worst case scenarios realized, although our heads convince us that whatever horror story we can dream is most likely the only outcome.

Related: 10 Ways To Mitigate Risk When Starting An Online Store Or Business

It's weird just how powerful our minds are, yet when it comes to facing unknown situations, they have a tendency to focus exclusively on the negative. But here's how to put your mind at ease, at least a little bit: develop a contingency plan for all the "what ifs?"

Simply write down what you're scared of and all the consequences you can think of, then think of how you can recover if that scenario plays out. Tackle the scariest ones first, and as you go along, you'll probably find that you can most likely handle every possible outcome that you can imagine. After all, you've handled everything that life has thrown at you so far, why would this one thing be any different?
Get More Sleep
8 hours is typically what you hear is a "healthy" amount of sleep. Truth is, your body will let you know how much sleep you actually need. Listen to it, and get as much as you can. You can't overdo it.

What does this have to do with facing your fears? Nothing directly, but it's hard to find the courage, motivation, energy needed to face tough challenges when you're not in good physical health, especially when you're too tired. I know I feel more ready to face things when I'm working on a good nights sleep.
Practice Being Thankful For What You Already Have
We're too caught up in trying to acquire more and more and more, usually in an attempt to fill some void we think we have. Nobody is immune to this process, we all get sucked into it because it's all around us, bombarding every space of consciousness we possess.

So step back for a couple of minutes a day and just be thankful for what you have. Write down three things that you are grateful for right now, then make it a daily habit. And go deep, not just the superficial things that aren't real, but the intangible things that no one can take away. For example, I'm grateful for being tall, it's an advantage that I've unknowingly (until recently) benefited from my whole life.

This is an exercise in elimination really. Perhaps there's something you want that you think will make you happy, but when you step back and just be grateful for what you already have, you realize you don't really need that thing. It doesn't mean you give up trying to get it, but you remove the desperation to have it, which eliminates fears and anxiety surrounding not having it. This is truly a powerful exercise.
Remove Obstacles
Ramit Sethi talks a lot about removing the things that are getting in our way. A lot of times we just get overwhelmed with the mountain of crap that we have to climb to achieve our goals.

This typically means we never get started, or worse, wallow in the meaningless minutiae that distracts us from doing what we really must. For example, one of my ongoing goals is to get stronger, but I hate going to the gym, simply because it's just so damn inconvenient.

I have to get up early, get dressed, take care of my dogs, get in the car and drive to the gym, fight the crowds and the grunting meat heads, drive back, shower, and get ready to go to work. What a pain in the ass. So I explored ways I could get stronger without needing a gym or weights, something I could do at home or anywhere.

Now, I'm doing a lot of calisthenics that are not only more effective (and safer), but much more convenient. I can do them all at home or using the equipment at a nearby park, which is a short bike ride. Essentially, I removed almost every obstacle that was getting in my way.

This is a great excuse buster, which allows you to peel back the layers. Simply ask yourself "what's getting in my way right now?" and try and make that obstacle a little less intimidating, or even better, non-existent.

What other ways can you think of or what techniques have you used in the past to bust your fears? Keep in mind that existential solutions are mostly crap and not actionable. It's nice to read a philosophical quote off of Twitter or Facebook, but those largely get deposited into the "what the hell am I supposed to do with this" part of your memory.

We're looking for things we can do today, right now.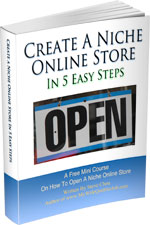 Ready To Get Serious About Starting An Online Business?
If you are really considering starting your own online business and quitting your day job, then you absolutely have to check out my mini course on
How To Create A Niche Online Store In 5 Easy Steps
.
In this 6 day mini course, I reveal the steps that my wife and I took to earn
100 thousand dollars
in the span of just a year. Best of all, it's absolutely free!

Stumble!
&nbsp &nbsp

Reddit!
&nbsp &nbsp

Digg!
&nbsp &nbsp

Del.icio.us
&nbsp &nbsp

Facebook

Get Free Updates Via RSS
&nbsp

Follow Me On Twitter

BizSugar
Similar Posts
Have you read these?
9 Responses to "Punch Fear In The Mouth – 5 Actions You Can Apply To Start Your Business Today"