This post is a comprehensive tutorial that will teach you how to start an online store or boutique in 6 simple steps.
If you're tired of devoting the majority of your time to your day job and you'd rather set your own hours and be your own boss, the best way to escape from the rat race is to start your own business online.
Years ago when my wife became pregnant with our first child, she decided that she wanted to spend more time at home. So she quit her job and together we started an online shop over at Bumblebee Linens.
In just one year, we were running a profitable ecommerce store that generated over $100,000 in profits. Today, Bumblebee Linens is a 7 figure business and my wife works from home for much of the day which allows her to focus on our family and do what she loves to do.
Have you ever wanted to start your own online store but were too intimidated by the process? With the latest advances in technology, it's now easier than ever to set up a profitable online store.
For example, when my wife and I first started in ecommerce over a decade ago, designing a website was a manual process which required coding.
However today, there are hundreds of ecommerce solutions and platforms that you can quickly setup at the push of a button.
In fact, you can launch a brand new online business for as low as $3 per month!
Here are some advantages of starting your own online store.
Low start-up cost – Depending on the ecommerce business model you choose (more below), you can get started for as little as $3.
You don't have to physically be present to make money – Your computer will handle most of the heavy lifting for you.
It costs almost nothing to maintain your site – Maintaining your own website can cost as little as $3/month.
Ecommerce software is readily available – You just need to customize your website with your own messaging and imagery.
In this monster 8000 word guide (complete with step by step videos), I will teach you how to open a profitable online store in just six simple steps.
Get My Free Mini Course On How To Start A Successful Ecommerce Store
If you are interested in starting an ecommerce business, I put together a comprehensive package of resources that will help you launch your own online store from complete scratch. Be sure to grab it before you leave!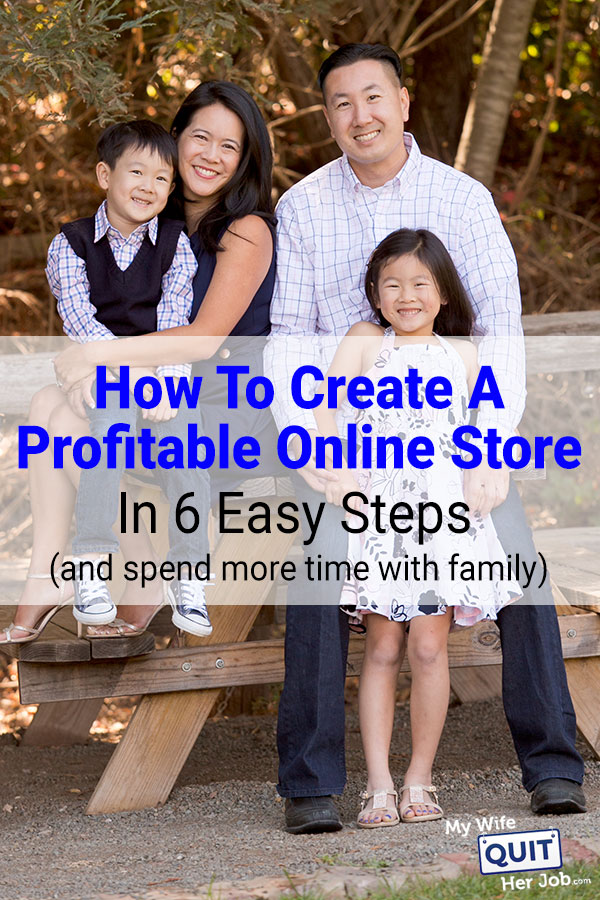 Is Starting An Online Store For You?
Before we begin with the tutorial, I want to make it clear that the methodology described in this article is not a get rich quick scheme.
It's also not about randomly picking and privately labeling products to sell on Amazon or Ebay.
And most definitely, it's not about giving yourself another job where you must work 100 hours per week.
Instead, the concepts described in this post will teach you how to create a long-term branded business that suits your lifestyle.
With these strategies, you'll have more time to spend doing what you love, set your own schedule, and run a successful business that doesn't require a large staff or inventory.
Overall, this tutorial is for you if:
You are interested in starting your own ecommerce store.
You are currently selling on Amazon but want your own brand.
You need a push to get started.
You want to be in control of your own destiny.
You want to make money within a year.
You have at least 5 hours per week available to work on your business.
Why Not Focus On Selling On Amazon?

One of the most common questions I get asked is why bother starting your own online store when you can sell on Amazon? After all, Amazon commands a 50% market share in the ecommerce space.
But even though Amazon owns 50%, the remaining 50% of customers find their products on Google, shop at big box and department stores, and support their local businesses.
In fact, the most important reason to sell on your own website is because you own your customer list which allows you to attract repeat business.
Have you ever heard the saying that getting a repeat customer is infinitely cheaper and easier than acquiring a brand new customer? This statement is 100% true.
In fact, repeat business makes up over 36% of our annual revenues for our ecommerce store. Whenever I want to generate instant sales for my shop, I simply send out an email or an SMS message to my list.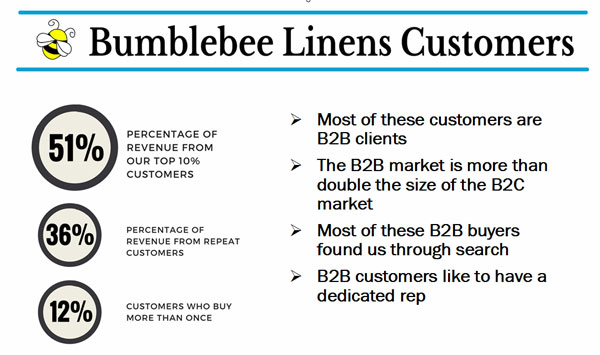 When you sell on Amazon however, you have no such list because Amazon hides all of your customers from you.
Overall, Amazon's primary downsides are that you can not…
Establish your own brand – People who shop on Amazon have no idea that they are buying from a 3rd party.
Maintain business stability – Amazon can ban you at any time, raise prices or reduce the visibility of your products.
Build a list of customers – Amazon does not allow you to contact your existing customers at all and even hides their name and mailing address.
In contrast, with your own shop you can…
Create and build an email list of customers for repeat business.
Run third-party ads and create custom audiences.
Explore a variety of different sales channels.
Establish your own brand and be your own boss.
Future-proof your business.
Stand out from your competitors with a unique design.
Even though Amazon has its disadvantages, it doesn't necessarily mean that you shouldn't be selling there. Amazon is actually a great way to validate your products before you launch but owning your own online shop is where you eventually want to end up.
Step #1: Choose the Right Ecommerce Business Model For You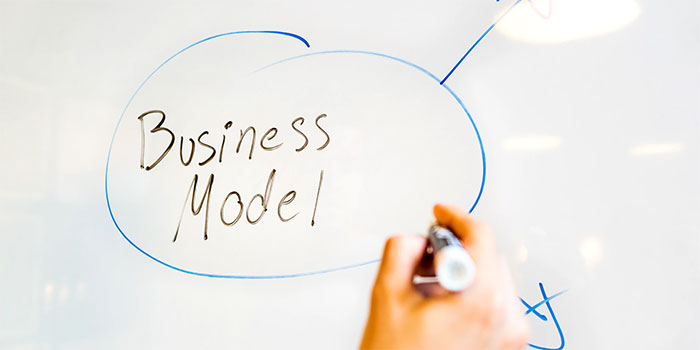 Before you launch your online store, you first need to pick an ecommerce business model that works for you.
And this will largely depend on your budget, your tolerance for risk and how quickly you want to start making money.
A common misconception with starting an online store is that you have to carry inventory when you sell physical products online.
But did you know that you can run an ecommerce store without ever having to touch or ship a single product?
Overall, there are 4 main ecommerce business models to choose that each have their own pros and cons.
As mentioned earlier, the right model for you depends primarily on the following factors.
How much you are willing to invest
Whether you want to deal with inventory
Your tolerance for risk
How quickly you want to make money
Ecommerce Business Model #1: Start An Affiliate Store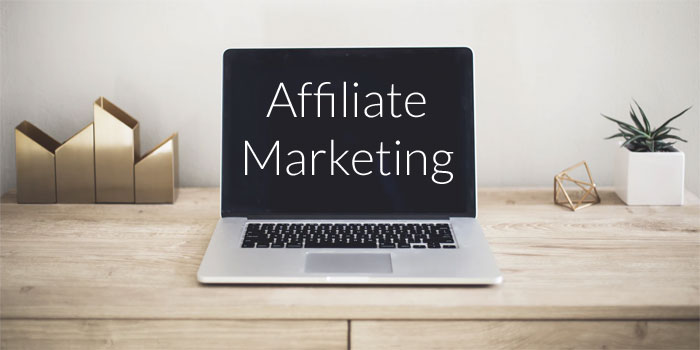 Affiliate marketing is when you partner with a retail store and act as a virtual salesperson for their products.
In other words, instead of listing your own products for purchase, you list your partner's products and then redirect customers to their website using affiliate links.
For every sale you refer, you get paid a commission.
For example, Amazon Associates is one of the largest affiliate networks out there and it gives you instant access to millions of physical and digital products.
For every product that a customer buys within 24 hours (e.g. entire basket of their products), you take a cut of the profit.
Overall, the affiliate model is the easiest way to make money with the least amount of upfront cost. But unfortunately, it also carries the lowest profit percentage.
Affiliate Store Advantages:
You don't have to worry about inventory or customer support.
You can get started for less than $3.
You can run an affiliate store from anywhere.
Your sales will scale well with traffic.
You can use your store to research which products you may eventually want to sell.
You can instantly stock thousands of items.
Affiliate Store Disadvantages:
The Commission payout is low (~1-4%).
The shopping experience is awkward because you are sending people away from your site.
Payments are delayed until 30 to 60 days after the sale.
You must create content to build traffic. Low margins prevent you from advertising.
Is An Affiliate Store Right For You?
If you are on an extremely low budget, you should consider this business model. It's a great way to get a feel for the market and instantly carry thousands of products in your online store.
A common path for affiliate store owners is to start out as an affiliate and then carry inventory for your bestselling products to make more money.
But overall, the affiliate store model carries the least amount of margin and the ramp up time can be long.
Ecommerce Business Model #2: Start A Dropshipping Store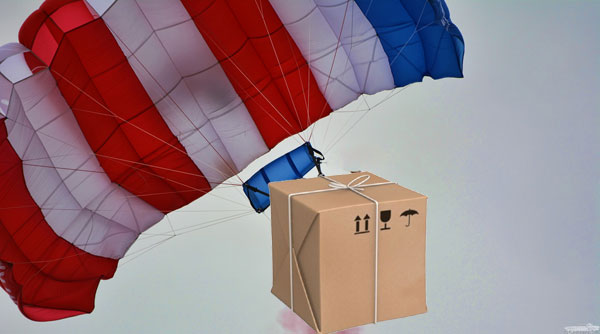 Dropshipping is when you take orders on your website and your supplier fulfills and ships the product to the end customer on your behalf.
Depending on the dropship supplier, the packaging and shipping label can be marked with your logo and brand name making it appear as if the product came from your shop.
Dropshipping is one of the easiest ways to get started with an online store without having to worry about carrying inventory.
Once you make arrangements with a dropship distributor, you just need to set up your online store and start taking orders and the distributor will deliver the actual goods to the customer.
Overall, the profit you make is the difference between your selling price and the wholesale price you've negotiated with your supplier.
Dropshipped Store Advantages:
You can get started for less than $100.
There's no inventory required.
Your business is location independent.
You don't have to worry about product fulfillment.
Dropshipping scales well with traffic.
You can instantly stock 100s or 1,000s of items.
Dropshipped Store Disadvantages:
The margins are low. Typical margins are 10-30% + dropship fees.
A bad or unreliable supplier can tank your business.
You are selling other people's products.
You have to handle customer support and keep your customers happy.
Dropshipping also presents the following additional challenges:
Low margins make it difficult to run profitable ads.
You must rely on search engine optimization and social media to drive traffic.
Comparison shopping will drive down your prices.
Is Dropshipping Right For You?
Dropshipping offers many of the same advantages as affiliate marketing. You can get started with very little money and it's also a great way to instantly carry hundreds or thousands of products.
You can also start out dropshipping and then carry inventory for your bestselling products to boost your margins.
The biggest downside with this business model is that there's a much slower ramp up to significant profit. In addition, price erosion can be a problem because there will be many other vendors selling the exact same products.
Managing customer support is also a huge challenge with dropshipping. You must choose a reliable manufacturer to work with or else customer service will be a nightmare.
Overall, in order to run a successful dropshipping business, you must be mentally tough and have a solid content strategy in place.
Ecommerce Business Model #3: Selling Other People's Products With Inventory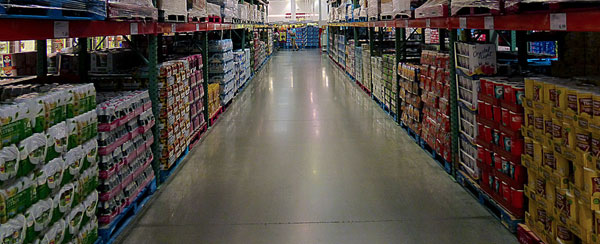 Selling other people's products and carrying inventory as a retailer is the most common way to start on online store.
With this business model, you buy products at low prices from wholesale distributors and ship orders directly to the end customer.
Compared to dropshipping and affiliate marketing, the profit margins are significantly higher. As a result, the traditional online store route is a much faster way to make money in a shorter amount of time.
Traditional Online Store Advantages:
Your margins are higher at ~50%.
Higher margins means that advertising is viable.
Faster ramp up to profits.
You have full control over customer support and fulfillment.
Traditional Online Store Disadvantages:
You must carry inventory or use a third-party fulfillment house.
Requires money upfront to purchase inventory.
The inventory minimums are typically low(~$100 – $200).
Customers will comparison shop which will drive down prices.
Is Opening A Traditional Store Right For You?
Starting a traditional online store requires an initial investment in inventory. As a result, there's a greater up front cost with this business model.
But the good news is that most wholesalers have low minimum order requirements on the order of $100-$200.
Overall, the starting investment for a traditional ecommerce store can be less than $500 (approximately $100 + initial inventory).
What's nice is that you can combine this strategy with dropshipping. Use a dropship supplier to fill out your store and then carry inventory for your best sellers.
The higher margins will allow you to pay for traffic and ramp up sales much faster.
Ecommerce Business Model #4: Sell Your Own Private Label Products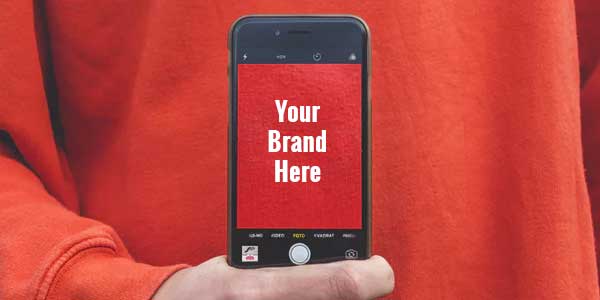 Not everyone has the starting budget to sell their own branded goods, but those who do usually make the most profits of them all.
Selling your own private label products gives you complete control over every aspect of your business. You can manufacture products to your own specifications and apply your unique brand label that no one else can copy.
When it comes to private label selling, there's a common misconception that you need to be a designer or an inventor to create a product from scratch.
But in reality, you don't need to be an artist or have any design skills whatsoever. In fact, most private sellers rarely create anything from scratch.
By working with a factory, you can place your brand on an existing product (called white labeling) or make slight modifications to an existing product to make it your own.
For example, if you want to sell a handbag, you can easily work with a manufacturer to make small modifications like adding an additional pocket. No design skills are required!
Private Label Advantages:
You can command high margins over 66%.
High margins means that advertising is an option.
Much faster ramp up to profits.
Full control over your product and customer support.
High margins allows you to sell on marketplaces like Amazon/Ebay.
You own your own brand and no one else can sell your exact products.
Private Label Disadvantages:
You must carry inventory or use a third-party fulfillment house.
You must have more money upfront to purchase inventory and buy in bulk.
Your factories will likely reside overseas which will require a freight forwarder
Is Selling Private Label Products Right For You?
Selling your own private label products is the ecommerce business model that I recommend for long term success and the fastest ramp up to significant profit.
You are the boss of your own brand and no one else can price match you.
If you have the budget to invest in a private label product ($1-2K minimum), selling your own goods is always the way to go. Private label selling offers the most flexibility and the highest profit margins.
Even though it costs more to get started, you can sell on Amazon and Ebay while simultaneously building your own branded shop and quickly recoup your costs.
Which Ecommerce Business Model Should You Go With?
As with everything in life, there's a direct correlation between the effort that you put in and the amount of profit that you can make.
Greater risks always carry more rewards.
The cheapest way to get started in ecommerce is with an Amazon affiliate store but it will take a long time before you see a significant profit.
The good news is that all of these ecommerce business models are not mutually exclusive. You can combine some or all of these models together instead of choosing just one.
For example, some of the students in my Create A Profitable Online Store course start out with dropshipping or domestic wholesale and then private label their best selling products.
To help you decide where to begin, I put together this handy table for your review. Ultimately, your decision should always be based on your own unique situation and capabilities.
| Store Type | Effort Level 1-10(easiest) | Profitability Scale 1-10 (best) |
| --- | --- | --- |
| Dropshipping | 7 | 3 |
| Traditional Store | 4 | 7 |
| Selling Your Own Goods | 1 | 10 |
| Affiliate Sales | 10 | 1 |
Step #2: Choose the Best Products to Sell Online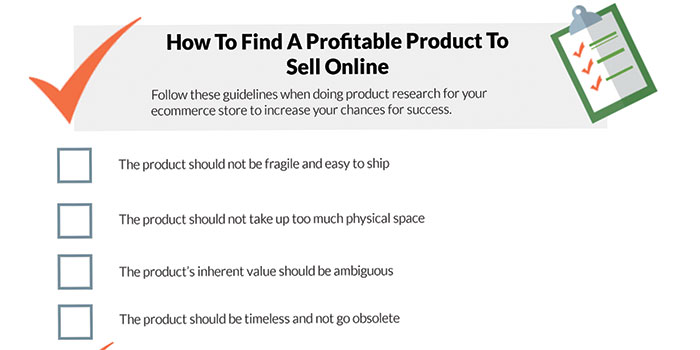 Once you've selected your business model, it's time to brainstorm products to sell online. In fact, more than half the battle of starting a successful online store is finding the right products to sell.
Overall, there are 3 types of products you can sell online and you need to think about what purpose your product serves.
Are You Selling Candy?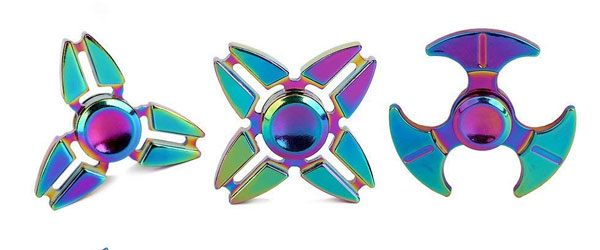 A "candy-like" product is a product that doesn't solve an identified problem. It's a nice-to-have.
People enjoy buying "candy" because candy brings immediate pleasure. And selling candy can be super profitable if you catch the wave of a trend.
For example, fidget spinners were a popular "candy" and they sold millions of units worldwide in a short period of time before sales eventually plummeted.
The biggest disadvantage with "candy" products is that they can quickly go out of style. You can ride the wave while it lasts but don't expect long-term gains with this type of product.
Are You Selling Vitamins?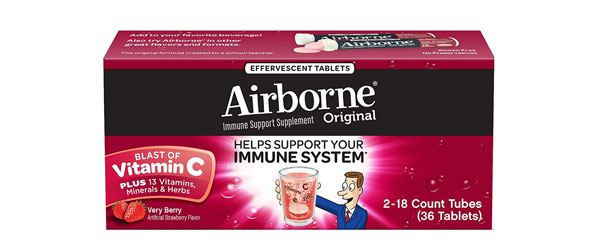 A "vitamin" is a product that solves an emotional need but the benefits are difficult to quantify.
For example, I take Airborne when I'm sick, but I have no idea if it actually does anything. All I know is that it makes me feel better. As a result, I continue to buy this product.
A good "vitamin like" product fulfills a psychological need and generates recurring revenue.
Are You Selling Painkillers?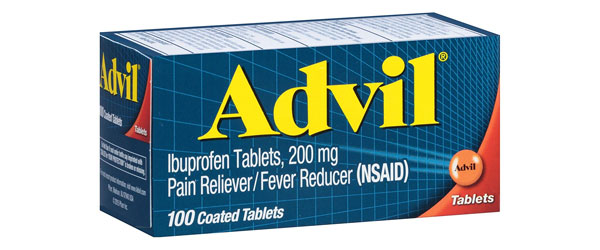 Painkillers solve a problem and are the best types of products to sell online.
For example, Abby, a student in my Create A Profitable Online Store Course makes millions of dollars every year selling special insoles for women's high-heeled shoes.
Her insoles solves an immediate need for women everywhere who experience foot pain from wearing high-heeled shoes.
My friend Kevin sells a laser hair growth product for men and makes millions of dollars every year. When you have a hair loss problem, you'll spend whatever it takes to get it back.
While painkillers are the best type of product to sell, it's perfectly fine to sell vitamins and candy as long as you have the proper expectations.
In the end, you can make money no matter what type of product you choose if you execute properly.
To help you brainstorm different products to sell, here are the tools and platforms I use to quickly find profitable products to sell.
Leverage Amazon Sales Data To Find A Good Product To Sell
With businesses across the country shut down because of the pandemic, Amazon has become the staple for online shopping. More people than ever are turning to Amazon to fulfill their shopping needs quickly.
As mentioned earlier, Amazon holds the largest ecommerce market share of any single company. For this reason, sales data derived from Amazon is a great representation of overall demand.
Now it's not obvious how you can derive actual sales numbers from Amazon but I'll show you how below.
Every item sold on Amazon is assigned a best seller rank (BSR). This number is used by Amazon to rank how well a product is selling compared to others within the same category.
Here's an example of a BSR rating for silicon baking mats on Amazon:

Based on this product's BSR, you can make an educated guess on how many units are sold per day.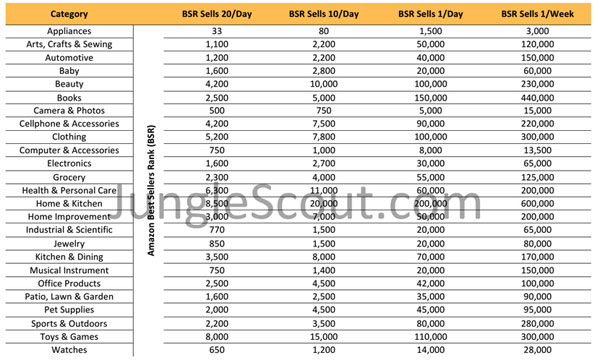 The sales chart above was given to me by my friend Greg Mercer. And based on a BSR of 7,228, this silicone baking mat listing generates about 10 sales per day.
By paying attention to the BSR, you can analyze thousands of products and get an approximation of sales. With persistence and hard work, eventually you'll land on a profitable niche to pursue.
Amazon Product Research Tool: Jungle Scout

While using the BSR method is great, it can be tedious and time-consuming. This is why I prefer to use a tool called Jungle Scout to help me quickly gather Amazon product data.
Jungle Scout assembles all products on Amazon into a clean, digestible table. It can also collate products on Amazon that match your specific criteria.
For example, I can have Jungle Scout pull all products under the Kitchen & Dining category that make at least $5,000 per month and have less than 100 reviews. This is extremely powerful!
Here is a 5-minute video demo on how I use Jungle Scout to do product research. If you want to follow along with the video step by step, then download the tool at a discounted price.
Amazon Keyword Research Tool: Viral Launch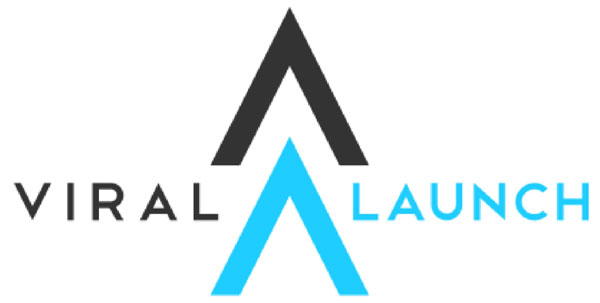 I also use Viral Launch, an Amazon tool that helps me find profitable keywords that people are searching for on Amazon.
Every keyword is assigned a star rating (5 being the highest), which allows you to quickly determine what search terms have high demand and low competition.
Below is a 5 minute video demo on how I use Viral Launch to do product research. If you want to follow along with the video step by step, then download the tool at a discounted price.
Click Here To Save 15% Lifetime On The Viral Launch Keyword Tool
General Guidelines For Finding A Product To Sell On Amazon
If you are looking for a product to sell for Amazon specifically, here's some criteria to pay attention to.
Does the overall market have sufficient demand?

Even if you find a single bestselling product on Amazon, it's important to get a sense of the overall market for demand.

The best way to determine demand is to look at the monthly sales estimates for similar products on the front page of Amazon for your product keywords.

In general, I like to see at least 1,500 sales per month across all sellers (after eliminating unrelated products).

Is the product too competitive?

Amazon's overall strength of a product listing can be approximated by its number of reviews.

Ideally, the average review count for a listing should be under 100 reviews on the front page for your product keywords.

Can you add value?

Back in the day, you could publish any product on Amazon and it would sell. Today, your product must add value to the existing market.

As a result, I always take a deep, thorough dive into the competition to find out if I can offer a strong point of differentiation.

For example, let's say I want to sell yoga mats online. Because yoga mats are a competitive market, I may wish to differentiate my product by offering a special, six-inch thick mat that no one else is selling.

Is there an even distribution of sales among sellers?

What I don't want to see on JungleScout are one or two sellers that dominate the market for a particular product.

A dominant seller usually means that the product has a strong brand that is driving sales and it will be difficult to break into the market.

Are your margins high enough?

The goal of selling any product online is to make a profit. To achieve this, you need to look at the average selling price and make sure that you can source the product at a sufficient margin.

In general, I try to achieve at least a 66% margin for the products that I sell. The cheapest place to source products online is through a china wholesale supplier.

Is your product niche enough?

The best products to sell online are unique and difficult to get anywhere else. When you're choosing a product, pick one that's more obscure and not mainstream.

For example, my online store sells handkerchiefs that generally cannot be found in your average store.

Use Google Search Data to Find Products To Sell

While Amazon, Ebay and Etsy top the online shopping world, there are customers that prefer to do their online shopping using search engines like Google.

Dominating over 70% of the search market share, Google is the most popular search engine in the world. Therefore, it makes sense to look at what people are searching for to find good products to sell online.

The easiest way to obtain this data is to use the free Google Keyword Planner. With this tool, you can look at the exact keywords that people are searching for to get a good sense of what products are in demand and how much revenue you can generate.

However, interpreting Google's search results may not be intuitive and you must look at only those keywords which are product focused.

For example, "outdoor gardening tips" is not a strong keyword because it seeks information. However, "plastic compost bin" is a great keyword because it's specific to a certain type of product.

You must also analyze product demand and how difficult your keywords are to rank in search.

However this information is not provided by Google's Keyword Planner. Instead, you will need to use a keyword tool such as Long Tail Pro.

Much like the Amazon tools described earlier, Long Tail Pro can nicely collate your Google search results and tell you how much competition your keyword has in search.

In terms of search demand, I like to see at least 1,500 to 3,000 searches per month for a keyword with a keyword competitiveness of 35 or less.

Click Here To Try Long Tail Pro For Free And Follow The Tutorial

Check out the 4 minute video below


The Most Important Rule For Selling Successful Products

Search volume and competition aside, the cardinal rule for any successful product is having a good unique value proposition or UVP.

A Good UVP:

Defines how your company or product is different from the rest.
Shows why your business or goods are better than the competition.
Solves a unique problem in your target market.

Having a strong UVP allows you to worry less about competition and you can often raise your prices without affecting demand.

For our ecommerce store, our prices are significantly higher than the competition and we still make sales because we have a strong brand and our products are higher quality.

This is where private label sellers carry a significant advantage.

When you sell other people's products, there will be many other retailers competing to sell the exact same goods. As a result, comparison shopping always leads to price erosion and there's very little brand equity for your shop.

Ultimately, you should focus on the high end because selling premium products means higher margins, flexibility in advertising, and leeway with your customer service.

For example with my shop, our margins for many of our products are 90%+. As a result, whenever we get an unhappy customer, we simply refund them AND let them keep their product.

This "Amazon like" customer service allows us to quickly grow via word of mouth.

How to Come Up With Your UVP

When you're thinking about products to sell, you must ask yourself:

Why should someone buy from me?
What do I have to offer that no one else can?
How are my products better than others?
What sets me apart from the competition?

To answer these questions, it helps to have a UVP and here's a process for establishing a good one.

Focus on a problem that you are trying to solve.
Emphasize a specific benefit your product offers.
Analyze your competitors and find characteristics of your business that differ from the rest.
Find something unique to say about your business.
What do you look for when buying your product?
What attributes would compel you to buy?

For example, Head and Shoulders solves your dandruff problem. My shop offers the largest variety of hankies online. FedEx guarantees on time delivery.

If your product doesn't solve a problem, then focus on your design and aesthetics. Make sure your images stand out and use infographics to emphasize your value proposition. In short, ensure that your user experience is nothing short of amazing.

But most importantly, you must come up with a story behind your product. People love stories and even if your product is mediocre, a good brand story may compel them to buy if they like you.

Step #3: Choose Your Domain Name And Web Host

Another important aspect of creating your online store is choosing the right domain name. Your domain needs to be short, catchy and memorable.

And depending on which shopping cart platform you choose (more on this later), you may also need to choose a web host. A web host is essentially a company that runs your website.

Note: If you are using Shopify or BigCommerce as your ecommerce platform, these companies handle the tech for your website so you don't need to get a separate web host.

Below, I'll give you tips for setting up your domain name and examples of good web hosts.

Tips for Setting Up Your Domain Name

Your domain name is the address that is typed into your browser to find your website. And it always pays to buy a ".com" domain because it's more recognizable worldwide.

Here are some tips to get you started:

Do your research on your competitors before you register for a domain name.
Don't pick a name that closely resembles your competitor.

For example, if another company owns "Bumblebee-Linens.com" as their domain name, then I probably wouldn't register my shop under BumblebeeLinens.com because the names are too similar.

Similarly, if someone owned "napkin.com", I would not want to register "napkins.com" as my domain name.

Check the USPTO database to ensure your domain is not trademarked.
Do not use hyphens or punctuation in your domain name.
Avoid using long names. I find that 2 to 3 syllables work best.
Don't choose something that is hard to spell.
Use the keywords that you are targeting for your store, but don't go overboard. Make it sound as natural as possible.

Tips For Choosing A Reliable Webhost

A web host is what your website runs on and is typically managed by a third-party company.

When you're just starting out, don't overpay for hosting. Despite what hosting companies may imply, you don't need a powerful web host when you're just getting started.

Instead, choose a simple host that has a seamless upgrade path to more power as your site grows.

When you're doing your research on web hosts, here's what you should consider.

Are they within your budget?
Are they reliable? Do they have a decent uptime?
Do they have good technical support?
Do they offer the features that you need to run your online store successfully?

Be aware that there are lots of fake web host reviews with promises of unlimited everything. Don't buy into this. The only way to tell whether a web host is good or bad is to actually sign up and use it.

Depending on your shopping cart needs, my favorite options are Bluehost and LiquidWeb.

Right now, I recommend Bluehost as a starter host which should be good until you hit about 10,000 visits per month.

In fact, I ran my store on Bluehost for two years before we upgraded to LiquidWeb and it worked great for starting out.

Today, I have a VPS on LiquidWeb to handle the larger traffic load that my website demands.

Step #4: Select a Shopping Cart for Your Online Store

If you want to start your own online store, you are probably overwhelmed with decisions for website builders, shopping carts, services, and more. I don't blame you.

When you're just starting out, you'll need to make some hard decisions quickly including:

Should I pay for an all in one shopping cart solution? Which cart is the best?
Should I run my store on WordPress with an ecommerce plugin? Which plugin is the best?
Should I use a free open source cart and host my own website? Which free solution is the best?

There are literally hundreds of options out there and all of them promise to be the best one for your business.

To top it off, you can't afford to make a wrong decision because it can affect your business long-term. After all, it's a pain to switch your ecommerce platform if you change your mind.

Below, I'll provide an overview of the top three shopping carts for your online business and my recommendations. None of these require any technical experience.

The Top 3 Shopping Carts For Your Online Store

Contrary to what you may have been told, you do not need to spend thousands of dollars to set up a great looking ecommerce website.

There are plenty of fully featured open source shopping cart software packages that you can use at zero cost.

If you're comfortable using a computer, you can launch a fully featured shopping cart for less than $3 per month.

This is the route that my wife and I took to launch our ecommerce store. We were on a major budget and for the first two years, we ran our site using a free open source shopping cart that cost only $7 per month (That was the price back in 2007. Now, it's $2.95).

Today, Bumblebee Linens generates over 7-figures per year and we are still using the same free ecommerce platform we started with!

The only difference is that we now pay for beefier hosting to handle the traffic (~$50/month).

Here are your three main shopping cart options:

Open Source Shopping Cart: This is the cheapest solution available but it helps to be tech savvy. The source code is provided to you for free but you must pay for a web host and manage your own website.
Fully Hosted Shopping Cart: This is the easiest and most straightforward solution available. A third-party company does all of the work for you – including managing your shopping cart, hosting your website, and maintaining your servers.
Hybrid Fully Hosted Shopping Cart: If you already run a website and want to add ecommerce functionality to it, then services like BigCommerce offer a hybrid solution that allows you to combine your store with your existing site.

Option #1: Open Source Shopping Cart

An open source shopping cart is software that is maintained by a small group or community and it's free to use. The most well-known example of open source software is Linux and there are many shopping cart options you can download at no cost.

The main advantage of an open source shopping cart is that you aren't tied down to a specific company or service provider.

But the main downside is that it requires some amount of technical knowledge to maintain.

Open Source Shopping Cart Advantages:

You aren't tied down to a specific company – You can migrate your store to whatever hosting company you want.
You are in 100% control of the source code – if you need to add special functionality that is specific to your shop, you can either implement it yourself or hire a developer.
You are the boss and no one can change the terms and conditions on you.

Open Source Shopping Cart Disadvantages:

You have to manage your own server and resolve any issues.
You must keep your shopping cart up to date with the latest updates and security patches.
You must be resourceful and be a good problem solver.

This option is not for everyone. Some people don't feel comfortable installing or tweaking their own website, let alone modifying an open source shopping cart.

If you consider yourself reasonably tech savvy, my favorite open source shopping cart is WooCommerce.

WooCommerce

WooCommerce is the most widely used shopping cart in the world and it's based on WordPress.

In fact, WooCommerce is so popular that most web hosts offer a one-click installer. You pretty much click a button and everything is set up for you.

WooCommerce Advantages:

Free and easy to use.
Stable and runs on top of WordPress – the #1 blogging platform in the world.
Great for if you already have a WordPress blog and want to add ecommerce functionality to it.
One of the easiest shopping carts to install and get up and running.

The main downside of running a WordPress based shopping cart like WooCommerce is that WordPress is not designed for ecommerce. As result, WooCommerce and other ecommerce plugins tend to run slower unless they are optimized.

But WooCommerce is by far the cheapest way to get started selling online with your own shop.

Editor's Note: I put together a quick 5 minute video tutorial that shows exactly how to get started with WooCommerce from complete scratch for less than $3.

I also negotiated a discount off of the regular price of Bluehost for MyWifeQuitHerJob.com readers (Only $2.95/month). You can redeem the discount by clicking here or any Bluehost link on my blog.


Recently, my 9- and 11-year-old kids started their own ecommerce store with WooCommerce selling t-shirts. They used their own money to start their online store and spent less than $3 from start to finish.

If they can do it, so can you. Click here to check it out!

Option #2: Fully Hosted Shopping Cart

While I recommend that all of you give open source a try, I recognize that some of you may not be tech savvy and need more support to get started.

If you have the budget to spare and you don't mind paying for convenience, then consider paying a company to run your shopping cart for you.

Great companies that offer this service include Shopify and BigCommerce and they offer a fully hosted shopping cart platform that does everything for you, including managing your shopping cart and providing technical support.

They also make it easy for you to get started and set everything up.

From my personal experience, most of you who are just starting out would benefit from paying a bit more and choosing a fully hosted platform.

Paying someone to handle all of the tech will allow you to focus on marketing and sales rather than wasting time managing your website.

Fully Hosted Shopping Cart Advantages:

You won't get hacked. Unfortunately, during the early stages of my online store, I got hacked a few times and it took me awhile to put safeguards into place.
You won't get stressed about server downtime. When you host your own site, you're responsible for fixing self-made and unexpected issues and this can be time-consuming. Early on with my store, my site sometimes crashed and it was stressful to deal with.
You won't need to worry about backing up your data. Your backups are automated with a fully hosted cart.
You won't be alone. If you run into issues, you can call someone for support right away.

Fully Hosted Shopping Cart Disadvantages:

Increased cost. Both Shopify and BigCommerce have raised their prices over the years. Also, many of Shopify's plugins carry a monthly fee that must be factored into the equation.
You lose some amount of control over your site. While fully hosted platforms are flexible, there will always be specific features you need that may not implementable.
There's a risk of getting shut down if you try to sell anything remotely controversial like hemp or CBD.

To give you an idea of how much money you'll need to spend on a fully hosted platform, my wife and I pay roughly $50 per month to host our ecommerce store and six other websites on the same web host.

If we went with Shopify or BigCommerce, we'd be looking at spending $500 or more per month for the exact same features.

Again, if you're willing and able to put in the extra work, then hosting your own website is almost always the most flexible and economical choice.

However, if you'd rather not stress out and just start selling, then fully hosted could be for you.

Recommended Fully Hosted Platforms: Shopify and BigCommerce

I've spent a lot of time researching and testing fully hosted shopping carts and the ones that I've found to work best are Shopify and BigCommerce. Both offer a great fully hosted shopping cart solution for a low monthly fee.

Now most of you are probably wondering whether you'll be able to design a beautiful website without hiring a designer. And the answer is yes.

Both Shopify and BigCommerce make it super easy to create a professional looking site without outside help.

For example, BigCommerce offers an intuitive drag and drop interface where you can move things around at the click of a button. Along with Shopify, it also offers a good selection of standard templates for you to start out with.

In addition, the back end interface of both platforms are feature rich and offer built-in support for popular third-party apps including integration with Facebook, Instagram and Pinterest.

For a full list of pros and cons for Shopify and BigCommerce, check out my detailed article on Shopify Vs BigCommerce.

But here's a quick comparison chart for your review.


Shopify
Larger design template selection
More 3rd party developer support
Larger 3rd party app ecosystem
Larger installed base
Better for dropshipping
More flexible product organization scheme

Try It For Free And Receive 10% Off Your First Year


BigCommerce
Superior feature set out of the box
Seamless integration with WordPress
Better SEO
Less expensive
Better product options support
Better discounting features
Better international support
Better analytics

Receive 1 Month Free and 10% off Your First Year

Option #3: Hybrid Shopping Cart

If you're looking to add shopping cart functionality to your existing website without having to switch platforms, then a hybrid solution like BigCommerce could be your best bet.

A hybrid shopping cart hosts the ecommerce portion of your website for you and you can simply add buy buttons or a small piece of code to your existing site.

There are three main advantages to this solution:

You can keep your website as is without having to change or migrate platforms.
The ecommerce portion of your website will not bog down your main website.
You get a fully featured shopping cart that can take online transactions.
Hybrid shopping cart solutions tend to be better for SEO.

If you are currently running a WordPress blog and you don't want to deal with an ecommerce plugin that could slow down your site, then BigCommerce will seamlessly integrate a fully hosted shopping cart to your existing blog.

The hybrid option allows you to continue to use WordPress as your main blogging platform while BigCommerce runs your shopping cart on the exact same domain.

Which Shopping Cart Solution Should You Go With?

Unfortunately, only you can answer that question. I've already narrowed it down to a handful of options after test driving hundreds of shopping carts.

Overall, I would start with an open source shopping cart because it's free. In addition, it gives you full control over the source code and the ability to add new features at any time.

For example, WooCommerce is constantly adding new plugins and additional functionality, many of which are free.

But remember that with an open source solution, you must be willing to learn how to manage your own site which requires some technical skills.

If coding or installation is way over your head, and you have some budget to work with, then I would turn to paid options such as Shopify and BigCommerce.

Keep in mind that most shopping carts will provide you with at least a 30 day free trial. So make sure that you give every shopping cart a test drive.

But be aware that the fees associated with a fully hosted solution will add up over time and far exceed the base cost. For example, here's a post on Shopify pricing and BigCommerce pricing that details all of the costs.

No matter which shopping cart you choose, remember that it's extremely hard to migrate to a different platform once you've made your choice. As a result, you should take your time and get it right the first time.

Editor's Note: I'm often asked about Wix, Squarespace, Weebly and other super cheap fully hosted shopping cart solutions. While these platforms are fine for a basic shop, they lack extensibility and integration to important and crucial third-party services. As result, you will outgrow these cheaper services quickly as your store grows. Here's a review I wrote on Shopify vs Wix.

To wrap it all up, if you don't want to deal with website management and would prefer to focus on selling your products, then go with either Shopify or BigCommerce.

What Do I Personally Use?

Right now I'm on OSCommerce, which is an open source shopping cart that I chose in 2007 when there were limited options.

Although I would advise against using OsCommerce today, it does power my 7-figure ecommerce business and has just as many features as Shopify or BigCommerce.

However, if I had the above options available to me back then and I was managing my own site, I'd likely go with WooCommerce.

If I didn't have the technical skills to manage my own cart, I'd probably go with Shopify or BigCommerce.

Overall, it's up to you to weigh the pros and cons and ultimately decide how you want to spend your time and money.

Step #5: Choose A Payment Processor For Your Store

You can't make money with your online store unless you can accept payments online.

And when you are a brand new ecommerce store owner, you'll want a way to accept credit cards without any monthly fees.

Ultimately, the payment processor you go with will depend on the shopping cart you choose.

Accepting Payments On Shopify

If you are on Shopify, you are pretty much forced to use Shopify Payments. If you elect to not use Shopify Payments for your store, Shopify will charge you a transaction fee which can be as high as 2%.

The good news is that Shopify payments is nicely integrated within Shopify and you can start accepting credit cards right away. Depending on your Shopify plan, the cost of Shopify Payments is anywhere from 2.2% to 2.9% with a per transaction fee of 30 cents.

Accepting Payments On BigCommerce And WooCommerce

Both BigCommerce and WooCommerce allow you to use any payment processor that you want without any transaction fees. As a result, you can shop around and get the lowest rates.

For all brand new store owners, I recommend going with both Stripe and Paypal.

Stripe

Stripe is the easiest way to get started accepting credit cards with your ecommerce store. It is supported by practically every ecommerce platform out there and it carries no monthly fee.

In addition, you can get approved instantly and start processing credit cards right away!

While the rates for Stripe are slightly higher at 2.9% + 30 cents per transaction, you can negotiate your rate down after you hit $80K/month.

Paypal

Most people don't like Paypal, but there's a very compelling reason to accept Paypal in your shop.

First off, Paypal is completely free of charge and you can technically accept both Paypal payments and credit cards.

But the main advantage of accepting Paypal payments is that your customer's contact and shipping information is automatically imported into your shopping cart so they don't have to type!

The auto population of customer data is crucial when selling to mobile shoppers checking out on their smart phones. Paypal's rates also start at 2.9% + 30 cents per transaction.

Overall, you can't go wrong with the Stripe/Paypal combo for all of your ecommerce needs when first starting out.

Step #6: Design A Great Looking Website

Customers won't buy from your online store unless you have a trustworthy website. Design matters but the good news is that you don't need to spend a lot of money to get a great looking site.

Contrary to popular belief…

Designing a great looking website does not have to be expensive
You do not need to carry multiple products in your shop to be successful.
You do not need to hire a designer to create your website

In fact, you don't need any technical experience to design a great looking site. All you need is a good template for your store and you're good to go.

Where To Find Website Templates

There are millions of inexpensive templates that you can download and use to create your online shop within minutes.

Shopify Theme Store

The Shopify theme store includes over 100 free and paid themes, many of which cater to single products. Once you buy a theme, you can replace the slots with your content – and voila! You've got a professional looking website.

Most themes in the Shopify theme store cost $180 or less.

BigCommerce Theme Store

Like Shopify, BigCommerce has an equally powerful theme store and there are many free themes to choose from. While BigCommerce doesn't offer as large a variety, their free themes look great.

But if you are want a premium design, paid themes start at around $200.

Themes For WooCommerce

WooCommerce easily has the largest selection of free themes of any shopping cart because it's based on WordPress. WordPress offers over 13000 themes to choose from and you'll easily find something that closely matches your objective.

As mentioned earlier, my kid's ecommerce store is based on WooCommerce and I'll give you their theme for free along with step by step instructions on how to install it.

Here's what the theme looks like.

Here's a video that walks you through the process.

Ready To Start An Online Store?

The most effective way to make life changing money is to start your own online business. And unlike when I started back in 2007, it's now easier than ever to set up a profitable ecommerce store.

Not only are there are countless services and software available to help you launch a new online shop, it's very inexpensive as well and you can get started for as low as $3 per month.

As with everything life, the business model that you choose will determine your startup costs and the more money you are willing to invest, the faster you will make money.

Here are your action items from this post!

Choose your ecommerce business model
Get your ecommerce website up. It's only $3!
Brainstorm products that you would like to sell.
Focus on the benefits or the value you can bring.
Think about a story that you can tell behind your products.
Start selling!

Ready To Get Serious About Starting An Online Business?

If you are really considering starting your own online business, then you have to check out my free mini course on How To Create A Niche Online Store In 5 Easy Steps.

In this 6 day mini course, I reveal the steps that my wife and I took to earn 100 thousand dollars in the span of just a year. Best of all, it's free and you'll receive weekly ecommerce tips and strategies!

Note: This post above may contain affiliate links, which means that I may receive a commission if you make a purchase when clicking a link. Please consult our privacy policy for more information.

Have you read these?