Those of you who have followed me since the beginning know that I've been running a 7 figure ecommerce store since 2007. But did you know that email marketing makes up over 30% of my sales?
Not only that, but over 20% of that revenue is derived from my email autoresponder sequences which generate money for my online store on autopilot.
In fact, 7 autoresponders that I created "once" long ago now bring in over 6 figures worth of income every single year without me having to do anything.
If you don't have an email autoresponder sequence (which is synonymous with an email funnel) in place, then you are missing out on free money.
Here are the main benefits of an autoresponder
They are extremely low maintenance
They generate money in your sleep
They can augment your paid advertising efforts
They have the best ROI of practically any medium
The best part is that they are essentially set it and forget it.
Here are the 7 ecommerce email auto responders that I use on my online store that make sales while I sleep.
Note: In case you are curious which email provider I use for ecommerce, I'm on Klaviyo. Click here to try it for free
Get My Free Mini Course On How To Start A Successful Ecommerce Store
If you are interested in starting an ecommerce business, I put together a comprehensive package of resources that will help you launch your own online store from complete scratch. Be sure to grab it before you leave!
Email Autoresponder #1: The Pre Purchase Sequence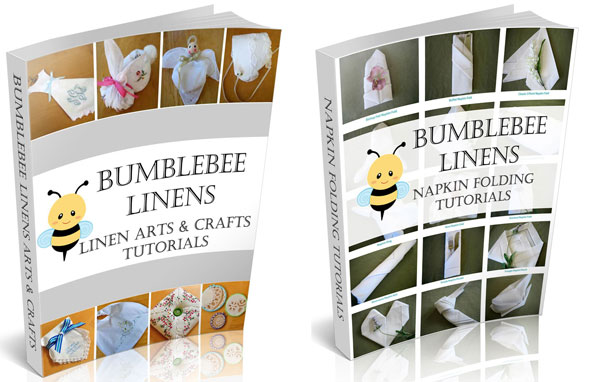 The pre purchase sequence is the email autoresponder that I use to warm up cold customers. In return for a lead magnet, a customer provides me with an email and is taken down an email autoresponder sequence that spans 109 days.
Over the years, I've used many different types of lead magnets. For example when I first got started, I gave away a free book of arts and crafts and a linen napkin folding guide based on the type of product the customer was looking at.
Today, I use a special spin to win popup.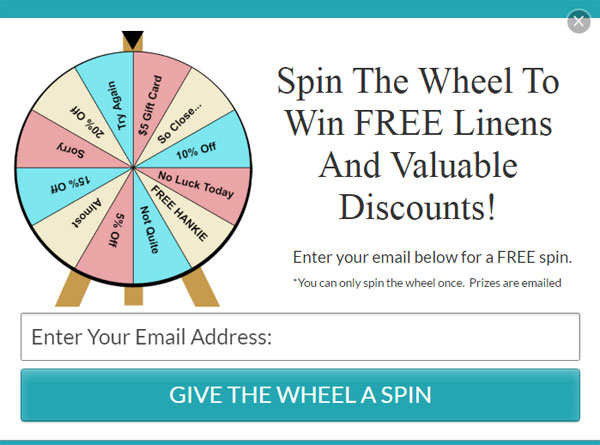 Basically, a customer gives their email for a chance to win valuable prizes in our store. You can check out this "Spin To Win" wheel in action on my online store by clicking here.
Editor's Note: I use a free tool called Privy to implement this special popup. Click Here To Signup For Privy For Free
Whatever you decide to use as your lead magnet is up to you but you can easily give away your own free guide or even a coupon code to get visitors to sign up.
Once a customer signs up, I email them every other day for 2 weeks and then gradually taper my sends to about once a week.
Here's the thing about customer behavior.
It can often take 4-8 touch points before a customer will buy from your site.
They might find you on mobile, browse around, go back home, browse on their desktop, click on an ad or an email before finally making a purchase!
Think about it this way. The average conversion rate for an online store is on the order of 2-3% which means that 97% of customers aren't going to be buying on their first try.
As a result, you have to keep them coming back multiple times until they are ready to buy. In fact, this is why I purposely make my pre-purchase autoresponder super long.
By contacting potential customers on a consistent basis, they will think about our store when they are finally ready to buy.
And the reason I email them more often in the beginning is because their interest is at its highest immediately after they've signed up.
As a result, I often hit customers with a coupon code early on if they haven't purchased within the first few weeks.
Email Autoresponder #2: Abandoned Cart Sequence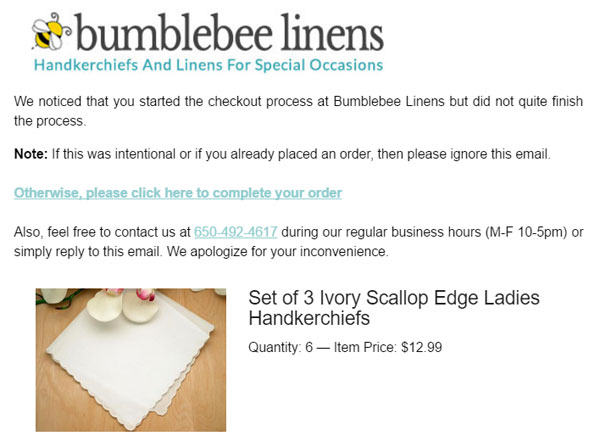 Have you ever shopped online and gotten interrupted during the process?
A while back, I was shopping for a brand new computer monitor when I heard my daughter screaming at me from downstairs. And it wasn't a playful "I'm having so much fun" scream. It was an alarm scream.
So I immediately leaped up from my computer, ran downstairs and found my son clutching his head and THERE WAS BLOOD ALL OVER THE PLACE!
I took him to urgent care immediately and thankfully the injury was minor but the point is that I NEVER completed my transaction:)
But lo and behold, the next day I received an email which reminded me to buy this awesome computer and I completed my purchase.
Now I'm sure that most of your customers aren't having their kid's head cracked open, but you get the point. If a customer has started checkout and hasn't completed it within a certain time frame, you need to remind them.
Right now, I'm sending reminders after 4 hours, 24 hours and 48 hours.
If you want, you can sweeten the pot by offering a coupon code on the 2nd day. But even without a coupon, my abandoned sequences generally convert between 10-25%.
Email Autoresponder #3: Post Purchase Sequence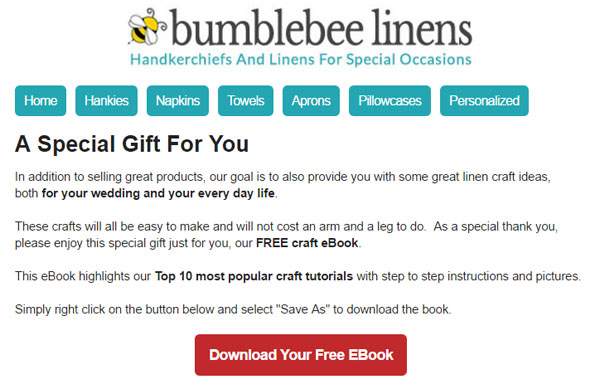 When it comes to selling anything online, it's always much easier to sell to an existing customer than to convert a new one.
As a result, you must have a sequence in place that nurtures the customer along AFTER they have bought from you.
Currently, our post purchase sequence is 60 days long (more on why in a moment) and consists of many different types of emails.
We give customers a free gift. If a customer purchased napkins, they get the napkin folding ebook. If they purchased hankies, they get the arts and crafts ebook.
We ask for reviews on our products. Having more reviews not only adds social proof to our products but we also upload our reviews to Google Shopping to get these beautiful stars next to our products.
We ask for social media follows. Right now we aren't doing much with our Facebook and Instagram pages but we plan to going forward.
We provide related content. If a customer purchased hankies, they'll receive hanky crafts. If they purchased napkins and table linens, they'll receive table linen crafts.
We suggest cross sells and product recommendations. For example, someone who purchased bridal hankies might be interested in getting mens hankies for the groomsmen but never thought to do so at the time of purchase.
The main goal of your post purchase sequence is to get them excited before they receive their order and to keep your company in their mindshare.
Ultimately, your post purchase emails almost always lead to more sales and repeat customers.
Email Autoresponder #4: A Win Back Sequence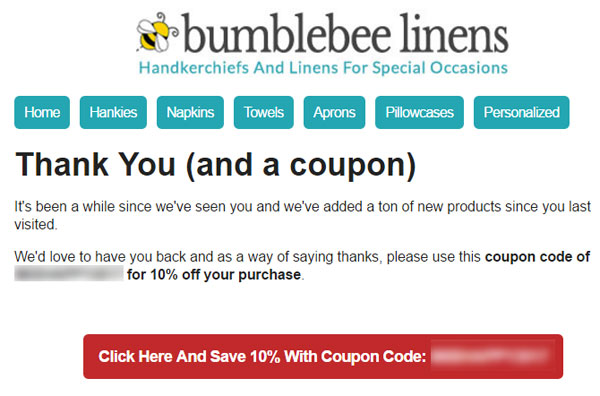 Remember when I said that my post purchase sequence is roughly 60 days long?
The reason is because after 60 days without a follow on purchase, my win back sequence kicks in.
If a customer has purchased before and hasn't bought within 60 days, I send out a coupon to get them to come back.
Since we primarily cater to the wedding industry and most people don't get married twice within 60 days (I wish), this sequence doesn't get as much mileage for us as a normal store.
However, there are a subset of our customers who actually use handkerchiefs everyday and buy from us regularly.
Taking a page from Drew Sanocki, I employ what is called a discount ladder.
If they haven't purchased in 60 days, I send them a 10% off coupon.
If they haven't purchased in 75 days, I send them a 15% off coupon.
And finally if they haven't purchased in 90 days, I send them a 20% off coupon as a last ditch effort.
Note: If a purchase occurs at any of these tiers, they do NOT receive another coupon.
Email Autoresponder #5: A Cross Sell Sequence
Once you've been selling long enough, you'll start to notice specific patterns with the products purchased from your store.
For example, you might find that Product A is often purchased with Product B.
Sometimes customers purchase Product B but come back later and then buy Product A.
In fact, most stores sell complementary products and accessories and it's your job to let the customer know about it.
With my online store, we sell matching dinner napkins, tea napkins and cocktail napkins. So when a customer buys one type of napkin and not the other, we send them an email that "suggests" they check out our matching merchandise.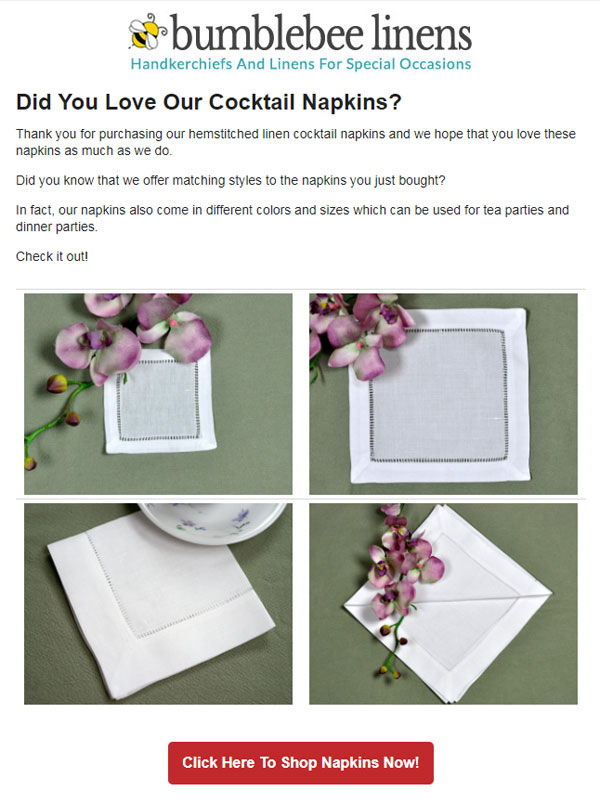 Email Autoresponder #6: An Anniversary Or Replenishment Sequence
This specific autoresponder sequence mainly applies for stores that either offer consumables or products that are typically bought on a schedule.
In the case with our online store, we send out emails one year after purchase for our wedding customers to remind them that their anniversary is coming up along with a link to buy our personalized linens. (Hopefully their marriage lasts longer than a year:)).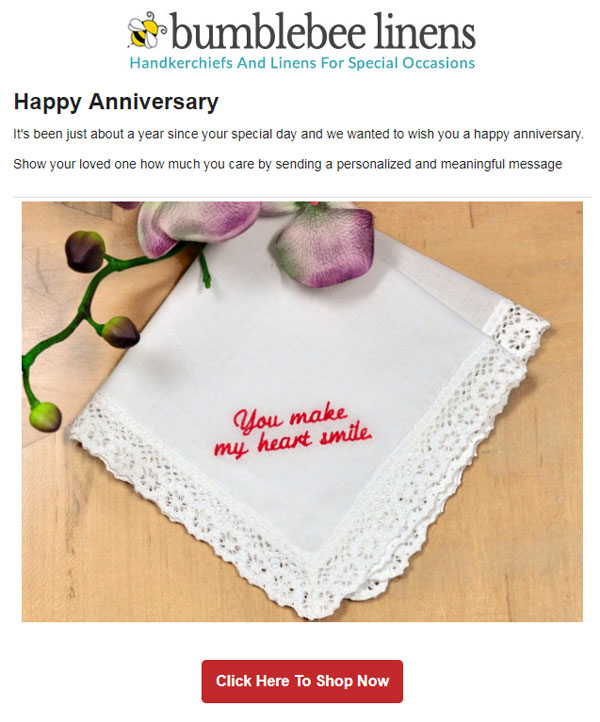 But if you sell any consumable product, you can send out an email to remind them that their supply of food, vitamins, supplements etc.. is running out and that they should order more.
Ideally, you should create a subscription based plan that auto bills your customers and use these emails to entice customers to re-buy or join your subscription at a slight discount.
Email Autoresponder #7: A View Abandon Sequence
Finally, the last sequence we employ that converts like bonkers is what I call a view abandon sequence.
If a customer has viewed a product but never started checkout, I send them an email with a picture of their product and 6 suggested products.
Note: This sequence should not be confused with the abandoned cart sequence described above. The view abandon sequence only kicks in if the customer has NOT started checkout.
Here's what my view abandon email looks like.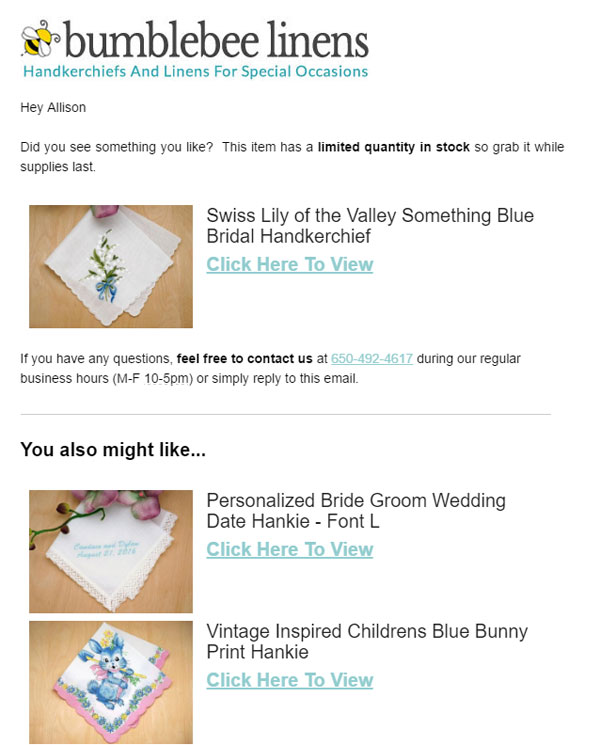 A question I commonly get asked with this sequence is how I know a customer's email address if they haven't started checkout yet?
The answer is that I don't unless they have given it to me in the past which is why getting your customer's email address is so crucial.
I know exactly who my customer is as long as they have given me an email address at any point in time.
If they've signed up for my newsletter, this sequence will kick in. If they have started checkout at anytime in the past, I've got them. If they've given me their email ever, I have them in my database.
The view abandon sequence is my second highest performing sequence next to my abandoned cart sequence and is useful for making sales and increasing average order size.
Video Tutorial – How To Implement These Email Autoresponders For Free
The following video will show you how to implement these email autoresponders step by step using a tool called Klaviyo
Klaviyo is free for up to 250 subscribers and is the most powerful email marketing platform for ecommerce.
Click Here To Sign Up For Klaviyo For Free
Sales On Autopilot
Once again, the beauty of all of these email sequences is that they are set it and forget it. It takes time to put everything in place, but once you're done, you're done!
Right now, email makes up about 30% of my sales but I plan increasing this number going forward this year.
Seriously though. This is low hanging fruit so implement these sequences now!
Note: If you are enrolled in my ecommerce course, you'll have access to every single email sequence that I use for my shop. Check it out now!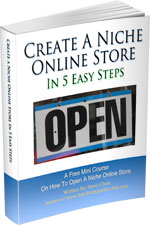 Ready To Get Serious About Starting An Online Business?
If you are really considering starting your own online business, then you have to check out my free mini course on How To Create A Niche Online Store In 5 Easy Steps.
In this 6 day mini course, I reveal the steps that my wife and I took to earn 100 thousand dollars in the span of just a year. Best of all, it's free and you'll receive weekly ecommerce tips and strategies!
Note: This post above may contain affiliate links, which means that I may receive a commission if you make a purchase when clicking a link. Please consult our privacy policy for more information.
Related Posts In Email Marketing
About Steve Chou

Steve Chou is a highly recognized influencer in the ecommerce space and has taught thousands of students how to effectively sell physical products online over at ProfitableOnlineStore.com. 

His blog, MyWifeQuitHerJob.com, has been featured in Forbes, Inc, The New York Times,  Entrepreneur and MSNBC.  

He's also a contributing author for BigCommerce, Klaviyo, ManyChat, Printful, Privy, CXL, Ecommerce Fuel, GlockApps, Privy, Social Media Examiner, Web Designer Depot, Sumo and other leading business publications.

In addition, he runs a popular ecommerce podcast, My Wife Quit Her Job, which is a top 25 marketing show on all of Apple Podcasts. 

To stay up to date with all of the latest ecommerce trends, Steve runs a 7 figure ecommerce store, BumblebeeLinens.com, with his wife and puts on an annual ecommerce conference called The Sellers Summit.  

Steve carries both a bachelors and a masters degree in electrical engineering from Stanford University. Despite majoring in electrical engineering, he spent a good portion of his graduate education studying entrepreneurship and the mechanics of running small businesses.