Is Klaviyo worth the money? This Klaviyo review will break down the pros and cons and compare Klaviyo pricing and features with other email marketing providers in the ecommerce space.
Having run my own ecommerce store for over 12 years, I've used or evaluated almost a dozen email marketing platforms for my online store.
And for a while, I was switching email providers every 1-2 years because I was either unsatisfied with certain features or the customer service degraded over time.
However, I've been on Klaviyo now for 6 years and I don't plan on switching anytime soon. In fact, I've been using Klaviyo for the longest stint of any email marketing provider ever.
In addition, because of my ecommerce blog, new email service providers routinely contact me to demo their services.
As a result, I feel uniquely qualified to provide a full review and comparison of Klaviyo with other email marketing providers.
Believe me, I know the tool inside and out. And in general, it's impossible to provide a thorough review of any service unless you've used it firsthand.
Here's my opinion of Klaviyo and its pros and cons.
Get My Free Mini Course On How To Start A Successful Ecommerce Store
If you are interested in starting an ecommerce business, I put together a comprehensive package of resources that will help you launch your own online store from complete scratch. Be sure to grab it before you leave!
What Is Klaviyo?

Klaviyo started out as an email marketing tool specifically designed for ecommerce stores. However, they have since added new features such as SMS and push notifications to the mix.
With Klaviyo, you can send personalized marketing messages to your customers based on their interactions with your online shop.
What makes Klaviyo so powerful is that you can leverage your customer data to create custom tailored messages that directly convert to sales.
For example, if a customer in my store likes to buy purple handkerchiefs, I can easily segment my email list and send "purple only" promotions to these visitors.
Klaviyo also has access to your entire product portfolio which allows you to dynamically create relevant product based emails that are auto generated.
While most ecommerce store owners use Klaviyo strictly for email, they now offer SMS text messaging as well and are slowly becoming an omnichannel marketing platform.
The Pros Of Klaviyo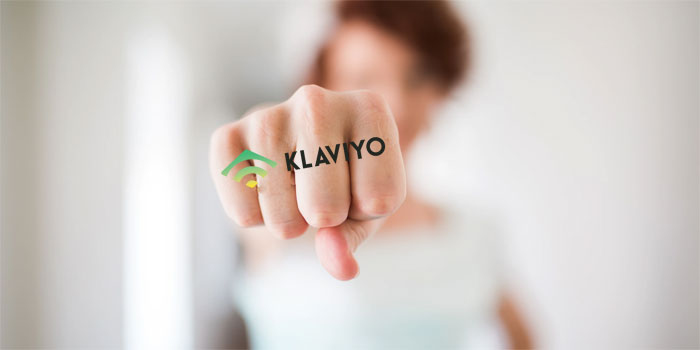 All literature for email marketing providers sound exactly the same which is why you can NEVER judge a service by its sales page.
The difference between a great service and a bad one is in the implementation, customer support and user interface.
In my experience, Klaviyo has one of the best onboarding wizards for new users that I've ever used.
In fact, I recently joined Klaviyo for the second time for my kid's store over at Kid In Charge and the process was so easy that my 9 and 11 year old kids were able to get through it.
Klaviyo's user interface is very well done and here are its strengths.
Pro #1: Klaviyo Offers A Great Onboarding Experience
Here's what their onboarding sequence looks like.
First, they ask you for your website address and platform.
Klaviyo then crawls your website and syncs your store.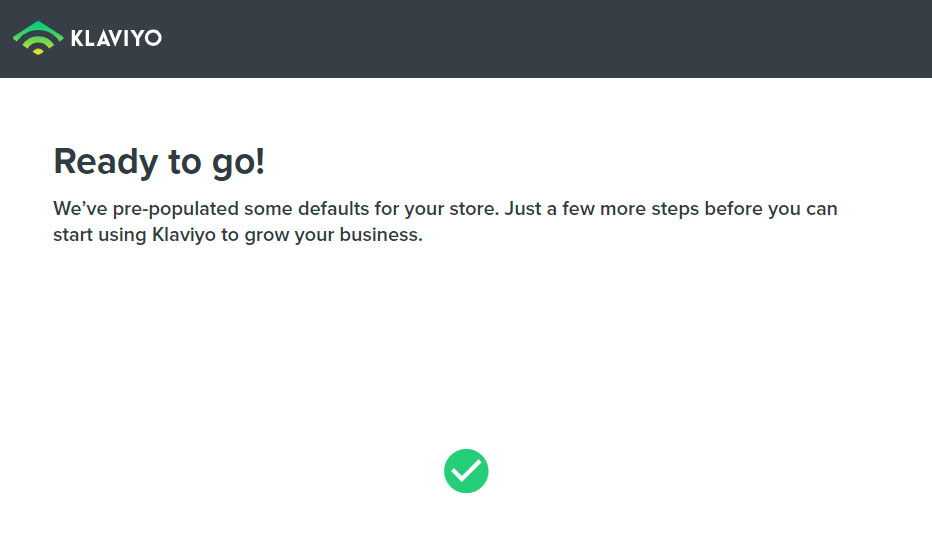 Finally, Klaviyo looks at the colors and images for your store and automatically generates a great looking email template!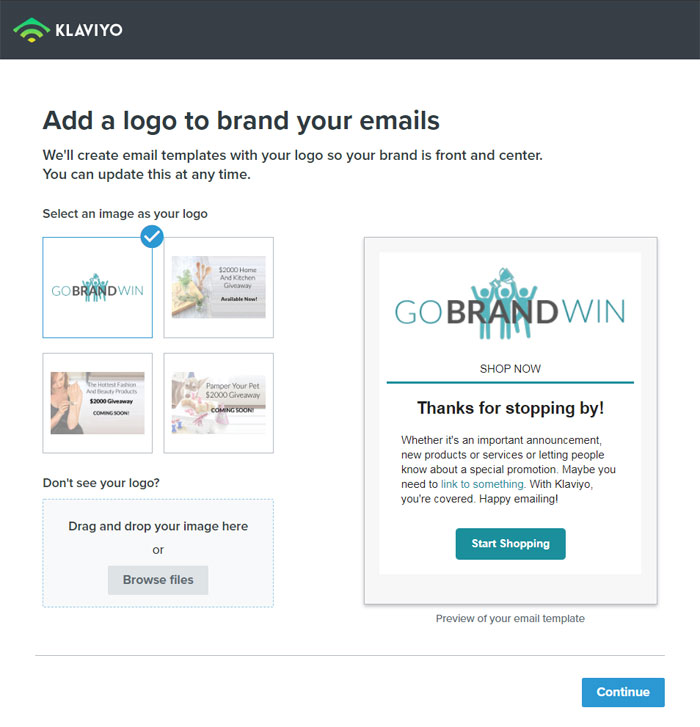 If you don't like the template that Klaviyo auto generates for you, you can always make color tweaks or custom changes but the default template usually looks great.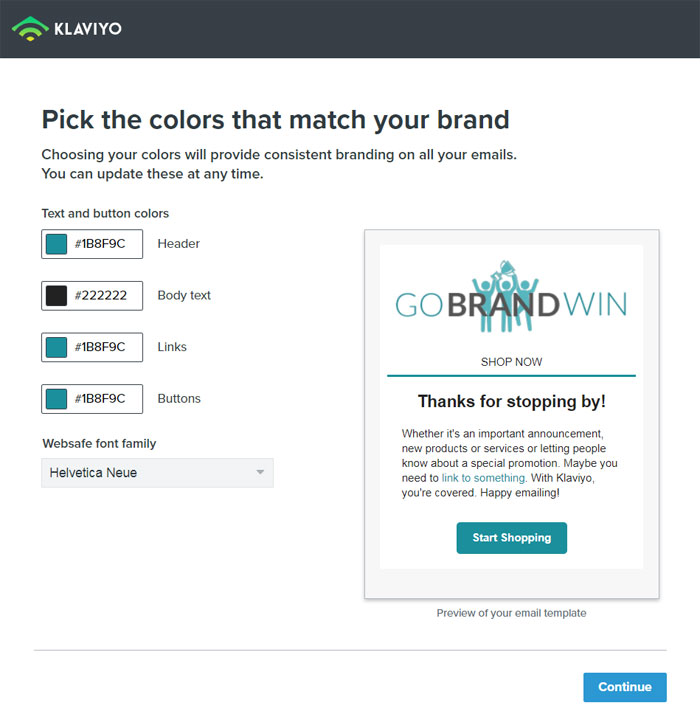 Add your social media links and you're ready to go!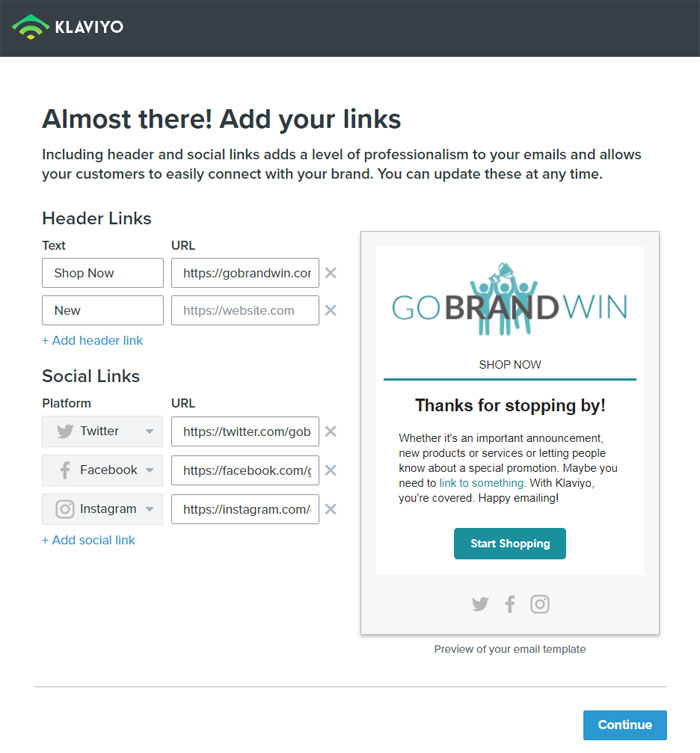 Pro #2: Klaviyo Makes It Easy To Create Automated Ecommerce Email Flows
Once your store is connected to Klaviyo, you can create a bunch of automated flows that make money right away within a matter of minutes.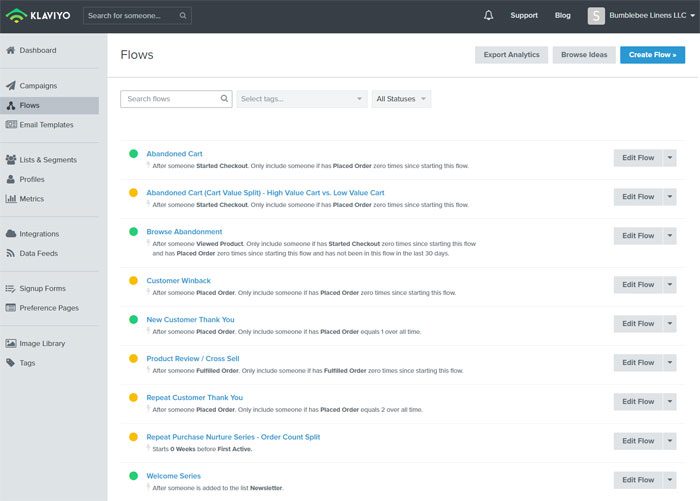 Overall, Klaviyo offers the following "out of the box" email flows at a push of a button.
Abandoned Cart – This flow activates when a customer adds items to their shopping cart but doesn't checkout
Browse Abandonment – This flow activates when a customer views a product but does not add to cart
Customer Winback – This flow activates when a customer has made a purchase but hasn't bought again after a set duration
New Customer Thank You – This flow actives when a customer makes a purchase for the first time
Product Review / Cross Sell – This flow activates after an order has been fulfilled to sell additional related products
Repeat Customer Thank You – This flow activates when a customer has placed more than 1 order
Welcome Series – This flow activates when a customers signs up for your email list
While it's in your best interests to use all of the sequences above, here are the automated email flows that you MUST implement for your ecommerce store.
Editor's Note: For more information about my exact email sequences, read my post on 7 Email Autoresponders That Make Money On Autopilot For Your Online Store
Abandoned Cart Flow
Shoppers are constantly interrupted when they shop online and up to 76% of consumers never finish checkout on their first try.
As a result, when a customer abandons, you'll want to reach out to your customer and entice them to come back and complete their purchase.
Here's what one of my abandoned cart emails looks like for Bumblebee Linens (implemented by Klaviyo).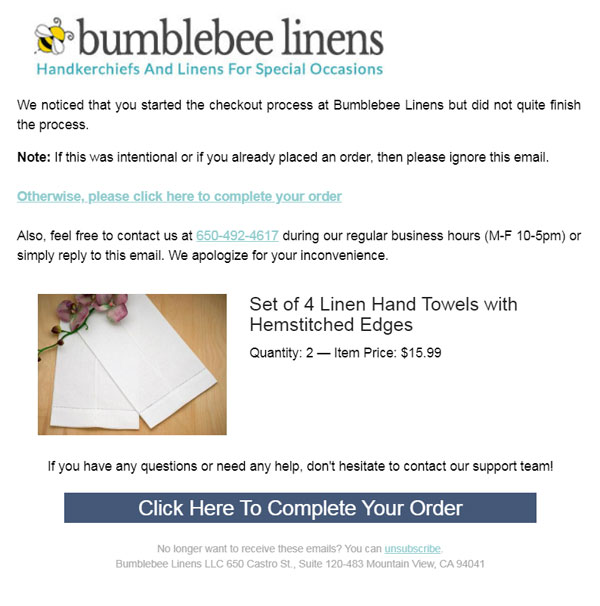 There are a few features to point out in the above email that Klaviyo allows you to do.
The email contains photos of the exact items that were in the customer's cart when they abandoned
There is a big link in the email that takes the customer directly to checkout
Overall, I use 3 emails in my abandoned checkout sequence and I'm able to recover 19% of my lost sales. This is free money!
What's powerful about Klaviyo is that you can send different abandoned cart emails depending on customer behavior via an intuitive graphical flow chart.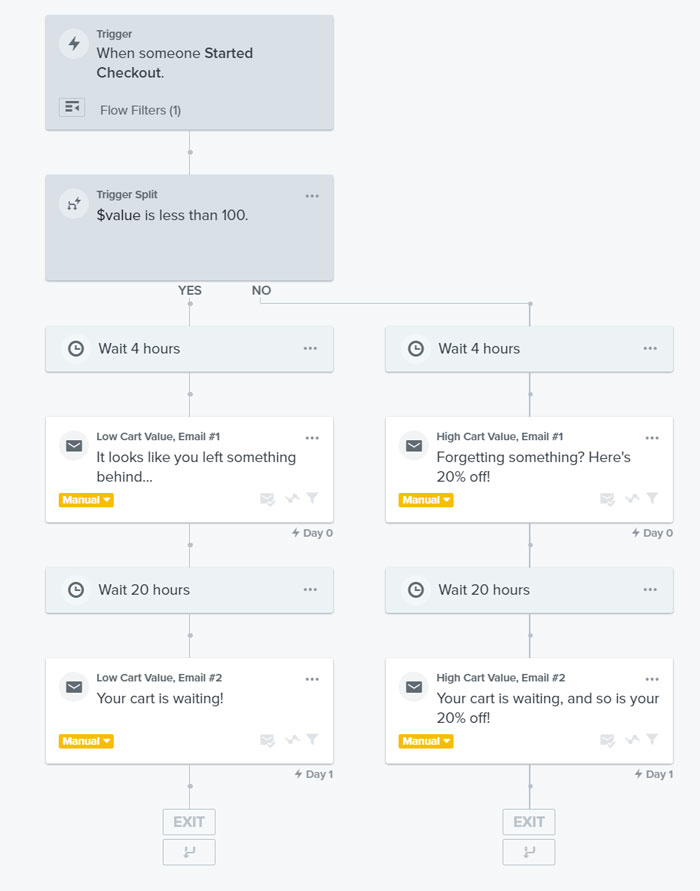 In this example, I'm separating out my abandoned customers into 2 distinct categories.
Customers that have over $100 in their shopping cart
Customers that have less than $100 in their shopping cart
For my over $100 customers, I give out a 20% coupon because the order value(and profit) is higher and these visitors will likely have a greater lifetime value.
For my cheaper customers, I just send out the standard "no coupon" email shown above.
For more information about my exact abandoned cart sequence, please check out my post on The Abandoned Cart Email Sequence That Recovers 19% Of My Sales (Without A Coupon)
Browse Abandonment Flow
When a customer views a product but doesn't add the item to their cart or checkout, you should send them an email with a picture of their product and other suggested products.
Note: This sequence is different than abandoned cart because it kicks in when a customer does not add to cart or start checkout.
Here's what my browse abandoned email looks like.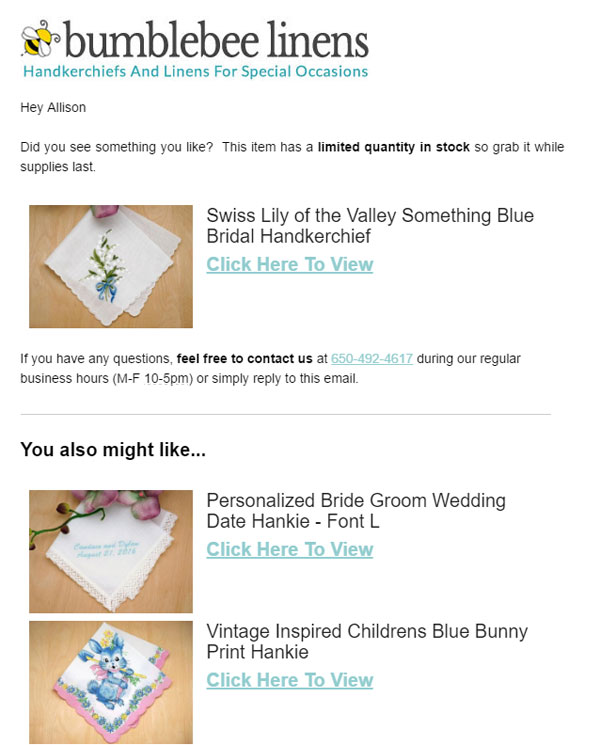 The browse abandonment flow is my second highest performing sequence in terms of revenue per email sent.
Customer Winback Flow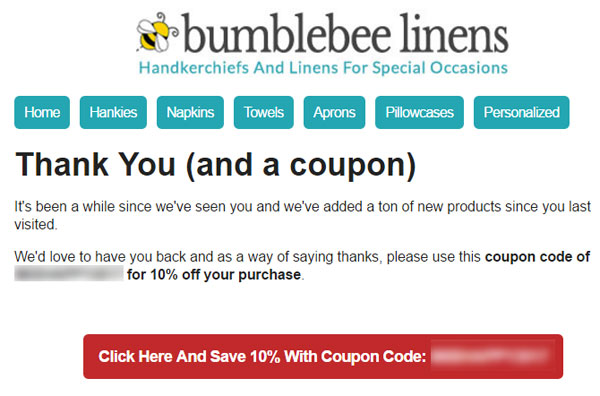 When a customer has purchased before but hasn't bought in a while, you should send out a coupon to get them to come back and buy again.
With Klaviyo, you can easily implement what is called a discount ladder.
A discount ladder is where the discount offered increases based on inactivity.
For example, if a customer hasn't purchased in…
60 days – Send them a 10% coupon
75 days – Send them a 15% coupon
90 days – Send them a 20% coupon
Post Purchase Flow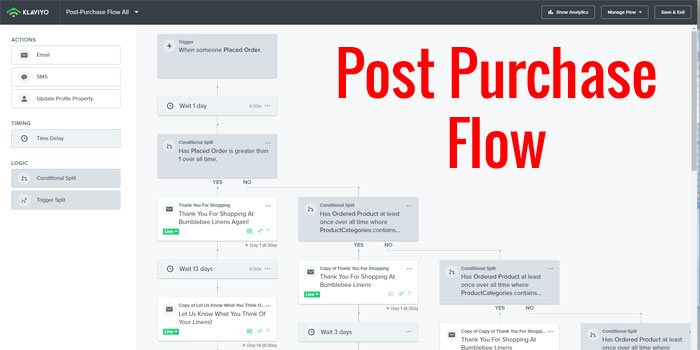 After a customer makes a purchase from your store, it is your goal to get them to promote your brand and to shop again.
Here are some actions that you should ask customers to take in your post purchase sequence.
Ask For Reviews – More product reviews result in more social proof and higher conversion rates
Ask For Social Shares – Have a customer take a picture with your product and share it on social media
Cross Sell Products – Suggest complementary products to customers based on what they purchased
Fill Out A Survey – Have customers fill out a short survey to better understand their needs
Welcome Flow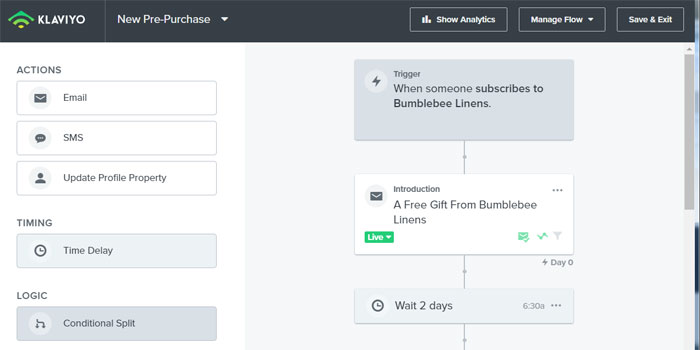 Your welcome series should be used to warm up your customer and familiarize them with your brand.
When it comes to converting a sale, it can often take 4-8 touch points before a customer will buy.
As a result, your welcome series is designed to keep a visitor coming back to your site over and over until they are ready to make a purchase.
Once again, Klaviyo allows you to give out "conditional coupons" depending on whether a customer has made a purchase or not.
For example, I only send out coupon emails in my welcome series if the visitor has NOT made a purchase yet.
Pro #3: Klaviyo Offers In Depth Analytics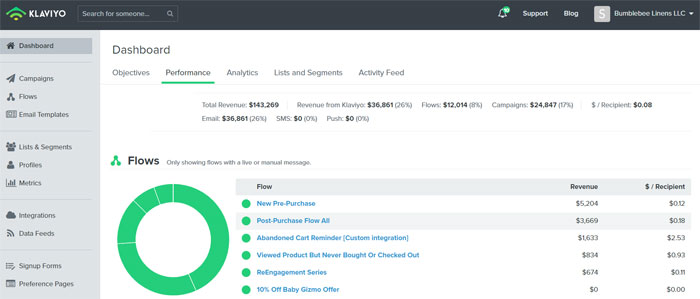 Klaviyo's reporting engine is so powerful that you can literally use Klaviyo instead of Google Analytics or your own shopping cart backend.
What's nice is that Klaviyo puts a dollar value behind every single email sent so you know immediately how much each campaign is worth.
You can also get a birds eye view of all of your sales statistics including revenue per product, revenue per category etc…
Pro #4: Klaviyo Offers Push Button Facebook Audience Integration
Klaviyo's Facebook integration is one of my favorite features because it allows you synchronize your email and Facebook campaigns.
You can take any Klaviyo audience segment and automatically export it to a Facebook custom audience that is dynamically populated.
Let's say that I have a segment in Klaviyo for customers who have purchased before but not in the past 60 days.
With a push of a button, I can instantly create a custom audience in Facebook that is dynamically updated by Klaviyo.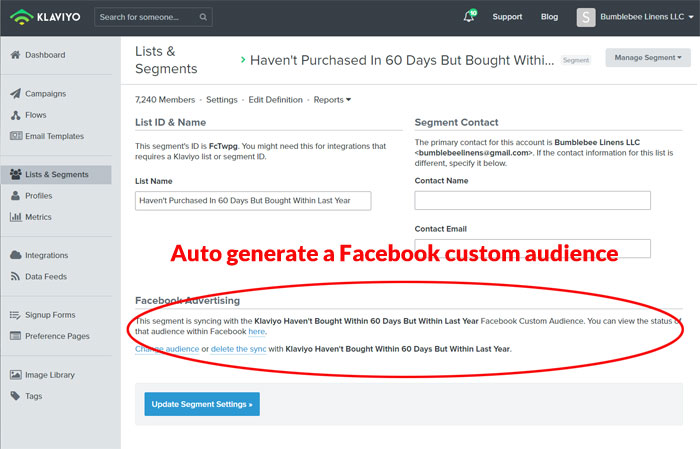 Whenever a customer is removed from this segment, it is automatically removed from the Facebook custom audience.
Whenever a customer is added to this segment, the Facebook custom audience auto updates as well.
This feature is critical for any ecommerce store running Facebook ads!
Pro #5: Klaviyo Offers Powerful Customer List Segmentation
My favorite feature of Klaviyo is that it allows you to create custom segments based on the exact ecommerce behavior of your customers.
For example, you can easily create a segment of all new customers who have purchased a red widget in the past month.
The segmentation options offered by Klaviyo are vast and cover pretty much any scenario that you might need with your ecommerce store.
In general, it is difficult to describe the true power of Klaviyo's segmentation engine in words so here's an example.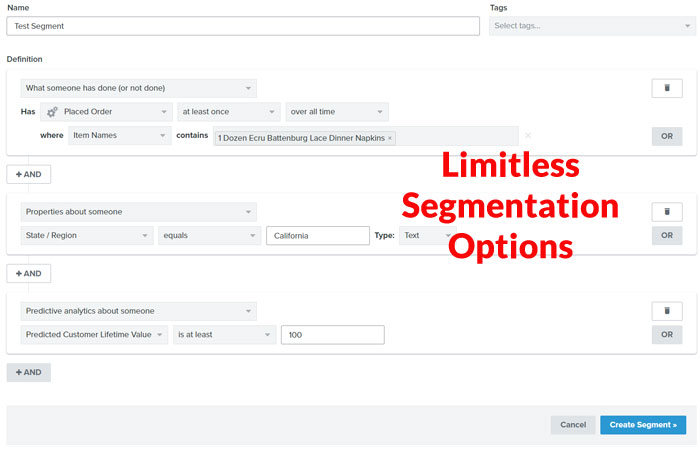 In the photo above, I created a segment for all customers who…
Have made 1 purchase or more of ecru battenburg lace napkins
Reside in California
Have a lifetime value of over $100
In my online store, I have over 100 different segments that span every product/customer combo that you can think of.
This allows me to send extremely targeted emails that directly apply to each individual customer group.
The Cons Of Klaviyo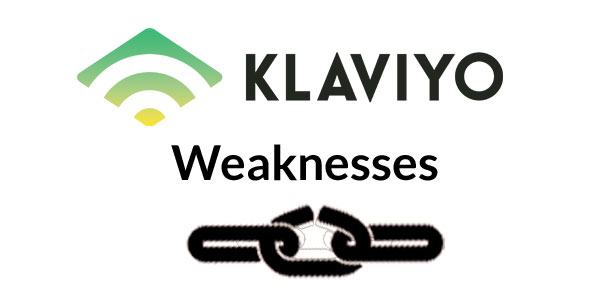 Even though I consider Klaviyo to be the best email marketing platform for ecommerce stores, it does have a few glaring weaknesses.
First off, Klaviyo is best used with an ecommerce store and NOT for a blog. Don't get me wrong, you can get by with Klaviyo with your blog, but it lacks a number of features which I'll enumerate below.
In addition, Klaviyo is expensive compared to other email marketing providers. However, the increased cost is mitigated by the extra money Klaviyo will make for you.
Used correctly, Klaviyo can literally increase your revenue by 3X overnight!
Today, Klaviyo makes up about 30% of my sales.
Klaviyo Pricing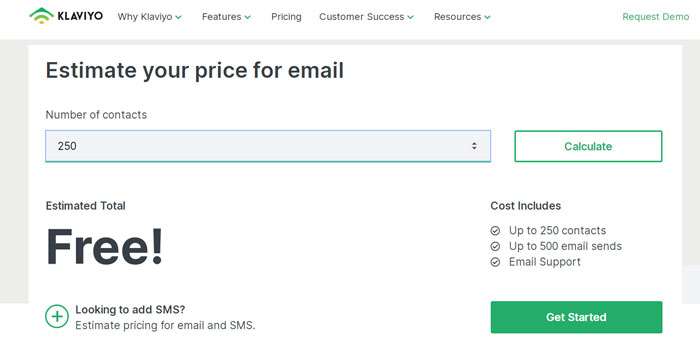 The nice thing about Klaviyo is that it is free to join for up to 250 subscribers. But as soon as you cross that threshold, you have to pay.
At the lower subscriber levels, Klaviyo starts at only $20/month but that price quickly escalates with additional subscribers.
And compared to traditional "non-ecommerce" email marketing providers, it is significantly more expensive.
For example, 5000 subscribers on Klaviyo will cost you $100/month whereas 5000 subscribers on ConvertKit (my recommended provider for blogs) will only cost you $79/month.
But the pricing increase per subscriber is not linear.
At 35,000 subscribers, Klaviyo will cost you $550/month whereas ConvertKit will cost you $259/month.
Overall at higher subscriber counts, Klaviyo will cost you about double the price of a traditional email marketing platform designed for blogs and content creators.
As a result, Klaviyo is not a good economical choice for a blog or content based site.
However, compared to other ecommerce email marketing providers, Klaviyo is on par (and sometimes cheaper) than the competition.
For example, Drip costs $122/month for 5000 subscribers compared to $100/month for Klaviyo.
But at 35,000 subscribers, Drip costs $494/month compared to $550/month for Klaviyo.
Overall, Klaviyo's cost per subscriber tends to increase as your list grows whereas other email marketing providers tend to get cheaper with more subscribers.
Here's a table of Klaviyo pricing based on number of subscribers
Up to 250 subscribers – FREE
Up to 1000 subscribers – $30/month
Up to 2500 subscribers – $60/month
Up to 5000 subscribers – $100/month
Up to 10000 subscribers – $150/month
Up to 25000 subscribers – $400/month
Up to 50000 subscribers – $700/month
Up to 100000 subscribers – $1200/month
Con #1: You Can Not Click To Tag Subscribers Within An Email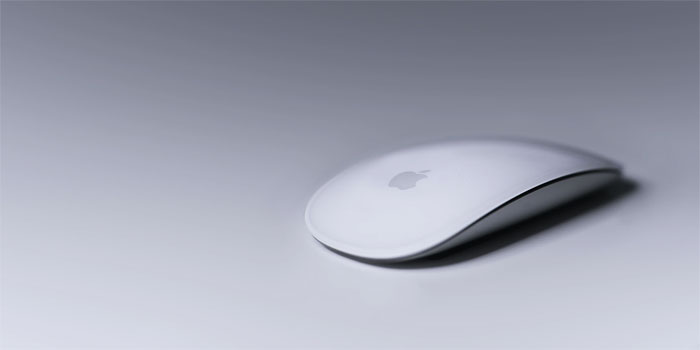 Remember when I said that Klaviyo was not a great choice for a blog? The main reason is because Klaviyo does not allow you to click to tag subscribers in their emails.
In fact, Klaviyo's subscriber tagging features are quite poor compared to ConvertKit or Drip.
With my blog, I have several automated flows setup that trigger depending on what link a user clicks within an email.
For example, the very first email of my autoresponder sequence for MyWifeQuitHerJob.com asks the reader whether they are an advanced or beginning ecommerce store owner.
If they click on the "Advanced" button, they are tagged as an advanced user and sent my advanced ecommerce tutorial.
With Klaviyo, there is no way to do this.
Because Klaviyo is ecommerce focused, there's no easy way to apply "non-ecommerce" tags to a subscriber.
Even a simple task like resending an email campaign to people who didn't open the first time requires a lot of effort to perform.
Bottom line, if you are a blogger or content creator, you are better off going with ConvertKit which will be significantly cheaper.
Con #2: You Can Not Create Conditional Email Forms
Most email marketing providers allow you to create beautiful email forms on your website and Klaviyo is no exception. But Klaviyo does not allow you to dynamically change an email form based on past behavior.
For example, let's say you currently offer a lead magnet on your website for a free ebook in exchange for a customer email.
Once that customer downloads the ebook, then that form becomes redundant and there's no point in showing that form to the same visitor again.
Other email providers like ConvertKit, allow you to show a different signup form if a customer has already opted in.
By displaying a completely different subscription form to opted in users, you can offer a different lead magnet and try to grab a phone number or a Facebook Messenger subscriber.
The ability to dynamically change the optin forms on your site is invaluable if you want to obtain other forms of customer contact information outside of just email.
Con #3: Klaviyo Is More Expensive At Higher Subscriber Counts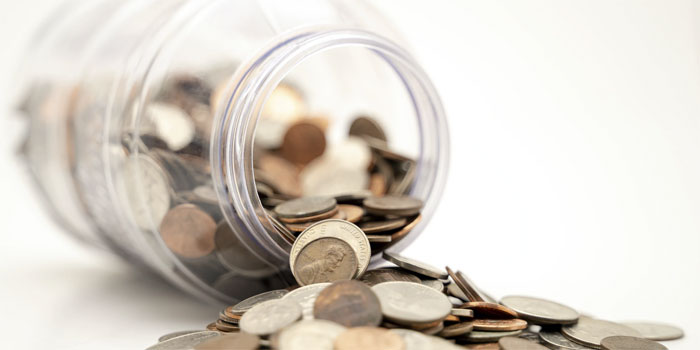 As shown in the table earlier, Klaviyo can get really expensive once you exceed a certain number of subscribers.
Now when you are just starting out, Klaviyo is relatively cheap and is only slightly more expensive than other providers.
But once your subscriber list starts to grow is when things get expensive. But you have to keep in mind that Klaviyo is specifically designed to do one thing, grow your ecommerce sales.
As I mentioned earlier, Klaviyo makes up 30% my sales for my ecommerce store. As a result, the amount of money that Klaviyo will make you will exceed your costs many fold.
That being said, Klaviyo is simply not worth the cost for a blog and there are better and cheaper solutions out there for content creators like ConvertKit.
Is Klaviyo Right For Your Ecommerce Store?
For ecommerce stores, Klaviyo is quickly becoming the industry standard for email marketing.
Because Klaviyo is so popular, it integrates with practically every shopping cart and 3rd party ecommerce service available.
The onboarding process is quick and easy and the customer support is solid. Basically, you can not go wrong by choosing Klaviyo as your ecommerce store email provider.
The only downside to Klaviyo is that it lacks good subscriber tagging and blogging features. In addition, Klaviyo tends to be more expensive at higher subscriber counts.
However, Klaviyo will definitely generate you more revenue than its cost by 10X or more. The high cost of Klaviyo is worth it as long as you have an ecommerce store that can back it up.
Pros
Great Onboarding Experience
Best Email Marketing Tool For Ecommerce
Facebook Custom Audience Integration
Powerful Customer Segmentation Features
Push Button Ecommerce Flows
Cons
No Click To Tag Feature
No Conditional Email Forms
Gets Pricey With More Subscribers
Not Good For Blogs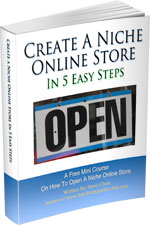 Ready To Get Serious About Starting An Online Business?
If you are really considering starting your own online business, then you have to check out my free mini course on How To Create A Niche Online Store In 5 Easy Steps.
In this 6 day mini course, I reveal the steps that my wife and I took to earn 100 thousand dollars in the span of just a year. Best of all, it's free and you'll receive weekly ecommerce tips and strategies!
Note: This post above may contain affiliate links, which means that I may receive a commission if you make a purchase when clicking a link. Please consult our privacy policy for more information.
Related Posts In Email Marketing
About Steve Chou

Steve Chou is a highly recognized influencer in the ecommerce space and has taught thousands of students how to effectively sell physical products online over at ProfitableOnlineStore.com. 

His blog, MyWifeQuitHerJob.com, has been featured in Forbes, Inc, The New York Times,  Entrepreneur and MSNBC.  

He's also a contributing author for BigCommerce, Klaviyo, ManyChat, Printful, Privy, CXL, Ecommerce Fuel, GlockApps, Privy, Social Media Examiner, Web Designer Depot, Sumo and other leading business publications.

In addition, he runs a popular ecommerce podcast, My Wife Quit Her Job, which is a top 25 marketing show on all of Apple Podcasts. 

To stay up to date with all of the latest ecommerce trends, Steve runs a 7 figure ecommerce store, BumblebeeLinens.com, with his wife and puts on an annual ecommerce conference called The Sellers Summit.  

Steve carries both a bachelors and a masters degree in electrical engineering from Stanford University. Despite majoring in electrical engineering, he spent a good portion of his graduate education studying entrepreneurship and the mechanics of running small businesses.