Retention.com (formerly GetEmails.com) is an email retargeting service that allows you to get emails from anonymous visitors on your website. Visitors are not required to fill out any forms or click on any popups.
All you need is to add a special script to your website and emails are automatically added to your email list.
Sound too good to be true?
In this Retention.com review, I go over the pros and the cons of using this service, how it works, how to get started and real world usage numbers from my own online store.
Get My Free Mini Course On How To Start A Successful Ecommerce Store
If you are interested in starting an ecommerce business, I put together a comprehensive package of resources that will help you launch your own online store from complete scratch. Be sure to grab it before you leave!
What Is Retention.com?

Retention.com (formerly GetEmails.com) is an email service that identifies and collects email addresses from your website visitors without them having to optin using a form.
In other words, Retention.com allows you to identify real people from anonymous web traffic. Used correctly, you can gain hundreds or even thousands of email addresses from the visitors on your website and grow your email list fast.
How Does Retention.com Work?
Retention.com identifies email addresses from anonymous website visitors by decoding cookie and device ID data from people browsing your website.
Nearly every website on the Internet uses cookies in some shape or form. And more often than not, your email address is encoded directly into these cookies.
For example, when you sign up for most services online and enter in your email, your information is added to a database identified by a cookie on your browser.
Many companies sell your data (this happens more often than you think) to 3rd parties who then create a database of emails.
Retention.com leverages these databases to decode cookie data into real email addresses from the visitors on your website.
Here's how it works step by step
You place a small code snippet onto your website that Retention.com provides.
Retention.com grabs the cookies of your website visitors and looks them up in a 3rd party cookie database.
If Retention.com can decode the cookie into an email address, that email address is added to your email list.
Is Retention.com Legal?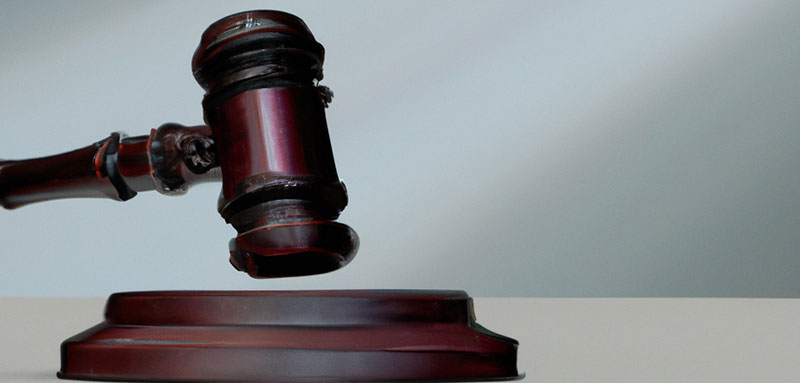 Retention.com is legal to use only in the USA. The service is not GDPR or CASL compliant and only returns US based email addresses.
According to the US CAN-SPAM Act, you do not need a user to opt-in before sending them emails in the USA. In order to be CAN-SPAM compliant, you only need to provide an opt-out or "unsubscribe" link within the email.
You also need to make it clear that your email is an advertisement.
Bottom line, Retention.com is 100% legal in the United States and illegal in Europe and other parts of the world.
Is Retention.com Safe?
Retention.com is safe to use as long as you are careful about what traffic you use to collect emails.
For an ecommerce store, you should only collect emails from visitors who are actively shopping in your store.
You should avoid using Retention.com on blogs or other content sections of your site that may contain visitors who are not interested in buying from your online store.
Will Retention.com Increase Your Spam Rate?

Retention.com may increase your spam complaint rate if you are collecting emails from the wrong type of traffic. When using Retention.com with an ecommerce store, there are 4 basic ways to implement the service.
Safest Way – Only collect emails from people who have inserted an item into their shopping cart. There's clear purchase intent and the chances of a spam complaint are minimal.
Safer Way – Only collect emails from visitors who have visited a product page or added something to their cart. There's purchase intent from these visitors so the chances of a spam complaint are still low.
Safe Way – Only collect emails from the ecommerce pages on your site. This includes product pages, your home page, your about page, your shipping page etc…
Risky Way – Collect emails from all pages of your website regardless of content.
To further mitigate the rate of spam from your emails, you can also implement the following safe guards.
Only add emails for visitors who have stayed on the site for more than 60 seconds.
Only add emails for visitors who have scrolled over 75% of the page.
Only add emails for visitors who have visited multiple pages of your site.
Are The Emails From Retention.com Active And Real?
Retention.com cross checks all email addresses for engagement (opens and clicks) with a 3rd party service prior to adding an email to your email list.
These services qualify each email address to verify that they are real and have been active for the past 30 days.
In my experience, the open rates from Retention.com emails tend to be higher than my opted in subscribers.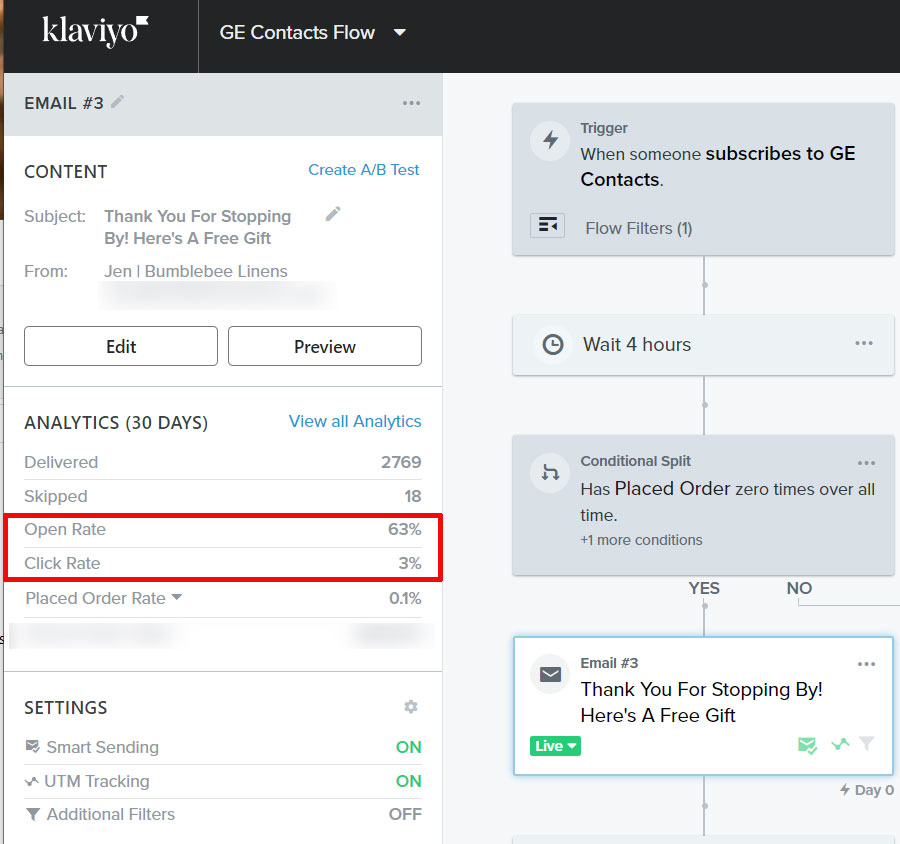 My open rate is 51% with a CTR of 12% for the first email of my warm up sequence for opted in subscribers. Meanwhile my first Retention.com warm up email has an open rate of 63% with a CTR of 3%.
Is Retention.com Legit?
Retention.com is a legitimate service that is used by 8 and 9 figure ecommerce stores including Dr.Squatch, Warby Parker, Tonal, BlendJet and more.
Retention.com will only return you emails from the visitors on your own website so it's safe to use. You only pay for the emails that you collect and you can cancel at any time.
How Much Does Retention.com Cost?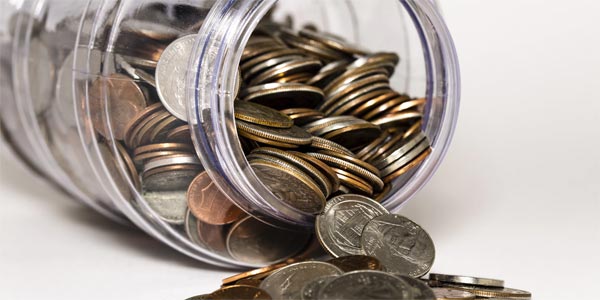 Retention.com costs approximately 25 cents per email depending on the volume of traffic your website receives. However, there is a minimum of $500/month to start.
In practice, the average cost per email is significantly less than 25 cents per email because you can negotiate a volume discount.
You only pay for the emails you receive and there's a 100% ROI money back guarantee.
What Percentage Of Visitors Will Retention.com Find Emails For?
Retention.com claims that it will find emails for roughly 35% of your traffic. However in practice, the numbers I'm getting are between 16-25%.
Because the rate of emails is highly dependent on your traffic, your mileage will vary.
How To Get Started With Retention.com
You can get started with Retention.com in 4 easy steps by installing your collection and suppression scripts, integrating Retention.com with your email marketing app, creating a warm up series and updating your privacy policy.
Step 1: Install The Retention.com Collection Script
Retention.com will provide you with 2 types of scripts to install.
The first script allows you to collect emails from the visitors on your site. You want to place this script on every page where you want emails collected.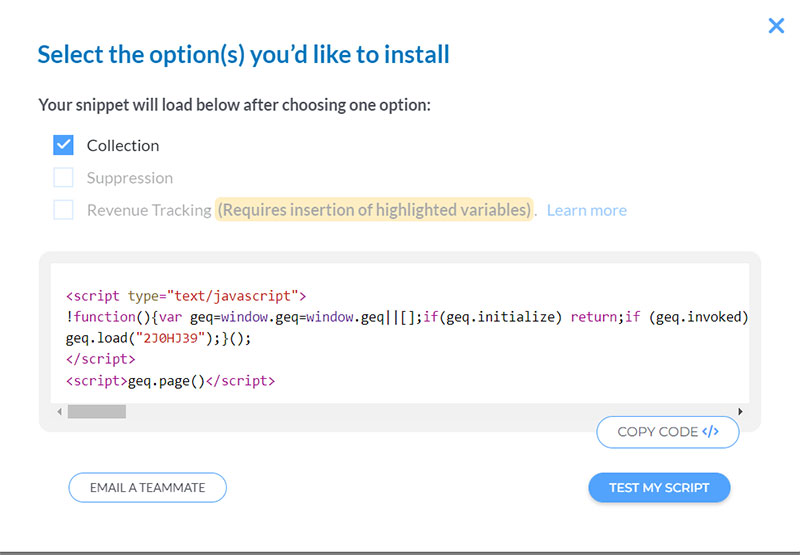 The second script is called the suppression script. This script prevents Retention.com from collecting emails that you would normally have collected otherwise. You want to place this script on your post-optin thank you page and your checkout success page.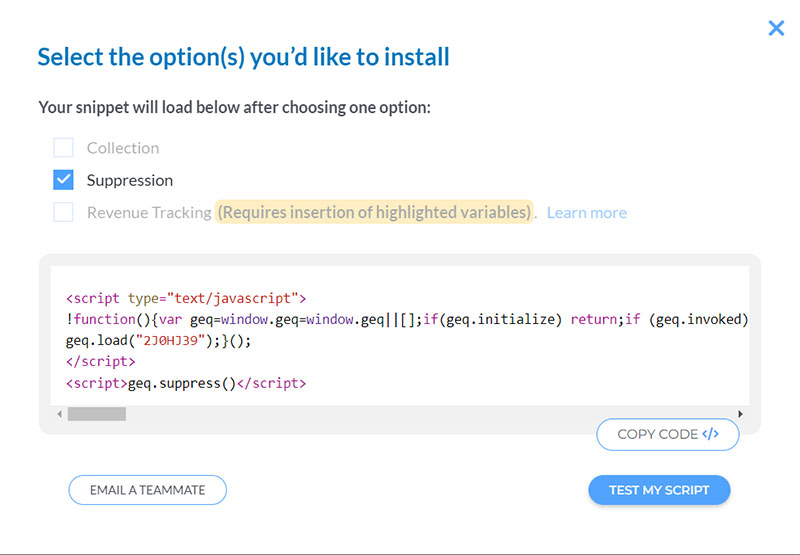 Step 2: Integrate Retention.com With Your Email Marketing Provider
Retention.com integrates with almost every email marketing provider in the ecommerce space. After you add your email marketing provider, make sure you create a separate segment for your Retention.com emails.
You'll want to keep track of the ROI for these emails in a separate place and measure the open rates, click through rates, spam rates etc…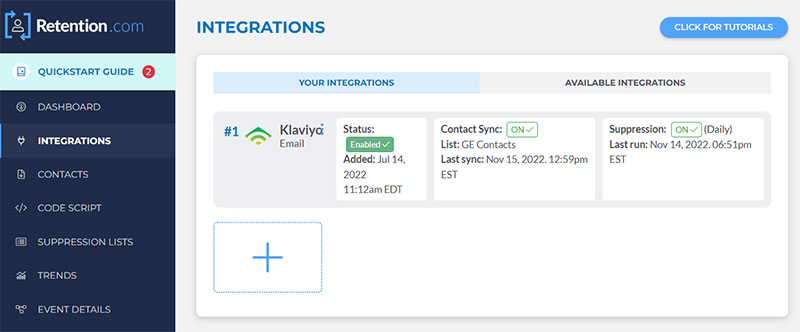 Step 3: Create An Autoresponder Sequence For Your Acquired Email Subs
Retention.com recommends that you create a warm up series that mimics your normal pre-purchase sequence.
The only difference is that you should change the first email to provide value or a freebie.
Here is the first email in my Retention.com warmup sequence.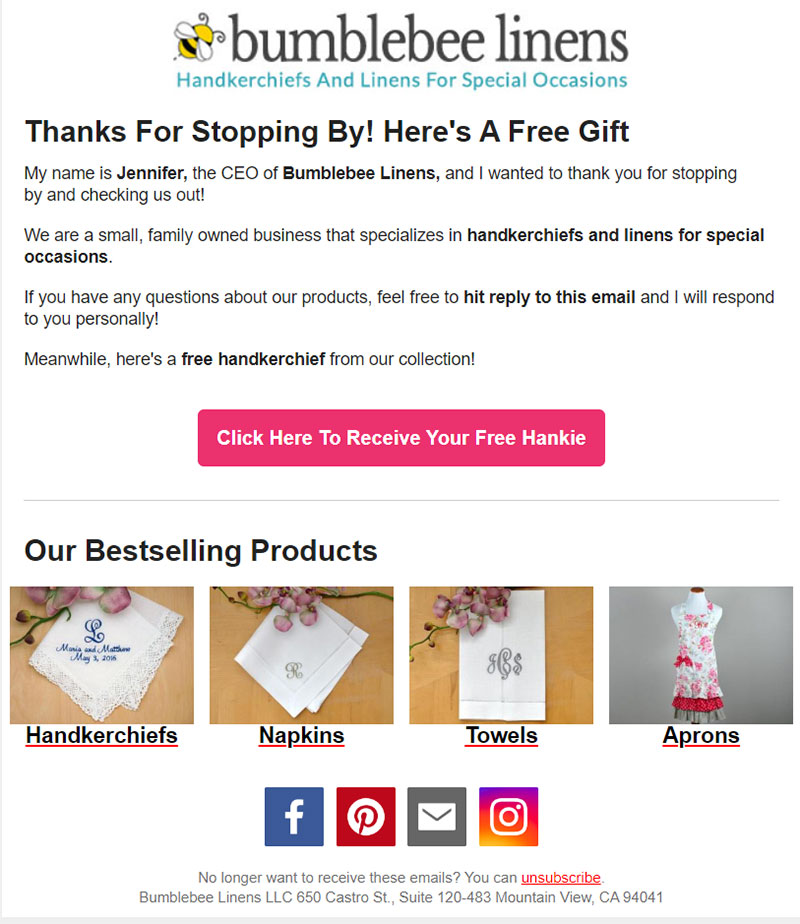 Step 4: Update Your Privacy Policy
Before you start collecting emails, you must update your privacy policy to let your visitors know that you are collecting emails behind the scenes.
Retention.com will provide you with the exact verbiage that is required that you can cut and paste into your existing privacy policy.
Retention.com Best Practices
Even though the emails from Retention.com are gathered from your visitors, you should exercise caution in both the collection and the email process.
Here are some best practices.
Automatically unsubscribe anyone who has not opened a single email after 3 emails have been sent.
Automatically unsubscribe anyone who has not clicked on an email after 10 emails have been sent.
Only collect emails from shoppers (and not content readers) on your site.
Monitor your spam rate to make sure it doesn't exceed .1%.
To be conservative, only add the Retention.com code to your shopping cart and product pages.
Overall, if you only collect emails from high purchase intent visitors, your spam rate will be low and you'll be ROI positive with the Retention.com service.
How To Avoid Double Paying For Emails
If a contact is already a part of your database, you don't want to pay Retention.com for the same email you've already collected.
To prevent duplication of email data, you MUST install the suppression script.
Here's what you need to do to avoid duplicate emails.
Once you've integrated with your email provider, make sure you sync your existing email list with Retention.com. You can optionally upload a .csv file. Contacts on this list will not be added.
Add the suppression script to your "Thank You" page after someone opts in to your email.
Add the suppression script to your post purchase page after someone makes a purchase.
Is Retention.com Profitable?
Because Retention.com is gathering emails from visitors who are interested in purchasing your products, you can expect to achieve between a 3-8X ROI.
After running Retention.com for 4 months, here's a snapshot of my numbers.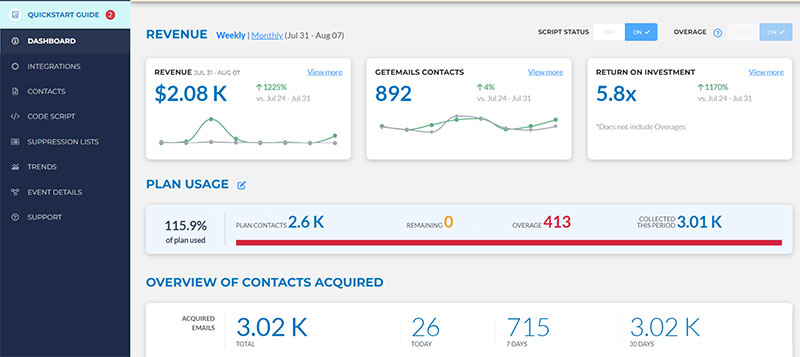 In an average month, I've been getting between a 3-6X ROI.
In practice, the ROI numbers on the Retention.com website are somewhat conservative. After an email is acquired, Retention.com will wait 48 hours before claiming revenue for a user.
If the user signs up for your email list on their own in the meantime, Retention.com does not recognize revenue for that user.
The best way to calculate ROI for Retention.com emails is to export a custom report with your email provider and calculate the ROI from acquired emails.
Is Retention.com Worth Using?
Retention.com is worth using if you run an ecommerce store that makes over 1 million in annual revenue and you have your email flows already in place.
Most people who hear about Retention.com are afraid of scaring away customers or negatively impacting their email deliverability rate. I had similar reservations.
However in practice, the emails gathered from Retention.com have a higher open and click rate than my opted in subscribers. As long as you unsubscribe non engaged users immediately and monitor your spam rate, using this service is highly profitable.
If you are wary of bothering customers with your emails, remember that the customers from Retention.com have high purchase intent. If you place this code on your shopping cart page only, it's similar to implementing an abandoned cart sequence.
Once you are comfortable with implementing the abandoned cart, you can experiment with Retention.com on a wider scale.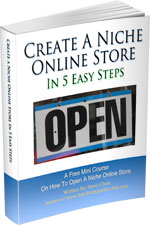 Ready To Get Serious About Starting An Online Business?
If you are really considering starting your own online business, then you have to check out my free mini course on How To Create A Niche Online Store In 5 Easy Steps.
In this 6 day mini course, I reveal the steps that my wife and I took to earn 100 thousand dollars in the span of just a year. Best of all, it's free and you'll receive weekly ecommerce tips and strategies!
Note: This post above may contain affiliate links, which means that I may receive a commission if you make a purchase when clicking a link. Please consult our privacy policy for more information.
Related Posts In Email Marketing
About Steve Chou

Steve Chou is a highly recognized influencer in the ecommerce space and has taught thousands of students how to effectively sell physical products online over at ProfitableOnlineStore.com. 

His blog, MyWifeQuitHerJob.com, has been featured in Forbes, Inc, The New York Times,  Entrepreneur and MSNBC.  

He's also a contributing author for BigCommerce, Klaviyo, ManyChat, Printful, Privy, CXL, Ecommerce Fuel, GlockApps, Privy, Social Media Examiner, Web Designer Depot, Sumo and other leading business publications.

In addition, he runs a popular ecommerce podcast, My Wife Quit Her Job, which is a top 25 marketing show on all of Apple Podcasts. 

To stay up to date with all of the latest ecommerce trends, Steve runs a 7 figure ecommerce store, BumblebeeLinens.com, with his wife and puts on an annual ecommerce conference called The Sellers Summit.  

Steve carries both a bachelors and a masters degree in electrical engineering from Stanford University. Despite majoring in electrical engineering, he spent a good portion of his graduate education studying entrepreneurship and the mechanics of running small businesses.