Chances are, you are searching for Mailchimp alternatives for one of the following reasons.
You had your Mailchimp account banned without any warning
You were a victim of Mailchimp's recent price increase
You have exceeded Mailchimp's free subscriber limit and realized that Mailchimp is expensive for what you get
I'm not going to lie. I'm not a huge fan of Mailchimp and I would never ever recommend their service to anyone. And if you know me at all, I'm rarely this passionate towards any company ever:)
Over the years, the quality of Mailchimp's service has continued to deteriorate despite significant price increases. It may be tempting, but you should not sign up for Mailchimp just because of their free 2000 subscriber plan.
The money you save from their "free" service will cost you a lot more money in the long run.
Here are 4 email marketing services that I've personally used that are way better than Mailchimp and cheaper too!
Get My Free Mini Course On How To Start A Successful Ecommerce Business
Email marketing is just one of many steps in starting a successful ecommerce business. So I put together a comprehensive package of resources that will help you launch your own online store from complete scratch. Be sure to grab it before you leave!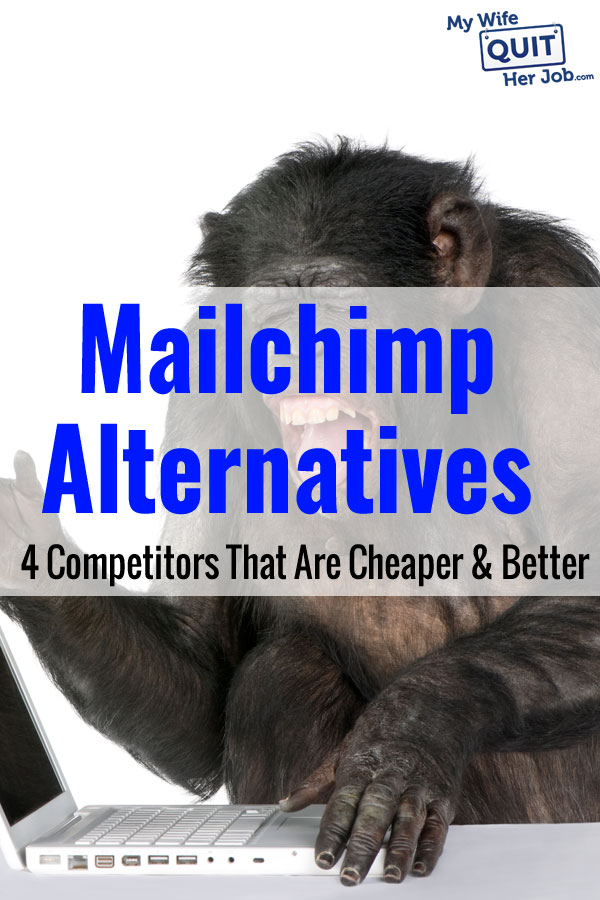 My Experience With Mailchimp

First off, Mailchimp and I have a long history. In fact, I used to be a paid Mailchimp customer for both my blog and my online store many years ago.
I was actually quite happy with them for about a year, until they unexpectedly banned my account without any warning.
Now you're probably wondering whether I was sending out spammy emails that warranted a suspension. But that was not the case.
For my blog newsletter, my open rates and spam metrics exceeded their guidelines and my engagement numbers were significantly above average.
It took a lot of back and forth with their "terse" email support team, but I finally discovered that they banned me because they classified my blog as a get rich quick scheme.
There was no warning and no phone number to call. My account was suspended permanently and there was no way to get it back.
The timing was horrible too. They banned me right before a major launch and I had to scramble to find another provider.
The same exact thing happened with my ecommerce store.
Right before the holiday season, they decided to ban my ecommerce store account during our busiest time of year!
For my ecommerce store, I accidentally sent a single email that exceeded their spam limit of .1% which triggered their ban algorithm.
Once again, there was no warning and no human person to talk to. The suspension was swift and final.
Why Mailchimp Sucks
Can you imagine running your business in constant fear of getting banned? Can you imagine not being able to get ahold of a human when something is broken?
Putting my differences aside and looking at Mailchimp through an objective lens, I can wholeheartedly say that their service does not stack up to other Mailchimp alternatives for the following reasons.
Mailchimp Only Offers Email Support
You can't run any mission critical business without great customer support. Mailchimp only offers email support unless you are on their highest tier plan.
And most of the replies that you'll get via email are canned responses from their customer support reps.
Because email is so important, your email provider should have a customer service phone number or live chat option to communicate with an actual human. Don't settle for anything less.
Mailchimp Does Not Allow Affiliate Marketing
If you run a blog, chances are that affiliate marketing will be one of your main monetization methods. But if you read the Mailchimp terms of service, they explicitly state that affiliate marketing is prohibited.
Affiliate marketers are generating business for someone else, so there's no real obligation to maintain relationships with contacts they may have in Mailchimp. This isn't the type of marketing Mailchimp is meant for.
As a result, if you send affiliate links in your emails, you risk getting banned.
Mailchimp Is Quick To Ban Users
My story of getting banned by Mailchimp is not an isolated case. If you look online, thousands of people have been banned in similar fashion.
You can not complain. You can not speak with a human. There is no warning and your account is permanently gone.
Now imagine trying to run a business knowing that you could get the ax at any time. It's nerve racking!
Mailchimp Charges For Unsubscribes
When a user unsubscribes from your email list, common sense says that you should not have to pay for a user that you can no longer send email to.
But Mailchimp actually charges for unsubscribes! If you do not wish to double pay for your subscribers, you have to manually remove people who have opted out of your list.
Mailchimp Double Charges For Subscribers Across Audiences
Mailchimp allows you to organize your email subscribers by categorizing them into "audiences". For example, you can have one audience of people who are interested in selling online and another audience for people who are interested in blogging.
However, if you have a user who is subscribed to both audiences, then you get double charged.
Most modern email marketing providers only charge you based on the number of subscribers which can be tagged with multiple interests. There is no logical reason why you should be double charged for the same subscriber.
Mailchimp Is Expensive
Most people sign up for Mailchimp because of their free plan. And in the process of using their free features, you end up entrenching yourself with their service.
In fact, it's a major pain in the butt to migrate email marketing providers and that is how Mailchimp makes their money. By the time you exceed Mailchimp's free plan, you are stuck with a tough decision.
Do you pay Mailchimp's high prices or do you bite the bullet and migrate? The right answer is to migrate. Even better, you should not sign up for their free plan in the first place.
Mailchimp Alternatives That I've Personally Used To Run My Business
The following email providers are excellent Mailchimp alternatives that I've personally used over the years to run my 7 figure blog. Every service described below has their pros and cons, but they are ALL better than Mailchimp hands down.
Also, don't be fooled by Mailchimp's pricing plans. While Mailchimp may seem inexpensive at first, when you peel back the onion, you'll quickly realize that their service is overpriced for what you get.
Mailchimp Alternative #1: Drip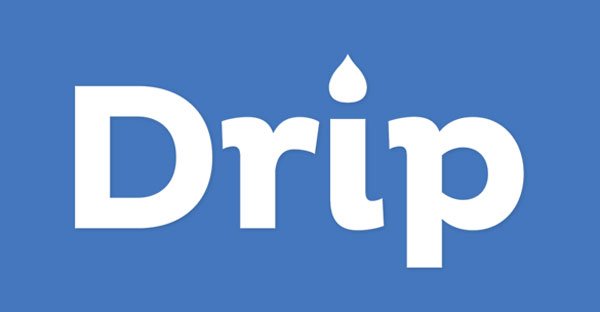 The best email marketing provider out there right now for blogging is Drip and it's the provider that I personally use for MyWifeQuitHerJob.com.
Here are the prominent features of Drip that set it apart from every other email service. The only disadvantage of Drip is that their service is expensive.
But if email generates 90% of your revenues like MyWifeQuitHerJob.com, then it's worth the cost.
Drip Offers A Lead Score
One of the most challenging aspects of email marketing is figuring out how to segment your list. Which subscribers are the most engaged? Which subscribers are superfans of your blog? Which visitors are most likely to buy?
Most providers allow you to track which subscribers have opened or clicked on your emails, but Drip takes this one step further and assigns a "lead score" to every subscriber.
Basically, a lead score is a numerical value given to a person that measures their activity.
Points are added every time a user opens or clicks an email. Points are also added when a user visits your website.
In fact, you can assign point values for practically every action taken on your website.
Meanwhile, points are subtracted at a steady rate whenever a subscriber is inactive.
The lead score is extremely valuable because you can instantly create a segment of your best customers and send them special promotions that are likely to convert.
Drip Offers Automated Workflows
Managing your email list can be completely automated thanks to Drip's built in workflows.
For example, I set up a workflow in Drip that automatically removes idle subscribers to save me money.
Here's how it works
Any subscriber with a lead score of 0 and hasn't opened an email in 6 months is automatically placed on a winback autoresponder sequence.
Subscribers who open or click on any email on the winback sequence are automatically preserved
Subscribers who do not interact with any email in the winback sequence are permanently removed.
This workflow automatically prunes the inactive subscribers from my list without me having to lift a finger!
Drip Offers Advanced Tagging
Instead of organizing your subscribers by audiences with Mailchimp, Drip allows you to tag every subscriber with what they are interested in.
There is no double counting of subscribers and you are never charged twice for the same person.
Drip probably has the most advanced tagging and segmentation engine of any provider and every user can have multiple tags.
In addition, email segments can either be created on the fly or after the fact based on any parameter that you can think of.
For example, I can easily create a custom segment of everyone who read my last blog post with a lead score greater than 30 who is taking my free mini course. It's extremely powerful!
Go With Drip If…
You need the most advanced tagging and segmentation features
You want the lead score feature
You want to save time by implementing automations with your list
You are willing to pay more money for the best service out there
Mailchimp Alternative #2: ConvertKit

ConvertKit is the email marketing solution that I'm recommending in my blogging course because it provides a balance of features at a reasonably low price.
ConvertKit is built for bloggers and is a great Mailchimp alternative because they are slightly cheaper than Mailchimp with a superior feature set.
ConvertKit Has A Great User Interface
The best part about ConvertKit is that it's easy to use and the user interface is clean and intuitive. If you are tech averse and want the easiest to use email solution out there, then ConvertKit is your best bet.
Because ConvertKit doesn't have as many features as Drip, the menus are much simpler and easier to digest.
ConvertKit Offers Advanced Tagging
Similar to Drip, ConvertKit allows you to tag every subscriber with multiple interests instead of getting double charged for subscribers with MailChimp.
One crucial feature of ConvertKit is the ability to automatically tag a user based on what link they clicked within an email. Both Drip and ConvertKit have this feature. Mailchimp does not.
ConvertKit Is Cheaper Than Mailchimp
ConvertKit offers more functionality than Mailchimp at a lower price point which makes it a no brainer to switch. The real question to ask yourself is whether the advanced features of Drip are worth the additional cost.
Go With ConvertKit If…
You value a simple and clean user interface
You require "click to tag" segmentation for your list
You only need basic segmentation features
You don't need a "lead score" or advanced automations
You are on a budget
Mailchimp Alternative #3: AWeber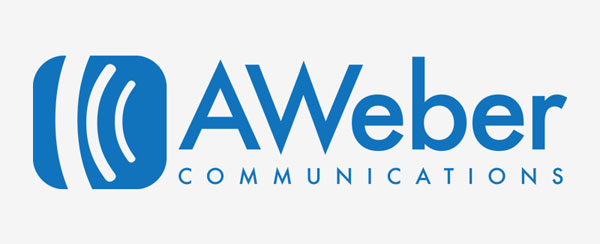 Aweber is the old school email marketing provider that used to completely dominate the blogging market before entrants like Drip and ConvertKit emerged.
At this point, the only reason that Aweber is on this list is because it's easily the cheapest provider of the bunch.
However, the main problem with Aweber is that they haven't innovated in a while and their user interface is a little clunky.
In fact, the service is almost identical to 5 years ago when I first started using their platform.
Don't get me wrong.
Aweber has added a number of new features over the years like subscriber tagging and segmentation. But every new feature feels like it's bolted on rather than designed from scratch.
Go With Aweber if…
You don't mind a somewhat clunky user interface
You want a solid email platform that supports basic autoresponders
You run a simple list that doesn't require complicated segmentation or automations
You are on a budget
Mailchimp Alternative #4: Constant Contact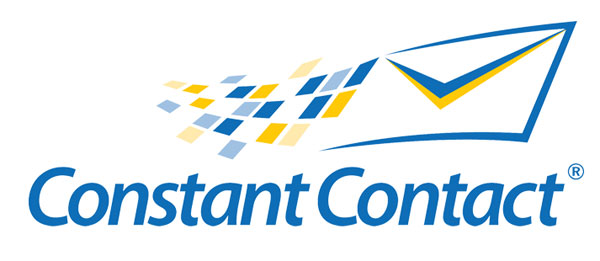 Constant Contact is another email marketing provider that I recently evaluated for my blogging course. And even though I have not actively used this provider for my blog, I was attracted to this service for its email builder.
One of the biggest disadvantages to Drip, ConvertKit and Aweber is that their email builder is not that good if you want to create sales emails with lots of images and layouts.
For my blog, I primarily use text based emails so having a good email builder was never a consideration.
But Constant Contact offers an easy to use "Drag and Drop" email composer that allows you to easily craft visually stunning emails. In addition, you can quickly create surveys and polls which are built-in to the platform.
As a result, if an intuitive graphical email builder is important to you, then you may want to consider Constant Contact.
In terms of pricing, Constant Contact sits squarely between ConvertKit and Drip. And while it offers basic tagging and segmentation, it doesn't come close to Drip's feature set.
Go With Constant Contact If…
You want to create graphically rich emails
You want a solid email platform that supports basic tagging and segmentation
You want to create surveys and polls
Why Most MailChimp Alternatives Are Better
Features aside, all of the 4 email marketing solutions mentioned above are superior to Mailchimp because…
They offer phone, email and chat support – You can actually speak with a human when you have problems with your account
They won't ban you without warning – Most of the providers above will warn you ahead of time if your emails are exceeding their spam thresholds instead of just cancelling your account.
They allow affiliate marketing – You can email your customers about whatever you would like without restrictions
The tone of this post probably comes across as anti-Mailchimp.
But I've been doing email marketing for over a decade and I'm tired of people signing up for Mailchimp only because of their free plan.
If cost is your primary concern, then read my post on Mailchimp Pricing.
Once you look closely at their different plans, you'll soon realize that Mailchimp offers far less features at an inflated price.
Out of all the options presented in this post, here's an executive summary.
Good luck!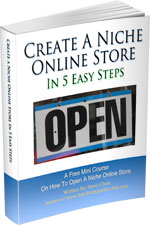 Ready To Get Serious About Starting An Online Business?
If you are really considering starting your own online business, then you have to check out my free mini course on How To Create A Niche Online Store In 5 Easy Steps.
In this 6 day mini course, I reveal the steps that my wife and I took to earn 100 thousand dollars in the span of just a year. Best of all, it's free and you'll receive weekly ecommerce tips and strategies!
Note: This post above may contain affiliate links, which means that I may receive a commission if you make a purchase when clicking a link. Please consult our privacy policy for more information.
Similar Posts
Have you read these?