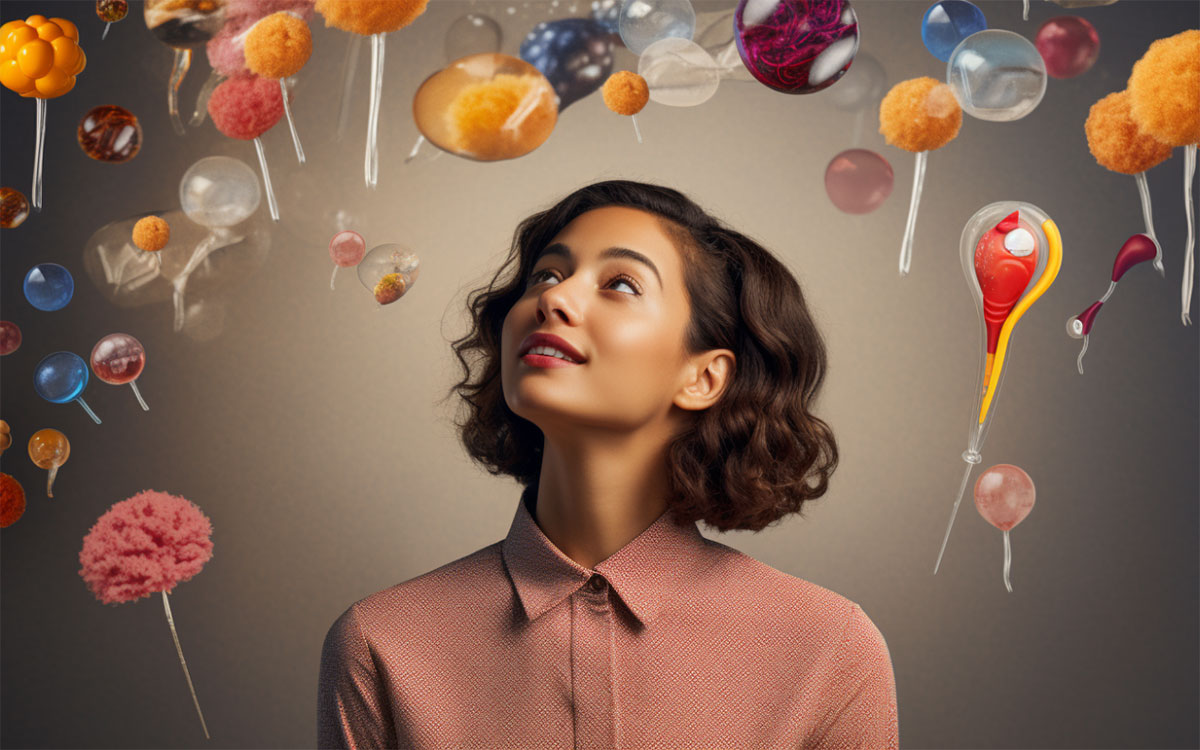 In this post, you'll learn a methodical approach to finding the best, most profitable products to sell online.
Identifying potential bestsellers isn't just about following trends, but involves a complex process of research, evaluation, and an understanding of your target market.
This post will guide you through real methods that I use every single day for product research that are based on real sales data and a specialized set of tools.
Get My Free Mini Course On How To Start A Successful Ecommerce Store
Are you interested in creating a strong, defensible brand for your products? If so, I put together a comprehensive package of resources that will help you launch your own online store from complete scratch. Be sure to grab it before you leave!
How To Find Products To Sell Using Amazon Sales Data

To find products to sell online using Amazon sales data, look for the following:
Best Sellers Rank (BSR): Top 1–3% products in a category
Sales Volume: 300+ units/month
Reviews: Less than 500
Price: $20–$50 range
Amazon has become the standard for online shopping in the United States with the greatest ecommerce marketshare of any individual company.
As a result, sales data derived from Amazon is a great representation of overall demand. In fact, more and more people are going straight to Amazon for ALL of their online shopping needs while bypassing Google and smaller online boutiques altogether.
Now at first glance, it's not obvious that you can derive actual sales numbers from Amazon but I'll show you how below.
Did you know that every item sold on Amazon is assigned a BSR or best sellers rank?
This number is used by Amazon to rank how well a product is selling compared to others within the same category.
Here's an example of a BSR rating for silicon baking mats on Amazon.

Based on the BSR, you can make an educated guess on how many units are sold per day.
Here's a BSR to sales chart provided by my buddy Greg Mercer if you want to do your own Amazon sales analysis.
Using the silicone baking mat example above, a BSR of 7228 corresponds to about 10 sales per day.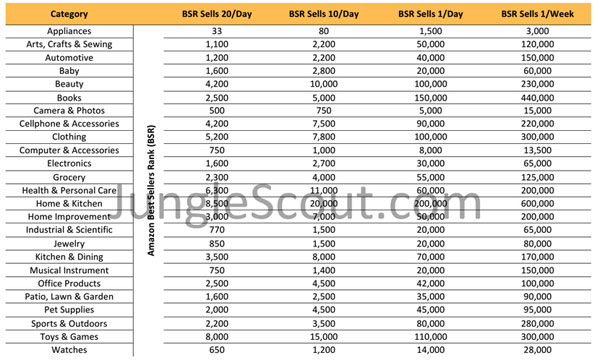 In short, you can browse Amazon for product ideas and know roughly how well a product is selling by looking at the BSR. And through some persistence and hard work, you can find the best products to sell on Amazon.
Amazon Product Research Tool – JungleScout

Using the method above to gauge demand works fine but it's extremely tedious which is why I like to use a tool called Jungle Scout to help with the research.
Jungle Scout greatly speeds up the process by nicely collating all of the products on Amazon into a nice table for consumption. In addition, it can also point out specific products on Amazon that match your criteria.
For example, I can have Jungle Scout return me all products under the Kitchen & Dining category that make at least $5000/month with less than 100 reviews. This is extremely powerful!
Below is a 5 minute video demo on how I use Jungle Scout to do product research. If you want to follow along with the video step by step, then download the tool at a discounted price.
Editor's Note: There are 2 JungleScout tools mentioned in the video
Check out the 4 minute video below

Amazon Product Research Tool – Viral Launch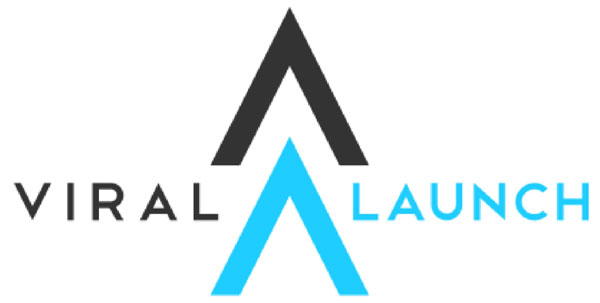 In addition to JungleScout, I also use an Amazon keyword research tool made by Viral Launch to help me find keywords for products that people are searching for on Amazon.
After all, if people aren't looking for the product that you want to sell on Amazon, then you won't make any sales.
What's powerful about the Viral Launch keyword tool is that it finds and collates keywords for you that have high search volume and low competition.
By assigning a star rating for every keyword, you can instantly know which keywords (and products) have high demand and low competition.
The upshot is that Viral Launch allows you to quickly find great products even if you have no idea what to sell!
Below is a 5 minute video demo on how I use Viral Launch to do product research. If you want to follow along with the video step by step, then download the tool at a discounted price.
Click Here To Save 15% Lifetime On The Viral Launch Keyword Tool
Additional Guidelines For A Good Product To Sell On Amazon
As you scan through all of the products on Amazon using Jungle Scout, here are some "Amazon specific" product criteria to keep in mind.
Does The Overall Market Have Sufficient Demand?
Even if you can find a single product on Amazon that sells reasonably well, it's important to gauge the size of the overall market for demand.
And the best way to verify demand is to look at the monthly sales estimates for similar products on the front page of Amazon for your product keywords.
Personally, I like to see at least 1500 sales per month across all of the sellers on the front page after eliminating the unrelated products.
Is The Product Too Competitive?
On Amazon, the overall strength of a product listing can be approximated by the number of reviews it has amassed.
In general, I like to see the average review count for the listings on the front page of Amazon for your product keywords to be under 100 reviews.
Can You Add Value?
Years ago, you could throw up any product on Amazon and it would sell. But today, you need to think about how you can add value to the existing market by making a better mouse trap.
As a result, I always take a deeper dive into the competition to see if I can sell a product that has superior benefits to what is already out there.
Let's say that I wanted to sell yoga mats online. Because yoga mats is a competitive market, I might want to differentiate my product by offering a special 6 inch thick mat that no one else is selling.
Is There An Even Distribution Of Sales Among Sellers?
As I'm looking at the competitors on Amazon using Jungle Scout, what I don't want to see are 1 or 2 sellers completely dominating the market.
A dominant seller usually means that the product has a strong brand that is driving sales which makes it much more difficult for you to break into the market.
Are Your Margins High Enough?
Ultimately the goal of selling products online is to make a profit. So you need to look at the average selling price and make sure that you can source the product at a sufficient margin.
In general, I shy away from any product that does not sell for at least $20. And the cheapest place to source products online is generally from Asia.
Click Here To Checkout My Ultimate Guide To Sourcing Products From China
Is Your Product Niche Enough?
The best products can not be readily purchased at a brick and mortar store. As a result, try to pick a product that is more obscure and not mainstream.
For example, my online store sells handkerchiefs online which generally can't be found in most stores.
How To Find Products To Sell Using EBay Sales Data

You can find products to sell online using Ebay sales data by searching for high-demand goods on the platform. It's possible to create your own online store around these items. You can potentially make a lot of sales and not have to pay EBay's high final value fees.
To brainstorm products on EBay, simply type in a product on EBay's search bar.

Then look for the "Sold Listings" link in the sidebar and click on the check box.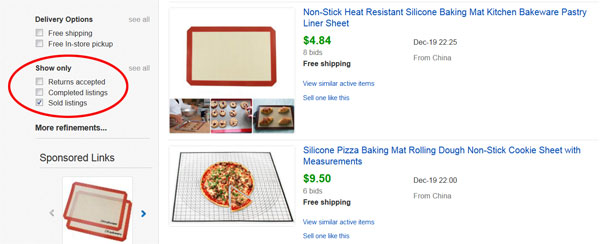 Voila! EBay will now display a listing of products that have sold in the product category of your choice along with the final selling price. With this information, you should be able to get a good idea of the demand and selling price of a wide variety of products.
Now using the method above to gauge demand works fine but it's extremely tedious which is why I like to use a tool called Terapeak to help with the research.
Terapeak is a tool that scrapes all of the EBay listings and collates the data for you in an organized fashion.
With a few clicks of the mouse, Terapeak can tell me the hottest selling products on EBay and exactly how much revenue it generated last month.
More importantly, Terapeak also tells me exactly what percentage of auctions for a specific item resulted in a sale which provides crucial data on the demand for a product.
How To Find Products To Sell Using Google Keyword Planner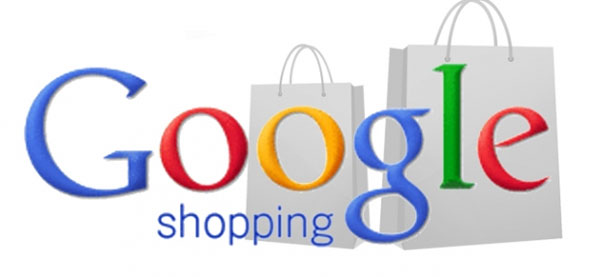 To find products to sell online using Google Keyword Planner:
Access Google Ads and open Keyword Planner.
Select "Discover new keywords".
Enter product-related keywords and phrases.
Analyze search volume, competition, and trends.
Choose high-search, low-competition keywords for optimal product niches.
By looking at the exact keywords that people are typing in, you can get a good idea of what products are in demand and how much revenue you can generate.
However, interpreting the search results can be a little tricky.
For one thing, you need to only look at keywords that are product focused.
For example, the keyword "outdoor gardening tips" would not be a good keyword to focus on because people are likely looking for information despite the high search volume. A much better keyword to target would be something more specific like "plastic compost bin".
The other thing you must consider is the competition for that keyword and how hard it is to rank for in search which is information that is NOT provided by Google's Keyword Planner.
To analyze product demand and competition in search, I like to use a tool called Long Tail Pro.
Like the other tools I've mentioned in this post, Long Tail Pro is a tool that nicely collates the Google search results and tells you how much competition and search volume a keyword has in Google.
Below is a quick 5 minute demo of how I use Long Tail Pro to find keywords with high search volume that are easy to rank for in search.
Overall, I like to see the search volume per month for a keyword of at least 1500-3000 with a keyword competitiveness of 35 or less.
Click Here To Try Long Tail Pro For Free And Follow The Tutorial
Check out the 4 minute video below

Additional Guidelines For A Good Product To Sell On Your Own Website
The key thing to realize when using Google search data is that not everyone who performs a search is looking to buy.
In fact, most of the searches conducted on Google are for information. As a result when I do keyword research, I also perform these additional checks.
First off, I make sure that most of the listings that come up for a given keyword are for commercial use. If I see a bunch of blogs and informational sites on the front page, then that's generally a bad sign.
I also take a deep dive into the other websites on the front page to see if I can build a better looking and more usable website.
Remember, the success of your business not only depends on whether you can get traffic but whether you can stand out among the competition as well.
How To Find Trending Products With Google Trends
To find trending products with Google Trends:
Visit trends.google.com
Enter a product keyword in the search bar
Set the time range to 'Past 30 days'
Analyze the Interest Over Time graph
Check 'Related Queries' for popular search terms
Explore high-rising terms to identify trends
You can find trending products with Google Trends by analyzing search volume on specific terms. The platform has a search feature that shows you the popular keyword phrases being searched for over a given period.
It can be helpful in finding trending products that match your target audience.
For example, let's say you want to sell pickle ball equipment. By typing the word "Pickle Ball" into Google Trends, Google will tell you how often "pickle ball" has been searched for in the past year.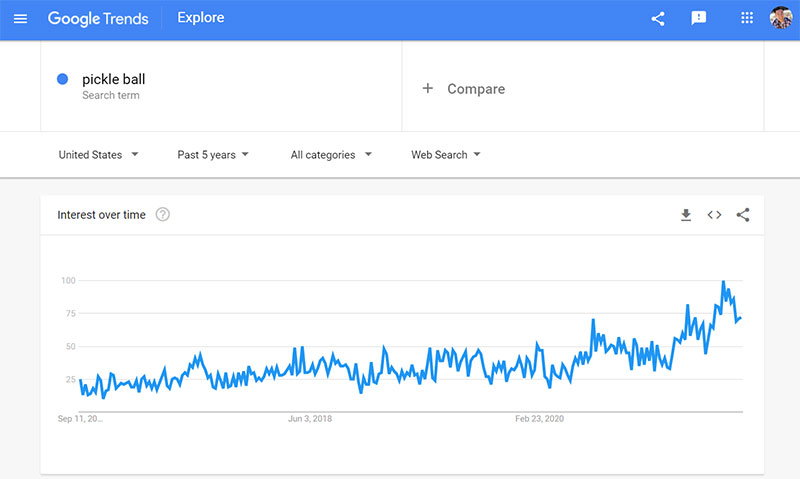 As you can see in the graph above, pickle ball has been gaining in popularity for the past 5 years!
In terms of product ideas, Google Trends will also show you a list of related search queries so you can finding trending products that match your target audience.

According to Google, many people are searching for pickleball paddles and pickle ball courts. As a result, you may want to sell pickle ball paddles online.
Google Trends data can also be useful for finding trending products that may be seasonal. For example, if you sell ski equipment, Google trends will tell you when your target audience of skiers typically searches for ski equipment online.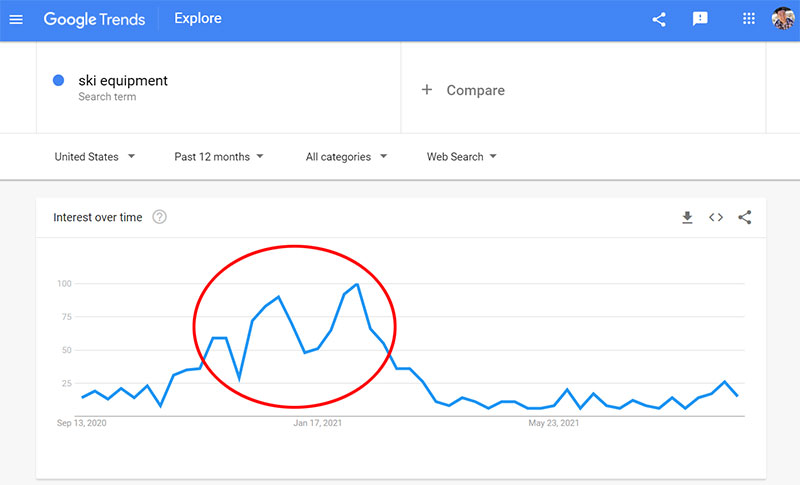 Google Trends will also tell you what NOT to sell online. Weighted hula hoops was a popular and trending product back in February of 2020 but it has since fallen off a cliff!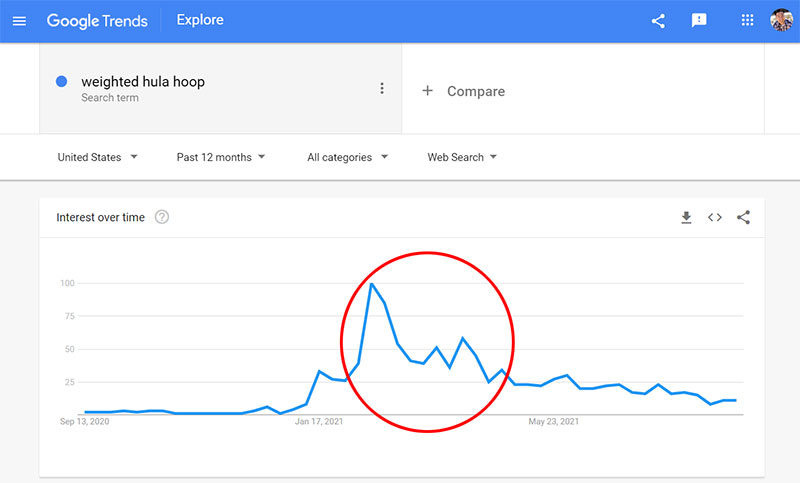 Overall, Google Trends is an excellent companion tool for finding trending products online and analyzing the purchase patterns of your target audience.
How To Find Products To Sell Using The Comparison Shopping Engines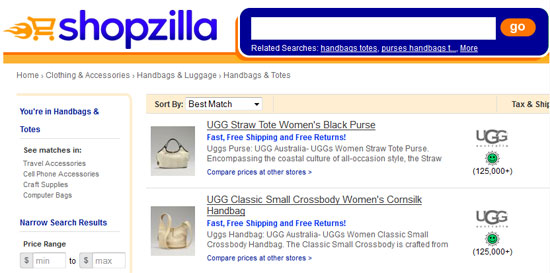 Some of the more popular shopping comparison engines include Google Shopping, Shopzilla, Shopping.com etc… For the purposes of demonstration, I'm going to show you how you can use the popular comparison shopping engine Shopzilla, to further your niche research.
On the Shopzilla.com website, there are 2 main places to begin your research.
First off, you can discover trending products by clicking on the "Trending Now" link.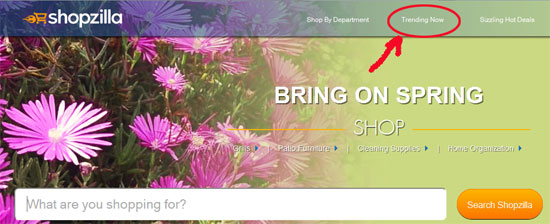 Here, the Shopzilla shopping engine will show you all of the popular items that are currently selling now!
In addition to trending items, you can also find out which product categories and items are being actively searched for by clicking on the "Shopzilla Top Searches" link in the footer of the Shopzilla.com website as shown below.

From here, you can choose a product category and Shopzilla will tell you which items are being sought after the most!
Editor's Note: Are you enjoying this post so far? If you are interested in starting your own ecommerce business, then sign up for my FREE 6 day mini course below!
Click Here To Sign Up For My Free 6 Day Mini Course On How To Start A Profitable Online Store
How To Find Products To Sell Using Pinterest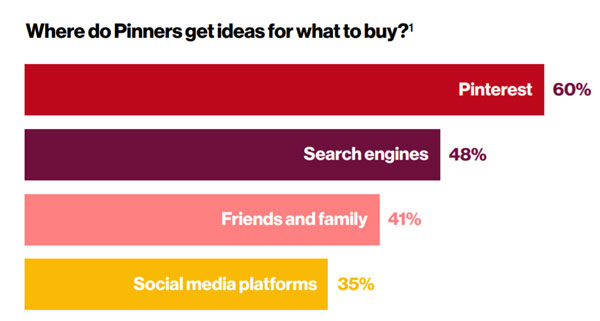 You can find products to sell using Pinterest by making broad searches and identifying pins that have high repins.
Did you know that 90% of people who are on Pinterest use the platform to make purchasing decisions? 90%!
Here are some other eye opening statistics about the platform
Pinterest drives 33% more traffic to ecommerce stores than Facebook
72% of people say Pinterest inspires them to shop when they aren't even looking for anything to buy
70% of people use Pinterest as a discovery engine for new products.
66% of people buy something after seeing a brand's pins
41% of people who shop in-store use Pinterest while shopping
59% of people use Pinterest to find more information about their purchases
Even though people find products to buy on Pinterest through keyword searches, the way people search on Pinterest is drastically different than on a typical search engine like Google.
When people shop on Pinterest, they are not usually looking for a specific product. Instead, they are looking for solutions to their problems.
For example, a typical Pinterest user would not look for a dresser for their child's bedroom. Instead, they would look for "How To Decorate A Nursery" or "How To Decorate A Little Boy's Bedroom".
As a result, when you brainstorm for products using Pinterest, you want to perform bigger picture searches like "Wedding Gift Ideas" or "Unique Gift Ideas For Men".
What's cool is that Pinterest gives you a guided search bar to help you refine your search ideas.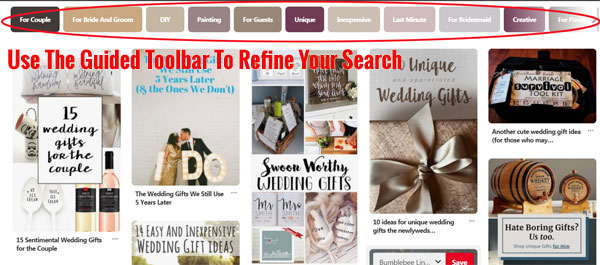 With the guided search bar, you'll find articles and products ideas directly from your Pinterest feed. And in general, the pins with the most repins will tend to contain popular products that you can sell!
What Should I Look For In A Product To Sell?
Here are some of my "must have" product guidelines when choosing what to sell.
The product should not be fragile and easy to ship – Because we are going to be shipping products through the mail, you can avoid most headaches if you choose a product to sell that won't break during shipment.
The product should not take up much physical space – Certain ecommerce business models require carrying inventory so it's in your best interests to choose something small to sell and preferably an item that fits in a shoebox.
The product's inherent value should be ambiguous – For example, I would never sell electronics because there is a set value for your goods that everyone is aware of. On the contrary, keepsakes and informational goods are much harder to place a price tag on.
The product should be timeless – Once again, I would never sell electronics because they lose value the longer they stay on the shelves
Avoid seasonal goods – In general, you don't want to choose products that are only purchased during a specific time of year. For example, I would tend to avoid selling Halloween costumes.
Sell goods that sell from $15-200 – This is the sweet spot for pricing for online purchases.
The following product guidelines are "nice to have" when choosing what to sell so you might want to ask yourself the following questions…
Have you chosen a niche with related products you can expand into? – While we primarily sell handkerchiefs in our online store, we've branded our online business as a linens store so we can easily expand to any target market.
Do your products lend themselves to customers ordering more than one? – When we sell handkerchiefs to a bride, we rarely sell 1. Instead a typical bride will buy at least 4 and sometimes as many as 10.
Can your products be personalized? – The margins for personalized products are always going to be higher than regular products. So if you can offer customized goods, you can charge more for them.
Are your products consumable? – What's nice about consumables is that your repeat customer rate will be high. As a result, your sales will tend to be more stable.
Does your niche have a fan base? – I like to choose products that have dedicated blogs or fan pages because you have an instant set of customers to market to.
Do your products lend itself to content creation? – When you own your own online business, search engine optimization will be an excellent source of traffic to your ecommerce store. As a result, the more content you can put out, the more likely you will rank.
Do your products have lots of accessories? – Many online stores make most of their margins on the accessories they sell. So it's in your best interests to offer goods that are conducive to upsells and cross sells.
The 3 Types Of Products You Can Sell Online
The 3 types of products you can sell online are candy-like, vitamin-like and painkiller-like products. Let me expand more on these below.
Is Your Product Like A Candy?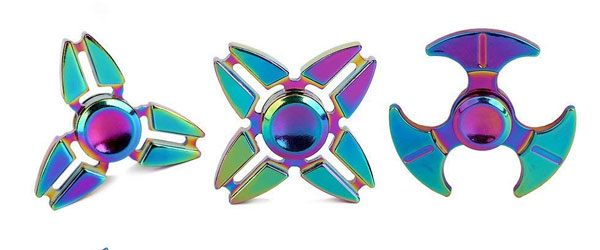 A "candy-like" product is a product that doesn't really solve any problems or offer any inherent benefits but it's a nice-to-have.
People enjoy buying them because they bring immediate pleasure and they can be super profitable if they become trending products.
For example, fidget spinners were a popular "candy" and they sold hundreds of millions of units worldwide in a short period of time but sales eventually fell off a cliff.
The problem with selling trending products is that when they go out of style, sales plummet. You want to ride the wave while it lasts but you can't expect long term gains.
Is Your Product Like A Vitamin?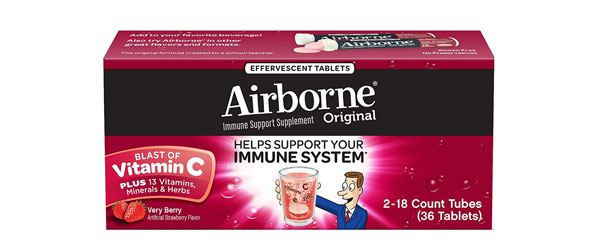 A "vitamin-like" product is a product that has long term positives and solves an emotional need but it's very difficult to quantify the benefits.
For example, I take Airborne when I'm sick but I have absolutely no idea whether it actually does anything. But it does make me believe that I'm fighting my illness so I continue to buy it.
The most successful "vitamin-like" products become a habit (like Airborne) and create a psychological need.
Is Your Product A Painkiller?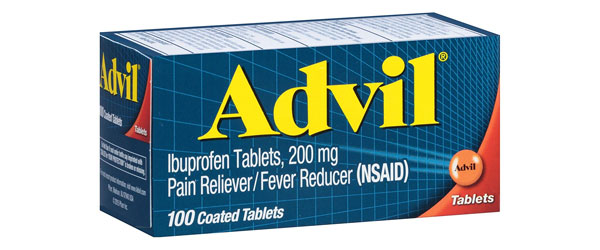 Painkillers solve an immediate need and are the best types of products to sell online.
One of the students in my Create A Profitable Online Store Course, Abby, makes millions every year selling special insoles for women's high heeled shoes.
Now I'm a guy so I have no idea what it's like to wear high heels but apparently, it's extremely uncomfortable to wear them all day because her products sell like hotcakes to her target audience.
Women all over the world have foot pain and her insoles solve an immediate need.
Here's a podcast where I interviewed Abby.
I also have a friend, Kevin, who sells a laser hair growth product for men and he makes tens of millions of dollars every year.
Now this product I can relate to because I'm in his target audience. Because I'm starting to lose my hair, I'm willing to spend money on products to get it back.
Here's a podcast interview I conducted with Kevin about his product
Bottom line, the holy grail of ecommerce is to sell a product that solves an immediate problem for your target market.
But most likely, you'll find a product that lies somewhere in between a vitamin and a painkiller and that's perfectly fine!
You can make money no matter what type of product you choose if you execute properly!
How To Source Products And Find Vendors

You can source products and find vendors by asking and answering the following questions:
Do you want to deal with only domestic (United States) vendors?
Dealing with vendors in the US (or in your home country) is much easier because everything is familiar to you. It is much easier to contact your vendors because they are in a similar time zone and they speak the same language.
However, because the manufacturing costs are much higher in the US, you will end up paying more money for your products which will negatively affect your profit margins.
The main advantage is that shipping arrangements can be easily made and it's generally easier to obtain the products you want to sell.
For more information on how to find US suppliers, read my post on 4 Ways To Find USA Wholesale Suppliers And Avoid Paying Tariffs
Do you want the absolute lowest cost for your products?
If you want the absolute best deal for your products, then you might want to consider looking in Asia to source your items. These days, you'll find that most things are made and sourced from Asia.
Why? It's because they offer the best prices. However, it can be a major hassle to import items into your home country. If you do manage to get the process down however, the profit margins are unbeatable.
If you want to learn more about sourcing your products from overseas, you may want to read the following articles.
Do You Want To Carry Inventory Or Dropship?

Dropshipping is a type of online store where you are only responsible for taking orders and handling customer service. Once an order is placed on your website, your vendor handles the shipping and delivery of product to the end customer.
Dropshipping's main advantage is that you don't have to carry inventory, but you are still responsible for making sure that your customer is happy and satisfied with the purchase.
As a result, you have to make sure that the vendors you choose are absolutely reliable. If you choose to drop ship, handling returns can be a major hassle.
Even worse, you'll sometimes have to deal with irate customers even though you were not at fault. Deciding to drop ship also limits your choice of vendors and your margins are significantly worse.
If dropshipping is a business model that you would like to pursue, the best way to find dropship vendors is to use a service called WorldWide Brands.
In a nutshell WorldWide Brands provides you with a list of pre-verified drop-ship wholesalers, light bulk wholesalers (orders under $500), high volume wholesalers, liquidation wholesalers and import wholesalers.
And they have a strict screening process to make sure that you are dealing with legit companies.
Click Here To Get 10% Off Of A Worldwide Brands Membership
From experience, it can be difficult to locate wholesale vendors that are willing to dropship by doing random web searches. So why waste your time when there are many services out there that aggregate the data for you already?
Keep in mind though, that services like Worldwide Brands won't do the heavy lifting for you. You still have to take the time to contact each and every vendor and create your own business relationships. Finding good vendors and establishing trust is the key to good product sourcing.
How Do I Find My Vendors?

The best way to find vendors is to attend wholesale tradeshows. For example, if you are interested in importing products from China to start selling online, you can check out the China Import And Export Fair Website.
Here's a post that I wrote specifically about the Canton Fair
Here's a podcast that I recorded about my last trip to the Canton Fair
If you are interested in wholesale fairs in the US, you can check out various tradeshow websites such as Wholesale Central.
Going to tradeshows is ideal because…
All of the vendors are aggregated in one location. You can set up appointments to meet multiple vendors in a single day
They will have samples of their merchandise available for you to see. This is especially important when dealing with overseas vendors because obtaining samples can sometimes take months.
Why Not Do All Of My Research Online?
You might think that you can do all of your vendor research online, but wholesale vendors that you find on the web can be extremely sketchy.
In fact, many online vendors are middlemen who pretend to be wholesale vendors just to get your business. It is because of these deceptive practices that I recommend finding vendors at trade shows rather than purely online.
For more information on buying wholesale, please check out my article on Why Buying Wholesale Can Be Misleading.
Of course, if you don't have the means to go to trade shows, then you can also use a service like Alibaba to find Asian vendors online to source private label products.
How To Sell Online
You can start selling online by first selecting an ecommerce platform (Shopify, Mageto, BigCommerce, etc) or an eCommerce marketplace (Amazon, Etsy, eBay, etc). Then list your products and implement a marketing plan to drive targeted traffic. You should also consider selling across channels such as social media.
If you want to sell on Amazon, then check out my guide on How To Sell On Amazon FBA – A Guide To Private Label Products From A 7 Figure Seller
If you are looking to start your own online store, then check out my guide on How To Start An Online Store, Own Your Own Website And Sell Online
Conclusion
Finding and sourcing products does not have to be a haphazard experience when selling online. As I have demonstrated, there is a wealth of data out there that can help you narrow down what you want to sell online.
And once you have a few product ideas in mind, you can then further narrow things down by performing a supply/demand and competitive analysis on your niche.
If you find that you can make a good profit on your goods and you can do a better job than your competitors, then I say go for it!
By the way, if you enjoyed this post and are looking for more tutorials, then sign up for my free 6 day mini course below.
Click Here To Sign Up For My Free 6 Day Mini Course On How To Start A Profitable Online Store
Frequently Asked Questions About Finding Products To Sell
What items sell best on Amazon?
The best-selling product categories on Amazon are as follows (based on 2021 data):
Electronics: 44% of sales
Clothing, Shoes & Jewelry: 18%
Home & Kitchen: 14%
Beauty & Personal Care: 9%
Toys & Games: 8%
The best selling items on Amazon change every single day which is why you have to use a product research tool like Jungle Scout to get an accurate answer. Jungle Scout allows you to tell how much money every single product on Amazon is generating on a monthly basis
What products are most profitable to sell?
The most profitable product ideas are items that have a strong unique value proposition and solve a specific problem or need. Consumable products are also ideal. For example,If you can get a customer to sign up for a subscription of your products, you will earn recurring revenue from a single sale.
What are the most sold items of all time?
The top selling items of all time are the Sony Playstation, the Rubik's Cube and the iPhone
What is the best ecommerce platform to sell stuff?
The best places to sell your own goods are Amazon, Walmart, Ebay and your online store website. For your own online store, Shopify, BigCommerce and WooCommerce are the recommended platforms.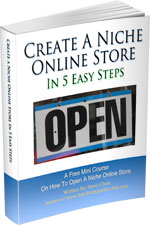 Ready To Get Serious About Starting An Online Business?
If you are really considering starting your own online business, then you have to check out my free mini course on How To Create A Niche Online Store In 5 Easy Steps.
In this 6 day mini course, I reveal the steps that my wife and I took to earn 100 thousand dollars in the span of just a year. Best of all, it's free and you'll receive weekly ecommerce tips and strategies!
Note: This post above may contain affiliate links, which means that I may receive a commission if you make a purchase when clicking a link. Please consult our privacy policy for more information.
Related Posts In How To Find Products To Sell
About Steve Chou

Steve Chou is a highly recognized influencer in the ecommerce space and has taught thousands of students how to effectively sell physical products online over at ProfitableOnlineStore.com. 

His blog, MyWifeQuitHerJob.com, has been featured in Forbes, Inc, The New York Times,  Entrepreneur and MSNBC.  

He's also a contributing author for BigCommerce, Klaviyo, ManyChat, Printful, Privy, CXL, Ecommerce Fuel, GlockApps, Privy, Social Media Examiner, Web Designer Depot, Sumo and other leading business publications.

In addition, he runs a popular ecommerce podcast, My Wife Quit Her Job, which is a top 25 marketing show on all of Apple Podcasts. 

To stay up to date with all of the latest ecommerce trends, Steve runs a 7 figure ecommerce store, BumblebeeLinens.com, with his wife and puts on an annual ecommerce conference called The Sellers Summit.  

Steve carries both a bachelors and a masters degree in electrical engineering from Stanford University. Despite majoring in electrical engineering, he spent a good portion of his graduate education studying entrepreneurship and the mechanics of running small businesses.