When it comes to finding products to sell online, your profit margins are amplified by how low you can drive your sourcing costs down.
For example, the typical retail markup for an online store is 4X. As a result, for every dollar it costs you to source an item, you need to charge 4 dollars!
On the flip side if you can shave a dollar off your costs, then you can potentially mark down your prices by 4 dollars or pocket the extra profit!
Because labor is an order of magnitude cheaper in China, it's in your best interests to find China wholesale suppliers and import direct from Chinese factories.
Today, I will teach you where to find China wholesale suppliers and what to expect when importing direct from Chinese factories.
This post will be broken down into 3 sections
Where To Find China Wholesale Suppliers
What To Expect When Importing From China
How To Prepare Your First Shipment
Get My Free Mini Course On How To Start A Successful Ecommerce Store
If you are interested in starting an ecommerce business, I put together a comprehensive package of resources that will help you launch your own online store from complete scratch. Be sure to grab it before you leave!
How To Find China Wholesale Suppliers – A Video Overview
Canton Fair

One of the best ways to find Chinese vendors is by attending the Canton Import And Export Fair.
The Canton Fair is held in GuangZhou, China twice a year (Usually during the end of May and the beginning of November) and is one of the largest sourcing shows (if not the biggest) in the world.
It easily trumps any trade show in the US and it's so large that they have to split it into 3 phases.
The first phase covers electronics, the second phase covers consumer goods, gifts and home decor and the third phase covers textiles, garments, shoes and office supplies.
To give you an idea of the magnitude of the fairgrounds, the Canton Fair is equivalent in size to 218 football fields. Crazy right?
Now if you've ever tried to find a Chinese vendor or factory using an online directory like Alibaba, you probably know how time consuming it can be.
There are many companies to go through and it's hard to gauge product quality by just looking at photos online.
In addition, language and cultural barriers can make communication challenging over email and text.
The best part about the Canton Fair is that it's a place where suppliers and factory owners from all over Asia congregate and you can easily find a vendor that either carries what you want to sell or can make what you want to sell.
In addition, all of the vendors bring in samples of what they make so you can touch and feel all of the merchandise first hand before committing to a purchase.
Most of the suppliers at the fair are used to dealing with American and European companies so they have the experience and infrastructure to export products to wherever you live.
The other good news is that a good number of these vendors speak English…not good English mind you, but enough to communicate at a basic level.
If you require an interpreter, you can easily hire one for a very reasonable price (100 yuan = 15 bucks for the day).
Going to the Canton Fair sounds intimidating but it's actually not that bad and it doesn't cost nearly as much as you think.
First off, the Canton Fair is free to attend and the cost of living is much lower in China than in the US.
Second of all, I've published my full itinerary and a complete guide to the Canton Fair below. If you plan on going, you can simply copy my travel plans.
Here's a podcast that I recorded about my last trip to the Canton Fair
Global Sources Tradeshow

Similar to the Canton Fair, the Global Sources Tradeshow is another gigantic fair where factory owners from all over the world congregate twice per year.
What's nice about the Global Sources Tradeshow is that it takes place just BEFORE the Canton Fair in Hong Kong so you can easily hit both shows during the same trip!
While the Global Sources show is not as large as the Canton Fair, there are a few key differences that make the Global Sources show a must attend event.
First off, while there is some overlap with the Canton Fair in terms of suppliers, many of the vendors that attend the Global Sources tradeshow are unique.
Because Global Sources is a search engine for Chinese vendors like Alibaba, they also have a gigantic searchable database of manufacturers that you can establish contact with prior to attending the event.
In addition, Global Sources contains a much larger contingent of suppliers in certain key categories such as electronics and fashion accessories. So if you plan on selling anything electronic, Global Sources is the best show to attend.
The other key difference is that Global Sources provides a strong focus on education. During their show, they simulaneously run a conference that teaches you how to run a successful importing business.
The content of the event is fantastic and they invite successful ecommerce entrepreneurs from all over the world to speak.
But perhaps the best part about the Global Sources trade show is that there's a very low language barrier!
Unlike China, everyone speaks English in Hong Kong and it's generally much easier to get around as a result.
My advice if you decide to travel all the way to Asia is to attend both the Global Sources show and the Canton Fair during the same trip. Canton is only a 2 hour train ride away and it costs $30.
Below is an interview that I conducted with the CIO of Global Sources
Yiwu Wholesale Marketplace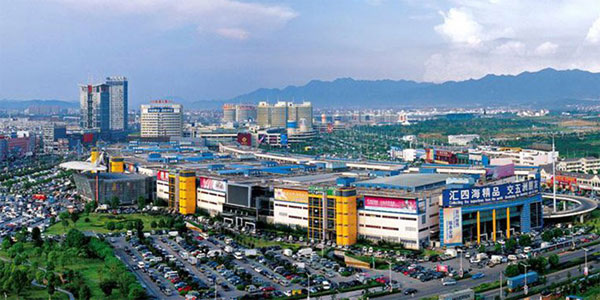 The Yiwu wholesale market is one of the largest wholesale markets in China where you can find a variety of different products at really low prices.
Unlike China wholesale tradeshows like the Canton Fair or Global Sources which only occur twice per year, the Yiwu market is open everyday of the year except for certain Chinese holidays.
What's also different is that the Yiwu marketplace is literally a place where you can physically walk away with goods that are ready to sell or have them shipped directly to your warehouse in bulk.
In other words, many of the goods are off the shelf and ready for sale.
In terms of products, you can find a bunch of suppliers that sell everyday goods like handbags, textiles, accessories, watches…basically commodity products that can complement goods that you already carry in your shop at really low prices.
It's also important to note that the wholesalers at the Yiwu market are not manufacturers. Instead, most merchants in the market are trading companies or small retailers.
One thing that you have to be aware of is that you may find fake or knock-off brands at the Yiwu market so you have to be careful.
In general, none of the products at Yiwu will have a brand and any "well known brand name" that you see there will likely be inauthentic.
Overall, the products at Yiwu tend to be cheap, commonplace items that you can use as upsells or cross sells for your existing portfolio. They also make great items for a free plus ship offer or a giveaway.
What To Expect When Communicating With Asian Suppliers At A Tradeshow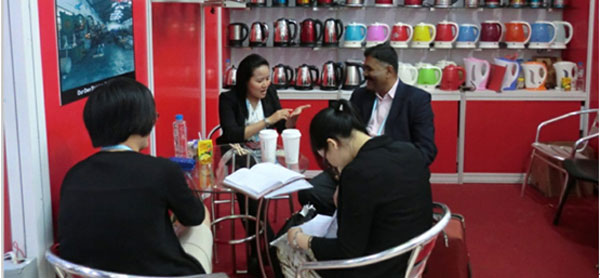 Running our online wedding linens business for the past 10 years has required me to deal with many vendors across China, India and other parts of Asia.
And I've discovered that working with Asians is a lot different than working with Americans or Europeans:) Here's a short list of what you need to be aware of when dealing with Asian suppliers.
Expect A Language Barrier
The key thing to keep in mind when communicating with Chinese suppliers is that they probably studied English in school.
They might not be able to speak or understand English that well, but they can probably read it much better than they can listen.
So when you are visiting your vendors, it helps to have everything written down or typed in English. If you go in there and start blabbing away, chances are that the vendor will only be able to pick up bits and pieces of the conversation.
They might nod and go "uh huh", but in reality they probably have no clue what you are talking about.
The same goes for taxi drivers and directions. Have someone write everything down in Chinese if possible and if you have to speak, speak slowly and enunciate every word.
Expect Cultural Differences
One of the main cultural differences between the US and China is that Chinese people tend to be non-confrontational.
For example, Chinese vendors will rarely correct you, interrupt you, or let you know that they don't completely understand you.
It is part of their culture to be polite and accepting. But if you are not careful, this one simple cultural difference can cause you a ton of grief when placing orders.
The biggest obstacle to overcome is that you might think you are communicating when in fact you are not.
For example, I could be discussing something with my vendor and they might be nodding and acknowledging everything that I'm saying but then turn around and do the complete opposite once the conversation is done.
The key is to ask direct questions and make sure that there is no misunderstanding. Ask, clarify and reiterate all of your points as many times as necessary and be sure to write everything down as well.
The important thing to realize is that your vendor is just trying to be polite so you can never assume that anything is clear unless it has been thoroughly discussed.
Contracts Are Not Final
In the United States, contracts are considered final. After a series of negotiations, the final contract is supposed to represent an agreement and acknowledgment of terms.
In Asia however, a contract is almost meaningless. When I deal with Chinese vendors, drafting an official agreement can often seem like a waste of time.
We might spend a day negotiating and agreeing on terms and pricing only to have everything change the very next day.
For example, one time we drafted a written agreement for a large handkerchief order only to have the supplier contact us a week later to tell us that they couldn't manufacture some of the items we requested.
On another occasion, a supplier tried to raise prices on us after the fact even though we agreed on pricing long ago.
The key takeaway here is that the definition of a contract is different in Asia than it is in the US.
Don't expect a written document to be the end all and be all of your negotiations. In fact, I would argue that drafting an agreement is just the beginning.
Don't Make Assumptions – Be Specific
Here's a general rule of thumb that needs to be ingrained into your head when importing from China. Never assume that the vendor knows what you want.
If it's not spelled out in a document, then your vendor will get it wrong or cut corners.
For example, we import plain white handkerchiefs and you would think that it would be straightforward to describe.
After all, it's just a piece of fabric right? But one time we negotiated a lower price and the vendor sent us handkerchiefs with paper thin fabric.
Because we didn't specify the exact thickness of the material, the vendor met our price by cutting corners on the fabric.
Bottom line, go through your samples and specify every last detail of what you want. Assume that any aspect that is not explicitly spelled out will be made incorrectly.
The Main Benefit Of Going To A Live Tradeshow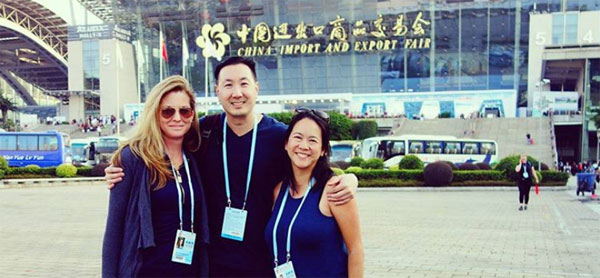 Cultural differences aside, the key benefit of going to a trade show like the Canton Fair or Global Sources is that it allows you to make face to face contact with a large number of vendors and establish real relationships.
This is invaluable! By going to the fair, you can easily meet hundreds of factory owners in just a few days.
In fact, your relationship with your vendor is one of the key components to your success and face to face contact is essential.
For example when my wife and I first started our business, we communicated with our suppliers solely through email.
And many of these vendors didn't give us the time of day until we physically visited them in their home country.
The difference was night and day and the overall demeanor of our suppliers changed once we met them in person.
Miraculously, our product quality improved and they became eager to help us out with special requests and designs.
The other thing to keep in mind is that most of the vendors who attend the tradeshows do not have a web presence so it's next to impossible to find them otherwise.
While it can be intimidating to travel to China and attend the fair, it's well worth your time. If you plan on going, then check out my itinerary!
China Wholesale Directories – Alibaba And Global Sources

If you are unable to travel to China or Hong Kong to attend the tradeshows, the next best way to find Chinese vendors is to use an online directory like Alibaba or GlobalSources.com.
Alibaba and GlobalSources are search engines for Chinese suppliers and you can instantly have access to tens of thousands of vendors at your fingertips.
Here's an example of how easy it is to find a vendor using Alibaba.
Simply type in what you are looking for in the search bar and Alibaba will return a bunch of suppliers, prices and minimum order quantities.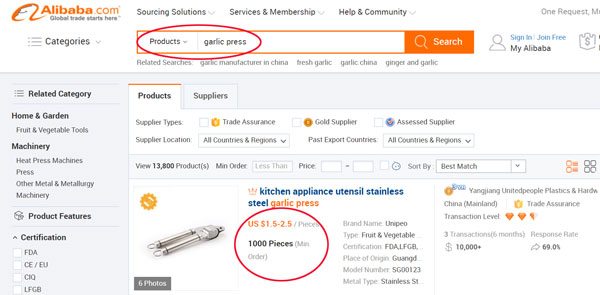 By clicking a button, you can then send the vendor a message and establish contact. Here's an example script that I use when contacting suppliers for the first time.
Hi "vendor name",

My name is "name" and I'm a buyer for "store name", a store in "your country" that sells "the products you want to carry". We are interested in carrying many of the items that you have to offer.

Specifically, I would like to get pricing and availability for the following items

"list the items…provide photos if you have them"

"list the items…provide photos if you have them"

"list the items…provide photos if you have them"

If you could send us more info as well as your product catalogs and MOQ requirements we would greatly appreciate it.

Thank you,
"your name"
Once you've established contact, you can ask for samples, place orders etc…
In addition, Alibaba offers a service called trade assurance which acts like an escrow service so you don't ever get scammed.
Sounds easy right? So what's the catch?
The biggest caveat is that this process can take a while and communicating back and forth with suppliers requires patience.
For example, the time it takes from initial contact to obtaining samples can easily take weeks.
In addition, the language barrier can make communication challenging because you must describe exactly what you want to manufacture via email and live chat.
The other key difference between using a directory like Alibaba versus going to a tradeshow is that services like Alibaba tend to contain a lot of middlemen.
Because there is such a low signal to noise ratio for vendors on Alibaba, many of the higher quality suppliers don't list themselves in the directories.
For example, none of our primary vendors advertise on Alibaba or Global Sources.
But that being said, as long you can make a profit with your suppliers, then that's all that matters!
The Main Difference Between Alibaba And Global Sources
The two biggest online directories for Chinese suppliers are Alibaba and Global Sources. But there are some key differences between the two.
First off, Alibaba has many more supplier listings than Global Sources but it comes at the cost of quality. In my experience, there's a lot more noise on Alibaba.
In general, Global Sources has a more involved vetting process which allows them to attract higher quality vendors.
In addition, I've found that the MOQs (minimum order quantities) for Global Sources vendors tend to be much higher than Alibaba as well.
But bottom line, your mileage will vary depending on what you want to sell. Give both services a try and see where it takes you!
1688.com

1688.com is a China wholesale supplier directory that is owned by Alibaba Group. In fact, 1688.com is almost exactly the same as Alibaba.com except that 1688.com primarily caters to Chinese businesses.
In fact, the entire website is in Chinese and you have to use Google translate or find someone who can read Chinese to help you find suppliers on their website.
Now why am I showing you a website that is completely in Chinese?
The reason is because sometimes Chinese vendors have inherent biases towards Americans, Europeans and other foreigners when they provide their price quotes on Alibaba.
In other words, sometimes identical vendors that you find on Alibaba and 1688.com will offer higher prices to foreign businesses.
Here's what you can do to make sure that you are getting the lowest price.
Whenever you are done negotiating on price for a vendor on Alibaba, you should also contact that same vendor via 1688.com with a different email address to see if the quote is any different.
If the prices are similar, then it's all good. But if the pricing is drastically different, then you should find out exactly why there is a discrepancy.
Overall, you can use a site like 1688.com in conjunction with Alibaba to help you get the lowest price.
China Wholesale Marketplaces – DHGate And AliExpress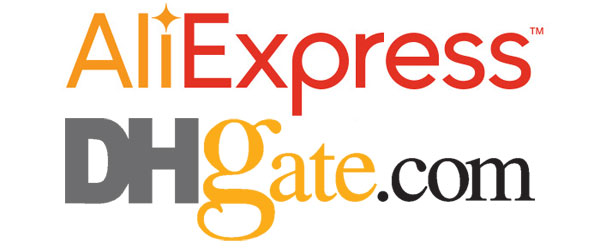 While you should generally stick to Alibaba.com and GlobalSources.com for your China wholesale sourcing needs, I have been asked about both DHGate and AliExpress in the past so here's my take on these 2 marketplaces.
Both DHGate and AliExpress are marketplaces of Chinese wholesalers and dropshippers and the closest comparison I can think of in the US is Ebay.
Basically when you make a purchase through DHGate or AliExpress, they handle the transaction and the seller ships the item. Both DHGate and AliExpress offer a refund guarantee on all purchases.
In terms of product sourcing, the prices that you'll find on AliExpress and DHGate will tend to be higher than what you'll find when sourcing direct from a manufacturer.
But the main advantage is that the MOQ will be much lower.
In fact, you can often buy products in single unit quantities which makes these marketplaces ideal for testing out new markets before committing to a bulk purchase.
Panjiva And Import Genius

Most people are not aware of this but every single shipment imported by sea is documented on the public record. And if you search this public record, you can easily find out where companies are sourcing their products from.
There are two main companies that allow you to conduct import searches for a monthly fee, Panjiva and Import Genius.
By typing in a business name, Panjiva will tell you every single sea shipment that company has made, where the shipment originated from and the manufacturer.
For example, here's a sample bill of lading from The North Face that I obtained from Panjiva for free.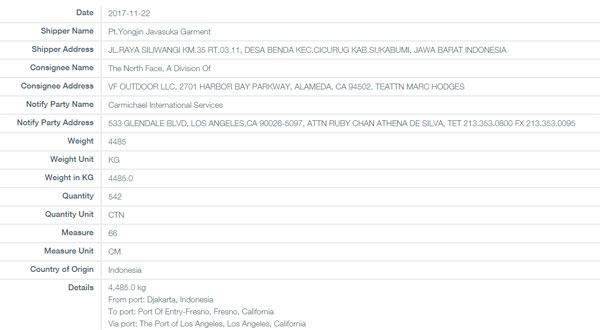 Crazy right?
So if you see a product online and you want to make something similar, you can easily find out where it was made and reach out to the exact same manufacturer!
Jungle Scout Supplier Database

While Panjiva and Import Genius were the first companies to offer the ability to search the US import database, Jungle Scout now allows you to search the public record at a far cheaper price.
What's nice about the Jungle Scout Supplier Database is that with a few clicks of the mouse, you can easily figure out where your Amazon competitors are sourcing their products from.
In addition, you can see exactly what they are importing and at what quantity as well.
Below is a video that I created which provides a demo on how to use the Jungle Scout Web App. If you want to follow along with this tutorial step by step, Click here to sign up for the Jungle Scout Web app and save $20/month
What To Expect When Importing And Manufacturing Your Goods In China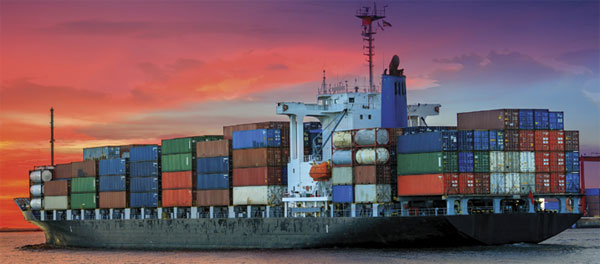 While importing your goods from overseas is the best way to obtain quality products at rock bottom prices, there are several logistical issues you have to work out in order to be successful.
Below is a brief overview of what to expect when importing goods from overseas along with some tips on getting your goods to your warehouse.
First off, here's what you should expect…
Long Lead Times
Most overseas vendors won't even begin making your products until you actually place an order and put down a small down payment to cover the cost of materials.
Depending on the nature of your items, expect to wait anywhere from one to four months to get your products manufactured.
Very rarely will a vendor carry inventory and most goods are made to order so you must plan ahead.
When we order linens for our online store, the lead times are typically 3 months long so we always have to predict our demand way in advance.
A Large Minimum Order
If you are ordering products to be manufactured overseas, expect to place a fairly large minimum order. Every manufacturer will have their own MOQs(minimum order quantity) but don't be embarrassed to ask before ordering.
If you are just starting out, make sure that you obtain samples first and validate that your product will actually sell BEFORE you place a large order.
These days, I rarely purchase less than 300 pieces of any new product but you can often negotiate lower minimum order quantities if the vendor believes that you are a serious customer.
Be sure to check out my free guide on how to negotiate MOQ with your supplier.
Payment Terms
Most manufacturers expect to be paid by wire transfer. Also, you usually have to put down some money upfront(usually 30%) to cover the initial costs and then pay the balance once the items are ready to be shipped.
If you are worried about fraud, there are escrow services like Alibaba trade assurance that will facilitate the exchange of goods and services.
But in general, transactions go much faster when there's mutual trust between you and your vendor.
For example, we pay for all of our orders via wire transfer and our vendors don't make us put up the initial 30% down payment.
However if you are just starting out, don't be afraid of wire transfers. If you are apprehensive about sending your money overseas, consider asking to pay by Paypal instead.
Some vendors will accept Paypal if you cover all the fees but don't count on it.
Quality Control
Quality control will often be an issue and you have to be very specific in telling the vendor EXACTLY what you want. In general, it ALWAYS pays to hire an inspector to inspect your goods at the factory.
After all, once your products get shipped to you, there's not much you can do if you receive defective merchandise.
For the price of around $300, you can get a statistical sampling of your shipment directly at the factory and know what percentage of your goods are defective.
Catching manufacturing issues at the source will save you lots of headaches. It also keeps your vendors honest.
Below are some of the more popular inspection companies.
Language Barriers
Many vendors in Asia do not speak English very well. But as long as you restrict your communication to email and live chat, things will go much smoother.
Most vendors are able to read English much better than they can understand the spoken language. As a result, ask to communicate with your supplier via WeChat and Skype.
Preparing For Your Shipment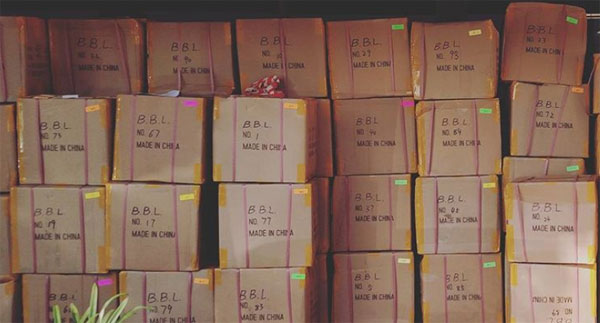 Once you've ordered your products and they are ready to be shipped, there are two main ways to get your goods into your home country, by air and by sea.
But before you initiate your shipment, make sure you ask for the following documents from your vendor. These will be required in order to clear customs.
A Commercial Invoice – The declared value of the items
A Packing List – What you are importing
A Detail Sheet – Outlines how the products are manufactured so customs can determine the duty classification
Bill of Lading – A legal document between the shipper of goods and the carrier detailing the type, quantity and destination of the goods being carried.
Note: Are you unsure which shipping method to use and how much it will cost? Do you want a good estimate of your real landed cost of goods? Click here to use my free import calculator
Shipping By Air
Shipping your items by air is by far the easiest option but also the most expensive. Expect to pay between 5-6x more to ship by air versus shipping by sea.
Personally, we use DHL for all of our international air shipments. Our vendors all have accounts with DHL and shipping with them is a breeze because they take care of everything.
Basically, the vendor provides DHL with all of the materials mentioned above and then DHL transports all of your goods directly to the address that you specify. You do NOT need a customs agent!
If this is your first time importing goods from overseas, you will be contacted by customs to provide your social security card or a company id number. Have this information handy once your goods have shipped and you are all set.
DHL will also send you a customs bill so that you can pay any and all duties associated with your imported goods.
Shipping By Sea
Shipping by sea is a much bigger headache but totally worth it if you are importing a large volume of goods. As mentioned before you can easily save between 5-6x compared to shipping by air.
The key to accepting shipments by sea is to hire a good customs agent. This is absolutely required especially if this is your first time importing by sea.
Do not try and do things on your own unless you know exactly what you are doing. This is what the customs agent will take care of for you.
Customs Documentation – They will take care of any and all documentation required in the entire process
Customs Entry – They will take care of getting your goods from the port directly to your office
Customs Duty – They will take care of calculating and billing you for any duties associated with your goods.
Customs Entry Bond – You are required to buy a bond that acts as insurance with Customs in the event you should default on the customs duties. Your customs agent will take care of this for you .
Of course all of these services come at a cost. Right now, we are using a company called Toll Forwarding as our freight forwarder and customs agent.
For our last sea shipment, we paid about 1800 dollars to transport over 6100 pounds worth of goods to our warehouse and the whole process took about 3 weeks.
To give you an idea of the difference in price, shipping a 35 pound box via air courier costs about $170 which makes it cost prohibitive for large shipments.
In general, it makes sense to ship your products by sea if your shipment exceeds 200lbs in weight. The tradeoff of course is time.
Whereas sea shipments can take over 3 weeks to arrive, shipping by air typically takes 3-5 days.
Conclusion
Because the cost of manpower is so much cheaper in developing countries like China, Thailand and Vietnam, it makes sense to source most goods from Asia.
Any product that requires a lot of labor to assemble like textiles and electronics can often be purchased at a fraction of the price.
As a result, you should definitely consider importing from China as a sourcing strategy. With higher margins, you can focus more of your dollars towards marketing and customer service.
Frequently Asked Questions About Buying Wholesale From China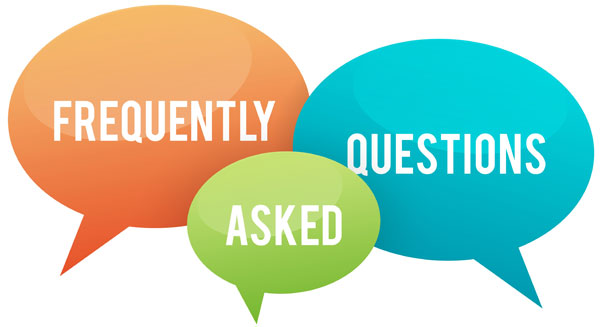 What Is The Best Website To Buy Wholesale From China?
The best, most complete website to buy wholesale from China is Alibaba. However, Global Sources is also a great resource if you plan on sourcing electronics. You can also use tools like the Jungle Scout Supplier Database to look up suppliers of existing products being sold online.
How Can I Buy Goods From China?
The easiest way to buy goods from China is to first identify a supplier. Then, you should purchase a sample and iterate with your supplier until you are happy with the overall design of your product. Finally, when it comes to buying in bulk, you should enlist the help of a freight forwarder to help you import your goods to your home country.
What Is The Best Item To Import From China?
Because the wages in China are much cheaper than anywhere else, it's to your advantage to import goods that require a high amount of labor to produce. For example, clothing, textiles, embroidery are ideal to import from China because the material costs are low and the fabrication process is manual. There are many types of products that fall into this category.
Do I Have To Pay Import Duty From China?
The answer is yes unless the value of your shipment is less than $800.
How Do You Buy Goods Directly From A Manufacturer?
Directories like Alibaba and Global Sources contain a large list of Chinese factories and manufacturers. Alternatively, you can find a sourcing agent to help you find suppliers for the products you want to sell.
Do I Need A License To Import From China?
There are no permits required for importing products from China unless you are bringing in hazardous or restricted materials. You will however, have to pay import duties depending on the types of products you sell
How Are Customs Duties Calculated?
The value of your shipment determines how much duty or taxes are assessed on your shipment. In general, duties and VAT are calculated as a percentage of the customs value of your goods. If there are any tariffs involved with your HS codes, they will be directly added on your duties.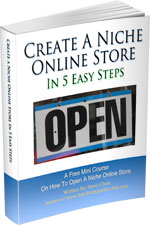 Ready To Get Serious About Starting An Online Business?
If you are really considering starting your own online business, then you have to check out my free mini course on How To Create A Niche Online Store In 5 Easy Steps.
In this 6 day mini course, I reveal the steps that my wife and I took to earn 100 thousand dollars in the span of just a year. Best of all, it's free and you'll receive weekly ecommerce tips and strategies!
Note: This post above may contain affiliate links, which means that I may receive a commission if you make a purchase when clicking a link. Please consult our privacy policy for more information.
Related Posts In How To Find Products To Sell
About Steve Chou

Steve Chou is a highly recognized influencer in the ecommerce space and has taught thousands of students how to effectively sell physical products online over at ProfitableOnlineStore.com. 

His blog, MyWifeQuitHerJob.com, has been featured in Forbes, Inc, The New York Times,  Entrepreneur and MSNBC.  

He's also a contributing author for BigCommerce, Klaviyo, ManyChat, Printful, Privy, CXL, Ecommerce Fuel, GlockApps, Privy, Social Media Examiner, Web Designer Depot, Sumo and other leading business publications.

In addition, he runs a popular ecommerce podcast, My Wife Quit Her Job, which is a top 25 marketing show on all of Apple Podcasts. 

To stay up to date with all of the latest ecommerce trends, Steve runs a 7 figure ecommerce store, BumblebeeLinens.com, with his wife and puts on an annual ecommerce conference called The Sellers Summit.  

Steve carries both a bachelors and a masters degree in electrical engineering from Stanford University. Despite majoring in electrical engineering, he spent a good portion of his graduate education studying entrepreneurship and the mechanics of running small businesses.