Many of the questions that I receive in my inbox at MyWifeQuitHerJob.com are related to opening a dropshipping store and I can certainly understand the appeal.
When you run an online store that only offers dropshipped products, you don't have to worry about inventory and you don't have to worry about product fulfillment.
All you have to do is sell the product, take orders and make a decent profit. Alas, if only it were that easy…. As with everything that sounds too good to be true, there are always gotchas.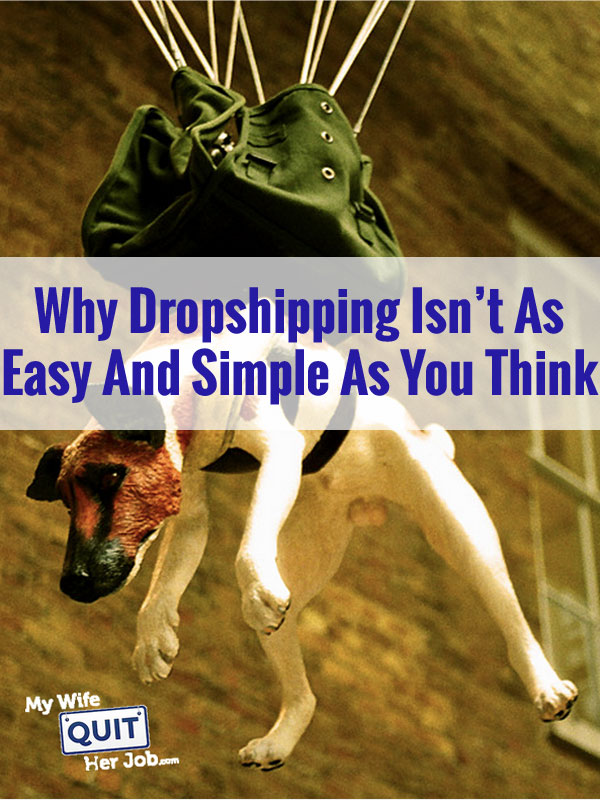 In theory, dropshipping sounds like a great idea because it's inherently scalable without you having to do a lot of work up front. But when you dig down a bit further, it becomes obvious why dropshipping isn't so great.
Most people try to open up a dropshipped shop expecting it to be easy, but in reality it's much harder to operate a dropshipped shop than a traditional online store and I will explain the reasons why below.
You Won't Be Getting The Lowest Price
Most people open up a dropshipped online store with the misconception that they will be receiving the same wholesale pricing as everyone else for their products.
In reality however, dropship distributors often charge extra fees and/or tack these fees onto the quoted wholesale price.
Put yourself in your distributor's shoes for a moment. Would you prefer to sell a large bulk quantity of products all at once to a store or would you rather sell onesy, twosy amounts to individual customers and be forced to individually ship and pack each item?
The distributor is doing all of the work here and this will be certainly be reflected in your wholesale price.
Because your wholesale prices are higher than a traditional store, you will not be able to compete as effectively on price unless you take a good sized profit hit. All of the convenience of not having to do any of the fulfillment work comes at a cost.
You Will Need To Charge Higher Shipping Costs
Often times, you will require the use of several dropship distributors to fully flesh out the product selection for your store. Using 2 or more different dropshippers means that 2 or more companies will be making separate shipments to your customers, which means that 2 or more companies will be charging you their own separate shipping costs.
If I'm a customer and I buy products from you across 3 different distributors, you will have to charge me a much higher shipping cost just so you can break even.
The only way around this is to only use one dropship distributor which may not carry the breadth of products that you need. The result is that you will have to pass these extra costs onto the consumer which reduces your price competitiveness.
Dropshipping Can Be A Logistical Nightmare
You might think that since the dropship distributor is doing all the work that you can sit back and relax. Unfortunately, you have to deal with your customer base.
You have to be the one that answers all of the questions. You have to be the one to apologize when an order doesn't arrive on time.
The main problem is that when you use several different dropship distributors, getting the entire order to the end customer can be a logistical nightmare.
All distributors will have different shipping times and will be shipping from completely different locations. If a customer orders products across 3 different distributors, they will end up receiving 3 different packages at varying times.
If an order is particularly time sensitive and needs to be rushed, you will have to make sure that all of your distributors can deliver the product on time.
In effect, you are staking the reputation of your online store and linking yourself to all of your dropship distributors in a single chain. If even a single distributor is unreliable, then it will reflect negatively on your online store.
Your Customer Service Will Be Out Of Your Hands
These days, customer service and reputation are extremely important. With the world wide web, social media and Twitter, news of a botched transaction can spread extremely fast so it is absolutely crucial that you maintain a great image for your online store.
Whenever I receive a call for our online wedding linens store, I always take the time to ask how they found us. And the majority of the time, the people who find us do so because they were referred to us by one of their friends.
Word travels fast. Our customer service is one of the main reasons why we have grown over 3x in the past 3 years.
With dropshipping, you unfortunately have very little control over your customer service. Since you are not in charge of product fulfillment, you can't control when a customer will receive their product.
If a customer wants to make a return, it's a major pain because you have to make sure that you get your money back before you can provide a refund.
Sure, there are always ways to mitigate these problems but the solution inevitably involves either raising prices or taking a profit hit at the expense of customer satisfaction. Dealing with credit card chargebacks is also much more common with dropshipped stores as well.
Is It Really Less Work?
It really depends. Arguably, the time that you save in not having to deal with inventory and fulfillment will be spent dealing with customers unless you have a reliable core of dropship distributors.
One thing that I forgot to mention is that many drop shippers don't have up to date automated supply chain technology with a real time API. What this means is that you may not be alerted in real time whether a particular product is available for sale or not.
Therefore if an item is out of stock, you will have to interface with the customer to let them know when they can have their items. Unless your shopping cart is closely tied with your dropshipper's database, it will be difficult to maintain an accurate inventory count.
With dropshipping, you are in effect trading off not having to deal with fulfillment logistics with having to deal with more customer headaches. And depending on your personality, this may or may not be a wise tradeoff.
While the tone of this article has been anti-dropshipping in general, don't get me wrong. Many people have been successful with dropshipping as it works very well with small niche stores but my personal opinion is to avoid it if you can.
If you are considering opening a store composed solely of dropshipped products, you might want to consider affiliate marketing instead. With affiliate marketing, you simply have to refer a customer to a store and you make money whenever your referral makes a purchase.
There is no customer support, no product fulfillment….nada. The only drawback is that the profits aren't as high but at least you don't have to deal with customer headaches that you can't control.
But if you insist on going the dropshipping route, I suggest that you give Worldwide Brands a try.
Worldwide Brands vets and pre-verifies dropship vendors so you don't get scammed or ripped off. Good luck with your shop!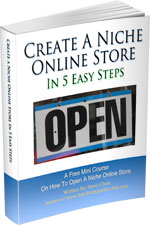 Ready To Get Serious About Starting An Online Business?
If you are really considering starting your own online business, then you have to check out my free mini course on How To Create A Niche Online Store In 5 Easy Steps.
In this 6 day mini course, I reveal the steps that my wife and I took to earn 100 thousand dollars in the span of just a year. Best of all, it's absolutely free!
Note: This post above may contain affiliate links, which means that I may receive a commission if you make a purchase when clicking a link. Please consult our privacy policy for more information.
Similar Posts
Have you read these?