This post will teach you how to build an email list fast. Most of the methods described in this post are free but the quickest methods will involve some form of paid advertising. Enjoy!
Right now, the number of email users worldwide outnumber Facebook, Twitter and Pinterest combined with a far better ROI!
Despite reports to the contrary, email marketing still dominates the online space, and almost every online activity still requires an email address today.
Compared to social media, email is also much more likely to reach its intended recipient. When you send out an email campaign, at least 90% of your subscriber list will receive the email in their inbox.
Meanwhile, a paltry 2% of your fans will see an update you post on Facebook.
Industry statistics show that you can earn as much as $38 in ROI for every $1 you spend on email and 59% of marketers cite email marketing as their most profitable source of sales.
Here are 5 ways on how to build an email list fast with as little expense as possible.
Get My Free Mini Course On How To Start A Successful Ecommerce Store
If you are interested in starting an ecommerce business, I put together a comprehensive package of resources that will help you launch your own online store from complete scratch. Be sure to grab it before you leave!
How To Build Your Email List Fast – 5 Ways To Scale
Because email is so powerful, the best way to scale your sales is to scale your list. After all, the more subscribers you have, the more revenue you can generate!
Especially if you sell on Amazon, building your email list is one of the best ways to launch new products, future proof your business and establish your own brand.
But if you're starting from scratch, building a sizable email list can seem like a daunting task.
By following the 5 email list building strategies below, you can exponentially grow your email list in a short period of time and increase your earnings.
Strategy #1 – Build Your Email List With Popup Forms
Most people find popup forms annoying which is why many store owners avoid using them on their site.
But popup forms are one of the most effective ways to get more subscribers and grow your email list. Whether you are for or against popups, they work. And the key is to move past your personal preferences and trust the data.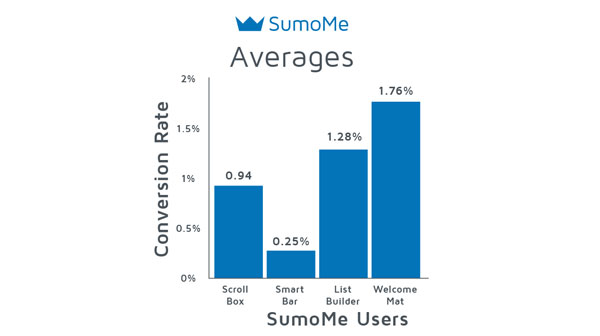 According to a study conducted by Sumo.com, the popup form (displayed as 'list builder' above) is one of the highest converting email forms you can implement and second only to the welcome mat.
Note: The welcome mat is a full page signup form that occupies the entire screen and forces you to pay attention. This email form is far more intrusive than a popup and generally works better for blogs as opposed to an ecommerce store.
As a result, by not using a popup, you are basically leaving a bunch of email addresses on the table.
Here are some tips on how to use a popup form, with actual data on the benefits it can offer.
Customize The Popup Based On Customer Behavior
The simplest popup form you can implement for your ecommerce store is to offer a coupon in exchange for an email.
But depending on the customer, coupon offers may not always convert the best. Plus, why give up margin if you don't have to?
To increase your opt-in rate, you need to experiment with different offers and make sure your popup is relevant to the user who sees it.
For my ecommerce store over at BumblebeeLinens.com, a standard coupon optin form converts at only about 1.6%.
So to increase this number, I started triggering different popups based on the context of the page.
For example, here's a popup form I set up for users who visit my linen towel and napkin-related pages on BumblebeeLinens.com.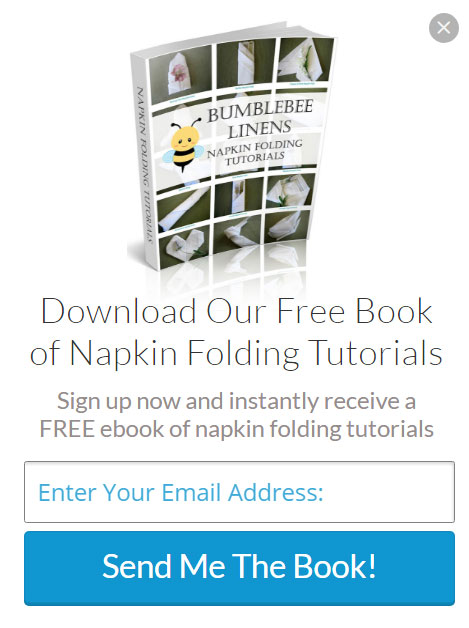 By customizing my popup based on visitor behavior, I was able to improve my overall signup percentage to about 2% compared to 1.6% for a standard coupon form.
These days, people are more reluctant to give away their email address to anyone online. But if you offer something of value, such as freebies and helpful resources, you can win over your prospects.
Use A Gamified Popup
If a coupon based form performs well on your store, you may want to consider testing a gamified discount form that introduces an element of chance.
Gamified popup forms work because everyone craves the potential to win something big. A spin to win popup is a fun way to offer your customers a chance to "spin to win" significant discounts from your store.
This is a wheel of fortune-inspired popup I created and continue to use on my ecommerce store.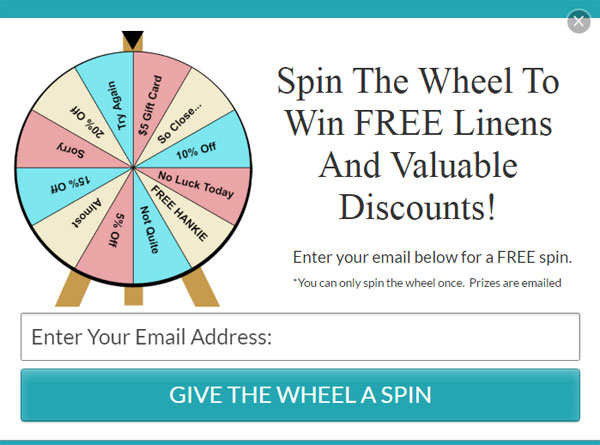 Creating this popup form was free and only took a few hours to implement using off the shelf tools.
By converting my plain old coupon form to a spin to win form, my email signup rate shot up to 3.7% compared to just 1.6%. That's a 131% increase!
Plus, you can adjust the weighting factors of your prizes to give away your biggest rewards less often.
Strategy #2 – Build Your Email List By Creating A Blog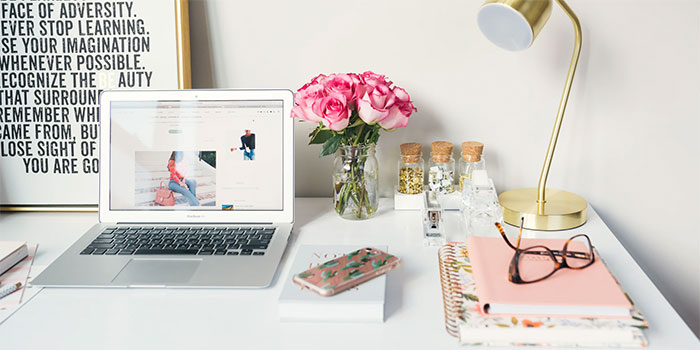 If you haven't started a blog for your business yet, you're missing out on a major opportunity for free traffic and leads.
There's a reason why most successful online stores run a blog. A blog is essential for maintaining an online presence, standing out above the competition, and attracting customers.
But in order to gather email subscribers from your blog, you have to set it up correctly.
Perform Keyword Research And Publish Relevant Content
Business blogging is a great way to attract potential buyers to your brand. By sharing your knowledge, you can establish your brand's credibility and generate free search traffic to your site from the Google search engine.
Creating a good blog post starts by recognizing what your potential customers are searching for online.
For example, we sell linen napkins on our ecommerce store and customers are often looking for napkin folding ideas.
By using a tool like Ahrefs, you can quickly discover what people are searching for within your niche.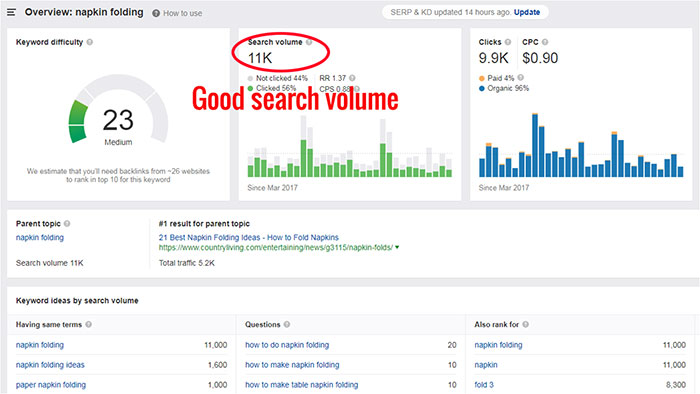 In the example above, napkin folding gets 11K searches per month. As a result, I created a napkin folding guide which now ranks in Google search.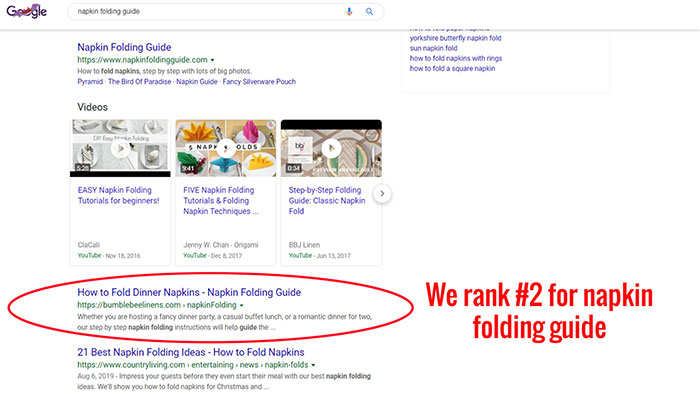 Once you have some traffic, you can then begin the email gathering process.
Include Sign Up Forms In Your Content
On average, my blog generates over 100 email signups per day thanks to different signup forms on my site.
Once you have several blog posts under your belt, look at your analytics and identify your highest traffic posts.
On these posts, you should create a content specific lead magnet to attract email signups. In addition, you should also include a sidebar sign up form and a "blended" form at the end of each post.
Here are some examples of ways to include a signup form in your content:
Popup Form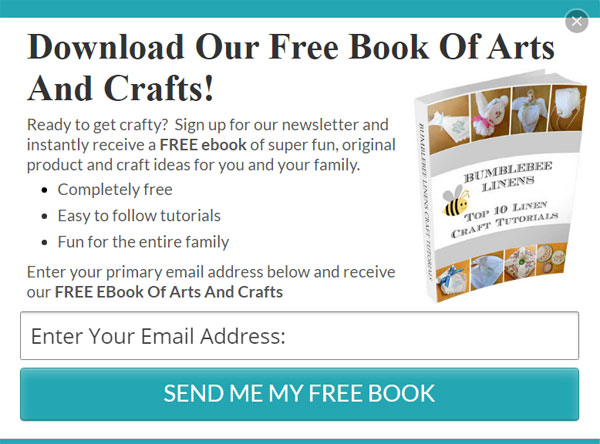 This popup appears on all of our arts and crafts blog posts under the following conditions.
20 seconds has elapsed for desktop users
A user is about to exit the page
A signup link within the content is clicked
My advice is to experiment with different popup forms until you find what performs best for your blog posts.
Static Sidebar Form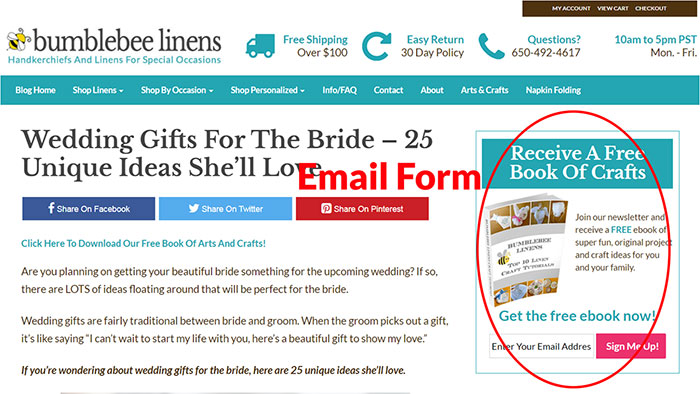 This static sidebar form converts at 1.4% and is the second-highest performing form on my blog.
To boost your conversions, consider adding an image beside your signup form. A picture of a tangible object (like a book in the above example) makes signups more enticing, as it shows a clear reward.
I also added a light blue border around the form so it pops out of the page.
Just keep in mind that you should apply these tips on a case to case basis. For instance, a border may work well for static sidebar forms but not as well for bottom of post forms, which I'll elaborate on in the next example.
Bottom Of Post Form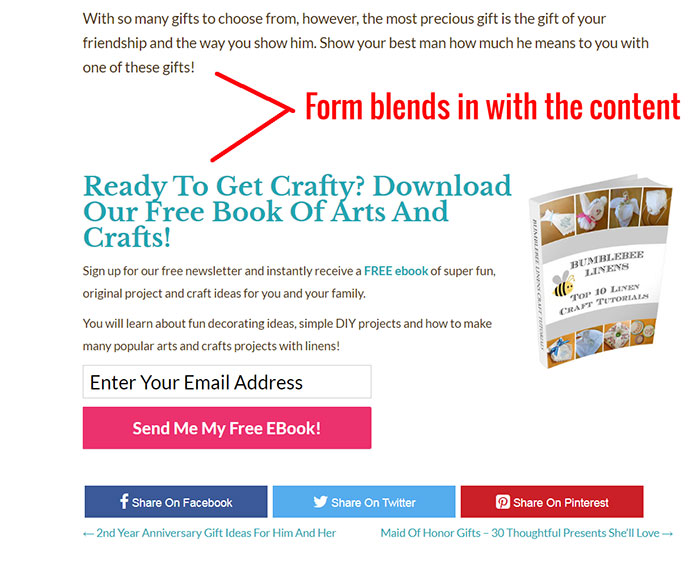 This bottom of post form is my third highest converting form. Despite its simplicity, this form converts at around 1.3%.
For a good opt-in rate, make sure the lead magnet being offered is relevant to the content. What's more, you should blend your signup form with the content.
In the above image, you'll notice that I didn't enclose the form with a border nor did I try to make it stand out from the post.
As a result, the email signup form looks like a part of the content so a reader can navigate smoothly through the article and directly onto the form.
This minor tweak doubled my daily number of email signups. Specifically, my conversion rate doubled from .6% to 1.2%!
Strategy #3 – Build Your Email List By Running A Group Giveaway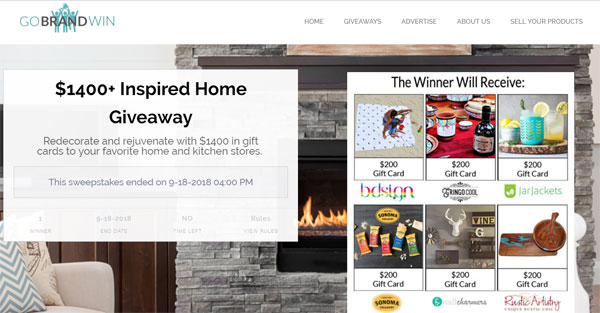 Group giveaways involve working with similar brands to generate buzz in your niche. In fact, group giveaways are the fastest way to build an email list and it's not uncommon to grow your list by tens of thousands of subscribers in a matter of days.
For the cost of a small gift card, a well implemented group giveaway can generate traffic, attract thousands of new email subscribers, and increase your revenue.
What's more, group giveaways are easy to implement and relatively inexpensive to pull off compared to other marketing channels like Facebook Ads and SEO.
Here's how it works:
You partner with other brands in your niche (ideally with the same target audience) and contribute a gift card from your business.
Every participating brand contributes a similar sized gift card and the offers are combined into one massive sweepstakes giveaway.
Each brand then sends out the sweepstakes email to their respective email lists.
Interested recipients enter their email and receive special offers from your company.
A grand prize winner is selected.
At the end of the giveaway, all brands get to keep the entire email list.
Overall, group giveaways have helped companies more than double their email list overnight! But just how fast can a group giveaway grow your email list?
Here are some statistics from the last group giveaway I ran in the home goods niche.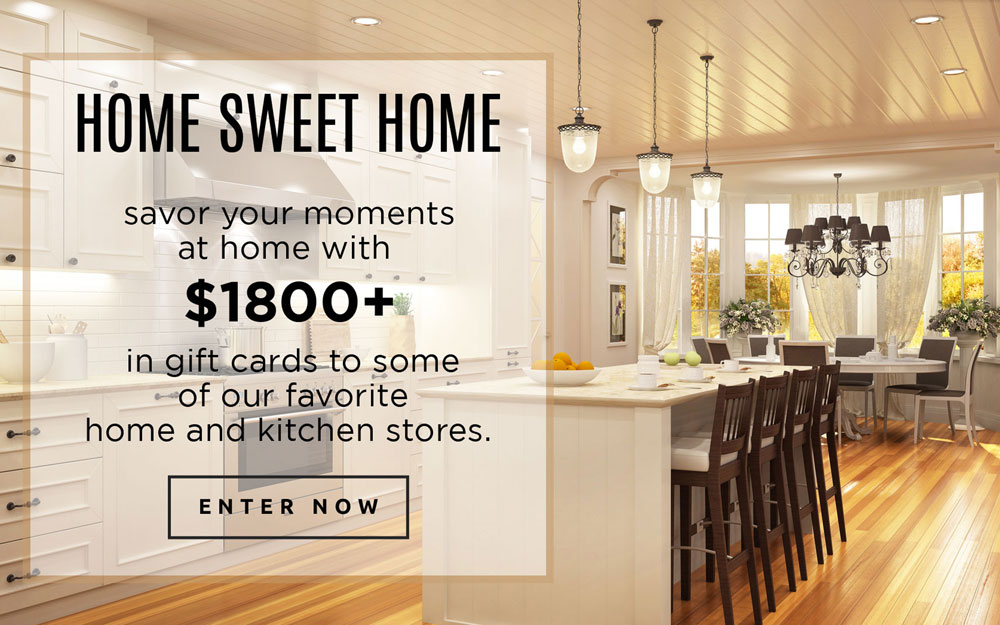 Total Emails Acquired: 11.7K
Average Email List Size Of Participating Brands: 20,822
Average Email List Size Growth: 56.25%
For some of these participating companies, we managed to more than double their email list! The beauty of a group giveaway is that the prize pool is so large that it attracts massive buzz.
And ultimately, it's a win win because all of the participating brands walk away with an email list of eager prospects and many sales are generated organically during the giveaway itself.
Strategy #4 – Build Your Email List By Launching A Traditional Giveaway

Unlike a group giveaway, a traditional giveaway involves just a single prize. In addition, you must pay for ads (usually Facebook ads) to attract new signups.
Now when it comes to launching a traditional giveaway, the bigger the prize, the more likely you'll attract subscribers.
Done correctly, a traditional giveaway can be an effective way to grow your email following at a cost of less than $.50 per subscriber.
Here's how to set up a traditional giveaway step by step.
Choose Your Prize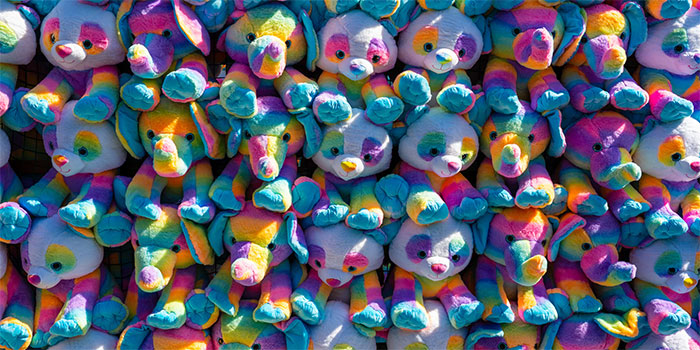 Ideally, you should select a prize worth at least $150 that is relevant to the products you sell in your shop. In general, the higher the dollar value, the better. But stay away from generic prizes like Amazon gift cards and Apple products.
Think of your prize as a small investment that will pay off a thousandfold once new subscribers and customers pour in. If you don't have a product to give away, pick a related product someone would buy along with your product.
The goal is to give away something that your ideal customer would want.
For example, if you run a customized jewelry store, you can opt to give away a beautiful jewelry box.
By choosing a highly relevant prize, contest entrants will be extremely likely to buy products from your store regardless of whether they win or not.
Set Up Your Giveaway
Once you have your prize, the next step is to spread the word about your giveaway.
Use a tool like ViralSweep—a platform that creates sweepstakes, contests, and giveaways—to make your giveaway go viral.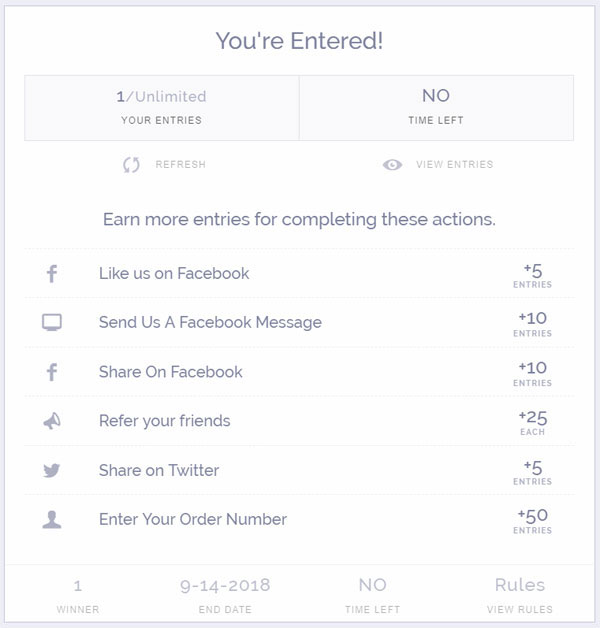 In the example above, additional contest entries can be earned when people share your giveaway with their friends on social media and email.
The ability to earn bonus entries in return for a share will quickly spread the word about your giveaway and cause it to go viral.
Once you have your giveaway set up, begin running Facebook ads to your giveaway landing page.
Email Your Participants During The Giveaway
To run a successful giveaway, you have to stay in constant contact with your entrants. After all, people may eagerly join your contest today and forget about it tomorrow.
As a result, you must set up an automated email sequence to entice them to take action. A good followup sequence will ensure that your contestants stay with you from start to finish.
Here's a sample email sequence framework you can use as a guide:
1st email – Your first email should be a welcome email to introduce the giveaway and your brand. You should emphasize that entrants must stay on the list to win and that the winner will be announced via email. This forces subscribers to check your emails if they want to win.
2nd email – Your second email should remind people that there are multiple chances to win and that they can greatly increase their chances of winning by sharing the giveaway on social media.
3rd-8th email – The remaining emails of your sequence should be used to inform participants about freebies, promotions, and other product offerings from your store.
Email Your Subscribers After The Giveaway With A Special Offer
At the end of the giveaway, make sure you publicly announce the winner to your entire list of entrants.
It also helps to ask for photos of the winners to add credibility to your contest. With a well implemented post-giveaway email, you can maintain a positive relationship with subscribers who didn't win.
Here's a post giveaway email sequence framework you can use.
1st email – Thank the participants with a consolation coupon or gift card.
2nd email – Notify the user that their gift card is about to expire.
3rd email – Give one last nudge with a message like, "Your gift card has been extended one more day."
Filter Out The Good Prospects
The final step is to clean up your newly acquired email list. Here's what you need to do.
Separate out your emails based on location and remove countries that you don't sell to.
Clean your list and email only the highest engaged subscribers of your giveaway autoresponder sequence.
Optionally delete AOL, Microsoft and Yahoo email addresses from your list. These ISPs are notorious for hurting your email deliverability if people mark your emails as spam.
Overall, you can maximize your results by doing a daily or weekly giveaway instead of a monthly one.
Consistent interaction and announcements of winners will keep people engaged with your brand.
Strategy #5 – Build Your Email List With A Facebook Messenger Giveaway

Facebook Messenger giveaways are a brilliant solution for building an audience and launching products on Amazon or your own online store.
Why Use Messenger Giveaways?
Unlike a traditional giveaway, Messenger giveaways are evergreen which means that it runs on autopilot once you set everything up.
There's nothing to manage on an ongoing basis and you can start and pause your giveaway as you choose.
Meanwhile, your Facebook Messenger tool gathers email subscribers and rewards winners automatically, so you can sit back and watch your email list grow.
In my experience, your cost per subscriber tends to be lower than using a traditional email landing page to collect emails.
What's more, collecting an email address from Messenger requires much less friction (i.e. how much effort it takes to sign up) than grabbing an email address from a landing page.
How Messenger Giveaways Work
When someone clicks on your ad on Facebook, a Messenger chatbot asks the user if they are looking to enter the giveaway.
Here's an example Facebook Messenger ad I ran for my shop.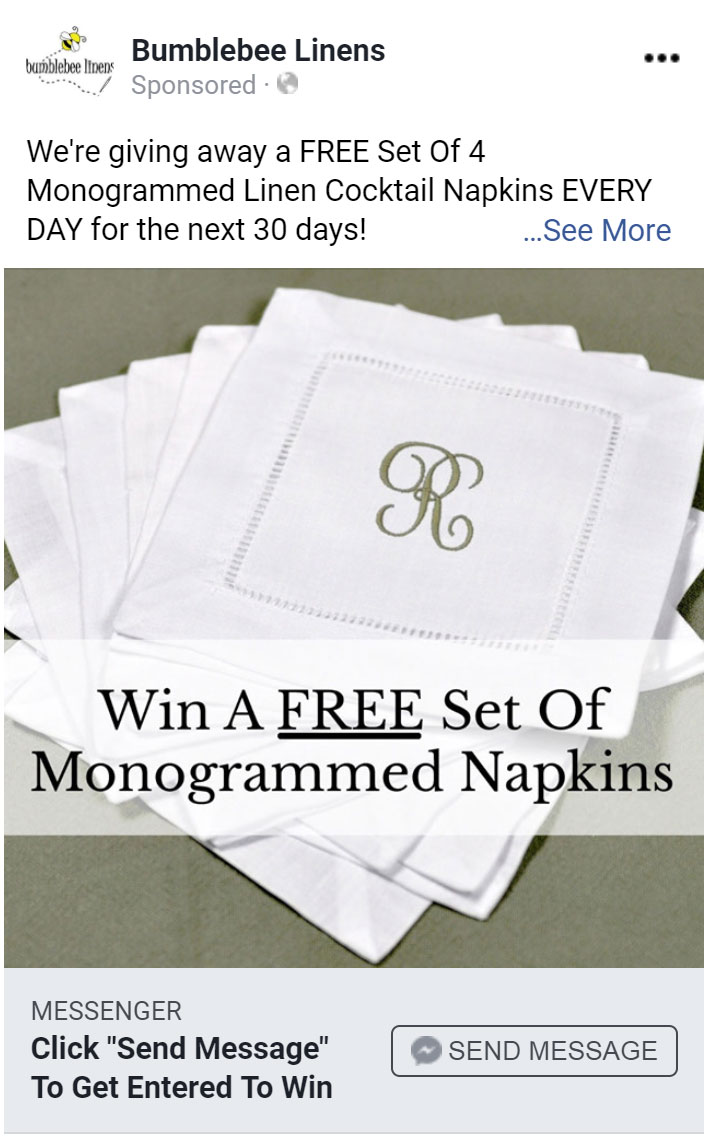 After the user clicks on the ad, they are taken to Facebook Messenger with the following message.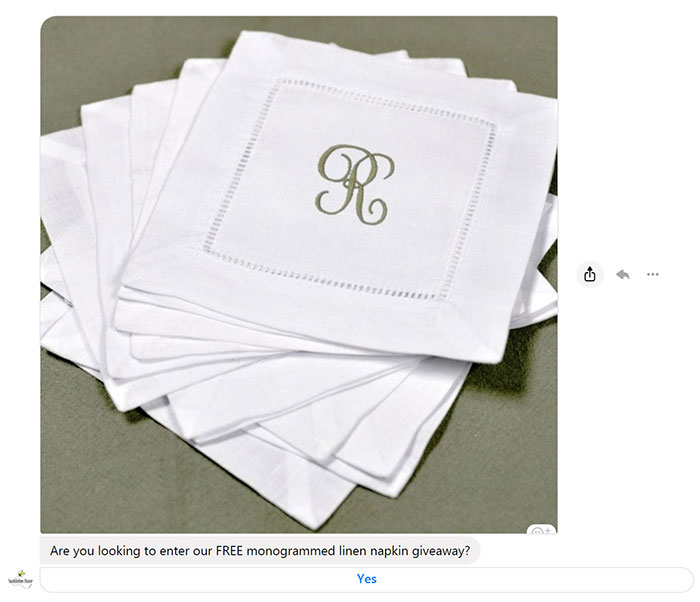 Once the user taps on "Yes", they instantly become a Facebook Messenger subscriber and you can send them follow up messages.
After the user has opted in, the chatbot then asks the user to click on their email address to confirm their interest.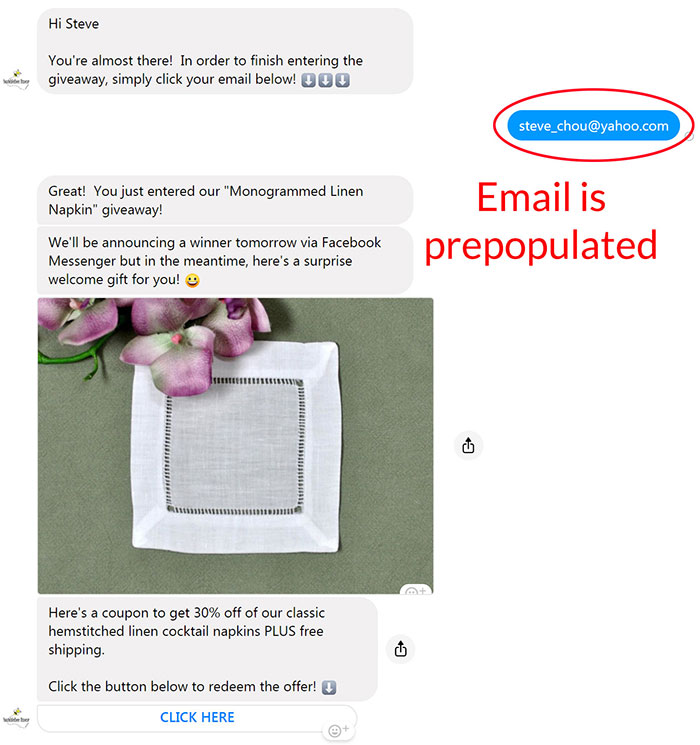 Herein lies the beauty of Facebook Messenger. The customer does not have to physically type in their email address.
Instead, the email address field is auto-populated with the exact email address linked to a user's Facebook account.
For this reason, you'll be generating a list of real email addresses instead of burner email addresses people often use to enter giveaways.
Once the user clicks their email address, they receive information about the announcement schedule and a special welcome gift.
This welcome gift is usually a heavily discounted version of the prize and oftentimes, your conversions from this offer will pay for the cost of your Facebook ad!
Anyway after 23 hours, your Messenger bot will automatically do a drawing and inform participants whether they won the giveaway or not.
You can also program your Facebook Messenger bot to give non-winners a discount to thank them and redirect them to your store.
Messenger giveaways provide high quality leads since people who click your ad and join your giveaway actually like your product.
In a typical Messenger giveaway, I pay between 25-86 cents per Messenger-email combo. But your mileage will vary depending on your offer and your targeting.
How To Set Up A Facebook Messenger Giveaway
In order to set up a Facebook Messenger giveaway, you first need to sign up for a chatbot tool like ManyChat.
Here's a high level flow chart of how my giveaway bot works for your review.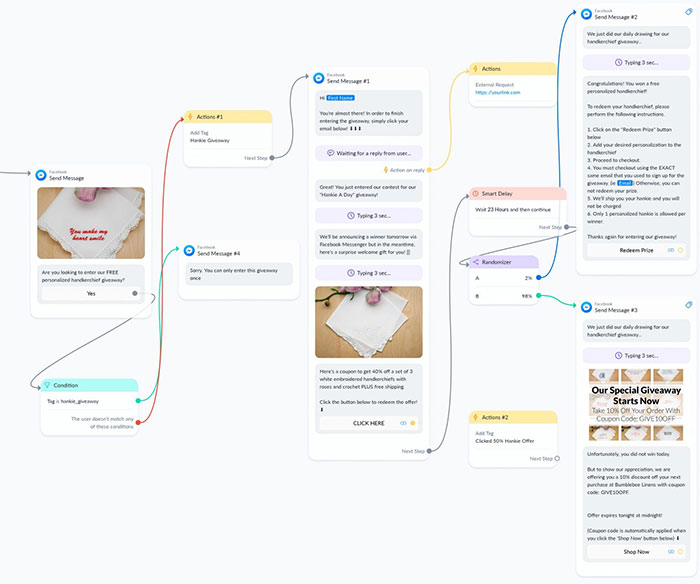 Basically, the Facebook Messenger bot takes care of announcing the winners automatically and you do not have to lift a finger.
In addition, you can adjust the odds of winning however you want by tinkering with your bot settings.
If a user wins the contest, a coupon code is automatically given to the recipient and they can redeem their prize on your online store.
If they don't win, they are given a consolation prize like the one below.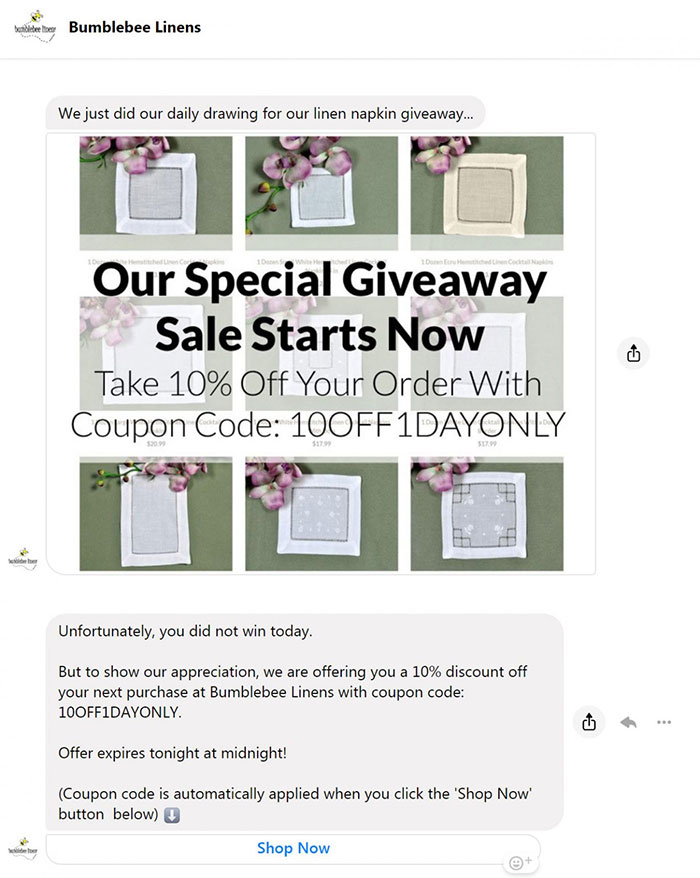 In addition, once someone opts in to your giveaway, you should also place them on an email autoresponder sequence that is very similar to the one used for a traditional giveaway.
Overall, Facebook Messenger giveaways are incredible because
You will generate sales during the giveaway which will pay for the cost of your advertising.
You can use this flow to ask for Amazon reviews when launching new products.
The emails that you receive are associated with a user's Facebook account which make them higher quality.
Your giveaway runs on autopilot and you can leave it on indefinitely.
Scaling Your Email List Growth
The five strategies described above are not mutually exclusive and you can implement all 5 at the same time for maximum list growth potential.
Bottom line, It's relatively straightforward to scale the size of your list quickly using the methods outlined in this post but you have to take action!
Don't listen to the naysayers that proclaim that email is dead. Email is here to stay, you own your list and no one can take it away from you.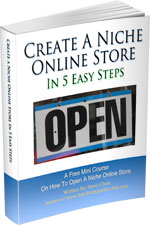 Ready To Get Serious About Starting An Online Business?
If you are really considering starting your own online business, then you have to check out my free mini course on How To Create A Niche Online Store In 5 Easy Steps.
In this 6 day mini course, I reveal the steps that my wife and I took to earn 100 thousand dollars in the span of just a year. Best of all, it's free and you'll receive weekly ecommerce tips and strategies!
Note: This post above may contain affiliate links, which means that I may receive a commission if you make a purchase when clicking a link. Please consult our privacy policy for more information.
Related Posts In Email Marketing
About Steve Chou

Steve Chou is a highly recognized influencer in the ecommerce space and has taught thousands of students how to effectively sell physical products online over at ProfitableOnlineStore.com. 

His blog, MyWifeQuitHerJob.com, has been featured in Forbes, Inc, The New York Times,  Entrepreneur and MSNBC.  

He's also a contributing author for BigCommerce, Klaviyo, ManyChat, Printful, Privy, CXL, Ecommerce Fuel, GlockApps, Privy, Social Media Examiner, Web Designer Depot, Sumo and other leading business publications.

In addition, he runs a popular ecommerce podcast, My Wife Quit Her Job, which is a top 25 marketing show on all of Apple Podcasts. 

To stay up to date with all of the latest ecommerce trends, Steve runs a 7 figure ecommerce store, BumblebeeLinens.com, with his wife and puts on an annual ecommerce conference called The Sellers Summit.  

Steve carries both a bachelors and a masters degree in electrical engineering from Stanford University. Despite majoring in electrical engineering, he spent a good portion of his graduate education studying entrepreneurship and the mechanics of running small businesses.