This post will teach you how to start a Shopify blog and answer the age old debate on whether you should use Shopify's native blogging platform versus a WordPress blog on a subdomain.
Most people do things backwards when it comes to selling and making money online.
For example, the other day a reader emailed me to complain that he'd spent 3 months designing a beautiful website on Shopify but wasn't making any sales because of a lack of traffic.
Here's the thing.
Most people throw up an ecommerce store on Shopify or Big Commerce and pray that the customers will come. But the truth is that getting organic traffic to a brand new ecommerce store can be quite challenging early on.
The easiest way to sell your goods is to first build an audience of loyal fans first. And the best way to establish this audience is with a blog.
Not only can a blog position you as an authority within your niche but it will also attract free search engine traffic as well. And once you've established a following, the sales will start rolling in.
For example, I recently posted my year end review on how MyWifeQuitHerJob.com performed as a business last year and I was happy to announce that my blog earned over $1.35 Million.
Note: These numbers are for my blog alone and completely separate from my online store.
Because I have established a decent sized fan base, I'm able to sell my ecommerce course as well as relevant affiliate offers to my audience.
In addition, I've inadvertently made a name for myself in ecommerce in the process!
Blogging is an excellent way to …
Get your ideas out to the masses
Establish yourself as an authority
Reach out to other experts and entpreneurs around you
Over the years, I've also met hundreds of like minded bloggers and made a ton of new friends as well.
Whether you are looking to establish yourself as an authority or if you want to attract potential customers for your ecommerce store, a blog is a must have!
Today, I'm going to show you how to start a standalone WordPress blog as well as how to append a WordPress blog onto an existing Shopify or BigCommerce store.
I'm also going to discuss the pros and cons of having a blog in a subdirectory versus a separate folder.
Get My Free Mini Course On How To Start A Successful Ecommerce Store
If you are interested in starting an ecommerce business, I put together a comprehensive package of resources that will help you launch your own online store from complete scratch. Be sure to grab it before you leave!
The Dilemma With Fully Hosted Shopping Carts

It's a well known fact that fully hosted shopping carts like Shopify or BigCommerce make starting an online store a heck of a lot easier than trying to run your own server.
But the problem with these 2 platforms is that they have very limited blogging platforms. Sure, if all you want to do is write basic no frills blog posts, then using their built-in blog is fine.
But if you want to run a fully featured website outside of your shop, you really need a more powerful solution like WordPress.
And herein lies the problem.
Let's say you want to attach a WordPress blog to your Shopify store.
Right now, Shopify forces you to install your WordPress blog on a separate subdomain.
For example, if my store bumblebeelinens.com was on Shopify and I wanted to add a WordPress blog, I would have to install my WordPress blog on blog.bumblebeelinens.com instead of bumblebeelinens.com/blog.
The Big Subdomain vs Subdirectory Debate – Where Do You Install Your Shopify Blog?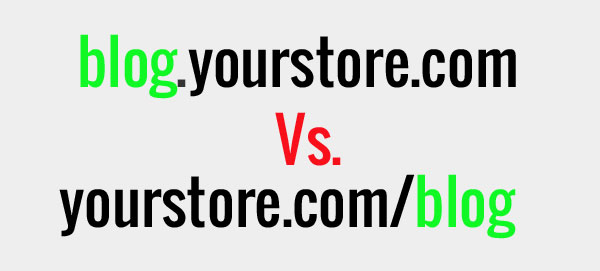 This has some serious SEO implications.
For one thing, Google treats a subdomain like a completely separate entity from your main site. As a result, your subdomain WordPress blog would not build any domain strength for your root domain.
From an SEO(search engine optimization) standpoint, it's better to install a WordPress blog in a subdirectory as opposed to a subdomain, but unfortunately we can't do that with Shopify or Big Commerce.
On the flip side, if you use Shopify or BigCommerce's native blogging platform, you would receive all of the SEO benefits of having a blog on the same domain as your shop but at the expense of a very limited platform.
For a lot of people, this is a difficult decision to make.
For me personally, I recommend that you install a WordPress blog in a subdomain of your main shop. Here's why.
WordPress Is So Much More Flexible Than Shopify's Blog Platform

WordPress has thousands of plugins at your disposal that make running a fully featured website infinitely easier than the limited blogging functionality that Shopify or Big Commerce provides.
For example, there are plugins available for EVERYTHING you can think of.
Let's say you want to create a nice squeeze page to easily collect email addresses. There's a plugin for that.
Let's say you want to add a very specialized contact form for your site. There's a plugin for that.
Let's say you want to create a little membership site for your ecommerce store. There's a plugin for that.
In reality, WordPress is much more than a blogging platform because there are so many add ons available that extend its functionality.
Shopify and BigCommerce are great for handling orders and transactions but lousy for everything else.
The other reason I don't recommend running a blog on Shopify or BigCommerce is because there's no way to migrate your blog off of their platform. In other words you're stuck.
Unsurprisingly, Shopify offers a plugin that will migrate a WordPress blog to Shopify but not the other way around. Go figure!
How To Install A WordPress Blog With Shopify – A Video Overview
How to Add A WordPress Blog to Shopify Or BigCommerce

As I mentioned earlier, in order to install a WordPress blog onto Shopify or Big Commerce, you will need to create a separate subdomain for your blog.
In addition, you'll need to sign up for a webhost to host your blog. Right now, I recommend Blue Host for this purpose.
Most of you probably already know this, but I ran my online store on Blue Host for over 2 years and they were fantastic.
And the best part is that they only cost $2.95 a month! (This is a special rate negotiated for MyWifeQuitHerJob.com readers. The regular price is $7.99)
Chances are in the beginning, you will not need anything more powerful than a shared host and Blue Host is an inexpensive and powerful solution.
Below are detailed instructions on how to install a WordPress blog onto an existing Shopify or BigCommerce store using Blue Host as your webhost.
Step 1: Sign Up For Webhosting
Instructions How To Sign Up
Select A Plan
If you're just starting out, just go with the cheapest plan which will be fine until you reach about 1000 visits per day.

Type In Your Domain.

Note: If you already have a domain for your ecommerce store, type in your exact same domain.

For example, if my Shopify ecommerce store resides at bumblebeelinens.com, I would type in bumblebeelinens.com as the domain.

If you plan on hosting your blog on a completely different domain, then Blue Host will give you a domain for free.

Enter Your Account And Billing Information.
Choose Your Hosting Package. You will be given a choice of 12 months, 24 months or 36 months. The longer the time frame, the cheaper it will be.



Make sure you unclick all the stuff you don't need. Trust me. You don't need SiteLock Domain Security, Site Backup Pro or Search Engine Jumpstart
Click Next. You will receive a confirmation in your email.
Step 2: Create A Subdomain For Your Blog
This step is only necessary if you plan on installing your WordPress blog on a subdomain from your Shopify or BigCommerce store. If you simply plan on installing a blog on a completely separate domain, then skip this step.
Log in to your Blue Host account. Note: You should have received an email with your user id/password information. If you can't find the login link, Click Here
Click On The "Domains" Button

Click On The "Subdomains" Button From The Pulldown

Add A Blog Subdomain
In this example, I'm adding the blog.yourdomain.com subdomain.

Congrats! You Added A Subdomain!

Grab The Subdomain IP Address
Because we are pointing blog.yourdomain.com to BlueHost, we need to grab the ip address.

Navigate to Domains->Zone Editor in your BlueHost control panel.

Then copy down the following ip address (We'll need it later).

In this example, the ip address for the subdomain is 50.87.248.203
Step 3: Install WordPress On Your Subdomain
WordPress is by far the most popular blogging platform out there. And the best part is that you can install WordPress in a matter of just a few clicks on Blue Host
Go Back To Your Bluehost Control Panel Front Page. If you forgot how to get to your control panel, Click Here
Select "Add A New Site" under the pull down menu.

Name Your Blog

Select Your Subdomain And Click on the "Next" button

WordPress has been installed on your subdomain!
Step 4: Modify The DNS Records – Point Your Subdomain At Your New WordPress Blog
If you already have a Shopify or BigCommerce store installed at yourdomain.com, then you aren't done yet!
Right now your main domain is pointing at your shop hosted on Shopify or BigCommerce, but you still need to point your subdomain, "blog.yourdomain.com", to your newly installed WordPress blog on BlueHost.
Note:If you were simply installing a blog on a brand new domain, you don't need this step. You should be able to access your blog immediately. Bluehost will email you specific instructions on how to do this.
This is where things get a little bit technical.
Remember, right now you have Shopify setup on your main domain which means that the DNS (domain name server) record for your domain is pointed at Shopify.
In order to point 'blog.yourdomain.com' to your WordPress blog, you need to add a new DNS record that tells the browser to look at Bluehost only if someone navigates to the subdomain (ie. your blog).
In order to do that, you will need to access your domain registrar where you purchased the domain and add an "A record" to tell everyone where to access your new WordPress blog at blog.yourdomain.com.
Since I have all of my domains registered at Go Daddy, I'll use them as an example.
Step By Step Instructions
Go To GoDaddy's Page, Login And Click On "Manage Your Domains"

Select The Desired Domain And Click On "DNS Zone File"

Click On The "Add Record" Button

Add An "A Record" To Your Zone File With The IP Address Obtained From BlueHost
For my earlier example, I would enter in 50.87.248.203
Voila!
If you followed all of the instructions above, you should have a Shopify or BigCommerce store at http://yourdomain.com and a WordPress blog located at http://blog.yourdomain.com.
This is the most flexible way to run a blog in conjunction with your Shopify or Big Commerce store.
But if you are on an open source platform like I am, you should install your blog in a subdirectory such as http://yourstore.com/blog/.
Good luck!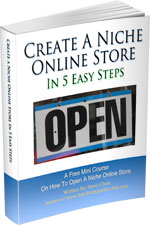 Ready To Get Serious About Starting An Online Business?
If you are really considering starting your own online business, then you have to check out my free mini course on How To Create A Niche Online Store In 5 Easy Steps.
In this 6 day mini course, I reveal the steps that my wife and I took to earn 100 thousand dollars in the span of just a year. Best of all, it's free and you'll receive weekly ecommerce tips and strategies!
Note: This post above may contain affiliate links, which means that I may receive a commission if you make a purchase when clicking a link. Please consult our privacy policy for more information.
Related Posts In Ecommerce SEO
About Steve Chou

Steve Chou is a highly recognized influencer in the ecommerce space and has taught thousands of students how to effectively sell physical products online over at ProfitableOnlineStore.com. 

His blog, MyWifeQuitHerJob.com, has been featured in Forbes, Inc, The New York Times,  Entrepreneur and MSNBC.  

He's also a contributing author for BigCommerce, Klaviyo, ManyChat, Printful, Privy, CXL, Ecommerce Fuel, GlockApps, Privy, Social Media Examiner, Web Designer Depot, Sumo and other leading business publications.

In addition, he runs a popular ecommerce podcast, My Wife Quit Her Job, which is a top 25 marketing show on all of Apple Podcasts. 

To stay up to date with all of the latest ecommerce trends, Steve runs a 7 figure ecommerce store, BumblebeeLinens.com, with his wife and puts on an annual ecommerce conference called The Sellers Summit.  

Steve carries both a bachelors and a masters degree in electrical engineering from Stanford University. Despite majoring in electrical engineering, he spent a good portion of his graduate education studying entrepreneurship and the mechanics of running small businesses.