When it comes to starting your own online store, Shopify is one of the best ecommerce platforms out there.
But the main problem with Shopify is that it can be hard to decide which Shopify pricing plan to go with or how much it costs when you factor in the cost of 3rd party apps.
The right Shopify pricing plan for your online store depends on a variety of factors which include your monthly revenues, your required feature set and your customization needs.
This post will enumerate all of the costs and benefits for each plan and prevent you from wasting money on unnecessary features.
The ultimate goal is to help you understand how much does Shopify cost and choose the cheapest possible Shopify pricing plan that meets your requirements.
Get My Free Mini Course On How To Start A Successful Ecommerce Store
If you are interested in starting an ecommerce business, I put together a comprehensive package of resources that will help you launch your own online store from complete scratch. Be sure to grab it before you leave!
Is Shopify Free?
Shopify is not free but they offer a 3 day free trial and then it's $1/month for the next 3 months. During the free trial, you can build an online store and have access to all of their tools.
However, in order to take transactions online, you have to sign up for a paid plan.
Right now, Shopify offers 5 pricing plans.
Which Shopify Plan Should You Choose?
The following table is from Shopify's website and enumerates all of the features for each Shopify pricing plan.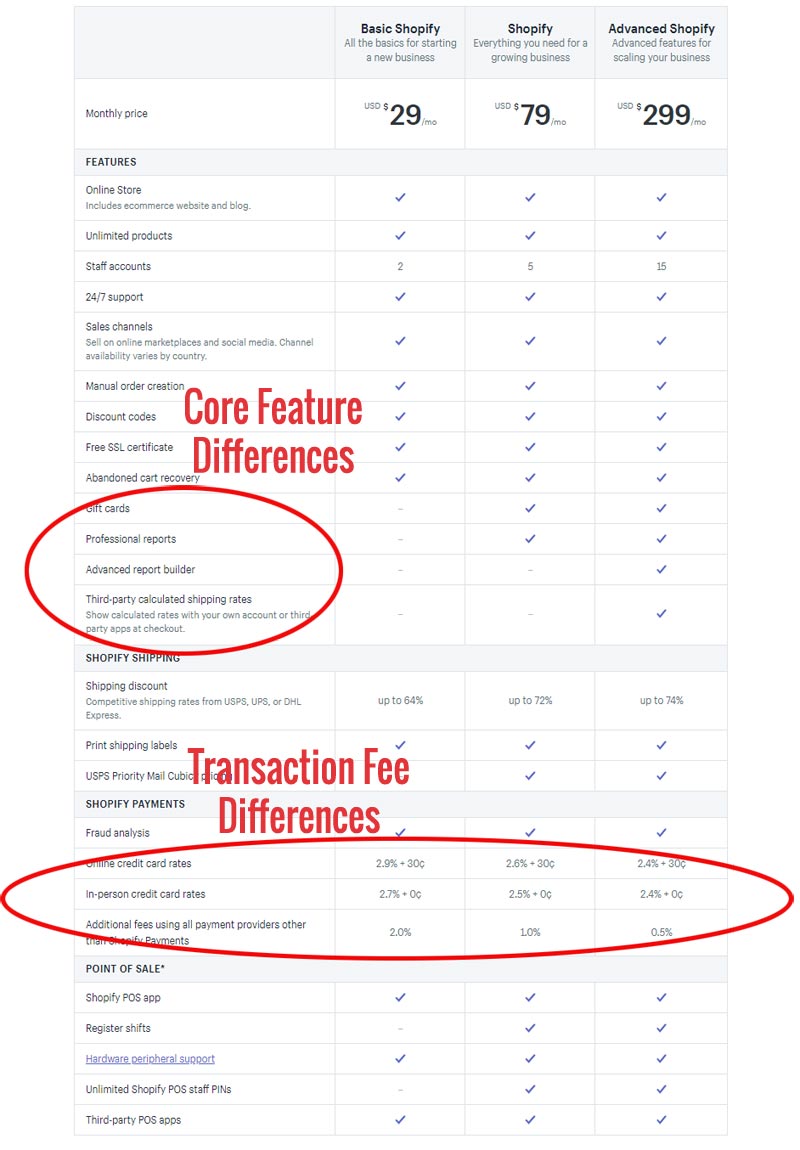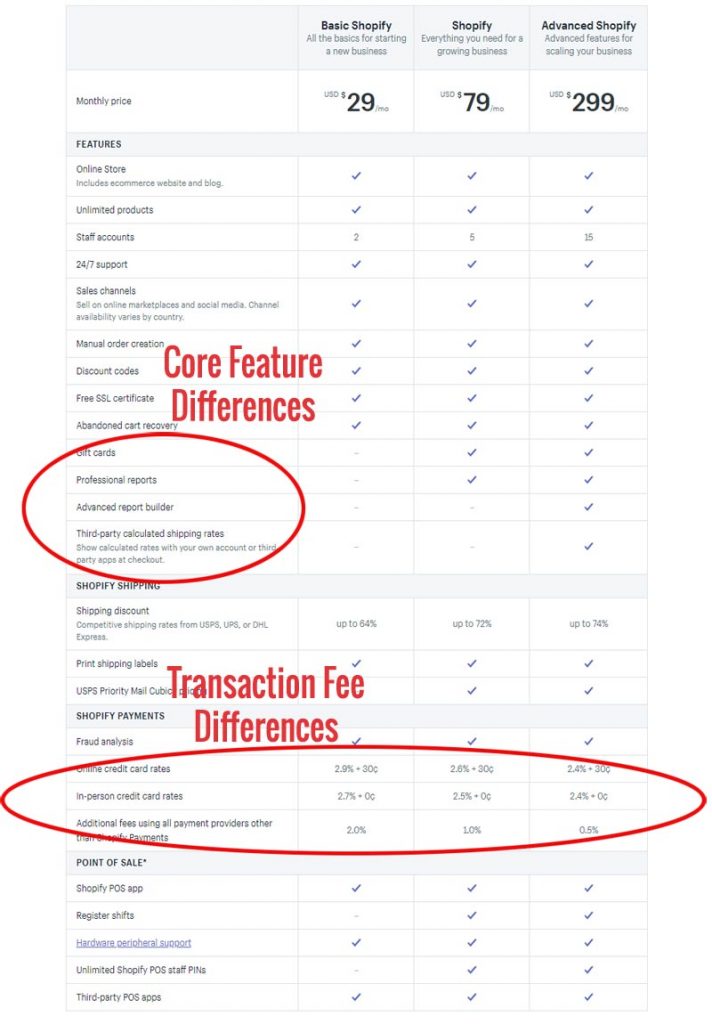 If you look at the table above, you'll notice a few things.
First of all, the Shopify Starter plan and the Shopify Plus plan comparison tables are missing. Why?
The reason is because the Shopify Plus plan and the Shopify Starter plan have very specific use cases which I'll discuss in depth later on in this article.
Second of all, there is very little difference between the basic, regular and advanced plans outside of a few features and processing fees.
As a result, your decision between Shopify basic, regular and advanced primarily depends on your monthly sales volume and how much you value the extra features vs paying for 3rd party apps.
Features Available On All Shopify Pricing Plans
All Shopify pricing plans offer abandoned cart recovery.
Abandoned cart recovery is a feature where your shopping cart automatically reaches out to customers who abandoned their cart and convinces them to complete their purchase.
Shopify's abandoned cart recovery feature is extremely limited in that it only allows you to send a single abandoned cart recovery email to customers. Realistically, any serious ecommerce store owner will use a 3rd party abandoned cart recovery solution like Klaviyo .
All Shopify plans offer a point of sale solution as well.
Shopify POS (or Shopify point of sale) is Shopify's point of sale solution that allows you to access in-person payments at pop-ups, markets, fairs and trade shows.
Finally, all Shopify plans offer a free SSL certificate, discount codes, real time carrier shipping quotes and unlimited products.
Shopify Starter – If You Want To Sell A Few Products On Social Media…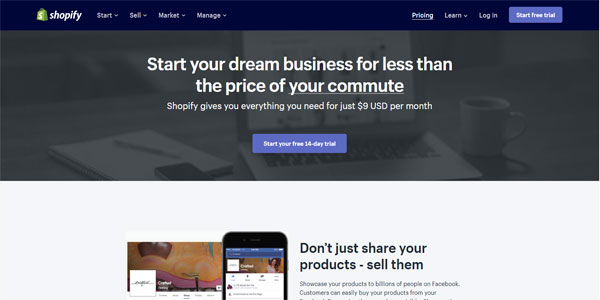 If you have a popular social media account and simply want to add the ability to sell a few products here and there, then the Shopify Starter plan is for you.
The Shopify Starter plan costs $5/month and allows you to sell on Facebook and on your own site through the use of custom buy buttons.
The important thing to realize about Shopify Starter is that this plan does NOT provide you with an online store website.
In fact, the Shopify Starter plan is only for people who are on social media and would like to accept ecommerce transactions.
For example if I wanted to sell widgets on Instagram, I might want to sign up for the Shopify Starter plan so I could include buy buttons on my account to sell my products.
If I had a popular Facebook page or group, I might want to sign up for Shopify Starter to sell directly on Facebook.
Bottom line, the Shopify Starter plan is only for people who already have a web presence and would like to accept transactions online.
In addition to the $5/month fee, you will also have to pay 2.9% + $.30 in credit card transaction fees if you use Shopify Payments.
Shopify Basic – If Your Online Store Makes Less Than $22,000 Per Month…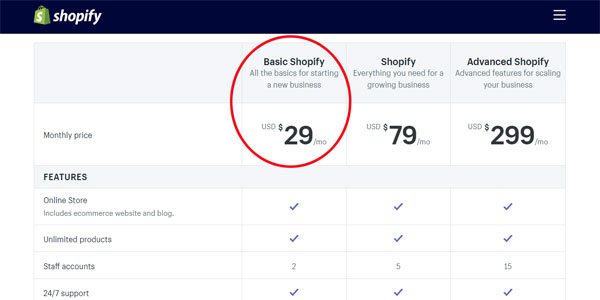 For most stores out there, the Shopify Basic plan makes the most economical sense until you start generating more than $22,000 in monthly revenue.
Here's how to calculate the breakeven point.
The basic Shopify plan charges 2.9% +$.30 in credit card transaction fees whereas the main Shopify plan charges 2.6% + $.30 in credit card transaction fees.
This is a difference of .3% on the transaction fees.
The main Shopify plan costs $105 whereas the basic Shopify Plan costs $39, a difference of $66.
To make up for the $66 difference in cost, you have to process $66 / .3% = $22,000 to break even in terms of credit card transaction fees.
Feature wise, the one major difference between the main Shopify plan and the basic Shopify plan is that the main plan offers gift cards and an advanced report builder.
At first glance, the lack of gift card capability sounds like a deal breaker but there are many Shopify 3rd party apps that will implement this functionality for you.
For example, the Bold Discount App offers a very powerful discount engine for only $14.99/month.
While the "professional reports" you get with the main plan are useful, they alone do not justify the added $66 cost of the main plan.
Shopify Main – If Your Online Store Makes Between $22,000/month and $147K/month…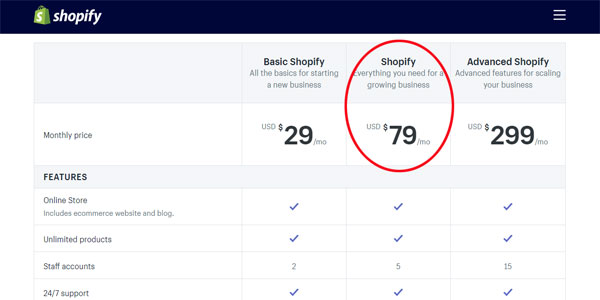 At this revenue range, you should sign up for the main Shopify plan. In fact feature wise, there is almost zero reason to sign up for the advanced Shopify plan until you exceed $147K/month.
If you look at the main Shopify plan, you get 99% of the advanced Shopify plan features for only $105 which makes this plan the sweet spot for most 6 and low 7 figure online store owners.
The only reason to sign up for the advanced Shopify plan at this revenue tier is if…
You require more than 15 staff accounts – Realistically, a Shopify store at this level will not have 15 employees so this is usually a non-factor
You aren't using Shopify Payments – When you don't use Shopify Payments, Shopify charges you credit card transaction fees which are drastically reduced on the advanced Shopify plan. Instead of paying 1% in credit card transaction fees on the basic Shopify pricing plan, you only get charged .5%
You want to show calculated shipping rates at checkout – In my experience, showing the exact shipping rate during checkout is overrated. But for some businesses, this feature might be important.
Shopify Advanced – If Your Online Store Makes Between $147K/month and $640K/month…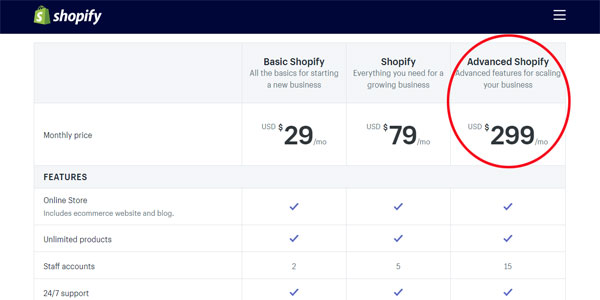 At this revenue tier, it's in your best interests to stick with the Shopify Advanced plan. The advanced Shopify plan offers the lowest credit card transaction fees of all the main plans including a few extra "nice to have" features.
For example at this revenue level, you're probably already handling your shipping via a third party vendor. As a result, it might be nice to show your calculated rates during checkout instead of using a table rate or flat rate solution.
If you don't have a bookkeeper or an analytics member on your staff, Shopify's advanced reports will come in handy for projecting your future revenues.
But outside of that, you should stick with the advanced Shopify plan until you hit $640K/month in revenue or if you require the advanced feature set of Shopify Plus.
Shopify Plus – If Your Online Store Makes Over $640K/month…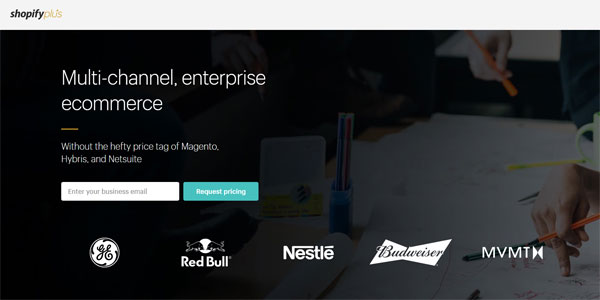 At this revenue level, it makes sense to sign up for Shopify Plus just to save on the credit card transaction fees alone!
At this tier, your credit card processing fees plummet to only 2.15% which is on par with what you can get with a regular merchant account and gateway combo.
But outside of the pure transaction fee savings, Shopify Plus also offers you a host of advanced features that are extremely useful and unique to Plus users.
You Get Multiple Online Stores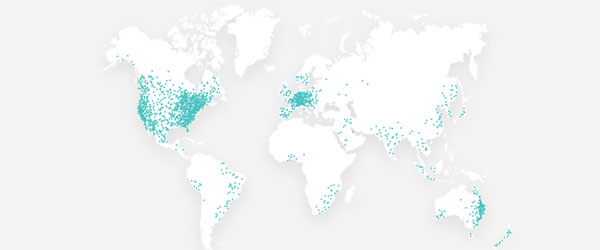 This feature is very convenient if you sell in international markets. With Shopify Plus, you can have up to 10 stores at no additional cost where you can tailor the products and content to whatever country you are selling into.
You Get Access To Shopify's Launchpad Tool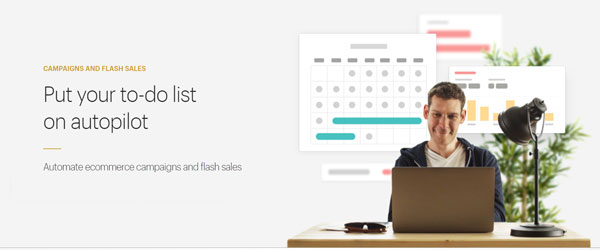 Launchpad is a tool only available to Shopify Plus merchants that lets users automate common ecommerce tasks related to promotions and sales.
For example, you can automatically adjust your prices during a promotional campaign based on specific product parameters.
You can set complex rules for discounts such as a free gift with purchase or free shipping based on the type of product ordered.
You can also set a start and end time for a special sale and automatically change your theme with special colors and images and immediately revert it back after the campaign is over.
Meanwhile, Shopify allows you to monitor your launch campaigns in real time with their event dashboard.
You Can Sell Wholesale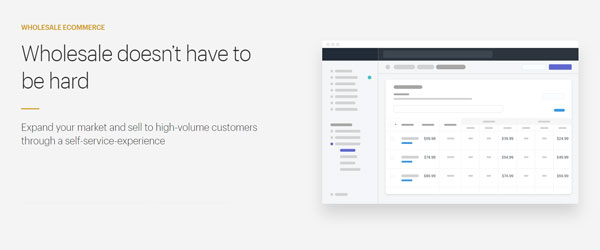 One of Shopify's glaring weaknesses is the ability to offer special wholesale pricing to select customers. But Shopify Plus adds this capability out of the box.
The Shopify Plus Wholesale Channel allows you to create a separate Shopify store specifically for your wholesale customers that is an extension of your existing website.
Especially if you sell in retail locations, you can effectively streamline your sales channels and merge your inventory tracking for your entire operation.
You Have Full Control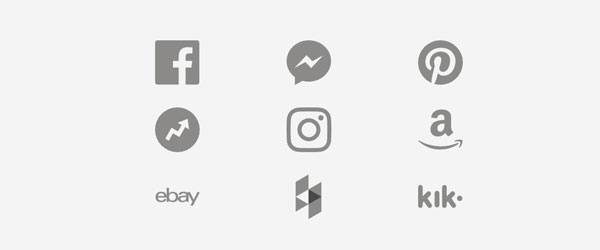 One of the biggest advantages of using Shopify is that you don't need to know how to code your own website. But once your ecommerce store reaches a certain size, you'll probably have customization needs that extend beyond the regular Shopify plan.
For example, regular Shopify plans do not allow you to alter the checkout experience. But Shopify Plus customers can create any custom checkout implementation that they want.
You Get Access To Shopify Flow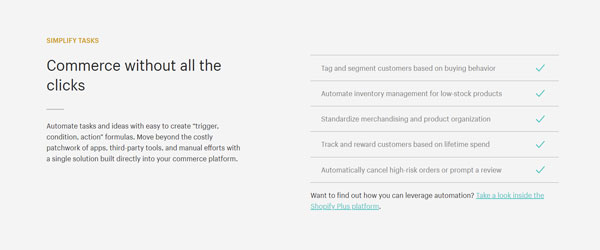 In my opinion, access to Shopify Flow is probably the biggest benefit to upgrading to Shopify Plus aside from the cost benefits.
What is Shopify Flow?
Shopify Flow is Shopify's backend automation platform that allows you to setup custom workflows.
For example, let's say I want to automatically track and tag specific customers who purchased widget A and B together.
With Shopify Flow, you can easily setup an automated workflow to tag these customers and use this data to generate highly segmented reports or to setup Facebook custom audiences.
You can also export these customers into special segments for your email marketing provider.
Another popular use case for Shopify Flow is to automatically implement loyalty and retention discounts by segmenting customers with tags based on their lifetime spend amount.
You can even use Shopify Flow to send a staff member a Slack message whenever a high LTV customer is shopping in your store.
Overall, Shopify Flow allows you to take specific actions based on internal events that run in your store, and the possibilities are limitless.
The Cost Of Shopify Payments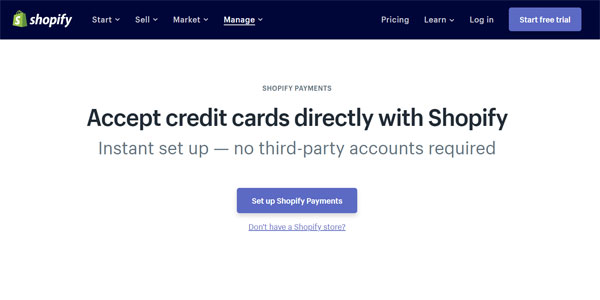 One of the perks of signing up for any of the Shopify pricing plans is that they give you the ability to process credit card payments right out of the box without the need for a 3rd party provider.
Their credit card payments solution is called Shopify Payments and it's very convenient for new online store owners.
However, the downside to Shopify Payments is that it's a lot more expensive than almost every 3rd party credit card processor out there.
For example, a store that makes 10K/month can probably get a 2.2% credit processing fee from Authorize.net whereas Shopify charges credit card processing fees of 2.9%.
If you can find cheaper credit card rates elsewhere, then why would you stick with Shopify Payments?
The reason is because Shopify charges transaction fees if you use an external payment gateway provider.
Their transaction fees start at 2% for the basic Shopify plan and drops to .5% on the advanced Shopify plan. Bottom line, Shopify essentially forces you to use their payment processing platform.
The Cost Of Shopify Apps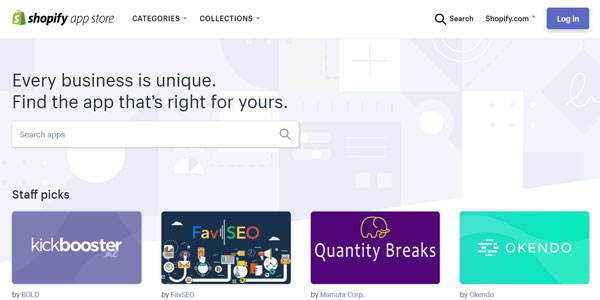 The unfortunate reality is that the basic Shopify shopping cart has very few features out of the box. As a result, most users end up paying additional Shopify costs for 3rd party apps that extend Shopify's functionality.
The majority of apps in the Shopify app store carry a monthly recurring fee and these costs must be taken into account when you calculate that overall price of Shopify.
In fact, it is not unusual for ecommerce store owners to pay hundreds of dollars per month for apps on top of the basic Shopify plan.
My advice to you when it comes to buying apps on the Shopify app store, is to only pay for apps that definitively contribute to your bottom line.
Other Shopify Costs
Even though Shopify handles most of the heavy lifting for your online store website, there are a few additional costs that you have to worry about on any Shopify pricing plan.
For one thing, Shopify does NOT provide you with a free domain. To register your own domain, Shopify will charge you $9 per year but in general you should host all of your website domains at a neutral 3rd party registrar like Go Daddy or NameCheap.
In addition, no Shopify plan provides you with the capability to send email from your own custom domain out of the box either.
Instead, if you want to send email under yourdomain.com, you'll need to sign up for an email provider like Zoho Mail or GSuite.
Shopify POS Pricing
By default, all Shopify plans come with the Shopify point of sale lite plan for free.
The Shopify POS lite pricing plan allows you to accept in-person credit card payments with a transaction fee starting at 2.4% + 0 cents. You can also request mobile point of sale hardware accessories free of charge.
Similar to your ecommerce website, you can manage your POS orders and products directly in the Shopify backend. You can also create profiles and track your point of sale customers separately.
If you run a brick and mortar store, Shopify also offers Shopify POS Pro which costs $89/month per physical location.
All Shopify POS Pro plans offer
Unlimited store staff
Smart inventory management
Staff roles and permissions
Unlimited registers
In store analytics
Is Shopify Worth It?
Shopify is worth the money if you want to start an online store that can potentially scale to 7, 8 or even 9 figures.
Because Shopify is so popular, they have an army of 3rd party developers who are constantly adding new functionality and apps. As a result, Shopify is always on the cutting edge of ecommerce.
If you need a feature for your store, there's probably already an app that does what you need.
While Shopify is expensive compared to other ecommerce platforms, they are the leaders in the space with a huge war chest of engineering talent and cash.
How To Save Money On Shopify Pricing Plans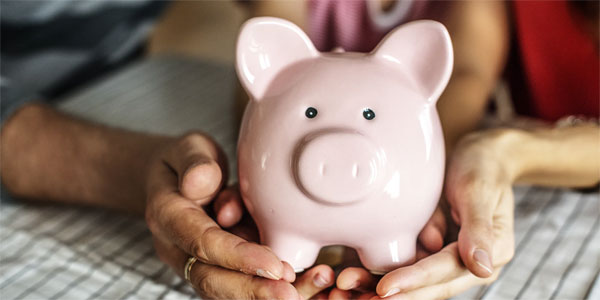 The easiest way to save money on any Shopify plan is to pay for a year upfront vs paying month to month.
Shopify does not advertise this on their website, but you can save 25% if you choose to pay for 1 year in advance.
If you plan on sticking with Shopify in the long run, then it's in your best interests to pay for as much upfront as you possibly can.
If you are on a month to month plan, you can cancel at any time but it will be significantly more expensive.
Note:Shopify Plus requires at least a 1 year commitment to join.
Frequently Asked Questions About Shopify Pricing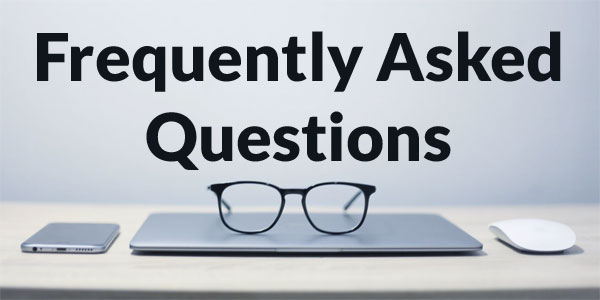 Here are the most commonly asked questions I get about Shopify.
How much does a typical Shopify plan cost INCLUDING apps?
I've already covered the costs of the different Shopify plans: Shopify Basic, Shopify Regular, Shopify Advanced and Shopify Plus. However, the cost of your Shopify plan is often just a small fraction of the total cost of running Shopify because of 3rd party apps.
Now the total number of apps that your store will need will vary depending on the nature of your products and your ecommerce store. But the majority of my students making at least 5 figures per month in my Create A Profitable Online Store course pay over $150/month on apps alone.
Does Shopify have transaction fees?
The term "transaction fee" can have many definitions and you can argue that Shopify Payments is a transaction fee all by itself. But if we use Shopify's terminology, transaction fees are only incurred if you do NOT use Shopify Payments.
These transactions fees start at 2% for the Shopify basic plan and drop all the way down to .5% for the Shopify advanced plan. In most cases, these transaction fees pretty much force you to use Shopify Payments.
Does Shopify charge For Shopify Payments?
There is no monthly charge for Shopify Payments and you can start accepting credit cards right out of the box for free. The downside is that the fees for Shopify Payments are much higher than you can get from a 3rd party processor.
How Does Shopify Compare Vs BigCommerce Vs WooCommerce Vs Wix Vs Shift4Shop?
If you want to know the pros and cons of the most popular shopping carts on the market, these posts that will help you decide between Shopify, BigCommerce, Shift4Shop, Wix and free open source platforms like WooCommerce.
Is Shopify Plus Worth It?
Shopify Plus can be worth the money if your store makes at least 7 figures in annual revenue.
In general, it makes sense to upgrade to Shopify Plus if you make over 640k/month in revenue just for the credit card processing savings alone.
However, if you are making between $147k-640k per month, your decision to use Shopify vs Shopify Plus will depend on the features you need.
Here is a comparison of Shopify Vs Shopify Plus for your review.
Can Shopify Handle Massive Traffic Spikes?
There are no restrictions on traffic, sales or visitors for any Shopify plan. In fact, the primary benefit of using Shopify is that you don't have to worry about maintaining your own server. Shopify handles everything for you.
Conclusion
Overall, Shopify's pricing plans can get quite confusing if you don't have any hands on experience with the platform.
In practice, it's in your best interests to stay on the cheapest Shopify plan possible until your credit card rate savings exceed the cost of the next higher plan. Outside of the Shopify Plus tier, the features you get for each higher plan are mostly a non factor.
After all, most of the extra functionality with Shopify will be gained from paying for 3rd party apps. The base Shopify cart will never do everything you want it to do.
Frequently Asked Questions About Shopify Pricing Plans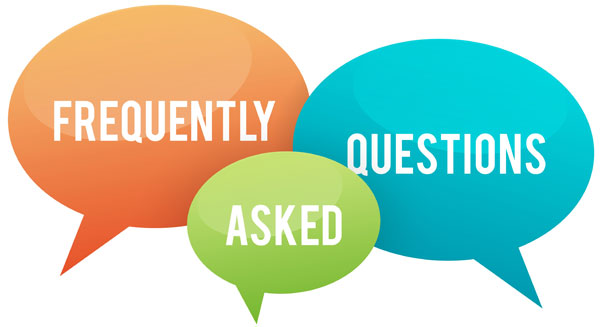 How much does Shopify cost?
Shopify offers 5 different plans. The Shopify Starter plan costs $5/month. The Shopify Basic plan costs $39/month + 2.9% and 30¢ per transaction. The Shopify Regular Plan costs $105/month + 2.6% and 30¢ per transaction. The Shopify Advanced plan costs $399/month + 2.4% and 30¢ per transaction. The Shopify Plus plan costs $2000+/month + 2.15% and 30¢ per transaction.
What is the monthly fee for Shopify?
Calculating the actual monthly fee for Shopify is a little bit tricky. While the base Shopify plans are fairly inexpensive, the plugins that you buy each carry a recurring fee as well. As a result, your total monthly Shopify bill will depend on how many addons you decide to use.
Is Shopify cheaper than Etsy?
At lower sales volumes, Etsy is cheaper than Shopify. But as your sales go up, Shopify eventually becomes a cheaper platform to sell on.
Is BigCommerce cheaper than Shopify?
While the base plans are similarly priced, BigCommerce ends up being cheaper because you won't have to pay for as many plugins. That being said, Shopify has much better 3rd party developer support.
Does Shopify take a percentage of sales?
Shopify only charges an extra transaction fee (outside of payment processing) if you do not use Shopify payments. Otherwise, Shopify payments costs 2.9% + 30 cents for the lower plans and as low as 2.15% + 30 cents for the Plus plan.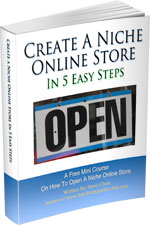 Ready To Get Serious About Starting An Online Business?
If you are really considering starting your own online business, then you have to check out my free mini course on How To Create A Niche Online Store In 5 Easy Steps.
In this 6 day mini course, I reveal the steps that my wife and I took to earn 100 thousand dollars in the span of just a year. Best of all, it's free and you'll receive weekly ecommerce tips and strategies!
Note: This post above may contain affiliate links, which means that I may receive a commission if you make a purchase when clicking a link. Please consult our privacy policy for more information.
Related Posts In Ecommerce Platforms
About Steve Chou

Steve Chou is a highly recognized influencer in the ecommerce space and has taught thousands of students how to effectively sell physical products online over at ProfitableOnlineStore.com. 

His blog, MyWifeQuitHerJob.com, has been featured in Forbes, Inc, The New York Times,  Entrepreneur and MSNBC.  

He's also a contributing author for BigCommerce, Klaviyo, ManyChat, Printful, Privy, CXL, Ecommerce Fuel, GlockApps, Privy, Social Media Examiner, Web Designer Depot, Sumo and other leading business publications.

In addition, he runs a popular ecommerce podcast, My Wife Quit Her Job, which is a top 25 marketing show on all of Apple Podcasts. 

To stay up to date with all of the latest ecommerce trends, Steve runs a 7 figure ecommerce store, BumblebeeLinens.com, with his wife and puts on an annual ecommerce conference called The Sellers Summit.  

Steve carries both a bachelors and a masters degree in electrical engineering from Stanford University. Despite majoring in electrical engineering, he spent a good portion of his graduate education studying entrepreneurship and the mechanics of running small businesses.