If you are looking to sign up for BigCommerce, you need to be aware of how BigCommerce pricing compares to other shopping carts on the market.
Even though their pricing plans seem straightforward at first glance, there are a few pricing gotchas that you need to be aware of that we'll cover in this post.
You'll learn…
How much BigCommerce costs for your specific ecommerce store based on revenue
Whether BigCommerce is worth the money compared to rival carts
Hidden and unexpected fees you may encounter with BigCommerce
How BigCommerce pricing compares to competitors like Shopify
Get My Free Mini Course On How To Start A Successful Ecommerce Store
If you are interested in starting an ecommerce business, I put together a comprehensive package of resources that will help you launch your own online store from complete scratch. Be sure to grab it before you leave!
What Is BigCommerce?

BigCommerce is one of my top 2 recommended ecommerce platforms.
Essentially, BigCommerce is an all in one website builder that allows you to easily create a beautiful website and take transactions for physical and digital products online.
Currently, they have over 150,000 live online stores on their platform and they possess the 2nd largest market share behind Shopify when it comes to fully hosted platforms.
If you are in a hurry and just want the facts about BigCommerce, consult the table below. Otherwise, read on for an in depth BigCommerce pricing analysis!
Feature / Plan
BigCommerce Standard
BigCommerce Plus
BigCommerce Pro
Products
Unlimited
Unlimited
Unlimited
Support 24/7
Yes
Yes
Yes
Domain name
Domain names are ~$12 per year
Gift cards & coupons
Yes
Yes
Yes
Customer groups & segmentation
No
Yes
Yes
Abandoned cart recovery
No
Yes
Yes
Stored credit cards
No
Yes
Yes
Product filtering
No
No
Yes
Custom SSL
No
No
Yes
BigCommerce transaction fees
0%
0%
0%
Transaction fees PayPal credit card (optional)
2.9% + $0.30 (regular rate)
2.5% + $0.30
2.2% + $0.30
Yearly sales threshold

(exceeding these thresholds requires a higher plan)

$50k
$180k
$400k
Monthly Deal Pricing
$29.95 / month
$79.95 / month
$299.95 / month*
Annual Deal Pricing
$29.95 / month
$71.95 / month
$269.95 / month*
More information
Visit BigCommerce and try it for free for 30 days
BigCommerce Pricing Plans – An Overview

Out of all the available fully hosted shopping carts, BigCommerce pricing is by far the most straightforward because they don't nickel and dime you with random add ons and transactions fees.
For example, BigCommerce's cheapest plan gives you enough functionality (without any extra plugins) to run a fully featured ecommerce store.
Basically, what you see is what you'll pay with the exception of 1 tiny wrinkle. BigCommerce's pricing plans are based on how much your store makes in revenue.
As soon as you hit a certain threshold of revenue, you are automatically upgraded to the next highest plan.
Conversely, if your revenue drops below a BigCommerce pricing plan threshold, you will be downgraded to a cheaper plan.
Below are full descriptions for all of BigCommerce's pricing plans.
BigCommerce Pricing: Standard Plan $29.99/month For Stores Making Up To $50K/year

The BigCommerce Standard Plan is meant for brand new online stores that make up to $50K/year.
Even though this plan is meant for beginners, it is not basic by any means. Unlike Shopify which gives you next to no features with their cheapest plan, BigCommerce gives you access to almost every feature right from the start.
In fact, brand new ecommerce store owners might find that there's a steeper learning curve due to the massive array of features. But you can't really complain because BigCommerce gives you the most bang for your buck.
The only major feature that is missing from the "standard plan" is abandoned cart recovery. But a 3rd party email marketing solution like Klaviyo can be used to implement the exact same functionality.
Here's a summary of the BigCommerce Standard Plan.
Costs $29.99/month Until You Exceed $50K/yr – Your revenue is measured on a trailing 12 month basis.
No Abandoned Cart Recovery – This feature allows you to send emails to customers who start checkout but don't complete the process.
No Customers Groups And Segmentation – At this tier, you can not create special groups for your customers. As a result, you can not create loyalty programs or reward frequent shoppers.
No Transaction Fees – Unlike Shopify which charges a transaction fee if you don't use their payment processing solution, BigCommerce never charges any fees.
Option To Use Paypal Credit Card Processing – 2.9% + $0.30¢ per transaction
BigCommerce Pricing: Plus Plan $79.99/month For Stores Making Up To $180K/year

As soon as you exceed $50K in yearly revenue, you are automatically upgraded to the BigCommerce Plus pricing plan.
While you can technically upgrade to the Plus plan below the 50K/year threshold, it's not recommended because the extra features aren't worth the extra cost.
In any case, at this tier you are granted a few more features worth mentioning.
For example, you get access to BigCommerce's built-in abandoned cart recovery engine.
When a customer starts checkout and doesn't complete the process, BigCommerce will send a series of emails on your behalf to try to "recover" the lost customer.
In fact, abandoned cart recovery is responsible for recovering almost 19% of my lost sales.
For more information, you can check out my in depth case study on The Abandoned Cart Email Sequence That Recovers 19% Of My Sales
While using BigCommerce's built in abandoned cart recovery feature sounds great, most users making over $50K/year are likely already using a much more powerful email marketing solution like Klaviyo.
As a result, you probably won't be using this feature even though you have access to it at the "Plus" tier.
The other "Plus" feature worth mentioning is the ability to create special customer groups. As your sales grow, you will likely want to create special loyalty programs and reward your best customers and the "Plus" plan allows you to do just that.
Finally, at the "Plus" level, you can begin storing customer credit cards online. This is especially useful for your repeat customers who can now check out with just a few clicks of the mouse without typing in their credit card numbers.
Here's a summary of the BigCommerce Plus pricing plan.
Costs $79.99/month until you exceed $180K/yr – Revenue is measured on a trailing 12 month basis.
Abandonment Cart Recovery – Recover lost sales from customers who never finished checkout
Customers Groups And Segmentation – Allows you to create loyalty and frequent purchase programs.
Credit Card Storage – Seamless checkout for repeat customers
Option To Use Paypal Credit Card Processing – 2.5% + $0.30¢ per transaction
BigCommerce Pricing: Pro Plan $299.99/month For Stores Making Up To $400K/year

As soon as you exceed $180K in revenue, you are automatically upgraded to the Pro plan. But the term "upgrade" is a misnomer because you don't get much additional functionality for a 3X increase in price.
First off, the pro plan unlocks your ability to gather Google customer reviews.
What are Google customer reviews?
Google Customer Reviews is a free program that lets you collect feedback from shoppers who have bought from your store. These reviews then show up in the search results and may improve your click through rate.
In addition, you can display a badge with the Google brand along with your seller rating which can improve your overall conversion rate.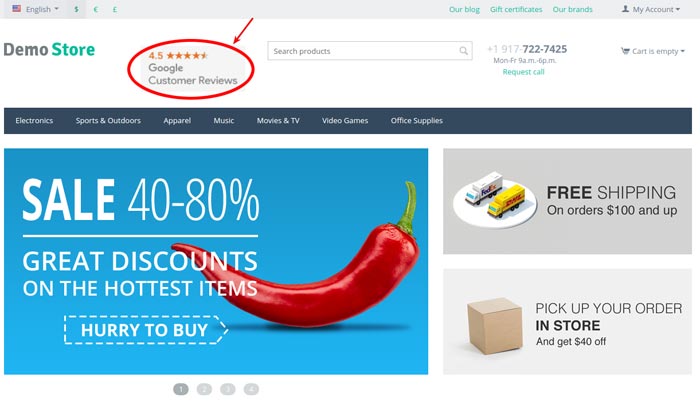 The second feature you have access to is faceted search and product filtering which comes in handy if you have lots of products in different categories.
Faceted search allows your customers to quickly narrow down what they are looking for based on a pre determined set of parameters.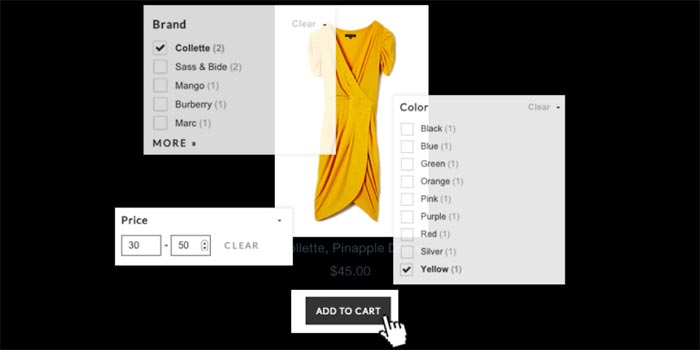 Finally, the pro plan allows you to use your own SSL certificate from a separate 3rd party provider.
As far as I know, the only reason that you would ever want to do this is if you wanted to use an extended validation certificate. But most users won't ever need this feature.
Here's a summary of the BigCommerce Pro Pricing Plan
Costs $299.99/month Until You Exceed $400K/yr – Revenue is measured on a trailing 12 month basis.
Any Revenue Over $400K In Sales – Costs an extra $150 per month per 200K in sales
You Get All Features In The Plus Plan
Option To Use Paypal Credit Card Processing – 2.2% + $0.30¢ per transaction
Product Filtering Options – Allow customers to filter by any product attribute you specify
Custom SSL certs – Optionally use a 3rd party SSL certificate
BigCommerce Pricing: Enterprise Plan Custom Pricing (>$1000/month)

The BigCommerce enterprise plan is for ecommerce businesses looking for dedicated VIP service.
For example, if you absolutely require a dedicated account manager, priority support and low level access to your shopping cart, then this plan is for you.
What does low level access to your shopping cart mean exactly?
At this level, you have the ability to work with the BigCommerce support team to add specific functionality (through the BigCommerce API) that is tailored to your store.
But it's going to cost you a lot more money. The pricing for this plan can not be found online but depending on the size of your business, you could easily pay over $1000/month.
Overall, this tier is meant for ecommerce stores in the mid 7 figure range. Feature wise, it's mostly on par with the Pro plan unless you need extra support.
How To Save Money On BigCommerce Plans

If you are willing to pay for an entire year upfront, you can save 10% when you sign up for either the Plus or the Pro plan.
This works out to the following costs depending on your pricing tier.
| Feature / Plan | BigCommerce Standard | BigCommerce Plus | BigCommerce Pro |
| --- | --- | --- | --- |
| Monthly Deal Pricing | $29.95 / month | $79.95 / month | $299.95 / month* |
| Annual Deal Pricing | $29.95 / month | $71.95 / month | $269.95 / month* |
In addition, if you use the link below, you will receive a free 30 day trial of the software.
BigCommerce Pricing For Themes And Apps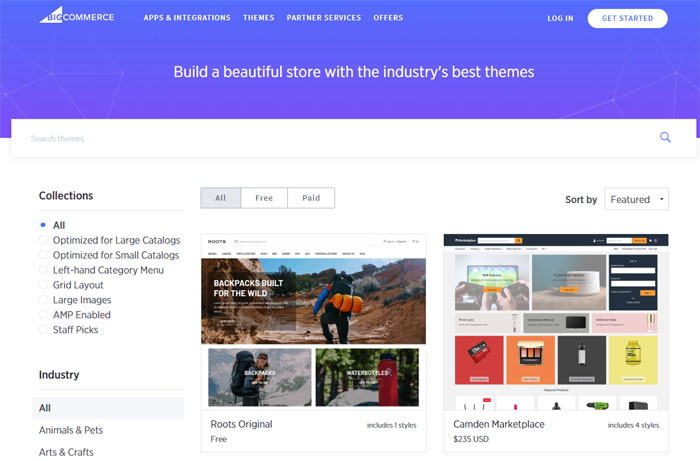 While the BigCommerce marketplace doesn't have nearly the same number of apps as the Shopify app store, their selection is still fairly large.
But to be fair, BigCommerce has more built in functionality than Shopify so you generally need far less apps to run your online store.
Many BigCommerce apps are free, but some require either a one-time or monthly fee depending on your needs. At first glance, the cost of an app is on par with what you'll pay for an equivalent Shopify app.
In terms of themes, BigCommerce offers both paid and free versions. Most of the free options look pretty good, but you'll have to fork over about $225 for a premium theme.
Once again, the price of themes is mostly on par with Shopify.
BigCommerce Pricing For Domains, Hosting And SSL
If you don't have a domain name, you can purchase one from BigCommerce for ~$12 per year.
But realistically, you can buy your domain at a much lower price from a 3rd party like NameCheap or GoDaddy
Personally, I like to keep all of my domains with the same service instead of having random domains sprinkled all over the place and I advise you to do the same.
A common question I often get asked is whether BigCommerce charges any webhosting fees and the answer is no.
Hosting is included with every BigCommerce pricing plan. In addition, SSL is included as part of every plan as well unless you go with your own provider.
BigCommerce Pricing For Credit Card Transactions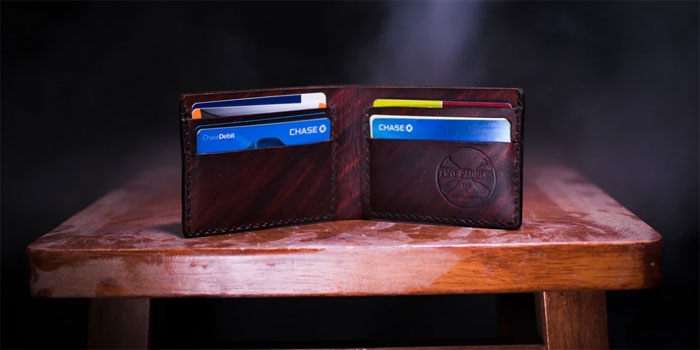 The biggest advantage of going with BigCommerce versus a platform like Shopify is that there are no transactions fees whatsoever.
As a result, you have the freedom to use whatever credit card processing you want.
If you stick with BigCommerce's built in credit card processing solution, you'll end up paying the following…
Standard Plan – 2.9% + $0.30¢ per transaction
Plus Plan – 2.5% + $0.30¢ per transaction
Pro Plan – 2.2% + $0.30¢ per transaction
Enterprise Plan – 2.2% + $0.30¢ or lower per transaction
But realistically, most ecommerce store owners will shop around for better rates. For example if you make more than 50K/month, you can easily get interchange rates below 2.2%.
For more information, check out my post on the Cheapest Credit Card Processing Options
How Does BigCommerce Pricing Compare To Shopify

On the surface, both shopping carts appear to be the same price. But when you peel back the onion, you'll find that Shopify is more expensive than BigCommerce.
Here's why.
Out of the box, you can run a fully featured store on BigCommerce WITHOUT any plugins but this is not the case with Shopify.
Because Shopify is a bare bones platform out of the box, you will need to spend hundreds of extra dollars on 3rd party plugins to match the equivalent functionality of BigCommerce.
In addition, Shopify charges transaction fees on every purchase if you do not use their built in credit card processing platform called Shopify Payments.
All told, BigCommerce will give you more bang for the buck and offers more flexibility than Shopify in terms of credit card processing.
If you want a more in depth comparison, be sure to check out my post on BigCommerce Vs Shopify
BigCommerce Pricing: Should You Sign Up? (This Is Important)
For most online stores, I highly recommend BigCommerce as your primary ecommerce platform. However, there are a few cases where BigCommerce pricing may not make sense.
Because BigCommerce pricing is based on revenue and not profit, you can easily pay more if your profit margins are extremely low.
For example, let's say you sell widgets and your margins are only 5%. If you generate $12,500/month in revenue, that results in $625 in profit.
At this revenue level, you'd be on the Pro plan which costs $299/month which would be a significant portion of your profit.
As a result, you might be better off going with a shopping cart like Shopify which charges a flat rate per month irrespective of revenue.
In general, most online stores will not run into this problem but keep in mind that BigCommerce may not make sense for low margin businesses.
However, I love BigCommerce for practically every other use case especially if you want to add a store to an existing WordPress blog.
Frequently Asked Questions About BigCommerce Pricing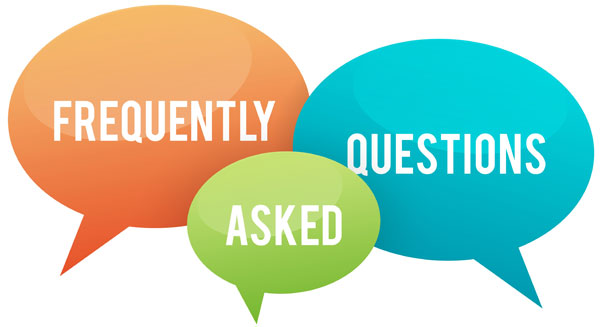 How much does BigCommerce cost?
BigCommerce starts from $29.95/month for the Standard plan, $79.95/month for the Plus plan, and $299.95/month for the Pro plan. They also offer a free 14 day trial and you can save 10% if you pay for a full year up front.
What's better Shopify or BigCommerce?
Shopify has better 3rd party developer support. However BigCommerce offers a lot more functionality out of the box. As a result, BigCommerce will tend to be cheaper than Shopify. Where BigCommerce shines is with its WordPress integration where you can run a shop on the same domain as your blog.
Is Big Commerce cheaper than Shopify?
In most cases, the answer is yes. The reason is because BigCommerce has a lot more functionality and you won't get nickel and dimed with plugins like with Shopify
What is the best eCommerce platform?
The best ecommerce platform depends on your needs and technical ability. But you can't go wrong with either BigCommerce, Shopify or WooCommerce.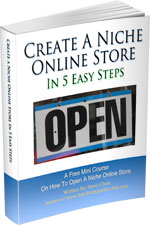 Ready To Get Serious About Starting An Online Business?
If you are really considering starting your own online business, then you have to check out my free mini course on How To Create A Niche Online Store In 5 Easy Steps.
In this 6 day mini course, I reveal the steps that my wife and I took to earn 100 thousand dollars in the span of just a year. Best of all, it's free and you'll receive weekly ecommerce tips and strategies!
Note: This post above may contain affiliate links, which means that I may receive a commission if you make a purchase when clicking a link. Please consult our privacy policy for more information.
Related Posts In Ecommerce Platforms
About Steve Chou

Steve Chou is a highly recognized influencer in the ecommerce space and has taught thousands of students how to effectively sell physical products online over at ProfitableOnlineStore.com. 

His blog, MyWifeQuitHerJob.com, has been featured in Forbes, Inc, The New York Times,  Entrepreneur and MSNBC.  

He's also a contributing author for BigCommerce, Klaviyo, ManyChat, Printful, Privy, CXL, Ecommerce Fuel, GlockApps, Privy, Social Media Examiner, Web Designer Depot, Sumo and other leading business publications.

In addition, he runs a popular ecommerce podcast, My Wife Quit Her Job, which is a top 25 marketing show on all of Apple Podcasts. 

To stay up to date with all of the latest ecommerce trends, Steve runs a 7 figure ecommerce store, BumblebeeLinens.com, with his wife and puts on an annual ecommerce conference called The Sellers Summit.  

Steve carries both a bachelors and a masters degree in electrical engineering from Stanford University. Despite majoring in electrical engineering, he spent a good portion of his graduate education studying entrepreneurship and the mechanics of running small businesses.