When it comes to getting repeat sales for your ecommerce store, customer loyalty programs are one of the most effective ways to boost customer retention.
In fact, studies have shown that 69% of consumers are influenced by retailers that offer loyalty and rewards programs. Furthermore, 58% of consumers shop more often at stores where they've joined a loyalty program.
Statistics don't lie, and I know for a fact that customer loyalty programs work really well on me:)
For example, I go out of my way to fly on United and Southwest because I get rewards for the miles I have accumulated. When it comes to coffee shops, I'll hit Starbucks first because every purchase I make goes towards free drinks.
Surprisingly, very few smaller 6 and 7 figure ecommerce stores offer loyalty programs and here's the reason why.
Most loyalty program solutions cost a lot of money to implement and very few cater to smaller online businesses. As a result, I decided to spin my own customer loyalty program solution using Facebook Messenger Chatbots.
If you have been following me online for any length of time, you know that I always look for ecommerce implementations that are straightforward and inexpensive:) As a result, my loyalty program setup uses only ManyChat. That's it!
If you want to copy my solution, feel free to follow along below.
Get My Free Mini Course On How To Start A Successful Ecommerce Store
If you are interested in starting an ecommerce business, I put together a comprehensive package of resources that will help you launch your own online store from complete scratch. Be sure to grab it before you leave!
Why Implement A Customer Loyalty Program?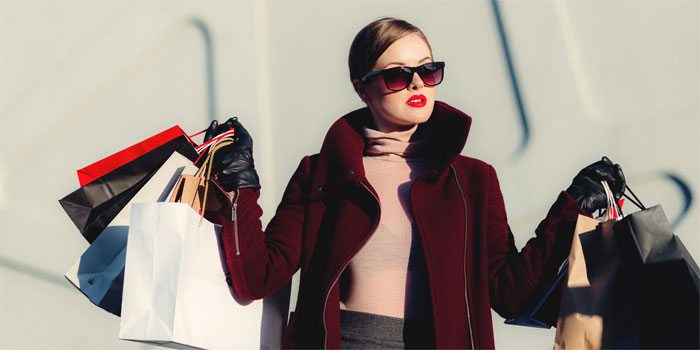 Before we delve into the guts of this tutorial, I want to emphasize why a customer loyalty program is so important in today's ecommerce landscape.
After all, I was a little hesitant to pull the trigger at first because figuring out all of the little details requires a decent upfront investment of your time to get everything working.
First off, selling on Amazon is getting much more cutthroat. The Chinese are taking over and there's rampant piracy all over the Amazon marketplace.
Unless you have a strong brand and a solid fan base, you'll eventually get eaten alive by Chinese sellers who simply do not follow the rules.
In case you've missed them, here are some posts that I've written about the increasing competition on 3rd party marketplaces like Amazon, Ebay and Etsy.
Bottom line, if you are relying on a 3rd party marketplace like Amazon for all of your sales, you are in trouble because you don't have access to your customer information. As a result, it's impossible to establish a brand and attract repeat sales.
To demonstrate why repeat business and branding are so important, here are some stats that will blow your mind.
According to Bain and Company, a 5% increase in customer retention can result in a 75% increase in revenue. Crazy right?
At first, this number sounded a little outrageous until I analyzed the numbers for my own online store.
Here's what I found.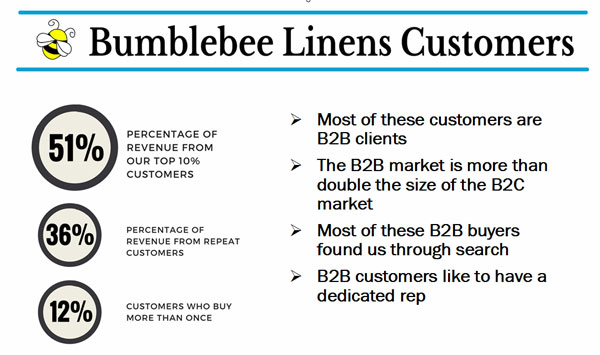 Only 12% of my customers are repeat customers. But they make up over 36% of my revenues!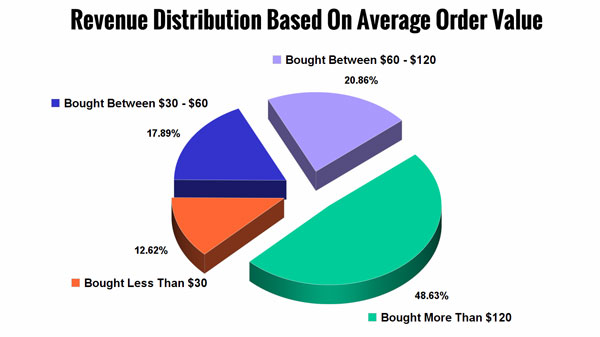 In addition, less than 10% of my customers spend over 2X the average order value for our shop, but they make up almost 50% of my sales!
As a result, you can get the most bang for your buck by simply focusing on your best customers. And what better way to do that than by implementing a customer loyalty program!
Here's a concise list of loyalty program benefits
More Sales – Customers who have bought from you once are 60% more likely to buy from you again. And Bain and company says that even a 5% increase in retention can boost revenues by up to 75%
Save Money – It's much cheaper to get people to buy again than to acquire new customers. For example, when I run top of funnel ads to cold customers, I'm happy when they convert at 2X. Meanwhile, my bottom of funnel advertisements generate a much higher ROI.
Customer Data – By gathering personal data about your customer's spending habits, you can use this information to personalize their shopping experience. For example, you can make customers fill out a survey to gain additional insight about what they want to buy and when.
Inspire Loyalty – A good loyalty program will create an emotional connection with your brand. Giving away free rewards points is much cheaper than giving away discounts and they are equally as appreciated.
Better Communication – When a customer signs up for your loyalty program, it instantly indicates that they are a potential high LTV customer. This greatly opens the channel for communication for these customers because you know they want to hear from you.
Refer New Customers – A good rewards program can encourage customers to refer their friends. For example, you can give away free rewards points when a customer refers their friend.
The Different Types Of Customer Loyalty Programs
Customer loyalty programs have been around for a long time and practically every big box store you can think of has one.
Here are the different types of loyalty programs that you can implement.
Points Based
Tier Based
Fee Based
Points Based Loyalty Program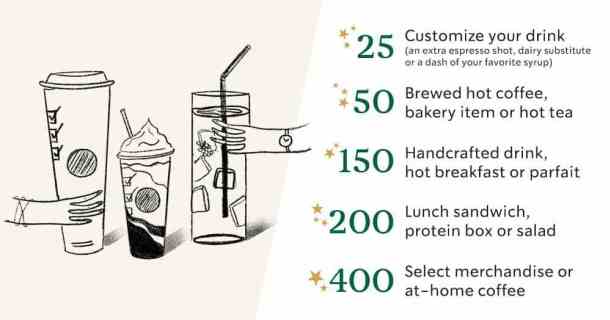 A points based customer loyalty program is probably the most common type among ecommerce businesses.
Whenever a customer takes a specific action like a purchase or referral, they are awarded points that can be used towards discounts and free products.
Points can be rewarded based on the total amount spent or the number of purchases made. And in general, it's much better to keep the rewards simple and easy to calculate.
For example, I hate it when a store makes me do mental math to determine how much I have to buy to earn a prize. And more often than not, if I have to use brain power, I'll forget about the loyalty program altogether.
But there's also a trade off in making your loyalty program too simple as well.
For example, if you reward points based on a customer's "total number of purchases", a shopper may purposely break up a large purchase into a series of tiny ones just to gamify their rewards.
Bottom line, keep your loyalty program simple, fair and make it easy for a customer to figure out what they need to do to get free stuff.
Tier Based Loyalty Program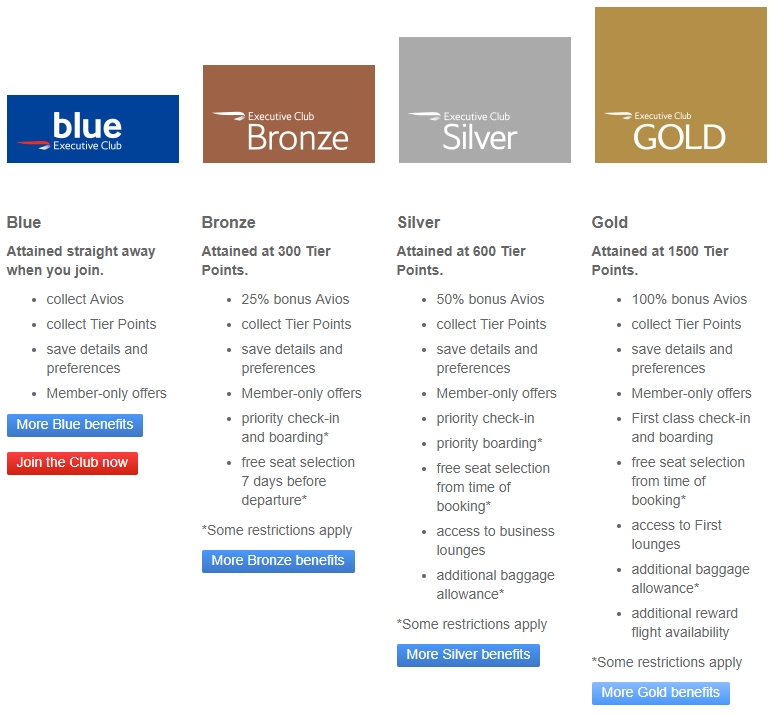 Tier based loyalty programs are mostly used by the airline industry but may be applicable to your online store depending on the types of products you sell.
Whenever a customer takes a specific number of actions, they are placed into a special tier that entitles them to additional benefits and special pricing.
For example, my favorite cruise company, Royal Caribbean, rewards you with special lifetime benefits once you've earned enough cruise points.
Knowing that every cruise I book contributes to "lifetime benefits" heavily influences me to book with Royal Caribbean over any other cruise company.
The main advantage of a tier based system over a points based one is that the benefits are long term as opposed to a one off reward.
In general, tiered programs work better for higher price point purchases like flights, hotels, cruises and services that require a significant commitment.
But any ecommerce business that offers services in addition to physical products may benefit from a tiered system.
Fee Based Loyalty Program

A fee based loyalty program works best if you already have a well established business with lots of customers.
Both Amazon and Costco are probably the most well known ecommerce companies that offer a fee based program.
In return for a one time or annual fee, customers get access to special discounts, offers or fast, free shipping.
I can speak from experience that both Costco's and Amazon's fee based programs work amazingly well. And my wife and I happily pay their annual fees because we can't live without either service.
But that being said, a fee based loyalty program will probably not be a good fit for most smaller ecommerce businesses.
However, if you can identify a set of factors that commonly cause a customer to not make a purchase, you can bundle these factors into a special program and charge a flat fee that addresses them.
Amazon's prime membership is a perfect example. Amazon discovered that most of their customers were abandoning their cart because of shipping so they bundled free 2 day shipping as part of their program.
A fee based system is best for businesses that get frequent, repeat sales. Basically, any consumable product falls under this criteria and if you can bundle a desirable service for a small fee, then you've basically got that customer for life.
How To Implement A Customer Loyalty Program For An Ecommerce Store On The Cheap

If you've made it this far, you probably agree that customer loyalty programs are awesome. But how do you actually implement one for your ecommerce business?
First off, you have to decide which loyalty program type you want to create. Then, you have to figure out your criteria.
Here were the primary goals for my loyalty program implementation.
Must Be 100% Automated – I never want to manually update points or deal with customers. A computer has to handle all of the work.
Must Be Inexpensive – I don't want to pay thousands of dollars per month for a turnkey solution.
Must Be Straightforward To Manage – I don't want to devote much time to maintaining the program at all. It has to just work and be self managed.
With these goals in mind, I opted for a Facebook Messenger chatbot solution using ManyChat. What's cool about ManyChat is that it can store data about your customer.
For example, I can use a chatbot to track how many times a customer has made a purchase. I can use a chatbot to automate the rewards redemption process. I can use a chatbot to handle rewards points.
Everything is done by a computer which makes a chatbot ideal:)
An Overview Of My Loyalty Program Chatbot
Below is a diagram of my customer loyalty program chatbot which I'll explain in small pieces because there are several moving parts.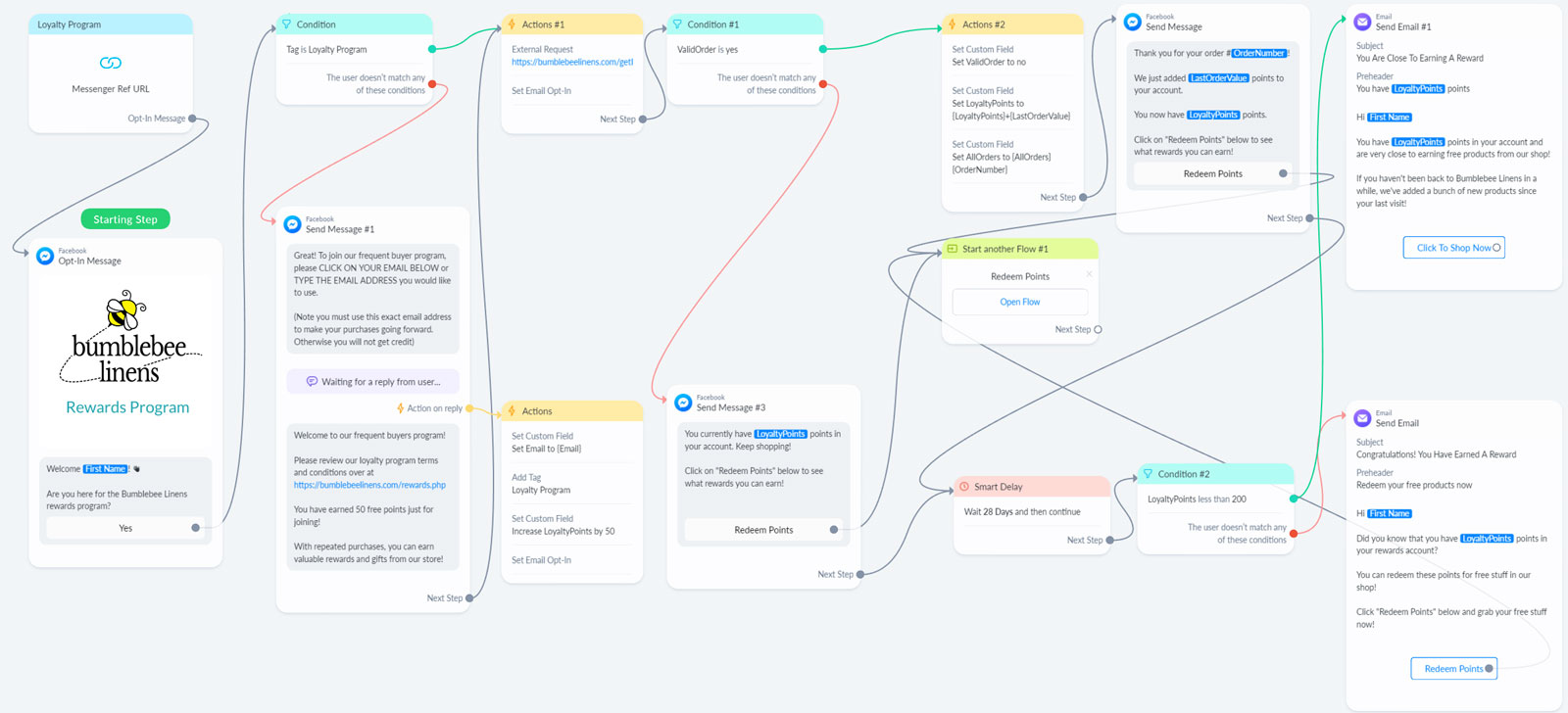 Below is a high level overview of how the program is structured.
When a customer first signs up, they are given a 50 point sign up bonus
Every dollar spent is equal to one point. The first reward is earned at 200 points.
Whenever a customer makes a purchase, they are provided with a special link that is used to update their point total
Customers can check their point total or redeem a reward by clicking on the same link
If a customer wants to redeem a reward, they are given a special coupon code and a special link to check out with that product
Once a redemption is made, the points are automatically deducted from their account.
All rewards points and orders a stored on the ManyChat platform
Let's break this down into steps
Step 1: The Signup Process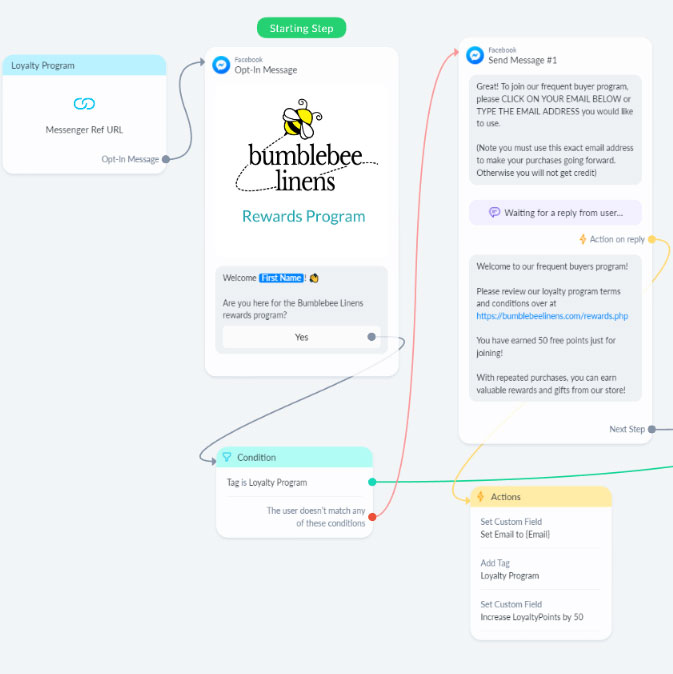 Using ManyChat terminology, I first set up the Facebook Messenger chatbot using a Messenger Ref URL. Basically, this is a fancy way of saying that a customer must click on a link to get started.
After they click on the link, they are asked a simple question whether they are here to join the rewards program. Once they click yes, they can now be messaged about anything within 24 hours as per Facebook's terms of service.
At this point, if the customer is not a part of the program yet, they are asked to enter in their email. This is important because email is the primary way that is used to track orders.
In fact, all customers MUST use this email when placing orders on the store or else they will NOT get credit for the sale.
Once they sign up, they are tagged as a loyalty program member, rewarded 50 free bonus points and the email is stored in ManyChat's database.
Step 2: Redeeming Points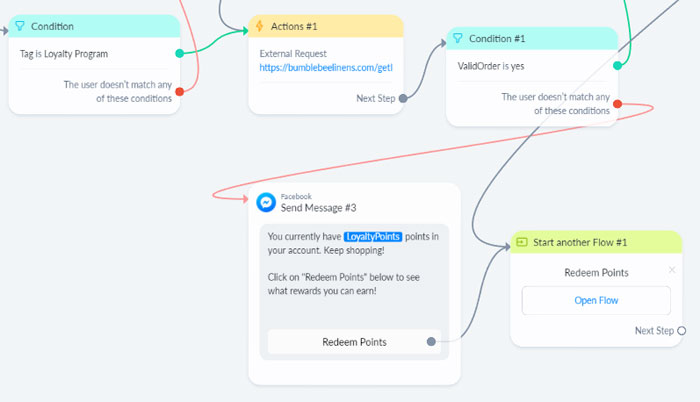 What's cool about ManyChat is that you can append parameters to the Facebook Messenger URL. Essentially, this allows you to pass data to ManyChat that you can use with your chatbot.
For my online store implementation, the customer order number is passed to ManyChat along with the customer redemption link as shown below.
This order number is then stored in the "Order Number" field within ManyChat.
If the customer is a member of the loyalty program, ManyChat then sends the customer email address along with the order number to my website to verify that it is in fact a valid order.
If the order number matches the email address, then my site returns the order value back to ManyChat which is then used to update the loyalty points total.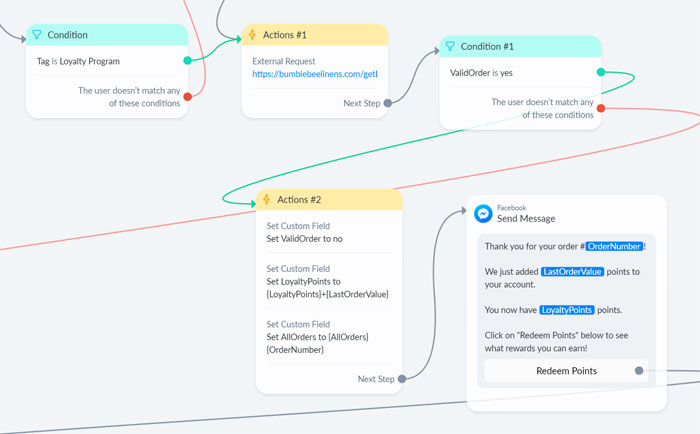 Following the diagram above, these actions are taken if the order is valid.
The number of loyalty points is incremented by the last order value
The order number is appended to the list of redeemed orders in ManyChat. This list is used to make sure that the customer doesn't try to redeem the same order twice for points.
The customer is thanked for their order, given their new point total, and enticed to see what prizes they can redeem
Step 3: Collecting Prizes
Redeeming points for prizes is 100% self service.
When a customer has accumulated enough points to redeem a free prize, they simply click on the prize as shown in the flow below.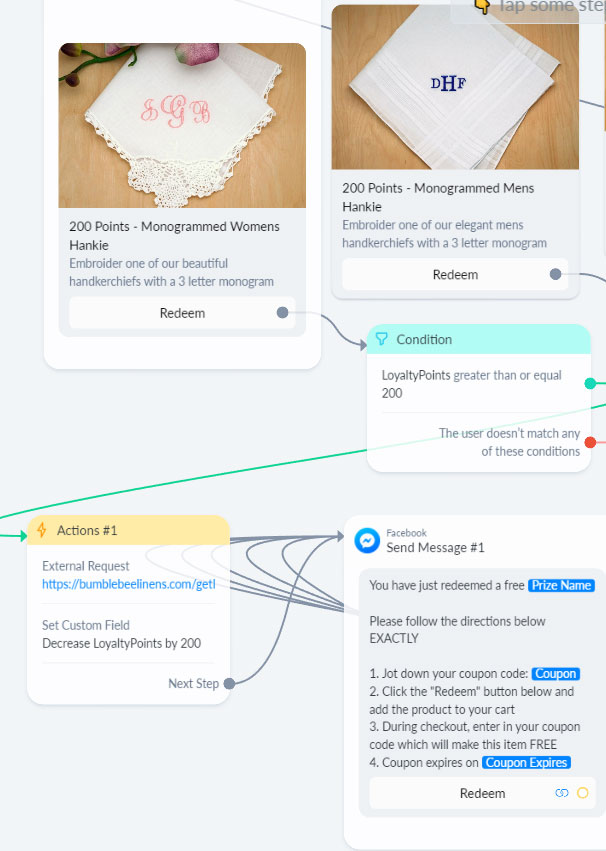 If the customer has enough points for the prize, then ManyChat pings my website and a coupon code is returned to the customer along with instructions on how to redeem their prize.
To keep things simple, I created separate product listings for these prizes and the coupons that are given can only be redeemed for these exact products.
Coupons also automatically expire within 30 days. Right now, I am not offering free shipping for these prizes.
We'll see how this plays out but the goal is to entice customers to shop for other items in addition to their free rewards when they decide to redeem their points.
Deciding On Your Loyalty Prizes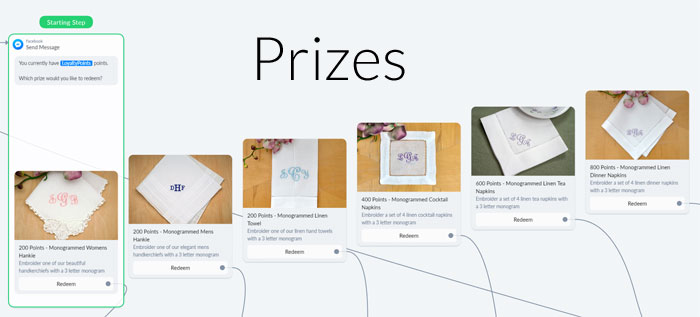 The goal of any loyalty program is to reward your customer for shopping at your store and make them super fans of your company.
But when it comes to choosing your prizes, you want to give the customer enough incentive to continue shopping without costing your business a lot of money.
My wife and I debated for a long time what to offer as rewards and ultimately we chose to give away our best selling products INSTEAD of cash or discounts as prizes.
Here's why.
By providing fixed products as prizes, we can pick and choose our highest margin products to give away which costs us less money overall.
If we were to give away gift cards or percentage discounts, we would have no control over what a customer buys which could negatively affect our bottom line.
In terms of deciding on point thresholds for prizes, we chose values based on our typical average order value. After all, we want a customer to be rewarded for every 3rd or 4th purchase from our store.
Because our AOV is about $60, we chose 200 points for the first tier of prizes but this is subject to change based on experimentation.
How To Keep Customers Interested In Your Loyalty Program
The beauty of this loyalty program is that it's 100% automated and completely hands off. However, the risk of this much automation is that customers may forget about your program altogether.
And when they forget, it means that they won't be enticed to spend more to earn more prizes.
As a result, it's in your best interests to remind your customers about your loyalty program from time to time and the best part is that this can be done within ManyChat.
Because ManyChat supports email, you can have ManyChat automatically email your customers at set intervals to remind them of their point totals and entice them to shop again.
In a way, your rewards program can act like a win back campaign WITHOUT giving away any discounts.
For my loyalty program, I email my customers every 28 days to remind them shop more to earn more points.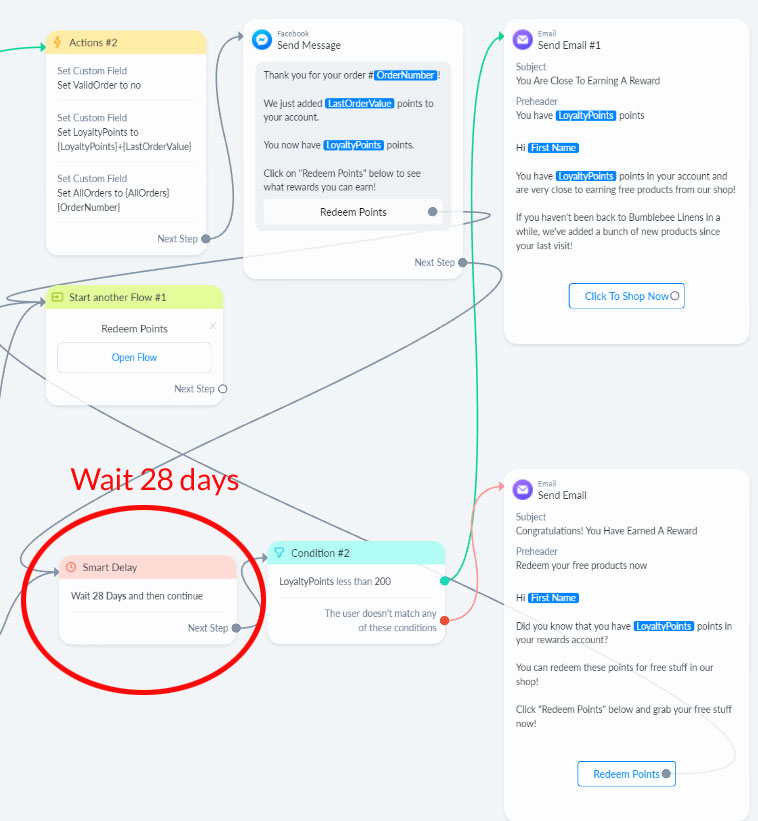 Here's what you should include in your email.
The number of points currently in your account
What rewards your customer is eligible for
How many points they need for their next prize
A snapshot of how much free stuff they have won thus far
Once again, all of these emails can be fully automated. And depending on what you sell, it makes sense to remind your customer to come back and shop at least every 60 days.
If you want to make this tactic more effective, you can even reward customers extra bonus points as part of a sale instead of regular discounts.
I fall for this tactic all of the time with my credit card whenever I get bonus points for my purchases. These strategies work.
Simplifying The Loyalty Program Implementation
If you want to copy my exact loyalty program implementation, you may need to do some basic coding.
But with a few simplifications, you can get by without requiring a developer.
For example, instead of pinging your website for order values, you can simply increment a customer's point total by 1 for every purchase made.
Instead of automatically generating a coupon code, you can have the customer email you their redemptions and process their rewards manually.
But with just a tiny bit of coding (that any basic programmer can handle), you can implement a fully automated system that runs by itself!
Loyalty Program Implementation Costs
All told, the loyalty program that I implemented for my ecommerce store was more or less free if do you not count the cost of ManyChat. After all, I was already paying for ManyChat for regular Facebook Messenger broadcasts.
Meanwhile, my loyalty program allows me to easily segment out my best customers and treat them like royalty.
If I want to send out a special promotion to my most frequent buyers, I can easily segment my list based on loyalty points.
Meanwhile, the loyalty program entices customers to come back and shop again. As Bain and company stated above, all it takes is a small percentage of customers to come back in order to see big gains.
I will report back in a year and provide you with quantitative results of my program. Good luck!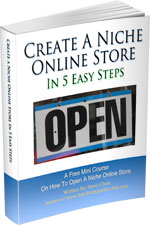 Ready To Get Serious About Starting An Online Business?
If you are really considering starting your own online business, then you have to check out my free mini course on How To Create A Niche Online Store In 5 Easy Steps.
In this 6 day mini course, I reveal the steps that my wife and I took to earn 100 thousand dollars in the span of just a year. Best of all, it's free and you'll receive weekly ecommerce tips and strategies!
Note: This post above may contain affiliate links, which means that I may receive a commission if you make a purchase when clicking a link. Please consult our privacy policy for more information.
Related Posts In Customer Retention Strategies
About Steve Chou

Steve Chou is a highly recognized influencer in the ecommerce space and has taught thousands of students how to effectively sell physical products online over at ProfitableOnlineStore.com. 

His blog, MyWifeQuitHerJob.com, has been featured in Forbes, Inc, The New York Times,  Entrepreneur and MSNBC.  

He's also a contributing author for BigCommerce, Klaviyo, ManyChat, Printful, Privy, CXL, Ecommerce Fuel, GlockApps, Privy, Social Media Examiner, Web Designer Depot, Sumo and other leading business publications.

In addition, he runs a popular ecommerce podcast, My Wife Quit Her Job, which is a top 25 marketing show on all of Apple Podcasts. 

To stay up to date with all of the latest ecommerce trends, Steve runs a 7 figure ecommerce store, BumblebeeLinens.com, with his wife and puts on an annual ecommerce conference called The Sellers Summit.  

Steve carries both a bachelors and a masters degree in electrical engineering from Stanford University. Despite majoring in electrical engineering, he spent a good portion of his graduate education studying entrepreneurship and the mechanics of running small businesses.